---
Minimum stay varies 
The minimum stay for this property changes depending on the dates selected
Bungalow
Luxury 3* Bord Fáilte Approved Holiday Home, Wifi available (free of charge) Under four miles from the village of Balla, ten miles to Castlebar, six miles from the town of Claremorris, five miles to Knock and Kiltimagh, and 20 miles to Westport, County Mayo is this welcoming holiday cottage which sits in a rural location next to a working livestock farm. Offering flexible sleeping accommodation with the use of three bedrooms. This cottage near Claremorris provides a perfect base for a family or group of friends looking to tour the area. With a homely atmosphere, this Claremorris cottage boasts pretty views of the surrounding Mayo countryside. The cottage near Claremorris offers a true home-from-home with the traditional furnishings affording a cosy experience; use the WiFi available to k...
House Rules
Pet-friendly
Kid friendly
No smoking
---
Martina M
Hosting since October 2013
Languages spoken: English
Response Time: Within a few hours
Interaction with guests: On the day of your arrival, I will meet you at the house and show you around. There is also a welcome pack there for you telling you the running of the house and the wifi code.Peter and I will be nearby should there be any problems. We will also inform you of things to do and places to eat and Irish music sessions.
---

Lugar tranquilo con familia
Ya antes de llegar nos facilitaron toda la información para llegar sin problemas. Solo llegar nos explicó el funcionamiento de la casa y nos obsequió con una tarta, leche y te. Los colchones muy cómodos y los nórdicos perfectos. Disponer de lavadora y secadora nos fue de maravilla.

Thank you very much for your kind review. We are delighted you and your family enjoyed your trip to Ireland. Thank you for care to the house. We would be very happy to have you and your family back again to stay at Green Acres Holiday Home. Martina and Peter.
---

ruthreid26
Coleraine, United Kingdom
29

contributions
We stayed here for one week, along with another couple. Located in a very quiet area, only roaring cows and birds to hear. Cottage lovely, very clean and equipped well. Very, very comfortable bed, brilliant mattress on a divan base, none of these cheap slatted things here!!! Good wifi throughout the house. All solid floors and very easy to clean, good vacuum cleaner provided. We were allowed to bring our dog and she really enjoyed the open space. Martina and Peter were very helpful and nothing was too much bother to them. Very convenient to the towns of Claremorris, Castlebar and village of Balla...(.Sorrento Chip shop well worth a visit). Would love to return if ever in the area again.

Thanks very much Ruth for staying at Green Acres Holiday Home. We thoroughly enjoyed your visit and thank you for leaving the house so spic and span after you. Hopefully, we will meet again sometime. Martina and Peter.
---

shania015
Sallins, Ireland
3

contributions
We used Green Acres as a base to prepare for our wedding in Mayo. It was a perfect location, perfect size- exactly what we were looking for. Martina was extremely welcoming and accommodating throughout our stay. Can't wait to come and stay again in the future!

Thank you Sinead and James for using Green Acres as your base as you prepared for your Wedding. Thank you for leaving the house so good. Wishing you many long years of health and happiness together. Martina
---
Couldn't ask for better land lords Martina and Peter went out of their way to make us comfortable. More like family than landlords
---
trip872
Le Havre, France
1

contribution
parfait pour y passer quelques jours
Excellent rapport qualité prix. Les photos sur le site sont parfaitement représentatives du cottage et de son environnement. Trois chambres : 2 de deux lits et une d'un lit soit 8 couchages possibles. C'est simple, propre, pas spécialement design... mais c'est l'endroit parfait pour se balader dans le Connemara. On n'est qu'a a peine de 40 km de Westport par une belle nationale. Nos hôtes sont charmants. Le wifi fonctionne très bien. C'est vraiment un bon deal pour un groupe d'amis, une famille ou même en couple aimant avoir de la place...

Thank you very much for picking Green Acres as your home for two weeks.We thoroughly enjoyed your stay and thank you for leaving the house so clean. Hope to see you again. Martina and Peter.
---

Perfect for all generations!
Recently stayed at Green Acres for 2 weeks & couldn't wish for a better rental. Martina & Peter were so helpful & available whenever we had a query. The house was ideal to accommodate 3 generations, it was clean & beautifully furnished & ideally situated for a break in the countryside with Balla, Claremorris & Castlebar nearby.

Thanks very much Pauline and to all your family. I am very happy you enjoyed your stay at Green Acres. It was a pleasure having you and thank you for leaving the house so clean. I miss our chats. Hope to see you sometime again.
---

charchar78
Bristol, United Kingdom
1

contribution
Lovely amd clean house very comfortable
We were visiting the area especially for a pilgrimage to Knock. The was very clean and comfy. The house is close to Claremorris which has everything you need supermarket wise. Castle bar is not that very far away and that is quite a big town. Need extra money for electricity used but not a lot and money for oil for the heating again not a lot but wasn't cold so didn't use it much. Martina is lovely and so welcoming, would definitely love to visit again.
Visited October 2016 Traveled with family

Thank you very much for the review Charmaine and delighted you and your family and not forgetting little Thomas, enjoyed your stay in Green Acres. Hope to meet with you again sometime. Thanks for leaving the house so clean and tidy. Martina.
---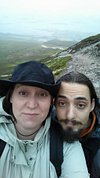 Amazing, comfortable, and peaceful!
I chose this cottage to spend my ten year wedding anniversary this month. I've never been to Ireland and I wanted to stay in a peaceful country atmosphere but still close to towns and pubs. We were not disappointed! Claremorris is very close and had everything that we needed for groceries and pubs. The kitchen is fully stocked with everything a kitchen should have but be sure to pick up some groceries. The bed (there are multiple but we only used one) was incredibly comfortable. Everything was very clean and proper. The wifi did go in and out but we rarely used it and found that the signal was near perfect in the front living room. I caught myself saying, "When we get home," referring to the cottage and not Massachusetts-- rather often because after spending the entire day searching out gorgeous abandoned castles it felt like we were coming home to our home. This cottage is that inviting and has that warm atmosphere. Next time we go to Ireland we will stay in this letting again and we will doubtless bring our children. Martina has rented out this property for many years and she knows what she's doing. She was always available if we needed anything and Peter was wonderful for meeting us when our flight was delayed late into the evening. I've already recommended this cottage to my in-laws (who may be booking soon!) and many of my traveling friends. Thank you Martina and Peter for sharing this home with us. We had many wonderful memories and such a positive experience.
Visited July 2015 Traveled as a couple
---

This cottage is old but basic plenty of parking and comfortable ideal for central point, allow for extras like electricity and oil for heating don't rely too much on the Wi-Fi very patchy. The location comes under Balinrobe but it is between Balla and Claremorris. Would I go back again yes I would.
Visited October 2014 Traveled as a couple
---
---
---
---
About the neighborhood
There are many festivals going on in the local area during the year. There is a traditional music session every Sunday, Tuesday and Wednesday evenings in the nearby towns of Balla and Claremorris. The ajoining towns are filled with restaurants, pubs, music and craic.
How to get there
Dublin Airport. Rosslare Harbour. Dun Laoghaire Port. Knock airport is close by - 25 kms. Dublin airport is 220 Kms. There is a train station in Claremorris which is 8 kms
Activities nearby
Fishing spots available
Golf course (within 30 mins drive)
Horse riding facilities
---
100% refund within 24 hours after booking (provided the stay is at least 60 days away).
100% refund* if you cancel at least 2 weeks before check-in
No refund available if you cancel thereafter
*Booking fee is excluded from refund amount
---
---
First, check the Availability tab on this page to see if your dates are available. If they are, contact the owner via the Tripadvisor Rental Inbox to confirm availability.

---

Initially, you may contact the owner via the Tripadvisor Rental Inbox. This inbox is created after you send your first message or booking request to the owner. After you've made your first payment, you'll be able to see the owner's contact information.

---

This owner will contact you via the Tripadvisor Rental Inbox.

---

You can send another message via the Tripadvisor Rental Inbox to ask if the property is still available.

---

For this property, please use a credit card to pay via the Tripadvisor Rental Inbox. Once the owner approves your stay, he or she will send you a quote, which will include payment instructions.

---

Yes. Payments made via the Tripadvisor inbox are covered by our Payment Protection.

---
---
Do you own a vacation rental? List it here.
Earn extra income
Earn money by renting out your home. With no up-front fees and no contract, you keep more for yourself.
Manage booking easily
Confirm bookings in one click and track everything from inquiry to checkout, even while you're on the go.
Be trusted by travelers
With millions of reviews and protected online payments, Tripadvisor helps travelers book your home with confidence.
---
This property is affiliated with
All bookings are direct with the owner
---
Frequently Asked Questions about Green Acres Self Catering Holiday Home.
---
---

---

---