---
Private Room
Heaven in Bali may be rented by single rooms or all five rooms for family and friends Overlooking the Ayung River ravine, Heaven in Bali, our boutique homestay with five(5) spectacular rooms, boasts a stunning view of the valley and majestic neighboring mountains. The nearby village is named Desa Kerta, which means Village of Peace and what a fitting description for this location! Each room is unique and represents great value at US$80 per room, per night, including breakfast, tax and service At 824 metres (2400ft) above sea level, we enjoy a temperate climate, ideal for swimming by day and sleeping without air-conditioning at night, just the sounds of nature to lull you to sleep. Temperatures range on average, from 18C to 27C, so bring a sweater and baggies for the evenings and your f...
House Rules
Check with owner: 
Pets
Smoking allowed
We can organise wedding or birthday party for guests
---
Rick & Lita P
Hosting since August 2010
Languages spoken: English
Response Time: Within a few hours
Interaction with guests: As we live on the property, we love to interact with our guests, share our stories and our 10 years experience in Bali. Alternatively, if you prefer your privacy, we will retire to our quarters and you will barely know we are there! Our staff are in duty from 7am until about 9pm and are fully trained to serve you.
---
Nandhiji
Los Angeles, CA
1

contribution
One of the world's finest resort! It is Heavens in Bali.
I was struck by the beauty of Heavens in Bali- our immaculate room, the warmth of staff & excellent service, delicious beyond ordinary food and the breath taking scenic layout. This truly is an experience to carry forward in life! A big WOW!
---

DMByogini
Indianapolis, IN
12

contributions
This was my second time at Heaven in Bali, the first time seven years ago. Not much has changed, except that it's harder to book with them as now more people are going to Bali and discovering the magic that Rick and Lita have built. While there, another group had just departed, but returned the next day because they were so dissatisfied with their next location. They had the option of two nights down the street or one night at Heaven in Bali, and chose the latter. I think that says it all. The lush landscaping is sprinkled with koi ponds, streams and fountains. The mountain views are breathtaking no matter the time of day or weather (mostly hot during the day and cool at night, but there can be a little drizzle of rain). The dining is amazing, where you can choose a more intimate setting if you're craving solitude or a communal table to share your meal with other friendly guests. Rick and Lita, along with their twin daughters and sweet pup, Peaches, live on-site, which makes it all the more warm and welcoming. They're great at interacting just enough to make you feel at home while also respecting your privacy. Their staff are wonderful and incredibly accommodating, and have been there since the beginning; that alone speaks to the authenticity of this place and their top-notch, genuine hospitality. I've already got my return trip booked...I'll never let another seven years go by before visiting again!
Thank you so much for your generous review Kelsey, and know you will be made equally welcome when you come back. You were a perfect guest, making it so easy for us to be of service. Come back to Heaven soon!!
---
Ольга Б
Düsseldorf, Germany
1

contribution
We've spent one week on a New Year Vacation in The Villa Bali in Heaven. There were 8 of us, 4 adults and 4 children, and all of us were admired by the beauty of this magical place. It was not our first time in Bali, and usually, we used to spent our vacation in the ocean, but this time we've choose another way of enjoying the beauty of the island. It is absolutely another Bali than you used to know. The views to the fields and hills were incredibly gorgeous, we've never seen such a beauty before. The silence and tranquility of the surrounding area was just amazing. the Villa were inexpressible beautiful. Thank you so much for such unforgettable impressions.
Many thanks for your lovely review, glad you have an amazing time in Bali specially at Heaven in Bali. Looking forward to welcome you back at Heaven in Bali :)
---

Une expérience à vivre !!!
Allez-y, foncez, 5 chambres spacieuses au milieu de la jungle balinaise avec vue panoramique !!! Rick, Lita, et leur équipe seront aux petits soins pour vous !!! Cuisine et services impeccables. Chauffeur disponible sur demande pour se balader dans la magnifique montagne balinaise. Les enfants et les parents ont adorés. Good vibes !!!!
Thank you Chris, hope you and family are all good. See you in Bali :) Rick, Lita, Maya, Mia, Peaches
---

larrybookwood
Sulz am Neckar, Germany
1

contribution
Diese Unterkunft war bei weitem die schlechteste, die wir jemals in einem Urlaub hatten. Folgende schwerwiegende Probleme lagen im August 2017 vor: - Feuchte und klamme Matratzen. Es war unmöglich darauf zu schlafen. Habe die ganze Nacht kein Auge zugemacht. - Der Bungalow roch stark nach Schimmel. Dies ist eine Folge davon, dass keine Klimaanlagen in der "Villa" installiert ist. Das Personal bot uns eine andere Villa an, welche noch schlimmer betroffen war. Auch ein zweites Zimmer wurde uns gezeigt und auch hier gab es Schimmelgeruch und feuchte Matratzen. Fazit: Unser Zimmer war also kein Einzelfall. - Es bestand ein starkes Reinigungsproblem. Die Villa war schwer dreckig und einfach nur eklig. Seht euch dazu ein paar unserer Fotos an. Diese zeigen aber längst nicht das ganze Ausmaß des Schmutzes. - Der Weg zu den Villen und zu der Rezeption ist nur mit Natursteinen ausgelegt. Bei Regen sind diese Steine äußerst rutschig und hoch gefährlich. Meine Frau ist gleich auf den Steinen ausgerutscht und hat sich am Knie verletzt. Als ich zur Rezeption ging um Eis für das Knie zu holen, bin auch ich ebenfalls ausgerutscht obwohl ich feste Schuhe anhatte und sehr vorsichtig gegangen bin. Vorsicht: Mindestens bei Regen besteht hier Gefahr für eure Gesundheit. Und da sich die Unterkunft am Rande des Regenwaldes befindet, regnet es dort sehr häufig. Zur Info: Wir sind 36 und 38 Jahre alt, zwar keine Extremsportler aber körperlich einigermaßen fit. Es fand ein Telefongespräch mit dem Management (Lita & Rick) statt. Man hat uns angehört, aber keine Stellungnahme zu den Punkten gemacht. Nach dem Auflegen hat uns das Personal 20% Rabatt auf die Übernachtung gegeben. Ein schlechter Witz. Immerhin: Das Personal war stets freundlich und bemüht uns zu helfen. Leider sind die Umstände vor Ort eher ein Problem des Managements. Wir können euch die Unterkunft auf keinen Fall empfehlen. Es sei denn, ihr wollt euch euren Urlaub versauen..
---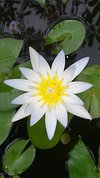 Beautiful place and beautiful people
Bali is very welcoming wherever you go, however Rick and Lita made my stay in their amazing place really special. I came to retreat and I could not be more satisfied with everything that was provided. Beautiful and luxury accommodation, breathtaking location with lower temperatures due to higher elevation, fantastic food and service and very friendly owners and staff. I also learned a lot during the retreat led by Rick/owner. It is a very quiet place and I highly recommend it to people who just need to switch off, forget about the stress and be taken care of. Your soul will thank you!
Thank you Eva, looking forward to seeing you again :)
---

Chris
Perth, Australia
6

contributions
Beautiful and peaceful paradise
An amazing place. With an infinity pool overlooking a beautiful valley in the forests just outside Ubud. I felt a sense of calm and peace the moment I stepped in. The sound of water flowing through the koi ponds surrounding the property.The staff are charming and food is delicious. If you are looking for a place to relax and get it away from it all I highly recommend Heaven in Bali! I can't wait to go there again soon.
Thanks Chris, looking forward to seeing you again at Heaven in Bali :)
---

Alban C
Saint-Denis, Reunion Island
33

contributions
Oubliez tous les parcours touristiques de Bali et les grands hôtels. Ici vous êtes dans un havre de paix avec seulement quelques chambres. Nous, nous étions les seuls clients. Rick le propriétaire des lieux est un homme incroyable. Allez-y pour être immergé non pas dans un hotel mais comme à la maison. La cuisine était excellente. On nous a servi des plats raffinés, cuisinés juste derrière nous, dans une cuisine comme chez nous! Produits frais, tout était délicieux. Nous avons commandé le canard cuit pendant des heures. Un délice. Le petit déjeuner est lui aussi superbe. Comme vous êtes loins, on met à votre disposition un scooter pour 50000IDR la journée ou un chauffeur. À 40-45min d'Ubud et même temps pour le lac Batur. Finalement à mi-chemin de tout. Outre le cadre végétale et l'architecture réussi vous allez faire une très belle rencontre. Merveilleuse famille qui a été aux petits soins. Retraite spirituelle et pleine d'humanité. Nous y retournerons si nous revenons à Bali un jour. Le n°1 de notre séjour.
Thank you so much for your very kind words Alban and it was our pleasure to have you both here as part of our family. Do come again! Bon Voyage, Rick & Lita
---

My husband and our two children stayed with Rick, Lita, Mia and Maya (and Peaches) for 3 nights and we couldn't have been happier with our choice. We were drawn to the place by all of the amazing reviews and can confirm they are true. Lita and Rick go out of their way to make your stay enjoyable. Lita is excellent at recommending and arranging everything you need. The place itself is captivating. Very peaceful. But the people make this place special. If you are looking to be close to shops, restaurants etc., stay in Ubud. If you are looking for a more laid back and local experience, stay here. Arranging transport through Lita is very reasonable and everything is very flexible so it is easy enough to get around even though you aren't in the middle of things. Can't recommend it highly enough.
Thanks Inbal for the lovely review, we all miss you guys :)
---

Nicest homestay experience in Bali I had
Had a stay from 5th till 11th Dec 2016, it was really the best home stay experience I ever had. The host, scenery, climate, food and tranquillity were some of the characteristics of this place I enjoyed. The hosts with their 2 children and a dog were really nice people, making sure needs were attended to, they are quite open about their lives, often having dinner together with us and chats during meals. It is situated on a mountain overlooking a valley so the views were really scenic and temperature cooler than the warm south. Food was a good mix of healthy vegetarian diet and normal diet, they make really good hot chocolate too. The calmness of the place was something I woke up looking forward to every morning. The water features; streams and ponds etc in the compound and just outside each room, makes it very tranquil. 5 stars for me, good place with healthy food, nice people and an environment that calms the mind and uplifts the soul.
Thank you Joseph, you made our day. Come back soon!!
---
Showing results 1-10 of 124
---
---
---
About the neighborhood
We are a lovely 25 minute drive north of Ubud, through verdant paddy fields and artisan villages. Surrounded by pristine nature and local agriculture, fruit orchards, coffee plantations abound with fresh produce.
Getting around
We have a late model Toyota Kijang (People Mover) and very knowledgeable, safe and reliable driver, which you may hire for the day or trips into Ubud, sightseeing or dinner. Other drivers and good vehicles are available on request
How to get there
We can provide you with airport transfers (free if you stay more than five nights). We will need your flight details for the pick up. We charge approximately the same as local taxis, but with a late model Toyota Kijang and safe, reliable driver. We are about one and half hours from the Bali International airport, depending on traffic.
---
100% refund within 24 hours after booking (provided the stay is at least 60 days away).
50% refund* if you cancel at least 4 weeks before check-in
25% refund* if you cancel at least 2 weeks before check-in
No refund available if you cancel thereafter
*Booking fee is excluded from refund amount
---
---
First, check the Availability tab on this page to see if your dates are available. If they are, contact the owner via the Tripadvisor Rental Inbox to confirm availability.

---

Initially, you may contact the owner via the Tripadvisor Rental Inbox. This inbox is created after you send your first message or booking request to the owner. After you've made your first payment, you'll be able to see the owner's contact information.

---

This owner will contact you via the Tripadvisor Rental Inbox.

---

You can send another message via the Tripadvisor Rental Inbox to ask if the property is still available.

---

For this property, please use a credit card to pay via the Tripadvisor Rental Inbox. Once the owner approves your stay, he or she will send you a quote, which will include payment instructions.

---

Yes. Payments made via the Tripadvisor inbox are covered by our Payment Protection.

---
---
Do you own a vacation rental? List it here.
Earn extra income
Earn money by renting out your home. With no up-front fees and no contract, you keep more for yourself.
Manage booking easily
Confirm bookings in one click and track everything from inquiry to checkout, even while you're on the go.
Be trusted by travelers
With millions of reviews and protected online payments, Tripadvisor helps travelers book your home with confidence.
---
This property is affiliated with
All bookings are direct with the owner
---
Frequently Asked Questions about Heaven in Bali
---
---

---

---

---