---
Cabin
Experience the healing power of The Whitetail. Rejuvenate while surrounded by peace and serenity, indoors and out. A romantic open vaulted cabin experience awaits you. The Whitetail offers a fully equipped kitchen, living room with wood burning stone fireplace, TV with Dish Network and DVD, wifi, open floor plan bedroom with king size bed, bathroom with Jacuzzi tub and separate shower. The Whitetail has a covered deck/porch, charcoal grill and is surrounded by beautiful rock formations.
House Rules
Pets not allowed
Not suitable for kids
No smoking
Check-in Time: 3:00pm - 5:00pm CT. Check-out Time: 10:00am CT. Occupancy. Guest agrees that no more than the guests paid for in the total rental fees paid shall be permitted. Fireplaces. Fireplaces are seasonal and are non-operational from May through Sept.
---
Chuck & Julie Dye
Hosting since February 2014
Languages spoken: English
Response Time: Within a few hours
---

Beautiful cabins in a beautiful, quiet, relaxing environment
This is a beautiful location! The accommodations, the staff, the amenities, everything about this place is first class! I can say with all sincerity, anytime we travel to Eureka Springs from now on, this is the only place we'll stay.
---

mfstellp
Bentonville, AR
1

contribution
Cinnamon Valley really thought of everything! We've never felt more at home. Beautiful cabins and scenery. Can't beat it!
---

Gorgeous, peaceful retreat!
Amazingly relaxing resort! Such beautiful scenery! And the cabin was perfect! So cozy and beautifully decorated with so many details! The owner, with whom handled my reservations from start to finish, was extremely friendly and accommadating! Can't wait to go back for some rest and relaxation!
---

Beautiful cabin nestled away from the chaos of everyday life! My husband and I loved our stay at Cinnamon Valley (specifically the Whitetail cabin). Julie made us feel very welcome and was so helpful with tips on fishing in the area. Would definitely recommend to family and friends!
---

Barb P
Chanute, KS
138

contributions
Beautiful, Relaxing Place
Loved the porch swing! Could have swung and listed to the wind through the pines all day! The cabin was lovely, the wooden floors shined, kitchen stocked with tea, Folgers coffee, sugar and creamer, and a delightful cinnamon coffee bread was waiting for us on the counter! Logs for the fireplace if we wanted to light them and 11 candles throughout the cabin!! Was disappointed in a few things - a long, winding, rock road to our cabin, (we must of not read the info closely to see that) but the rest had to do with maintenance and housekeeping items, light bulbs out, stopper on the bathroom sink didn't work (my husband uses a razor), the icemaker in the fridge would wake us up at night (it literally made a loud "thumping noise" when filling with water), leftover hair in the Jacuzzi (we didn't use it), and the bathroom plunger under the kitchen sink angled on top of the dish drainer. Yuk. For $174 a night, we did not expect to have to wash the dishes or strip the bedding.
Visited April 2016 Traveled as a couple
---
We absolutely loved staying here!
So comfortable, inviting, relaxing. One of our new favorite places. We're planning another trip in a few months.
Visited May 2015 Traveled as a couple
---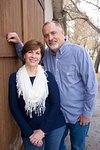 Bob L
Sapulpa, OK
8

contributions
Much needed R&R. Romance and Relaxation
Enjoyed our stay. We discovered we had a flat tire on our way back to the cabin after spending some time in Eureka Springs, and the lug wrench in the car did not fit the lugs. Julie called a local mechanic who was there within minutes with the necessary tool to change the flat. he was willing to help without charge! So i gave him a nice tip! That turned what could have been a negative into a positive. The cabin was very clean and comfortable. The king size bed was more comfortable than we expected. We will go back to Cinnamon Vally!
Visited March 2015 Traveled as a couple
---
My husband surprised me with this trip for my birthday. it was perfect!! Even the snow didn't put a damper on this fantastic weekend. The cabin was so beautiful! Best weekend ever!
---

Cinnamon Valley, Eureka Springs' best resort destination.
This is a phenomenal place to stay, far enough into the woods to enjoy the wildlife and two miles from all the downtown Eureka Springs attractions. The owners are very friendly and helpful with all your needs. I would recommend this resort to everyone. We will be returning soon.
---

If you're going to Eureka and want a beautiful getaway, this is the place to stay. It's right off the strip, but it's in the woods. They have 2 nice ponds, I tried to fish, but it started raining on me. Very nice, romantic, and peaceful getaway. The cabin was clean, up to date, kind of a mix of a log cabin with a farm house feel. They had wireless internet and dish, so we felt right at home. I would advise bringing a truck or something other than a small car. The dirt roads weren't the worst, but they are still dirt roads in the Ozarks.
Visited July 2014 Traveled as a couple
---
Showing results 1-10 of 12
---
---
---
About the neighborhood
This is the Life! A Unique Refuge in the Northwest Arkansas Ozark Mountains, coupling unparalleled natural beauty with our private, and authentically rustic, luxury log cabins. Nestled on 140 wooded acres, Cinnamon Valley is the perfect experience for the outdoor enthusiast! Located on-property are 2 spring-fed lakes with catch and release fishing, canoes, hiking trails and mountain bike cross-country/warm-up trails located in the wilderness sections of the Valley. Discover the Ozarks numerous outdoor activities – Hiking, Mountain Biking, Boating, Fishing, and scenic Highways, while being close to our near-by Dining, Shopping and Attractions in Eureka Springs. Cinnamon Valley - Welcome to the Amazing Ozarks!
How to get there
Directions: The main road through Eureka Springs is Hwy 62 – our address is 3134 E Van Buren (Van Buren is Hwy 62). Cinnamon Valley is on the east side of town. Landmarks: Our property is on the south side of the road. You will see a Dollar General across the street from our entrance. We share an entrance with a big red building (The Ozark Mountain Hoe Down). Our office is a log cabin in a meadow behind the Hoe Down's parking lot. There is a second awning entrance you'll pass through.
Activities nearby
Fishing spots available
Golf course (within 30 mins drive)
Watersports
---
100% refund within 24 hours after booking (provided the stay is at least 60 days away).
50% refund* if you cancel at least 4 weeks before check-in
No refund available if you cancel thereafter
*Booking fee is excluded from refund amount
---
---
First, check the Availability tab on this page to see if your dates are available. If they are, contact the owner via the Tripadvisor Rental Inbox to confirm availability.

---

Initially, you may contact the owner via the Tripadvisor Rental Inbox. This inbox is created after you send your first message or booking request to the owner. After you've made your first payment, you'll be able to see the owner's contact information.

---

This owner will contact you via the Tripadvisor Rental Inbox.

---

You can send another message via the Tripadvisor Rental Inbox to ask if the property is still available.

---

For this property, please use a credit card to pay via the Tripadvisor Rental Inbox. Once the owner approves your stay, he or she will send you a quote, which will include payment instructions.

---

Yes. Payments made via the Tripadvisor inbox are covered by our Payment Protection.

---
---
Do you own a vacation rental? List it here.
Earn extra income
Earn money by renting out your home. With no up-front fees and no contract, you keep more for yourself.
Manage booking easily
Confirm bookings in one click and track everything from inquiry to checkout, even while you're on the go.
Be trusted by travelers
With millions of reviews and protected online payments, Tripadvisor helps travelers book your home with confidence.
---
This property is affiliated with
All bookings are direct with the owner
---
Frequently Asked Questions about Cinnamon Valley - 'The Whitetail'
---
---

---

---