---
Condo/Apartment
Studio Eleven on Comrie is a stylish self catering apartment in a tranquil sunny garden setting in the heart of the trending suburb of Camps Bay. It is only a 15 minute walk to the pristine white beaches and vibrant strip with its many restaurants, bars and cafés. No need for a car as it is located on the MyCiti bus route and there are taxis/uber should you be pressed for time. The pool is situated at the studio entrance and has 2 sun loungers which are perfect for lying in the sun and getting that desired tan or to enjoy the natural shade that is cast from the surrounding trees. This open plan self catering studio has a fully equipped kitchen which includes a washing machine. The lounge area is fitted with a smart TV which has a satellite bo...
House Rules
Pets not allowed
Not suitable for kids
No smoking
Smoking is allowed outside the studio in the garden, at the pool or on the outside terrace. Children under 2 years old are welcome. No children or additional guests unless by prior arrangements.
---
Karin R
Hosting since September 2015
Languages spoken: German, English
Response Time: Within a few hours
Interaction with guests: I live on the property and personally welcome you. I love interacting with my guests but also respect their privacy. I give all the information pertaining to my studio as well as give information about local markets and whatever is on at the time and of course all the local sightseeing destinations. I am always contactable and there for my guests no matter what time of day or night so you will be in good hands. I am here to make your stay in Cape Town an unforgettable one.
---

Was für ein zauberhaftes Entspannungsplätzchen‼️ Ankommen - und wohlfühlen.‼️
Hier fehlt es einem an nichts....neben einer ausgezeichnet ausgestatteten Küche, einem top modernen Bad und einem super gemütlichem Bett finden sich Plätze zum relaxen und wohlfühlen, sowohl in der Wohnung, als auch auf der geschützten Terrasse oder am hauseigenen Pool. Reichlich Lektüre bietet dem Gast umfangreiche Information über das Land und die Umgebung. Sollten dennoch Fragen sein, steht die Gastgeberin mit Rat und Tat zur Verfügung und vermittelt dem Gast hier wirklich sehr willkommen zu sein. Die Lage dieses kleinen Paradieses ist einmalig. So kann man sich nicht satt genug sehen an den atemberaubenden Sonnenuntergängen über dem Meer und den Stränden von Camps Bay. Ein wunderbarer Ort zum auftanken ‼️‼️
---

Allan W
Todmorden, United Kingdom
1

contribution
Fantastic accomodation and host
Great location above Camps bay, peaceful with lovely panoramic views, Nice pool and garden terrace and all the equipment you need for a perfect holiday, highly recommended!
---

oldandwrinkly54
London, United Kingdom
9

contributions
Our second visit to Studio 11 on Comrie. Well we were not disappointed, everything about the accommodation was five star. So clean, and providing everything one could possibly need. Karin the host goes far beyond normal expectations, with her friendly advise and help, nothing seems to be too much trouble. She is almost certainly the best accommodation owner we have ever come across with a wonderful studio in a fantastic location. Thank you Karin for making our holiday so special.
---

Roehrig
Mainz, Germany
4

contributions
Ein toller Ort um sich zu erholen bei einer tollen, sympathischen Gastgeberin, die immer hilfsbereit und zuvorkommend war. Zwar ist der Strand und die Ausgehmeile etwas entfernt, jedoch ist der Sparzierweg nach unten lohnend und um jede Kurve hat man einen neuen Traumblick. Wir kommen wieder.
---

Lucinda M
Haywards Heath, United Kingdom
4

contributions
Thanks Karin. Fantastic apartment with EVERYTHING you could possibly need, lots of extras. Very comfortable and pretty, peaceful garden with beautiful birds. Walk into Camps Bay central is very easy. Definitely a great place to stay.
---

merseyblue-1
Liverpool, United Kingdom
216

contributions
If you're looking for a great place to base yourself to travel and explore Camps Bay and Cape Town, then look no further. Karin is a great host and makes you feel at home in her studio. It's comfortable and comes complete with all the things you'll need for convenience. You don't even need to worry about adaptor plugs, she has them there for you. The wifi is good and there are plenty of colourful birds visiting the gardens outside your windows. The pool is a bit cold at first but you'll get over it! We did hire a car but I'm sure you'd manage if you don't. We did some of the trips out that she suggested and enjoyed them. There were occasions when she had time to take us to places to show us around or she'd invite us up to see the beautiful sunsets from her top balcony. A very enjoyable time in Camps Bay and a big thank you to Karin.
---

susannelutkat
Hamburg, Germany
2

contributions
If you search for the perfect and quite place in busy camps bay, Karin has it! Our host was so nice and it was a pleasure to stay at 11 Comrie. The apartment had everything and you can really see that Karin makes a huge effort so that her guests feel home! We can 100% recommend the place!
---

oldandwrinkly54
London, United Kingdom
9

contributions
Exceeded all our expectations
We stayed for 11 nights in this very comfortable studio which was superbly fitted, and very clean. The garden was a joy, very private with 4 tortoises, which were great entertainment. The pool was very clean, although we only dipped our feet in as it was way too cold for us at this time of year. The Studio owner, Karin was fantastic, and could not have been more helpful and kind. Hopefully one day we will return.
---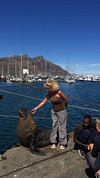 Simply AMAZING studio and a fantastic host.
Loved our stay at the studio. Karin, the host is superb. Gave us a lot of information on what to do and where. The studio is very well equipped, clean and extremely comfortable and private. We would highly recommend it to anyone going to Camps Bay.
---

Milly1_23860
London, United Kingdom
53

contributions
We have just returned to the Uk having spent 10 nights in the Studio. The Studio is spacious, very well equipped with a sunny garden and natural shade, The pool was a perfect temperature and very clean. There is natural shade around the pool and a sun umbrella is also available. The deck was perfect for al fresco dining. We were very comfortable in the apartment,which is in a quiet road but also within easy distance of Camps Bay restaurants,beach & bars. Karin,the owner, is very knowledgeable of the area and other tourist "must do's". There is also plenty of reading material in the apartment to help you plan your excursions. Karin is a charming lady who loves her tortoises and the birds which visit her garden We have been visitors to Cape Town and the Camps Bay area for 20 years and this is the best apartment we have stayed in. We would not hesitate to recommend it to our friends and would definitely stay here when we return.
---
Showing results 1-10 of 20
---
Kitchen and dining
Grill

Freezer

Refrigerator

Kettle

Microwave

Stove

Toaster
Indoor amenities
Central heating

Internet access

Cable television
Bathroom and laundry
Iron

Linens provided

Towels provided

Washer
---
---
About the neighborhood
Camps Bay is a very sought after destination. It boasts a beautiful white beach surrounded by mountains ( Lions Head, Table Mountain and The 12 Apostles). The beachfront has many restaurants and bars to choose from and the food is excellent. A small supermarket is located along the strip to buy food should you wish to do your own cooking. There are a number of ATM to draw money from located in The Promenade as well as a chemist/pharmacist should you need any medicine etc. A doctor as well as optometrist is also in the complex. A petrol station is situated at the top of Camps Bay should you need to fill up your car. The Topless Bus can be caught opposite The Bay Hotel on the beachfront. Tickets can be bought on the bus.
Getting around
Should you not have rented a car then I would suggest Uber for the most reasonable and reliable mode of transport. There is a MyCity bus and the bus stop is at the end of Comrie Road. You will find the cards as well as the timetable in my guest information file in the studio. I can organize tours such as Cape Point, Winelands, Shark Cage diving etc. or plot your own routes that you can do with your rental cars. I also take guests myself should they want me to.
How to get there
There are a number of ways to get to my studio from the airport. Renting a car, airport shuttle,Taxi or Uber. My garden studio, Studio Eleven on Comrie, is on Google Maps and easy to find. Once here, I would suggest Uber ( should you not have rented a car) as this is the cheapest and most reliable. We do have a MyCity bus which is relatively new and works quite well.
Activities nearby
Golf course (within 30 mins drive)
---
Cancellation policy
100% refund within 24 hours after booking (provided the stay is at least 60 days away).
50% refund* if you cancel at least 4 weeks before check-in
No refund available if you cancel thereafter
*Booking fee is excluded from refund amount
---
---
First, check the Availability tab on this page to see if your dates are available. If they are, contact the owner via the Tripadvisor Rental Inbox to confirm availability.

---

Initially, you may contact the owner via the Tripadvisor Rental Inbox. This inbox is created after you send your first message or booking request to the owner. After you've made your first payment, you'll be able to see the owner's contact information.

---

This owner will contact you via the Tripadvisor Rental Inbox.

---

You can send another message via the Tripadvisor Rental Inbox to ask if the property is still available.

---

For this property, please use a credit card to pay via the Tripadvisor Rental Inbox. Once the owner approves your stay, he or she will send you a quote, which will include payment instructions.

---

Yes. Payments made via the Tripadvisor inbox are covered by our Payment Protection.

---
---
Do you own a vacation rental? List it here.
Earn extra income
Earn money by renting out your home. With no up-front fees and no contract, you keep more for yourself.
Manage booking easily
Confirm bookings in one click and track everything from inquiry to checkout, even while you're on the go.
Be trusted by travelers
With millions of reviews and protected online payments, Tripadvisor helps travelers book your home with confidence.
---
This property is affiliated with
All bookings are direct with the owner
---
Frequently Asked Questions about Fast,free fiber wifi, quiet garden for zoom calls, fully equipped kitchen, pool,
---
Fast,free fiber wifi, quiet garden for zoom calls, fully equipped kitchen, pool, is able to accommodate up to 2 guests.

See all property details.

---

Fast,free fiber wifi, quiet garden for zoom calls, fully equipped kitchen, pool, has one bathroom available.

See all property details.

---

Stays at Fast,free fiber wifi, quiet garden for zoom calls, fully equipped kitchen, pool, must last at least one night.

See all property details.

---