---
Villa
Syama is a distinctly luxurious villa nestled on the North East coast of the tranquil paradise island of Koh Samui. This unbounded retreat allows you to enjoy breathtaking views of the Gulf of Thailand, Koh Phangan and Tong Son beach which is just a short 100 meter stroll below the villa. Escape the stress of the outside world as you indulge in the serenity and opulence that Syama has to offer. Let the sea breeze caress you and awaken your senses while you appreciate the outstanding amenities. Accommodation oozes luxury and comprises of two exquisite master bedrooms and four further guest bedrooms, all en suite with air conditioning, ceiling fans and outdoor space, two large living rooms, one dining room, a games room with a pool table, fully equipped kitchen for all cooking needs, a 32sq....
House Rules
Check with owner: 
Pets
Smoking allowed
Bedrooms
2 Kings
3 Queens
2 Sofas
2 Twins
1 Crib
Bathrooms
1 Half bath
1 Full bath
6 Attached (ensuite)
6 Showers
---
Rachel K
Hosting since March 2015
Response Rate: 60%
Response Time: Within a day
---

Rumy K
Singapore, Singapore
11

contributions
Lovely and Spacious Villa with lovely views
We were a group of 11 friends on a holiday and we had a great time. The living area is great. The pool area is lovely. The views of the water are great. It's around a 10 min walk from the beach. Just keep in mind that it's a little away from the more happening places and we had to hire a vehicle to head out every time. The caretakers take good care of the place and made lovely breakfast for us every morning. And also helped do some small grocery shopping as needed. We had a great time.
---

Janice S
Sydney, Australia
19

contributions
Fantastic villa for a large family or group
Stayed with a group of friends for 7 nights to celebrate our 50th birthdays. The villa is beautiful, modern and very spacious, with plenty of seating and individual 'spaces' to hang out. The views are incredible, the villa is in a very peaceful and private location. The main bedrooms on the upper floor are incredible with amazing views and a huge floor space, the bed was super-comfy. The villa managers were great and always willing to help us organise transport and excursions. It was wonderful to wake up, don your swimmers and wander down to the coffee brewing and breakfast cooked. We had two wonderful meals cooked for us while we were here. Extremely relaxing holiday, and the perfect villa for a large group or extended family. The villa is just as amazing as the photos depict, absolutely stunning. Thank-you for having us!
---

O.M.G an amazing place to stay with friends! We were so well looked after.....apparently the living room was great, I was too busy by the pool doing nothing! Staying here meant you had a unique blend of having your own privacy,from the public, but also from your friends if required (i.e nana nap). Extremely lucky to know Tracey and that she was able to organise this for us.....turning 50 not so bad after all.
---

We booked this vacation rental to host our wedding in Samui and we could not have been happier with our stay. Our party of 14 stayed in this amazing villa overlooking the ocean for 4 nights. It was so amazing; we did not want to leave. The caretakers of the property are located on site and assist with anything you may need, like making breakfast, getting groceries or calling a taxi. I honestly do not know how they do it all -- they are like ninjas -- one minute you see them making breakfast and the next thing you know the whole house has been cleaned without you seeing a thing. The property has two matching master suites upstairs, both contain a shower and oversized bathtub overlooking the ocean. Upstairs there is also an additional TV room that we used as an additional bedroom. The main floor opens up to the pool and stunning ocean views, it consists of a large living room, two kitchen areas, and a large dining room table. This floor also consists of two additional bedrooms that open up to the pool but were only accessible from outside the main house, which we liked because it gave our guests more privacy. There are two additional bedrooms located just below the main floor as well. Every one of my guests found the rooms to be more than they expected and the beds to be soft and comfortable. Honestly, I can not think of one thing I was unhappy about concerning our stay! Moc and Mo manage the property and also just happened to be wedding planners. They ensured every detail of my wedding went smoothly and that each one of my guests enjoyed themselves. It was truly a dream come true to have our wedding here and we appreciated everything the staff did to make this such a special memory to us and our guests. Truly Thank You! Andrew and Crystal
---

Jimb0o
Ko Samui, Thailand
10

contributions
Relaxing & Spacious Villa
This is the second time we stayed at Villa Syama. We came back because we knew that we would be welcomed on arrival at the airport and would receive warm hospitality throughout our stay. The Villa staff were excellent. The services really elevated our vacation to another level. Khun Gin & Khun Pouey took care of all our meals and more. We enjoyed fresh and delicious restaurant quality Thai cuisine on the terrace enjoying the sea view every day. It is such a pleasure to be able to relax with family and friends in this private and luxurious villa.
---

alparzero
Sanibel Island, FL
6

contributions
We had an incredible time! I hosted a Healthy Retreat at Villa Syama for 6 nights - and loved every minute. The food was absolutely amazing, some of the best Thai food we had on our trip. The staff takes care of every single details so that you can actuallly relax and enjoy your vacation. Highly recommended!
---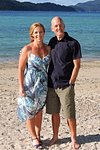 sevenhuysens
Frankston, Australia
19

contributions
Villa Syama has everything you need and more. Myself and 5 friends had an amazing stay here with a bedroom and bathroom each and plenty of space inside and out. Jean and Pui are absolutely amazing hosts - from waking up in the morning to the coffee pot on and breakfast being prepared, to transport being arranged whenever you need through to the incredible banquet cooked by Pui for dinner. They are such kind people and think of everything - down to passing us a villa card with address and phone number as we hopped into our first taxi into town. The villa has all the facilities you need in the bedrooms, bathrooms, kitchen, tv/sound system and the infinity pool is to die for. You don't need to leave the place if you don't want to - but if you do, Chewang is only a 15 min drive away. Book this place now - you will not regret it!
---

quickdry2
Melbourne, Australia
5

contributions
WOW.WHAT A BEAUTIFUL PLACE ,SERENE ,WITH GREAT VIEWS.
The Villa Syama was fantastic, we had a wonderful holiday, the staff Gin and Pouey were fantastic, great cooks and they made our stay memorable. They were respectful and nothing was to much trouble for them.Imagine laying by the pool with a Margarita in hand or a Pina Colada, its as good as it gets. Koh Samui has many places to see and do,Chaweng is a great adventure with its stalls and markets,beaches, great food at very reasonable prices at the restaurants. An experience of memories of Villa Syama and Koh Samui to last a life time, we will return .
Thank you so much for your wonderful review. We hope you come back again.
---

philipbywater
Greater Melbourne, Australia
4

contributions
The staff are amazing, couldn't do enough for our stay. The villa is perfect for a family group with its spectacular views & amenities. Gin & Pouey are such amazing people kind, pleasant & gentle souls. You make the stay all the worth while. Your meals are 5 star quality. Thank you both for all your effort & time to make our family stay so memorable. The restaurant combo 3 was amazing, staff welcoming, food & drinks also very high standard. Value for money.
Thank you so much Phillip. We are so happy you enjoyed your stay with us.
---

Mazmichael
Merimbula, Australia
10

contributions
Our family trip to villa syama was absolutely amazing. We all where blown away by the beautiful views and magnificent home which was so welcoming from jean and pui and Nim and nom. Jean and pui couldn't do enough for all of us. They where an amazing couple. Their cooking was so tasty and nothing was a problem. The pictures on the internet are fantastic but to see it in real life is breath taking. To get into town from the villa with a large private van up to 13 people costs 800 baht one way, a taxi for 4 people will cost between 500-600 baht one way. ( this is the total not per person) If your considering booking a holiday, just definitely book it NOW. You won't regret it. We where very sad to leave the villa , jean and Pui We will definitely be back.
Thank you so much for your kind words. We hope you can come back and visit soon.
---
Showing results 1-10 of 17
---
Nearby
Hiking areas

Countryside area
Indoor amenities
Air conditioning

Internet access

Cable television
Location info
Kid friendly

Beachfront/Lakeside
Scenic views
Mountain views

Ocean views

Waterfront views
Entertainment
DVD player

Game Room

Pool table

Stereo system

Television
Bathroom and laundry
Dryer

Linens provided

Towels provided

Washer
Kitchen and dining
Grill

Dishwasher

Freezer

Refrigerator

Kettle

Microwave

Stove

Toaster
Outdoor amenities
Balcony

Deck

Garage

Patio

Private yard

Terrace
---
---
---
Cancellation policy
100% refund within 24 hours after booking (provided the stay is at least 60 days away).
50% refund* if you cancel at least 8 weeks before check-in
25% refund* if you cancel at least 4 weeks before check-in
No refund available if you cancel thereafter
*Booking fee is excluded from refund amount
---
---
First, check the Availability tab on this page to see if your dates are available. If they are, contact the owner via the Tripadvisor Rental Inbox to confirm availability.

---

Initially, you may contact the owner via the Tripadvisor Rental Inbox. This inbox is created after you send your first message or booking request to the owner. After you've made your first payment, you'll be able to see the owner's contact information.

---

This owner will contact you via the Tripadvisor Rental Inbox.

---

You can send another message via the Tripadvisor Rental Inbox to ask if the property is still available.

---

For this property, please use a credit card to pay via the Tripadvisor Rental Inbox. Once the owner approves your stay, he or she will send you a quote, which will include payment instructions.

---

Yes. Payments made via the Tripadvisor inbox are covered by our Payment Protection.

---
---
Do you own a vacation rental? List it here.
Earn extra income
Earn money by renting out your home. With no up-front fees and no contract, you keep more for yourself.
Manage booking easily
Confirm bookings in one click and track everything from inquiry to checkout, even while you're on the go.
Be trusted by travelers
With millions of reviews and protected online payments, Tripadvisor helps travelers book your home with confidence.
---
This property is affiliated with
All bookings are direct with the owner
---
Frequently Asked Questions about Villa Syama - Luxury Villa Koh Samui
---
---

---

---

---