---
Minimum stay varies 
The minimum stay for this property changes depending on the dates selected
Villa
This is a superbly finished villa boasting some of Malta's most spectacular sea views overlooking the blue Mediterranean extending to the islands of Comino and Gozo. With 300 square meters of spacious rooms, modern interiors, and situated in the up market area of Santa Maria Estate, this villa ticks all the right boxes to make your family holiday in sunny Malta one to remember. A 50 square meter pool and large deck area command stunning views and make the best for idyllic outdoor living. The villa is barely 100 meters away from the shoreline, and the closest sandy beach is only 1.5 kilometers away. A short driving distance to the village of Mellieha's shops and restaurants, Villa Jasmine is just down the hill from the main road, in a quiet area of this sought after location. * The Eu10...
House Rules
Pets not allowed
Kid friendly
No smoking
Bathrooms
2 Full baths
1 Attached (ensuite)
2 Showers
---
Mario S
Hosting since March 2015
Languages spoken: English, Italian
Response Rate: 85%
Response Time: Within a few hours
---

miasusanne
London, United Kingdom
27

contributions
Outstanding views - fabulous villa
When we arrived it was dark, we could tell the vista would be amazing, sure enough the next morning , the panoramic views were stunning ..' The villa is huge, the photos do not convey how large it really is. It's a great place to stay, comfortable and has everything you need Mario met us and showed us round, I messaged him once and he replied pronto. I would highly recommend the villa.. Would love to return - who knows one day - maybe Thanks Mario ...
---

Just returned from a lovely holiday in Malta at Villa Jasmine. There were 12 in our party and the villa accommodated us very well. Mario was there on arrival to greet us and showed us around the spotless villa. He was informative on nearby restaurants and arranged a taxi firm that had a mini bus to take us to and from the town which we then used constantly. The taxi firm was called Drifters and they were always at the end of the phone. We had a little issue with an air con unit not working however this was dealt with immediately by Mario and the problem was solved. Josette the cleaner was also wonderful nothing was too much trouble. We had a wonderful holiday and I would recommend this villa for a family holiday.
---

Reisetante
Bavaria, Germany
22

contributions
Wir waren 9 Erwachsene in der Villa Jasmin! Der Eingangsbereich, Küche ( gut ausgestattet) und Wohnzimmer waren großzügig geschnitten, geschmackvoll eingerichtet und ideal für uns alle. Die Schlafräume nett eingerichtet und sehr sauber. Es gab zwar genügend Bäder, jedoch mussten wir uns 3 Duschen teilen, was bei guter Absprache auch möglich ist. Am schönsten jedoch war der fantastische Ausblick auf den Pool und in die Bucht! Der Poolgröße ist total ausreichend und genügend Liegen mit Auflagen standen zur Verfügung. Auch fand sich immer ein schattiges Plätzchen ,auch auf der Terrasse genügend Plätze für unser Gruppe Der Billiard- und Tischtennisraum war eine willkommene Abwechslung.... Wir waren insgesamt sehr begeistert, auch wurden Fragen sofort beantwortet und auf Wünsche eingegangen und erfüllt! Wir würden die Villa jederzeit wieder gern besuchen und können die gerne weiterempfehlen.
---
jecopland
Croydon, United Kingdom
3

contributions
The villa has the wow factor once you walk through it & onto the terrace. Amazing views, villa was very nice & only really used the kitchen as outside all the time. Salt water pool was very nice too.
---
We were a family of 7 adults and 6 children between the age of 2 and 10 staying at villa jasmine.the villa is absolutly amazing.the living area as well as the terace are very spacious with stunning views over the sea. The children were highly delighted with the pool. The owners are very friendly and helpful.we were very well received at our arrival. Some points to keep in mind when booking/packing: The units of electricity included are not sufficient. Havent used air conditioning/tv and used 100 extra units. The interior of the villa is beautifully equiped but 90% ikea. If you love cooking,bring along some equipment.
---

797edwardv
Fleet, United Kingdom
1

contribution
Superb location and accommodation Breathtaking views A large group of us with plenty of room to relax The owner was lovely and helpful I would definitely recommend this villa for location and tranquility
---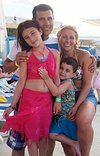 Theresa S
Seaham, United Kingdom
2

contributions
Thank you so much for providing a WONDERFUL Villa for us to ensure my Husband had a 40th Birthday he will never forget! :D

Thank you Theresa. I'm glad you all had a great time.
---

A beautiful villa in the perfect location
Villa Jasmine is a superb property in possibly the best location in Malta. It is very spacious and well appointed and equipped. It is not best suited for toddlers as the pool is unprotected, there are a lot of stairs, the banisters are not strong and the verandah becomes very slippery when wet. The electricity allowance was a bit meagre at 150 units. We more than doubled this and do not feel we overused the appliances. Having said that we had a great time and would not hesitate to go back.
Visited October 2016 Traveled with family
---

Georgie11UK
Island of Malta, Malta
30

contributions
This is a huge and very comfortable villa. We have been coming to Malta for over 30 years and think this is one of the best villas we have stayed in. With just a few tweaks it could be perfect! There are 3 large bedrooms (very comfy beds and pillows) and 1 single room upstairs with air conditioning. 2 more bedrooms and large bathroom downstairs in the basement with no air con but it was quite cool and there were fans. The games room only had a pool table when we were there but we had no teenagers so didn't use it. The best bits: the views are stunning from most of the rooms including the upstairs bedrooms. Very well equipped kitchen and the inside is modern and comfortable. There is a lovely breeze through the villa so we didn't need to use the air con much. The extra we had to pay was minimal between 7 of us. The location is quiet and you can walk along the coastline nodding hello to the friendly locals on the way to the beach or restaurants. This would make a great winter holiday with lovely sofa's and huge table and chairs. The tweaks: Could do with a bit more furniture outside, especially outside the bedrooms. It is nice to sit there in the morning with a cup of tea or in the early evening after a shower. I think we are starved of warm evenings so like to make the most of it and use outside rather than inside. We did not put the big TV on once!! Would be good to have a few more comfy seats on the patio, there was a table and 6 chairs which was not enough for us all. The fridge is not big enough, need another one just for the drinks, a cooler perhaps. Mario and his staff were excellent and kept checking everything was OK. We also found the salt water pool unpleasant but Mario made sure the salt level was reduced which was much better. There are excellent restaurants in Mellieha, some you can walk to but most of them are in the main town up a large hill so would need to get a bus or hire a car. There's so much to see in Malta a car is essential really. A great holiday home and will definitely go back with rest of the family, including 3 and 7 year olds who will love the space.
Visited August 2016 Traveled with family
---

Massive villa, nice games room close to a great beach
Stayed with two teenage children. There are three large bedrooms upstairs and one small. In the basement there are two more from memory so would comfortably sleep a lot of people. The downstairs games room is great with a pool table, table tennis table and air hockey table - great if you cannot stand the heat all day. There is a medium sized salt water pool and lots of sun loungers. If you go there would recommend hiring a small car then you can put it in the garage to keep cool (we had a large Mercedes so no chance). Kitchen is well equipped; there is air conditioning throughout but be aware if you use it a lot you will likely massively exceed the electricity allowance. We rarely used it and still exceeded the allowance (but nice Mario didn't charge us - thanks!). The owner was extremely helpful and friendly. Nice views from the terrace and not too noisy at night. If you want to go to Malta this makes a great base to stay.
---
Showing results 1-10 of 13
---
---
---
About the neighborhood
With its marvellous Mediterranean weather and countryside, Mellieha is a dream-destination for those in search of sun and nature. The beaches that line the coast of Mellieha are some of the world's finest. All water sports activities are available, along with top-notch restaurants. The picturesque landscapes on the coastal region are second to none, with many trails leading to spectacular vista points. Inland, vast and fertile farmlands provide fresh produce to the region's many restaurants. Mellieha is truly a destination for all the family and for all seasons. With all-year round events and celebrations, this place is great anytime you visit.
How to get there
Villa Jasmine is located in Santa Maria Estate in Mellieha, a village located at the north of Malta. Santa Maria Estate is an up market area of Mellieha where only villas are allowed. Any taxi driver can drive you there and regular public bus service to Mellieha is available. The closest bus stop is just 1 corner away. If you're driving, once in Mellieha you need to drive down from the main Mellieha area into Santa Maria Estate using Ghajn Zejtuna Street (Triq Ghajn Zejtuna). This long and winding road will get you down from the top of Madliena, which is located on a hill, to sea level. If you stick to this road, Palm Street (Triq il-Palm) is the 5th street on your right.
Activities nearby
Fishing spots available
Watersports
---
100% refund within 24 hours after booking (provided the stay is at least 60 days away).
100% refund* if you cancel at least 2 weeks before check-in
No refund available if you cancel thereafter
*Booking fee is excluded from refund amount
---
---
First, check the Availability tab on this page to see if your dates are available. If they are, contact the owner via the Tripadvisor Rental Inbox to confirm availability.

---

Initially, you may contact the owner via the Tripadvisor Rental Inbox. This inbox is created after you send your first message or booking request to the owner. After you've made your first payment, you'll be able to see the owner's contact information.

---

This owner will contact you via the Tripadvisor Rental Inbox.

---

You can send another message via the Tripadvisor Rental Inbox to ask if the property is still available.

---

For this property, please use a credit card to pay via the Tripadvisor Rental Inbox. Once the owner approves your stay, he or she will send you a quote, which will include payment instructions.

---

Yes. Payments made via the Tripadvisor inbox are covered by our Payment Protection.

---
---
Still can't find what you're looking for?
More Coastal destinations:
---
Do you own a vacation rental? List it here.
Earn extra income
Earn money by renting out your home. With no up-front fees and no contract, you keep more for yourself.
Manage booking easily
Confirm bookings in one click and track everything from inquiry to checkout, even while you're on the go.
Be trusted by travelers
With millions of reviews and protected online payments, Tripadvisor helps travelers book your home with confidence.
---
This property is affiliated with
All bookings are direct with the owner
---
Frequently Asked Questions about Villa Jasmine - 6 bedroom villa
---
---

---

---