---
Minimum stay varies 
The minimum stay for this property changes depending on the dates selected
Cottage
The comfortable open plan sitting room affords you the luxury of relaxing in a fine leather suite, while taking in the whole of Murk Head's spectacular vista, right to the horizon, through the double doors.At the other end of the lounge area you will find the luxury continues with the clean, modern lines of the dining kitchen.The kitchen is equipped with granite work surfaces and a Belfast sink. All appliances are built in. Beyond the dining kitchen lies the master bedroom where luxury is still very much the order of the day. The en-suite wet room, complete with heated floor and heated towel rails, is an extravagant experience in itself. Honeysuckle Cottage is testimony to the luxury you can expect as part of the Murk Head experience. North Yorkshire holiday cottages, in the Scarboroug...
House Rules
Pets not allowed
Kid friendly
No smoking
---
Joanna G
Hosting since March 2014
Languages spoken: English
Response Rate: 100%
Response Time: Within a few hours
Interaction with guests: We are on hand if you need us during your stay to advise on restaurants, attractions etc. We also will show you in and around your cottage on arrival .
---

Luxury Stone Barn in a beautiful setting
My husband and I enjoyed a relaxing stay in this beautiful stone barn over Christmas & New Year. The barn had been beautifully decorated for Christmas and we had wonderful extras of lovely bubbly and Christmas crackers. The barn is stylish and cosy and the surroundings are stunning with fantastic views. The hosts were friendly but not intrusive. Enjoyed our little visitors 🐾 Would not hesitate to stay here again. Many thanks Deb & Bren
---

Safari676770
Leicester, United Kingdom
A very pretty cottage, a very peaceful place to stay, owner very nice. Would recommend any one to stay.
---

bethkm2018
Birmingham, United Kingdom
3

contributions
We are just back from a perfect week at Honeysuckle Cottage. My husband is a strange soul in that he doesn't like going on holiday! He goes, under much protest, each year, just to please me. When we got home, last night, he turned to me and said that it was an amazing holiday, the cottage was idyllic and that he really enjoyed himself and would love to go back and that he feels very lucky and nothing could have been better! I have never heard him speak like that before, about anywhere else, including Barbados, where we went on honeymoon last year. The cottage is beautifully located with SO MUCH SPACE! Waking up to the magnificent countryside views each morning was a total joy, as was being greeted by Huxley, the adorable little doggy who lives there. The cottage has all you could need, and more, such as the luxury of underfloor heating in the bathroom and a fabulous, huge walk-in shower. Joanna and her husband were most helpful and very pleasant, with the lovely touch of a home-made cake waiting for us, when we arrived. Highlights of the nearby locations, for us, were the cliff walk down to the seal colony in Ravenscar; exhausting but exhilarating and the magical woodland walk down to the waterfall at Falling Fosse. Simply stunning! I have already recommended the cottage to my daughter and friends and would love to return some time. Thank you.

Thank you for your lovely review, hope to see you again. kind regards |Joanna
---

Had an excellent weekend in a beautiful cottage, this is somewhere i would book again. very friendly and helpful people. Thank you Joanna

So glad you enjoyed it. Thank you for taking the time to post a review. Kind regards Joanna
---

Amazing views, lovey host, cracking location. Great lambs, it was amazing to see the countryside in full flow.

So glad you enjoyed your stay. Thank you for your review
---

Dimitri696
Cramlington, United Kingdom
7

contributions
Peace and relaxation in a beautiful setting
We stayed in Honeysuckle Cottage from 31st August to 7th September and we were so lucky to have beautiful weather especially for the first half of the week.Joanna was a way for the weekend when we were arrived but we were greeted by their lovely little dog and a home made cake and bottle of wine which were lovely touches. The cottage is so cosy and comfortable and equipped with everything you could need. The views from the front are so relaxing to come back to in the afternoon and there are plenty of eateries within about fifteen to twenty minutes drive away. the cottage is well placed to visit the surrounding area and there is plenty to do to suit all tastes. Although it is situated on a working we were never aware of any noise. The little dog did regular checks on us particularly at breakfast time even though he went away every day disappointed not to find a place set for him! All in all we had a lovely stay and may thanks to Joanna and Robin for providing such a haven.

Thank you so much for your review, Huxley is such a cheeky little dog. So glad you enjoyed your stay. Kind regards Joanna
---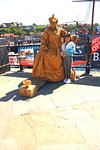 Located in a scenic quiet area, the cottage is warm and has lovely furnishings, we visited Scarborough, Staithes, Whitby ,Robins hood bay, Dolby forest, Thornton le Dale, and Ayton Castle and the tea rooms Granery which are very near to the castle. lots to sea and do in North Yorkshire coast area .many people have stayed in the cottage more than once and i can see why, we have had a lovely holiday.

Thank you for your lovely review and so glad you enjoyed. Joanna
---

Beautiful setting on a working farm. Great base for days out to Whitby and Scarborough etc (a car is a must). Was lovely to come back to cottage and relax. Honeysuckle cottage was clean and homely, bed very comfortable with everything we needed on hand. A lovely cake was waiting for us on arrival, which the owner had made us that morning. Would definitely recommend cottage for those looking for a relaxing break away from it all. We hope to return back soon.

Karen thank you for your lovely review and I am so glad you enjoyed it. all the best Joanna
---

annew965
Chelmsford, United Kingdom
11

contributions
Perfect mix of luxury and comfort.
Loved our stay in this pretty little cottage with amazing views. Everything about the cottage was perfect for us - wet room, comfortable bed, cosy living room, very well equipped kitchen and lovely to come 'home' to after a days sightseeing. Joanna & Robin (and the dogs who visited us every day) are friendly and welcoming and if we get the opportunity to visit the area again, we will not look any where else. Thanks for the cake and wine.....delicious.

---

FoxyLady1972
Sheffield, United Kingdom
54

contributions
I can't recommend this cottage highly enough. It was perfect for us. Joanna and her husband are very welcoming, there when you need them but otherwise unobtrusive. The cottage is well equipped and very comfortable. Thank you both for making our stay such a pleasant one. Hopefully we'll be able to stay again in the future.

So glad you enjoyed it and thank you for your lovely review. Kind regards Joanna
---
---
Internet access

Linens provided

Patio

Private yard

Cable television

Secure parking available

Towels provided

Television
---
---
About the neighborhood
There is so much to do in the area. You can walk straight into the North York Moors from your front door or Scarborough and Whitby are a short drive away. Many people take a trip to york for the day which is easily done by rail or car. The North York Moors Steam Railway is also a popular attraction to visit. Scarborough has the largest Open Air theatre in Europe and we also have the famous Stephen Joesph Theathre in the round, made famous by Alan Ayckbourn.
Getting around
You will need a car to get to us because we are 8 miles from Scarborough and 9 miles from Whitby, there is lots of parking here for you,
How to get there
Before you come we will send you full instructions to ease your journey getting here.
---
100% refund within 24 hours after booking (provided the stay is at least 60 days away).
50% refund* if you cancel at least 4 weeks before check-in
No refund available if you cancel thereafter
*Booking fee is excluded from refund amount
---
---
First, check the Availability tab on this page to see if your dates are available. If they are, contact the owner via the Tripadvisor Rental Inbox to confirm availability.

---

Initially, you may contact the owner via the Tripadvisor Rental Inbox. This inbox is created after you send your first message or booking request to the owner. After you've made your first payment, you'll be able to see the owner's contact information.

---

This owner will contact you via the Tripadvisor Rental Inbox.

---

You can send another message via the Tripadvisor Rental Inbox to ask if the property is still available.

---

For this property, please use a credit card to pay via the Tripadvisor Rental Inbox. Once the owner approves your stay, he or she will send you a quote, which will include payment instructions.

---

Yes. Payments made via the Tripadvisor inbox are covered by our Payment Protection.

---
---
Do you own a vacation rental? List it here.
Earn extra income
Earn money by renting out your home. With no up-front fees and no contract, you keep more for yourself.
Manage booking easily
Confirm bookings in one click and track everything from inquiry to checkout, even while you're on the go.
Be trusted by travelers
With millions of reviews and protected online payments, Tripadvisor helps travelers book your home with confidence.
---
This property is affiliated with
All bookings are direct with the owner
---
Frequently Asked Questions about Honeysuckle Cottage - One Bed deluxe
---
---

---

---