What is Travelers' Choice Best of the Best?
This award is our highest recognition and is presented annually to those businesses that are the Best of the Best on Tripadvisor, those that earn excellent reviews from travelers and are ranked in the top 1% of properties worldwide.
Learn more
A galaxy of vibrant neighborhoods connected by cable cars
San Francisco has a personality as big and bold as the Golden Gate Bridge, but that personality changes neighborhood to neighborhood. Consider the tea rooms and mah jong parlors of Chinatown, the lingering hippie chic of Haight-Ashbury, and the boisterous family fun of Ghirardelli Square. The city is also home to one of the country's most dynamic food scenes, from beloved Mission District burrito joints to Michelin-starred dining rooms. When your legs get tired from exploring, hitch a ride on a cable car and take in those hilltop views.
San Francisco Travel Guide
Travelers' pro tips for experiencing San Francisco
bsimosd
Although the city is relatively small geographically, because of the hills, you need to buy a one, three, or seven-day visitor pass at either the airport or any Walgreens. This allows you access to the buses, trams, street cars and — most importantly — the cable cars. Without the pass, each trip on a cable car will cost you $6!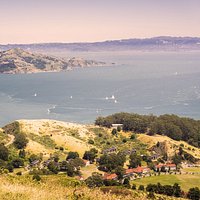 ColoMama33
Dress in layers, the weather can be unpredictable.
Martha C
If you like to cycle, rent a bike and ride along the waterfront. Just be careful of getting caught out going up those famous hills!
In the words of those who've been there before ...
54Nancy54
San Francisco is a great city for walking but also has easily manageable public transportation to help you get around. There is lots to see in one day by foot and cable car/trolley/bus.

Bill P
Like to enjoy a long walk while enjoying great sights and tastes? You can visit Italy, China, shopping and a fishing village all within a comfortable six-mile walk...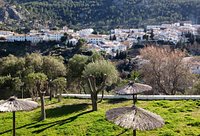 SanMijas
San Francisco is a small city representing every culture available with the ocean to one side and the bay to the other. Loads of parks throughout the city and Golden Gate Park being the jewel. A city of hills and variety of architecture with fabulous views. A city with history. ... Each neighborhood offers a different experience and different culture.
What is the best way to get there?
Flying
San Francisco International Airport (SFO) is the city's primary airport with more than 50 airlines and nonstop service to more than 125 cities. Another option is Oakland International Airport (OAK) across the bay.
Train
Amtrak's California Zephyr train runs between Chicago and the Bay Area, with stops in Omaha, Denver, Salt Lake City and Reno. It also offers three train lines within California.
Bus
Greyhound buses to San Francisco are available to/from many U.S. cities, while Megabus is available to/from a few select cities in California.
For more info on getting to San Francisco, visit here.
Do I need a visa?
If you are a non-U.S. citizen, you may need a visa to visit San Francisco, unless your country is part of the Visa Waiver Program (VWP). The program allows citizens of certain countries to visit the U.S. for up to 90 days without a visa.
For more info on visas and the VWP, visit here.
When is the best time to visit?
Summer sees the biggest concentration of festivals — including San Francisco Pride and Outside Lands music festival — but also cooler temperatures, whereas fall offers warmer, sunny weather. Average daily temperatures in summer are highs of 19°C and lows of 15°C, while winter highs can hit 15°C and lows of 7°C.
Whenever you choose to visit, come prepared with layers, as the fog usually burns off by mid-morning and returns in the early evening, bringing with it huge swings in temperature.
Trains
San Francisco Municipal Railway, aka Muni, operates a light rail and Muni Metro subway. Bay Area Rapid Transit, aka BART, connects San Fran to the East Bay. Caltrain is a commuter rail that runs to San Jose.
For info on Muni fares, routes and schedules, visit here.
For info on BART fares, routes and schedules, visit here.
For info on Caltrain fares, routes and schedules, visit here.
Streetcar
Muni also operates San Francisco's historic and iconic streetcar on Market Street from Fisherman's Wharf to Castro Street.
For more info, visit here.
Cable cars
Muni also runs the three lines of San Fran's equally famous cable cars, two of which run from Powell and Market to Fisherman's Wharf with the third runs between Market and Van Ness. To grab one, look for its brown and white sign.
For info on fares, routes and schedules, visit here.
Buses
There are plenty of muni bus routes to get you across San Francisco. To find the nearest stop, look for yellow street poles, white paint on streets or small bus shelters.
For info on fares, routes and schedules, visit here.
Ferries
The San Francisco Bay Ferry runs from the Ferry Building and Pier 39 to six Bay Area cities while the Golden Gate Ferry connects to Marin County.
Taxis
There are plenty of taxi companies operating in San Francisco that can get you to/from airports and around town.
Bikes
Bay Wheels, operated by Lyft and available on its app, is the primary bikeshare in San Francisco.
For fares and locations, visit here.
Rideshares
Uber and Lyft are available in San Francisco via their apps on your smartphone.
On the ground
What is the timezone?
Pacific Time.
What are the voltage/plug types?
The standard voltage in San Francisco is 110V to 115V, 60Hz AC. Outlets accommodate two-prong flat (not grounded) plugs or grounded three-prong plugs.
What is the currency?
USD.
Are ATMs readily accessible?
Yes.
Are credit cards widely accepted?
Yes.
Is it easy to find a bank?
Yes.
How much do I tip for...
Restaurants/room service
Standard tipping in San Francisco is 15 to 20 percent of your bill, or 25 percent if you were extremely happy with your meal and service.
Taxis
Like restaurants, 15 to 20 percent of your fare is a typical tip for taxis, more if they were particularly nice or helpful.
Bellhop/valet
It's standard to give between $2-$3 cash to bellhops who help with your luggage and the valet each time you retrieve your car.
Housekeeping
It's common to leave a tip of $2 per day of your stay to the housekeeping staff of your hotel, which you can leave in the room when you go. Some hotels leave envelopes for such tips, but if they don't, a quick note saying "Thank you" will suffice.
Tour guides
If you take a tour in San Francisco, your guide will surely appreciate a tip, generally between $5-$10 cash.
Are there local customs I should know?
Drinking
The legal drinking age in San Francisco is 21.
Drugs
Recreational marijuana is legal for private use in San Francisco for adults 18 and older with ID.
Attire
As the birthplace of Levi's, jeans are acceptable to wear to just about everything.
Frequently Asked Questions about San Francisco
---
We recommend staying at one of the most popular hotels in San Francisco, which include:

---

Some of the most popular restaurants in San Francisco include:

---

San Francisco is known for some of its popular attractions, which include:

---

We recommend checking out these popular tours when looking for something to do in San Francisco:

---

If you're a more budget-conscious traveler, then you may want to consider traveling to San Francisco between March and May, when hotel prices are generally the lowest. Peak hotel prices generally start between September and November.

---