What is Travelers' Choice Best of the Best?
This award is our highest recognition and is presented annually to those businesses that are the Best of the Best on Tripadvisor, those that earn excellent reviews from travelers and are ranked in the top 1% of properties worldwide.
Learn more
Key West, Florida Tourism: Best of Key West
About Key West
Forever in summer, Key West is all about kicking back. Everyone and everything here seems to go at its own easy pace. But it's not all hammock time—the diving here is phenomenal, as is the food. Travelers keep coming back for the must-eats: Cuban sandwiches, Cuban coffee, and key-lime pie, along with outstanding seafood. No surprise, the weather, the food, and the scenery have lured lots of crowds, but you can escape them with a well-timed visit in early spring—or just get out on the water where you can stake out your own private spot in the Gulf of Mexico.
Travelers' pro tips for experiencing Key West

TheLifeofT
As long as you are staying close to Duval where most of the sights are, Key West is quite small and easy to get around on foot or bicycle. If you need to drive, it may prove easier to take a taxi than to deal with parking — especially in the evenings.

TexHorn3
Take the Conch Tour Train and learn about the history, culture, architecture, customs, and quirkiness of the island also known as Cayo Hueso. It's an entertaining and informative 90-minute open-air trip around the majority of the town.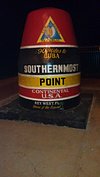 Key West B
Ride your bicycle all over, taking in the sights for yourself. You can ride all over and take your time to see what you want.
In the words of those who've been there before ...
What is the best way to get there?
Flying:
The Key West International Airport is the main commercial airport serving Key West. Hotel shuttle buses and taxis are available.
Bus:
Greyhound offers bus services to Key West from Miami along with several private touring companies.
Driving:
Travelers driving to Key West have one way in: The Overseas Highway. It's 165 miles from Miami to Key West, and should take travelers a little over three hours to complete.
Do I need a visa?
If you're visiting Key West from overseas, use the state department's Visa Wizard to see if you need a visa.
When is the best time to visit?
Key West is a late-winter, early-spring hot spot. During this time, the temperatures tend to hover between 70 to 80 degrees F (21-26C). The winter snowbirds will also be flying back north and the high tourism season will have yet to begin, making it an ideal time to get a great deal and stretch out a bit in Key West.
Bus
There are several public bus routes servicing the island. Fares start at $2 one-way, or visitors can pick up a day pass for $4.
Taxis and rideshare
Both taxis and ride-sharing companies like Uber and Lyft are readily available.
Driving
Parking is available at most hotels and rental homes, however, driving isn't recommended on the island. The streets are small, and public parking is extremely hard to come by. Walk, bike or take the bus instead.
On the ground
What is the timezone?
Eastern Time Zone
What are the voltage/plug types?
The standard voltage in the United States is 120 V and the standard frequency is 60 Hz. The plug has two flat parallel pins.
What is the currency?
The U.S. dollar
Are ATMs readily accessible?
Yes
Are credit cards widely accepted?
Yes
Is it easy to find a bank?
Yes
How much do I tip?
Bartender
$1 a drink or $2 for a more labor-intensive cocktail
Restaurant
15-20%
Bellman
$1 to 3 per bag
Housekeeper
$2-$3 per night
Taxi/rideshare
15-20%
Shuttle driver
$1-$2 per person
Tour guide
10-20%
Are there local customs I should know?
Drinking
The federal legal age for buying and drinking alcohol is 21 years old. Despite misconceptions, open containers of alcohol are indeed illegal in Key West.
Walking
Walk to the right of the sidewalk and step off to the side of the sidewalk if you want to stop to check your phone, look up directions or want to take in a view.
Public transport
Allow others to disembark before boarding, don't take up more than one seat and stand to offer seating to pregnant women or someone with a disability.
Find more information about local customs and etiquette in the United States generally
here
.
Frequently Asked Questions about Key West
---
We recommend staying at one of the most popular hotels in Key West, which include:

---

Some of the most popular restaurants in Key West include:

---

Key West is known for some of its popular attractions, which include:

---

We recommend checking out these popular tours when looking for something to do in Key West:

---

If you're a more budget-conscious traveler, then you may want to consider traveling to Key West between September and November, when hotel prices are generally the lowest. Peak hotel prices generally start between December and February.

---