Fort Lauderdale Tourism: Best of Fort Lauderdale
The Venice of America
Brimming with charming boating canals, Fort Lauderdale has rightly earned the nickname of "The Venice of America". Its beaches offer 23 miles of golden sand, lively with the spirited antics of happy vacationers. Sail the blue-green waters on a chartered catamaran, or dive beneath the surface to meet-and-greet the local sea life. Shopping and dining al fresco on Las Olas Boulevard is one of Fort Lauderdale's greatest pleasures, thanks to adorable shops and prime people-watching.
Fort Lauderdale Travel Guide
Travelers' pro-tips for experiencing Fort Lauderdale...
lulutastic
Water taxi in Fort Lauderdale is always a hit with friends and family I've hosted. It's a lovely overview of a portion of the Intracoastal, providing a glimpse at beautiful and over-the-top waterfront properties and mega yachts.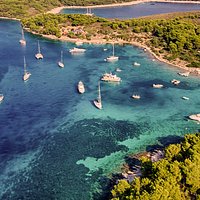 Swordfish911
Boating is a staple of Fort Lauderdale and Fort Lauderdale is the boating capital of the world. Many large yachts are always in the marinas and great to see. Many tours are available as well.

A Tripadvisor Member
Get out of the sun for some shopping! The Galleria on Sunrise Blvd or Sawgrass Outlets 20 mins west of Fort Lauderdale.
In the words of those who've been there before ...
Venis3
There are tons of places to go, things to do and people to see.

joe s
This is a wonderful living city not a waiting room for the hereafter!

coach3313
A place for young and old — beach, fancy hotels and great eateries!
What is the best way to get there?
Flying:
Fort Lauderdale–Hollywood International Airport is the main commercial airport serving Fort Lauderdale. Shuttle buses run from the airport to nearby hotels. Taxis and car services are available too.
Bus:
Greyhound offers bus services to Fort Lauderdale with a terminal at 515 NE 3rd St.
Driving:
Travelers driving to Fort Lauderdale usually approach the city via the I-95 Fwy and the I-75 Fwy.
Do I need a visa?
If you're visiting Fort Lauderdale from overseas, use the US State Department's Visa Wizard to see if you need a visa.
When is the best time to visit?
Winter (December to April): The snowbirds really know what's up. Fort Lauderdale is a dream destination in the winter months thanks to its warm sunshine and its ideal temperatures that hover between 10 to 26°C (50 to 80°F).
Sun Trolley
Fort Lauderdale's Sun Trolley operates seven routes which cover the entire town, as well as one route to and from the airport. For more information on routes, schedules and fares, see here.
Water Taxi
Fort Lauderdale's water taxi has 10 stops in Fort Lauderdale and 1 stop in Hollywood.
For more information on routes, schedules and fares, see here.
Taxis and rideshare
Taxis, Uber, and Lyft services are readily available throughout the city.
Driving:
Parking lots and metered parking are available, however, streets tend to get congested, so alternative methods of transportation are recommended.
On the ground
What is the timezone?
Eastern Time Zone.
What are the voltage/plug types?
The standard voltage in the United States is 120 V and the standard frequency is 60 Hz. The plug has two flat parallel pins.
What is the currency?
The U.S. Dollar.
Are ATMs readily accessible?
Yes.
Are credit cards widely accepted?
Yes.
Is it easy to find a bank?
Yes
How much do I tip?
Bartender
$1 a drink or $2 for a more labor-intensive cocktail
Restaurant
15-20%
Bellhop
$1 to 3 per bag
Housekeeper
$2-$3 per night
Taxis/rideshare
15-20%
Spa/Salon
20%
Tour guide
10-20%
Are there local customs I should know?
Drinking
The federal legal age for buying and drinking alcohol is 21 years old.
Walking
Walk to the right of the sidewalk and step off to the side of the sidewalk if you want to stop to check your phone, look up directions, or want to take in a view.
Public transport
Allow others to disembark before boarding, don't take up more than one seat, and stand to offer seating to pregnant women or someone with a disability.
Spitting
Spitting is considered rude in any public setting.
Frequently Asked Questions about Fort Lauderdale
---
We recommend staying at one of the most popular hotels in Fort Lauderdale, which include:

---

Some of the most popular restaurants in Fort Lauderdale include:

---

Fort Lauderdale is known for some of its popular attractions, which include:

---

We recommend checking out these popular tours when looking for something to do in Fort Lauderdale:

---

If you're a more budget-conscious traveler, then you may want to consider traveling to Fort Lauderdale between September and November, when hotel prices are generally the lowest. Peak hotel prices generally start between March and May.

---