What is Travelers' Choice Best of the Best?
This award is our highest recognition and is presented annually to those businesses that are the Best of the Best on Tripadvisor, those that earn excellent reviews from travelers and are ranked in the top 1% of properties worldwide.
Learn more
Revved up at all hours, Bangkok remains one of the most intense places on Earth
There are cities and then there is Bangkok. Temples like Wat Pho are thronged with devotees all day. Street food sizzles all evening. The heat never stops. And the nightlife—from sleazy Patpong to ritzy rooftop bars—is second to none. But the pleasures don't end there. Night markets, mega malls, and the massive Chatuchak Weekend Market all make Bangkok a shoppers' (and souvenir-hunter's) dream. You'll need to prepare yourself—Bangkok is intense. But for travelers craving local secrets and 24/7 energy, there's nowhere in the world quite like it.
Travelers' pro tips for experiencing Bangkok
LouiseBlakemore
Book a boat and take a ride around the khlongs. We did this on our own so we were able to stop and take pics and chat with locals. Walk. Walk. Walk. This is the way to see the city, and it's safe.

deepak4ualways
The place has some of the biggest and crowded malls where you can get all sorts of products like electronics, clothing, etc. A definite place for shopaholics.

madushi101
Bangkok is popular for its culinary diversity among many. Which you see will be a true fact once you step out walking. There are mouth-watering food stalls everywhere you go.
In the words of those who've been there before ...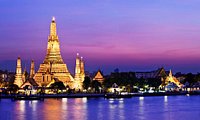 Chris S
A large bustling city with many very varied neighborhoods each offering something different for people of all tastes and pockets. Exciting and vibrant with a lot of great cultural sites for those that like history and culture. Foodies will be spoiled for choice with everything from fantastic cheap street food and food courts to top-end restaurants as well.

Shaligram
Bangkok is a busy city. It's also very friendly and an excellent place for food lovers. No need to mention the nightlife. They wrote songs about it and have made hit movies catering to bizarre imaginations and sometimes a not-so-bizarre reality, that is Bangkok at night. Mostly though, it's a safe and friendly place.
Suanphlu
Bangkok, the other City of Angels that never sleeps. Bangkok is full of things to do and see from ancient monuments to great restaurants. Easy to get around by Skytrain, underground, tuk-tuk, taxi or a trundling ancient bus. Bangkok is a must-visit city that caters for all tastes and lifestyles.
What is the best way to get there?
Flying:
Bangkok is served by two airports, the Suvarnabhumi Airport (BKK) and Don Muang Airport (DMK). The latter is a hub for low-cost carriers including Air Asia and Nok Air and mainly offers domestic and regional flights.
Do I need a visa?
Thailand has many bilateral agreements in place with other nations that allow visa-free travel. To see if your country is on that list please check here.
If your country is not listed, you will need to apply for a visa at your nearest Thai embassy. You can check here for more information on types of visas.
When is the best time to visit?
November through January: Bangkok is hot and steamy no matter what time of year you visit, however, the very best time to visit is late November to mid-January. Known as the "cool season," the temperatures sit around 90 Fahrenheit (36 Celsius).
Ferry
The ferry on the Chao Phraya river is also convenient — if and only if — you are heading somewhere close to the river.
Motorcycle taxi
Motorcycle taxis are cheap, fast but can be scary for the uninitiated. Tuk Tuks are used by both tourists and locals alike; please bargain before jumping on.
Skytrain and subway
The BTS Skytrail and the MRT subway provide another inexpensive way to get around town. Both train systems are limited and only cover portions of the city, so definitely map out your route before setting out. Also note that these two lines of public transportation run separately and don't share a ticketing system. However, they do have a few connecting stations—which is helpful if you need to cross from one to the other.
Taxis
The easiest way into the city is through a metered taxi. Do not use the limo or taxi services offered by touts. They can tend to swarm around you once you have cleared customs. These touts will charge rates that can be as much as 200% to 300% of normal metered taxi rates.
For more detailed information on getting around, you can refer to this article.
On the ground
What is the timezone?
Indochina Time
What are the voltage/plug types?
220 Volts / 50 Hz. Plugs are Type A, B, C, F (https://www.iec.ch/worldplugs/)
What is the local currency?
Thai Baht
Are ATMs readily accessible?
Yes
Are credit cards widely accepted?
Yes and no. Cards are accepted very widely but if you intend to visit street stalls or use tuk tuks/motorcycle taxis, it is useful to have cash on hand.
Is it easy to find a bank?
Yes
How much do I tip?
Restaurants
Waiters get the loose change left in the plate unless there's a special service reward of 20 baht in the hand.
Taxi
Get the fare rounded up to the next even number.
Spa/Salon
Only massage therapists get a substantial tip between 50-100 baht.
Hotel porters
Porters and others giving small services may get a standard 20 baht gratuity.
Are there local customs I should know?
The King
The king is very highly regarded in Thailand, as evidenced by the pictures displayed everywhere. Do not say or do anything disrespectful of the king or the royal family, even to the extent of stomping on a Thai coin or banknote which has been dropped and is rolling/blowing away. (It bears an image of the King's head, and is highly insulting to be touched by your feet.)
Royal Anthem
Before each performance at movie theatres, the Thai Royal Anthem - known as Phleng Sansoen Phra Barami (เพลงสรรเสริญพระบารมี) or sometimes more simply as "Kha Wora" is played. It is mandatory to stand up during the playing of this Thai royal anthem.
Hailing taxis
When hailing taxis, it is common to keep your hand horizontal, fingers facing down. Holding your hand with fingers up is considered rude.
Temples and Monks
When visiting temples, dress conservatively. Women particularly should wear long skirts or trousers and cover their shoulders and knees. Many temples state as you enter that photography is not permitted. Even if there is no sign, please be respectful and consider whether it is appropriate to be taking flash photographs in a place of worship. Even more so if monks are present worshipping.
Shoes
Always remove your shoes when entering temples (the same rule applies when entering a person's home), and do not sit with your feet towards the Buddha. Sit either cross-legged, or with your feet tucked behind you.
Hygiene
One of the most important points of etiquette often overlooked by some travellers is basic personal hygiene. Thai people take their personal hygiene and appearance very seriously. Since Thailand is a hot, humid, tropical country, showering frequently is essential.
Cool heart
Loud or abusive expressions of anger and temper tantrums should be avoided at all costs. Many things in Thailand often don't go according to plan, and visitors are advised to take a very calm attitude to various nuisances. Try to remain calm and smile despite your annoyance, and in the end you will probably get what you want.
Frequently Asked Questions about Bangkok
---
We recommend staying at one of the most popular hotels in Bangkok, which include:

---

Some of the most popular restaurants in Bangkok include:

---

Bangkok is known for some of its popular attractions, which include:

---

We recommend checking out these popular tours when looking for something to do in Bangkok:

---

If you're a more budget-conscious traveler, then you may want to consider traveling to Bangkok between March and May, when hotel prices are generally the lowest. Peak hotel prices generally start between September and November.

---