About Costa Rica
Costa Rica is where to go when you want to disconnect and go all in on nature—and with its sun-drenched beaches and lush rainforests, it's pretty easy to do it. Yes, it's known for its laid-back pura vida lifestyle, but adventure's everywhere, too: Hike through lava fields at Arenal Volcano National Park, raft down the Rio Celeste in Guanacaste, soar above the jungle in Monteverde—home to the longest zipline in Latin America. Or, head to the Osa Peninsula, where you can kayak through mangroves, spot some wildlife, and get a taste of local Tico culture—literally—with a trip to a cacao farm to see how chocolate is made. When you're ready to slow things down, make your way to the Nicoya Peninsula and start each morning with yoga, then go surfing or kick back on a secluded beach. Whatever you're into, you can find it, and we've got more recs, below.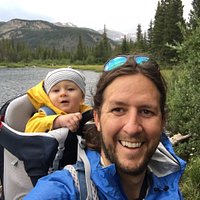 My under-the-Radar family adventures on the Nicoya Peninsula
The farther south you venture from Tamarindo on Costa Rica's Nicoya Peninsula, the wilder the adventure feels. But in this generally safe country, there's a choose-your-own-adventure nature to the exploring. We opted for backroads—some of which involved driving our rented SUV across shallow rivers (Google Maps made me do it!)—over a month-long exploration of this compact but ecologically diverse wonderland.
Explore Costa Rica by interest
Travelers' pro tips for experiencing Costa Rica
CanaTico
A 10% service charge is included or added to every restaurant bill. Tipping is not a part of Costa Rican culture but some Ticos in the service industry who cater to North American tourists have come to expect it.
crfan
Costa Rica is a beautiful and generally very safe country to visit, but petty theft is a problem, so don't ever leave valuables in your car or on the beach while you go in swimming.

raquel_z 🙊🙉🙈🐒
The sun sets in Costa Rica by 6 p.m. all year round, and it is really not advisable to drive after dark — especially if it is your first visit.
In the words of those who've been there before ...
What is the best way to get there?
Flying:
Costa Rica is served by two international airports: San Jose International Airport (Juan Santamaria) and Liberia International Airport.
Do I need a visa?
Most visitors from the US, Europe, and Australia will not need a visa to travel to Costa Rica; but do consult the Costa Rican embassy for details.
When is the best time to visit?
Costa Rica has two distinct seasons. The wet season (May to November) sees daily showers up and down the country, with the heaviest rains occurring in September and October. The dry season is the most popular time to travel, with daytime temperatures in the late 70°Fs (mid 20°Cs) — ideal for hitting the beach or hiking through the cloud forests. This is also festival season, with major events including the Fiestas Palmares (January), Semana Santa (Easter), and the Festival de la Luz (Festival of Lights, December).
Flights
Domestic airline Sansa has regular flights between all of Costa Rica's main cities. Other airlines that fly domestically are Skyway, Aerobell, and Green Airways.
Bus
The cheapest way to travel around Costa Rica is by bus, and there is a wide network of long-distance buses that will take you wherever you want to go. Find route information and fares.
Taxis
For shorter trips and local transport, taxis are widely available.
Ridesharing
Uber is available in San Jose and some other Costa Rican cities on your smartphone.
On the ground
What is the timezone?
Central Standard Time
What are the voltage/plug types?
The standard voltage in Costa Rica is 120 V and the standard frequency is 60 Hz. The plug has two flat parallel pins.
What is the currency?
Costa Rican colón. US dollars are widely accepted, especially in cities and tourist areas.
Are ATMs readily accessible?
Yes, in all large towns and cities.
Are credit cards widely accepted?
Yes, but it's worth carrying some cash, especially outside of major cities and tourist areas.
How much do I tip?
Tipping is not obligatory in Costa Rica, although tipping for exceptional service is always appreciated.
Are there local customs I should know?
Drinking
The federal legal age for buying and drinking alcohol is 18 years old.
Try to speak the language
English is widely spoken in establishments frequented by travelers, but learning a few Spanish phrases will be appreciated. If you plan on venturing further afield, a basic knowledge of Spanish will go a long way.
Expect relaxed time-keeping
Locals tend to be laid-back about timekeeping, so don't get too worried if your taxi or tour guide shows up 15 minutes late.
Water
Tap water is drinkable in Costa Rica, except in remote rural areas, so pack a refillable water bottle.
Keep your clothes on!
Topless sunbathing is not acceptable in Costa Rica, and while you may find it's tolerated at some private resorts, it's best to do as the locals do and keep covered.