Milan Tourism: Best of Milan
About Milan
If you skip Milan in favor of Italy's more popular cities like Rome, Florence, and Venice, you're missing out: this underrated gem is the country's fashion, architecture, and design capital and should be on every traveler's must-see list. So where to start? There's the iconic Duomo di Milano, the world's largest—and perhaps most stunning—Gothic cathedral; the exquisite mosaics and glass vaults of the Scala Opera House and Galleria Vittorio Emanuelle II; the impressive museums like Pinacoteca di Brera and the contemporary MAXXI. And of course, plenty of boutiques to check out if you're looking to fill an extra suitcase (head to Corso Venezia, Corso Buenos Aires, and Via Montenapoleone for the city's best shopping).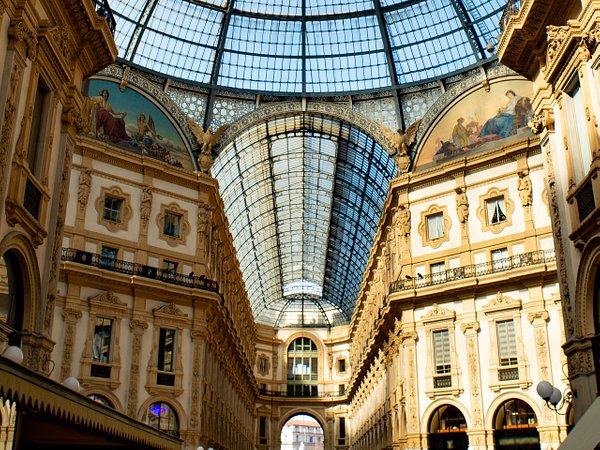 The aperitivo in Galleria
Visit Milano and explore its neighborhoods. Experience the unique lifestyle of the city enjoying an aperitivo in Galleria securely with Visa.
Plan your trip
Get a personalized itinerary just for you, guided by traveler tips and reviews.
By city/town only, not region (i.e New York, NY, not Hudson Valley, NY).
Travelers' pro tips for experiencing Milan

Erica F
Remember that saying "grazie," "per favore," and "prego" will get you far more than any amount of euros.
Stef S
Italy's famed gelato is a big hit with kids of all ages. Make a game of tasting throughout the city (there's no shame in several gelati a day)!

Sonia C.
Many parks, especially the bigger ones, have cafeterias and kiosks that are ideal for a quick meal, a drink or an ice cream stop.
In the words of those who've been there before ...

Sonia C.
Welcome to Milan, the Italian capital of fashion! This beautiful city has so much to offer — from history to shopping to gorgeous architecture — but you can still catch its top highlights in a single day.
Stef S
Although Milan is a big city for (would-be) important people like businessmen, designers and fashionistas, it also offers some "divertimento" for the smaller set of humans. Family fun!

Sonia C.
Milan may be best known for its splashy runways, but this fashionable city is also full of cozy trattorias and hidden corners that just scream "amore."
What is the best way to get there?
Flying:
There are three international airports in Milan: Malpensa Airport (MXP), Linate Airport (LIN), Orio al Serio Airport (BGY). MXP is Italy's second-busiest airport, and so has the most international flights. LIN mostly offers domestic service, while BGY, in nearby Bergamo, is a European hub.
Train:
There are several major train stations in Milan, and RailEurope offers rail service to/from many European destinations.
Bus:
Flixbus has routes to/from many European cities.
Do I need a visa?
Italy is a Schengen Country, so visit Schengen Visa Info page to know if you need a visa to visit Milan.
When is the best time to visit?
End of summer. The semi-annual Milan Fashion Week, held at the tail end of both summer and winter, is the most popular time to visit Milan. During the sweltering month of August, Milanese flock to the Italian lakes and the city all but shuts down. You can expect average daily temperatures to hit highs of 30°C/85°F and lows of 19°C/75°F.
When you're there
ATM operates Milan's extensive public transportation network. Download its app here for tickets, fares, schedules and more. Get its Travel Card for unlimited service.
Additionally, the MilanoCard provides free ATM transit service and discounts or free entry at hundreds of attractions in Milan. More info here.
Metro
There are four subway lines in Milan and an underground service to the suburbs. They do not run overnight.
Tram
There are more than a dozen tram lines in Milan.
Buses
Buses run overnight after the metro closes.
Bikes
ATM oversees the BikeMi bike-share program, and there are docking stations all over the city. MoBike is another bike-share.
Scooters
There are a few scooter-sharing companies in Milan, and they work via an app. More info here.
Taxis
Taxis are available in Milan, and while you sometimes may be able to hail one on the street, your best bet is getting one outside a hotel, train station or landmark. You can also book via the Milan Taxi app.
On the ground
What is the timezone?
Central European
What are the voltage/plug types?
Plugs and sockets are type F and L with standard voltage 230V and frequency 50 Hz.
What is the currency?
Euro
Are ATMs readily accessible?
Yes.
Is it easy to find a bank?
Yes.
Are credit cards widely accepted?
Yes.
How much do I tip?
Tipping in Milan is at your discretion as most places automatically add a service charge to your bill. As always, if service went above and beyond, extra is often appreciated.
How much do I tip?
Restaurants
Leave 10-15% if service isn't already added
Bars
Most locals round up to the nearest euro.
Hotels
At least two euros per bag for bellhops helping with your luggage and at least two euros per each day of your stay for the housekeeping staff.
Taxis
Tipping taxis in Milan is not standard, but most locals add up to the nearest euro.
Tour guides
Tipping tour guides is one of the only tipping customs in Italy, and how much depends on the size and length of your tour. Per person, five euros is standard for a half-day excursion or 10 euros for full-day. It's customary to give at least 10 percent of the total cost of a private tour.
Are there local customs I should know?
Drinking
The legal drinking age in Italy is 18.
Drugs
Cannabis is legal for medical use in Italy.
Greetings
"Ciao" is an informal way to say hello and goodbye. For more formal greetings in Milan, say "buongiorno" (good day) and "buonasera" (good evening). And be sure to say "per favore" (please) and "grazie" (thank you).
Museums
Milan's museums are free on the first Sunday of every month, but do know they can be more crowded those days.
Frugal fashion
Twice a year, fashion-forward Milan has two saldi, aka sales periods: generally between January to March (fall/winter collections) and July to September (spring/summer collections). Discounts can be as much as 70% off!
Dress to impress
As Milan is one of the world's fashion capitals, think "smart casual" and accessories when packing.
Frequently Asked Questions about Milan
---
We recommend staying at one of the most popular hotels in Milan, which include:

---

Some of the most popular restaurants in Milan include:

---

Milan is known for some of its popular attractions, which include:

---

We recommend checking out these popular tours when looking for something to do in Milan:

---

If you're a more budget-conscious traveler, then you may want to consider traveling to Milan between December and February, when hotel prices are generally the lowest. Peak hotel prices generally start between September and November.

---