What is Travelers' Choice Best of the Best?
This award is our highest recognition and is presented annually to those businesses that are the Best of the Best on Tripadvisor, those that earn excellent reviews from travelers and are ranked in the top 1% of properties worldwide.
Learn more
Edinburgh Tourism: Best of Edinburgh
A city jam-packed with culture going on around the clock
Scotland's capital city, Edinburgh is renowned for its heritage, culture, and festivals. Take a long walk around the center to explore the World Heritage Sites of the Old Town and New Town, as well as all the area's museums and galleries. Pause to fortify yourself with tea and scones at the city's charming tea rooms or duck into a traditional pub. Then head out to take in one of Edinburgh's many events—including the famous summer festivals of culture, or the Winter Festivals of music, light, and ceilidhs.
Travelers' pro tips for experiencing Edinburgh
Due to its close proximity to the Firth of Forth, Edinburgh is generally windy and can be extremely cold between autumn and spring. That said, make sure you wrap up warm and carry an umbrella or rain jacket.
Make sure you take advantage of the city's numerous hills and lookout points. To access these with ease, sturdy walking shoes are a must.
Buy admission tickets for top Edinburgh attractions in advance to avoid waiting in line; Edinburgh Castle gets particularly busy and lines often exceed one hour.
In the words of those who've been there before ...

Christian W
Edinburgh is a phenomenally popular destination, with around 3.5 million people visiting every year. Even so, thanks to the city's complex history, topography, and layout, much of it stays well off the beaten path. As a result, it's easy to see amazing sights while leaving the crowds behind!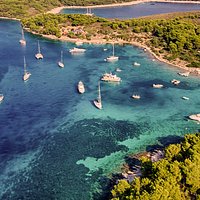 Teamkarma
Edinburgh is full of surprises, lot of historic things to find, nice romantic restaurants, great night life, and a cheeky smile on every corner; The city centre is a very easy place to navigate by foot, it also has very good transport links, bus, tram, trains, it also has very good airport connections. If you are not sure what you are looking for you can always stand at the top of the castle for a fantastic panoramic view over the whole city.
JamzyW
Edinburgh is a truly cosmopolitan City that has something for everyone. The City is relatively small, so it is easy to get around and see a lot in a few days.
What is the best way to get there?
Flying:
Edinburgh Airport is the main airport that services the city. Airlink bus service runs between the airport and Waverley Station, which is within walking distance of Edinburgh Castle and the Old Town.
Train
Trains run by LNER (formerly Virgin trains) depart from London regularly and often make stops at major cities along the way.
Bus
Edinburgh Bus Terminal welcomes long-haul coaches from various destinations throughout the United Kingdom, including London, Manchester, and Glasgow. Major operators include Megabus and National Express.
Do I need a visa?
If you're visiting Edinburgh from overseas, see if you need a visa using the following website: https://www.visitscotland.com/about/practical-information/passports-visas-customs/
When is the best time to visit?
Scotland is a country that's prone to rain; showers can strike and last all day even during the summer months. To maximize your chance of dry skies, visit during the month of May, when daylight hours last longer and rainfall sees its annual low. Average daily temperatures in May are highs around 14 C/58 F and lows around 6 C/44 F.
May, along with September, also sees fewer crowds and lower prices outside of the UK's school summer holidays.
For one of the world's best comedy festivals, visit Edinburgh in August, when the Edinburgh Fringe Festival sees millions of visitors come to the 3-week-long jaunt. Other festive celebrations include Burns Night at the end of January; the Royal Edinburgh Military Tattoo in August; and the raucous Hogmanay New Year's Eve celebrations.
Bus
Public buses are regular and easy to use and travel all around the city—the exact change is required for your journey.
Tram
Edinburgh has a tram system that services stops from York Place in the city center to the airport. All trams are wheelchair accessible and have Wi-Fi onboard. To plan your journey, visit https://edinburghtrams.com.
Taxis and ride share
Taxis in Edinburgh may be hailed on the street. Minicab services offers advance bookings. Rideshare services such as Uber and Talixo are readily available.
Driving
There are seven park and ride schemes operating in and around Edinburgh, which all you to park outside of the city center and then catch a bus in. There are also multi-storey car parks through the center, including at Waverley Station and Holyrood Road. For more information on parking, check out the following link: https://www.edinburgh.gov.uk/homepage/10449/parking-spaces
On the ground
What is the timezone?
Greenwich Mean Time (GMT)
What are the voltage/plug types?
230 V/ 50 Hz. Plug sockets are type G. For plug types, you can reference the international guide: https://www.iec.ch/worldplugs/
What is the currency?
Pound Sterling (GBP)
Are ATMs readily accessible?
Yes.
Are credit cards widely accepted?
Yes.
How much do I tip?
Tipping
Tipping isn't generally expected in Scotland but it's appreciated for great service.
Hotels
A few pounds for anyone helping with your bags and a few pounds per day of your stay for the housekeeping staff is appreciated.
Pubs
10 percent would be appreciated, but isn't expected.
Taxis
Rounding up to the nearest pound should suffice.
Tour guides
It is customary to give at least five pounds for a short tour or 10 percent of the bill for longer, more extensive tours.
Are there local customs I should know?
Drinking
The federal legal age for buying and drinking alcohol is 18 years old.
Public transport
Allow others to disembark before boarding, don't take up more than one seat, and stand to offer seating to pregnant women or someone with a disability.
Spitting
Spitting is considered rude in any public setting.
Frequently Asked Questions about Edinburgh
---
We recommend staying at one of the most popular hotels in Edinburgh, which include:

---

Some of the most popular restaurants in Edinburgh include:

---

Edinburgh is known for some of its popular attractions, which include:

---

We recommend checking out these popular tours when looking for something to do in Edinburgh:

---

If you're a more budget-conscious traveler, then you may want to consider traveling to Edinburgh between December and February, when hotel prices are generally the lowest. Peak hotel prices generally start between June and August.

---