Overview
About
Passengers: 2,980
  |   Crew: 1,150
Passengers to crew: 2.59:1
Passengers to space: 37:1
Launched: 2003   
Deck 1 layout
Cabins
Interior Upper/Lower (1A)
Cabins
Balcony
Cabin size: 185 - 195 sq. ft.
Connected rooms: 2
Accessible rooms: 2
Maximum passengers: 4
Number of cabins: 521
Activities & Entertainment
Black & White Library
"Circle ""C""®"
Club O2®
Video Arcade*
Beauty Salon*
Steam
Steam
Spa Carnival®*
Fitness Center
Massage Room*
Jogging Track
Sauna
Sports Deck
Sauna
Serenity™
Camp Ocean
Mini Golf
Serenity™
White Party
Art Auction
Shops
Seuss-A-Palooza Parade & Storytime
Trivia
Deck Parties
Wine Tasting*
Karaoke
Lip Sync Battle
Green Eggs n Ham Breakfast*
Evening Kids Programs*
Photo Portraits*
Bingo*
Disco
Fitness Classes*
Dance Classes
Groove For St. Jude*
Ice Carving Demonstrations
Spa Parties*
Pools (3)
Hot Tubs (7)
Waterslides
Amber Palace Main Lounge
Amber Palace Main Lounge
Ebony Cabaret Aft Lounge
Camel Club Casino*
Amber Palace Main Lounge
White Heat Dance Club
Carnival's Seaside Theatre®
Piano Bar
Comedy Shows
Outdoor Movies
Live Nightly Music
Platinum Restaurant - American
Golden Restaurant - American
Dining Room Annex - American
Golden Restaurant - American
Ivory Club Bar - Clubby Bar*
Platinum Restaurant - American
Kaleidoscope Bar - Casino Bar*
Creams Café - Coffee & Pastries*
Bar Blue - Cocktail Bar*
Cherry on Top - Candies*
EA Sports Bar - Sports Bar*
Taste Bar - Light Bites
The Cinn-a-Bar Piano Bar - Piano Bar*
Alchemy Bar - Martini Bar*
Guy's Burger Joint - Fast Food
BlueIguana Tequila Bar - Pool Bar*
Red Sail Restaurant - Casual
BlueIguana Cantina - Mexican
RedFrog Rum Bar - Pool Bar*
Pizzeria - Pizza
Azure Bar - Pool Bar*
Fish & Chips - Fish & Chips
Upcoming Itineraries
Departure date
Sunday, 01/12/20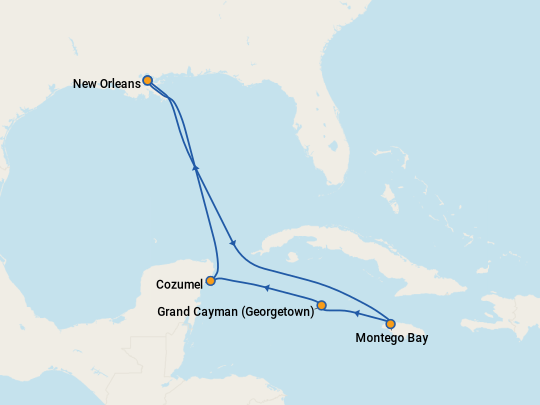 Prices are cruise only, per person, double occupancy, and are provided by our partners. Taxes, fees and port expenses are not included. Fuel supplements may apply. Availability of prices is subject to the supplier's pricing availability.