About
Wish you were here. This marvellous view can really touch you, awake your senses and fill your eyes with the laminated Chora. Like a magical picture that comes to life like a vivid memory.With an endless view of the open horizon, the sensation that encompasses you as you reach the top of the hill, just over the town of Mykonos ,cannot be described with words. Up here, you're facing a priceless canvas that captures your gaze and transports you to the endless blue, capturing frame by frame all the grandeur of the enchanting sunset. As a natural extension of the landscape and the Castle Panigirakis estates preserved monument of the pre-industrial era, the new 180 sunset bar seduces the senses in a relaxation lounge spot,dedicated to sunsets among other things. While enjoying inspired cocktails with chill out music, the thrilling setting reveals all of nature's splendorous the sun's rays fill the open horizon with golden brushstrokes,transporting the aura of sacred Delos in the air. A panoramic experience in an idyllic setting that will surely fill you with the island's most beautiful images. Live it!
Tours & experiences
Explore different ways to experience this place.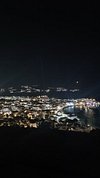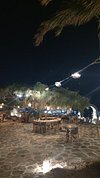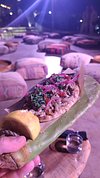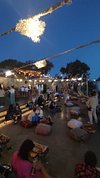 See what travelers are saying
Breathe taking

What a magically evening! I would recommend anyone visiting to Mykonos to go to a sunset bar on the island and this one lived up to expectations. If you are going during the summer months I would say to book in advance as there was a HUGE queue when the bar opened at 7 for people who hadn't made a reservation. The view was stunning and very romantic. Staff ask people to remained seated during the sunset which I thought was vital as you have so many snap happy people blocking the view! When you book there is a minimum spend per person, we chose the table of a min spend of $70 pp but by the time you eat and have a few cocktails you will easily spend more.

Written August 12, 2020

Incredible Evening

If you like beautiful views, good food and drinks and a chill background vibe then there's no where else I'd recommend more than here. We ate and drank as the sun set, listening to the beautiful singer who performed between all of the different decks and terraces! We were then given blankets to sit and enjoy the rest of the evening. It really was a incredibly romantic night! We booked a cushion table on one of the private decks, which did come with a minimum spend of €200 (it isn't hard to spend this amount between 2 in Mykonos). All of the private decks are roped off and your view really is uninterrupted.

Written June 12, 2022

Definitely worth the 20€ entry fee

We arrived here around 17.30 which is when it is open and there was not a lot of people yet. The entry fee is 20€ but with it comes one cocktail. If you don't make a reservation like us, I would recommend arriving at 17.30 as it's the best time to get seats. The place is pricey we both bought extra cocktails with our 1 appetisers and 1 main to share and it came to €106 in total. However I would like to give a massive thank you to Oluchi who was taking care of us during our time there he took pictures of us, welcomed us and he even gave us an upgrade to the VIP seats which were less crowded! He made sure we were comfortable and honestly we paid for the views and his service and we don't regret it!! He also thought us how to say Thank you in Albanian, Goodmorning, Goodevening and Goodnight in Greek. The atmosphere and ambience was very chill. It was a moment we won't forget. Thank you Oluchi !!

Written October 7, 2020

Waste of money, waste of time !!!!!

Having read the reviews I was very reluctant to visit 180 - but, I decided to risk it and judge it myself given the magnificent views for what was a special holiday! I booked online and the reservation allows you to select a table. I booked a table for 19.30 (A month in advance) and selected a table for x2 which was a €70 each minimum spend. I understand how strict they are in Mykonos about late arrivals so we arrived for 19.00... ...only to find a long queue at entry. I asked the host about my reservation to which she pointed to the queue and said this is the line for reservations. What didn't make sense was there was NO queue if you did not have a reservation. We queued for 50 minutes at which I was getting very agitated as we booked specifically for sunset because it is a SUNSET bar, the sun was going and several groups who arrived later became queue jumpers. As they had obvious money, they were happily let straight in whilst others like us, we're made to wait. I was tempted like many others who booked to instead walk straight through and advise no reservation, but I had booked a very special table, I did not want to lose it!! (as this is what they advised other guests would happen if we left the queue) We sat down approx 19.50, 20 minutes later despite arriving 30 minutes early and got escorted to a table behind a tree!!!!!! This was not the table I had booked. They have a musician on during sunset and when we sat down the show had finished, everyone was applauding and the sun had gone. I was gutted, we are only in Mykonos 3 nights and what was suppose to be the highlight of our holiday was ruined. I approached the host and advised this was not the table I booked, showing an email confirmation and a screenshot of the table with front sea views, his reply was "it's now 20.00 we give away the tables" - it's not our fault you have useless service and not enough staff to manage your reservations! We explained we arrived at 19.00 to which he shrugged his shoulders. I explained I was upset as we had missed the sunset and asked if it was still a €70 minimum spend each, to which he replied "yes and it is compulsory to spend it" What a rip off when we missed the sunset and got shoved on a table at the back! We ummed and arrrhed whether to stay to which we decided it was late, we'd eat (we were planning on going into Mykonos town) we waited about 40 minutes for our first drink order and felt forced to spend money which we no longer wanted to spend. Having looked at the front tables there were people who had no reservation sat on the front row- what a piss take. Overall the service was shocking and the staff were SO rude. Please do not waste your time if you're reading this, to go the garden bar which is just as nice and with friendly people.

Written August 30, 2020

Discrimination, bad manners, racists!

I have been visiting the island of Mykonos years now, me and my whole family. Our reservation with them was for €200 minimun spent, however they gave us a table where the only think we could see was a tree. Because we were unsatisfied with the sitting and service we made a relevant review, and an hour later the owner came to our table asking whether we were the ones making the review. Then he went on to say that they gave us that specific table because it is cheaper than the others and that, we as a group of people are "unable and incapable of paying that money" (ie for the more expensive tables), he also, to our surprise asked to see our money specifically asking "where is your money"? He couldn't listen to our feedback and most importantly he was arguing in our faces without probably wearing a mask. In Mykonos they can measure how rich is a person only from what table they have booked! Wake up people and start appreciate whoever comes to your overrating bar no matter how much money they will spend! Respect everyone and don't judge quickly! I recommend to go somewhere else to see the sunset! Somewhere with REAL, AUTHENTIC GREEK people.

Written August 23, 2020

Good vibes and views but rude, chaotic service

We booked a table in advance at 180 as something special to do on our last night in Mykonos. We arrived 5 mins early for our 7.15pm table which we booked as it gave us enough time to be seated and have a drink by 8pm sunset. Or so we thought. We were left in a long queue outside for over 30 minutes, spoken to very rudely by staff and when we did get in, the first line table with a minimum spend of 70 euros per person we had booked online had been double booked and someone else was sitting there! By the time we were seated and served drinks the sun had already set so totally ruined the experience for us and we felt we had wasted our money. The view was amazing though (front line as booked would have been better!) the cocktails were good and the music and vibe after sunset were fun.

Written August 28, 2020

Awful service, rude staff, overpriced

We went as a couple and paid €300 for the private terrace area. We were told we could not stand up to take pictures and had to remain seated until the sunset finished. We ordered food (which was a joke) €60 for a platter which consisted of carrots, cucumber, hummus and bread - RIP OFF!! As our food was served they allowed everyone from the bar onto the terrace (bare in mind we are sat on bean bags on the floor) so as we ate on the floor we were surrounded by people dancing and standing on us! They could have at least waited until everyone who paid for the private terrace had been served their meals and eaten!! The service was shocking, couldn't find a waiter at all, we had to go to the bar to order some drinks then when we paid the bill we were told that we had to leave a service charge and to pick a percentage out of 10%, 15% or 20%…..we didn't even get any service! The sunset in Mykonos is lovely but there's so many other places where you can see it and avoid being ripped off and stood on whilst eating. Would never recommend the private terrace to anyone. The only good thing about this place (minus the beautiful sunset) was the live singer and dancers who were amazing.

Written August 26, 2022

Stunning spectacular fairytale setting for sunset

A super special but very spenny spectacular sunset. I had read mixed reviews about this rooftop (yes I'm classifying as one ... I've done over 300!) if the sunset was a washout or was super windy and cold you would lose something but that's one of those gambles. But definitely one I am glad we took. I was worried about the minimum spend (€120 each) but so long as you embrace it as a treat, order the fancy champagne and enjoy every minute it's so worth it. Definitely date night vibes. There were birthdays and proposals and the music was so brilliant - playing 'time to say goodbye' as the sun drops! Both funny and emotional. The staff were brilliant despite what I'd read in reviews. They tirelessly take your pics for you and ensure you have all you need. Yes this is an Insta spot with lines for the best pic ops places but with or without social media I can see what most people would want to capture this place on camera. It's magical. (The climb up wasn't! Walk the road way!)

Written October 2, 2022

TERRIBLE EXPERIENCE!

TERRIBLE EXPERIENCE from start to finish! I made a reservation for a specific table a month in advance, paid a deposit and was still required to wait in a huge queue to enter. When we finally got in, I was taken to a table which I hadn't booked. Staff were so so rude, unfriendly and treated you like a number. We left without eating due to them being unable to resolve the table issue. Hugely disappointing.

Written August 12, 2021

Pretentious, bad drinks, long waits, oversold

Easily worst bar we have ever been in ever from the United Kingdom to Europe and the rest of the world! Entry for €20pp, wait 45 mins for a pre-paid drink and massively oversold to walk-ins. We were lucky to grab a seat miles away from the DJ and separate bar, 6+ groups had to sit on a wall and watch a sunset. Drinks were also Wetherspoons UK quality, glad we didn't pre-book any tables as it's possibly the worst run bar I've been to.

Written September 9, 2021
These reviews are the subjective opinion of Tripadvisor members and not of TripAdvisor LLC. Tripadvisor performs checks on reviews.
Detailed Reviews: Reviews order informed by descriptiveness of user-identified themes such as cleanliness, atmosphere, general tips and location information.
---
---
Is this your Tripadvisor listing?
Own or manage this property? Claim your listing for free to respond to reviews, update your profile and much more.
Claim your listing
180 Degrees Sunset Bar - All You Need to Know BEFORE You Go (with Photos)
Frequently Asked Questions about 180 Degrees Sunset Bar
---
180 Degrees Sunset Bar Information
| | |
| --- | --- |
| Excellent Reviews | 527 |
| Very Good Reviews | 165 |
| 180 Degrees Sunset Bar Photos | 1,467 |