About
A scenic waterfall tumbling into the Yellowstone River.
Tours & experiences
Explore different ways to experience this place.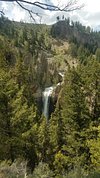 See what other travelers are saying
ItchyFeet

Camarillo, California

7,664 contributions

Nice tall waterfall

This waterfall is not like the Upper Falls or the Lower Falls however it is still a nice waterfall to see. The very short walk from the parking lot to the viewpoint is an easy five minute walk and accessible to all on a concrete path. Once you get to the end of the path there is definitely a good viewpoint to see the waterfall. This is a good stop for maybe 10 minutes as you drive by the area.

Traveled with friends

Written October 28, 2022

Nice Waterfall Against a Rocky Backdrop

On Grand Loop Road, southeast of Roosevelt Lodge, park at the Tower general store lot and walk the short, tenth of a mile to Tower Fall Overlook. Interesting rocks provide the backdrop for the Tower fall. Beyond the overlook, a 1/3 mile trail offers nice views of the Yellowstone River. Light is best early in the morning.

Traveled as a couple

Written September 28, 2014

The Fall that murmurs in Silence

Tower Fall On 25th August, 2019, we started early in the morning and headed north. Destination: LAMAR VALLEY. About 31 km north of Canyon Village we came across Tower Fall of Hot Spring Creek. There is an excellent view of Tower Fall from an easy-to-reach roadside overlook. Tower Fall is a waterfall on Tower Creek in the northeastern region of Yellowstone National Park, Wyoming. Approximately 1,000 yards (910 m) upstream from the creek's confluence with the Yellowstone River, the fall plunges 132 feet (40 m) into a deep gorge, joining the Yellowstone a few hundred yards below. At the crest of the fall the stream has cut its way through amygdaloidal masses. Amygdaloidal structure is a volcanic rock in which rounded cavities were formed by the expansion of entrapped gas or steam. Over time these cavities got filled with deposits of various minerals. The basaltic rocks formed from solidified magma are very friable, permitting the stream to cut its way through them leaving tall spires of rock from 50 to 100 feet in height, and worn in every conceivable shape. Several of these crumbling rocks stand like sentinels on the very brink of the fall. The Tower Fall owes its name to the rock pinnacles that stand at the top of the fall. The view is beautiful: the clear icy stream makes a sheer fall of more than hundred feet to the bottom of the chasm, and thence rushes through the narrow gorge, tumbling over boulders and tree trunks fallen in the channel. The sides of the chasm are worn away into caverns lined with variously-tinted mosses. The fall is accessible either at the brink or foot, and fine views can be obtained from either side of the canyon. A 1-mile round trip hike drops down to the Yellowstone River alongside Tower Creek and previously connected to a viewing platform at the base of the falls. Unfortunately, the last section of the trail was washed out by rock and mud slides in 2004, and the trail to the base of the waterfall remains closed. A lovely cascade, hidden away in the dim light of overshadowing rocks and woods, its very voice hushed to a low murmur, unheard at the distance of a few hundred yards. You may pass by within a half mile and not feel its existence. Tower Creek and Tower Falls are located approximately three miles south of Roosevelt Junction on the Tower-Canyon road. There is a Yellowstone General Store next to the trail-head. You can get snack or some covetous souvenirs. And there is a casket full of glittering stones of varied colors and shapes. We had had our breakfast there and bought cowboy hats and stickers of bisons and Yellowstone Falls to adorn our refrigerator at home.

Written October 12, 2019
These reviews are the subjective opinion of a Tripadvisor member and not of Tripadvisor LLC. Tripadvisor checks reviews for fraud.
Detailed Reviews: Reviews order informed by descriptiveness of user-identified themes such as cleanliness, atmosphere, general tips and location information.
---
---
Is Tower Falls accessible in July 2020 via hike? I understand the road is closed, but did they completely close it to all visitors?
---
Did you carry bear spray for this walk and on any other trails?. The USA National Parks site advises minimum group size of 3 in both Grand Tetons & Yellowstone & carry spray which we will acquire but there are only 2 of us. Will we need to await others to tag along with? We are in our 60s and have slowed down so doubt others will want to wait for us at a slower pace. There does not appear to be any reference on Tripadvisor regarding these safety matters. We will be in the area in a hire car from 3 September until 15th staying at Teton Village, Gardiner & West Yellowstone. Any advice welcomed.
I agree with above. Tower Falls is viewed from afar at a nice well designed walk to view. We are also in our 60s and did a lot of hiking on our own without the bear spray however it was July NOT September. The trails are very popular with hikers and we were being passed in both directions most of the time...maybe the animals are more active in Sept.? I would either rent the spray or be sure to hike mid day with others around. In July we were out and about by 6:30 am and going places till about 3 or 4. SO MUCH to see! No other place is like Yellowstone! enjoy!
---
I visited Tower Falls in 1977, and at that time, there was a latge boulder sitting right in the middle of the lip of the falls. At the time, it was said that the boulder could fall at any time and had already been there a long time, or it might not fall for over a hundred years. I would like to know if the boulder is still there, or has it gone over the falls?
There is a large-ish boulder at the lip, and the water pours around it. I don't know if it's the same boulder you saw, and I can't put a picture here. But there are other photos posted in September 2016 by TripAdvisor folks that show the lip of the falls.
View all
Tower Fall (Yellowstone National Park) - All You Need to Know BEFORE You Go
Frequently Asked Questions about Tower Fall
---
We recommend booking Tower Fall tours ahead of time to secure your spot. If you book with Tripadvisor, you can cancel up to 24 hours before your tour starts for a full refund.

See all 11 Tower Fall tours on Tripadvisor

---

---

---