Big Apple Greeter, New York City: Hours, Address, Big Apple Greeter Reviews: 5/5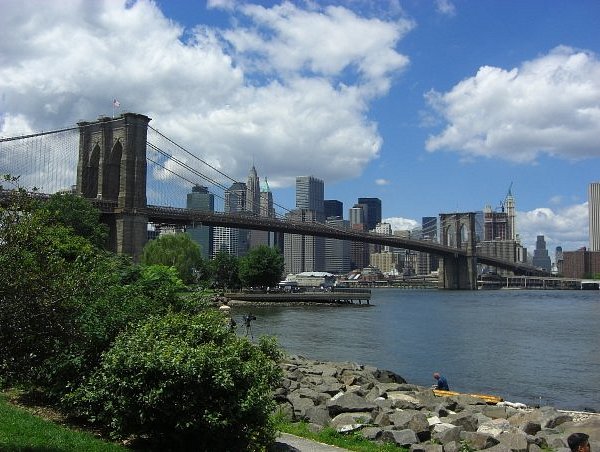 About
Since 1992, Big Apple Greeter has been pairing visitors with New York City volunteer Greeters who explore the city together, free of charge, on foot or by public transportation. Warm and welcoming, a Greeter meets up to six people and shares his/her personal knowledge of New York City's culture, people and diverse neighborhoods. A Greeter is not a professional tour guide. Instead, a Greeter is a new friend who is ready to spend two-to-four hours sharing the city he/she knows and loves.
Travelers talk about
""
(262 reviews)

""
(44 reviews)

""
(48 reviews)
Detailed Reviews: Reviews order informed by descriptiveness of user-identified themes such as cleanliness, atmosphere, general tips and location information.
---
---
Apr 2022
We had Beth as our greeter and she was amazing or in USA speak Awesome.

Beth took time to prepare for our meeting and visit and created an itinerary based on our information which was so thoughtful and showed that she was listening to what we were hoping for. We had to amend our schedule but no bother she just adapted this gave us a couple of options and this was really appreciated.

Mia whose sole purpose in New York was to shop was very appreciative and Sue has been telling everyone she has been in contact with who is going to New York to use the Greeters.

Beth met us on the day showed us how to use the subway buy and refill cards and explained the intricacies of the systems. We visited DUMBO walked across the Brooklyn Bridge and had loads of opportunities for lovely photos and gained lots of information about DUMBO the bridge and interesting insights into the city.

Beth also took us to the Museum of Moving Image which so helpful I am not sure we would have managed to find it ourselves :-).

Through osmosis and Beths passion we have a little bit of New York in us and become mini New Yorkers. There was an unfortunate incident on the subway 24 hours after our journey and Beth kindly got in contact to make sure we were ok. This was so thoughtful.

Meeting a New Yorker and making that human connection, sharing difference, similarities is what this experience is about so thank you to Beth and the Big Apple Greeters for this wonderful service. We will never forget New York or Beth xxxxx
Written April 28, 2022
This review is the subjective opinion of a Tripadvisor member and not of TripAdvisor LLC.
---
Mar 2022 • Couples
We loved our tour of Central Park with Dore! What a fantastic way to spend our first half day in NYC. We learned so much and we were blown away by all the history and beauty of the park. Dore was an incredible guide, both knowledgeable and fun, and her love for Central Park was infectious!

We took our first tour with Big Apple Greeters 21 years ago when we came to NYC with our kids, and we were so impressed that the first thing I did when we decided to visit this year was look up Big Apple Greeters and schedule another tour. This organization is such a treasure for visitors to the Big Apple, and I'm so happy they're still around all these years later!
Written March 28, 2022
This review is the subjective opinion of a Tripadvisor member and not of TripAdvisor LLC.
---
Oct 2021
Happy to report that I have now gone on two tours (one in October and one in November) of W. 57th St. with Les Barnett. I went with two different groups of friends. We all agreed that he is a brilliant guide with a wealth of knowledge about New York City and an engaging manner that makes the time fly by. I'm looking forward to booking another tour with him. He is the type of person who can make a native New Yorker like myself love the city even more!
Written November 14, 2021
This review is the subjective opinion of a Tripadvisor member and not of TripAdvisor LLC.
---
Nov 2021 • Friends
Les, our tour guide, was BEYOND AWESOME! He gave us a 7 hour guide personalized just for us. He was knowledgeable in SO MANY areas! Not just places to go, but history of the area and much more. I seriously could not think of a better introduction to NYC.
Written November 8, 2021
This review is the subjective opinion of a Tripadvisor member and not of TripAdvisor LLC.
---
Feb 2020
We wanted to see the "real New York"; not the Red Tourist bus version. Meeting Les, our greeter, was just terrific. Knowing that architecture and design was our particular interest, he took us to places we would never have found if left to our own devices. Who would have known that there were Art Deco gems hidden behind ordinary office doors or in hotel bars. He drew our attention to tall iconic skyscrapers (which now look modest compared to larger more recently built ones) as well as small details such as the fabulous post boxes in office entrance halls. At first sight, New York may not be as attractive architecturally as many old European cities but get to know it; examine it more closely , understand its social history through its buildings and people, and it becomes utterly fascinating. We could only have achieved that level of understanding through the eyes of our very congenial and knowledgeable guide, Les. I can honestly say our day spent with him was the highlight of our trip. We would go back to New York simply to do that tour again.
Written April 2, 2020
This review is the subjective opinion of a Tripadvisor member and not of TripAdvisor LLC.
---
Feb 2020
Was recommended an "Apple Greeter" by a friend , absolutely brilliant .

Great communication from start to finish , we met Carole on the second day our our trip and she was lovely .

We left it to Carole to decide where to take us and she didn't disappoint. We went to the Hudson high and visited Chelsea market it was great.

If you visit NYC I would recommend this service.
Written March 6, 2020
This review is the subjective opinion of a Tripadvisor member and not of TripAdvisor LLC.
---
Feb 2020 • Friends
We had been recommended a Big Apple Greeter and were so pleased we booked! Carole met us at our hotel and took us on the subway to Chelsea Market, The Highline and Hudsons Yard. She also took us in a Yellow Cab. The whole experience with Carole was amazing. She was so friendly, knowledgable and very easy to get along with. We had a really fun time with her and would highly recommend anyone to use this service.
Written March 3, 2020
This review is the subjective opinion of a Tripadvisor member and not of TripAdvisor LLC.
---
Feb 2020
We had a great time with our BigApple Greeter, Jeff. He tailored his time with us to the exact things we were interested in, history & food, taking us to Nolita, Little Italy, Chinatown and the Lower East Side. The food was fantastic & the history so informing. He also gave us an overview of the subway system, which then allowed us to use both the subway & the bus system more confidently on our trip. I think this is a fantastic program & would encourage travelers to use BigApple Greeter! I will definitely look for them in other cities. I also would use Jeff's own tour guide service again, Jeffribacktours.com.
Written February 19, 2020
This review is the subjective opinion of a Tripadvisor member and not of TripAdvisor LLC.
---
Feb 2020 • Couples
Bonnie was our guide. She met us at our motel. Bonnie was so interesting in what she showed us and told us about New York.
Bonnie went above and beyond what we expected.
She answered every question we had. Bonnie was so patient, kind, caring and full of life as we walked and she talked and knew so much history about New York.
I would want Bonnie again on a tour with a Big Apple Greeter.
Learning, seeing and experiencing New York with Bonnie made our experience in New York pleasurable easy going
and a wonderful experience.
Ask for Bonnie if possible!
Her history about the city is remarkable! And her knowledge of architecture is informative.
Written February 8, 2020
This review is the subjective opinion of a Tripadvisor member and not of TripAdvisor LLC.
---
Jan 2020
My husband and I found Big Apple Greeter on Trip Advisor and with such great reviews we knew we had to try for a greeter. We were matched with Bill B. and we enjoyed every minute with him. After getting matched with him he contacted me via email and phone. After I spoke with him I knew we would have a great time.

On the day of our tour (Jan 20,2020) Bill met us in the lobby of our hotel in Times Square. We hopped on the subway and rode to the Highline. We continued our walking tour and saw Chelsea Market, SoHo, Greenwich Village, Chinatown and Little Italy. Along the way he shared history of some buildings and great stories (real or not we enjoyed them!). We stopped at a Starbucks for something hot to drink and also at a bakery in Little Italy for an eclair and cannolis. Our tour ended (we spent 4.5 hours together) near the Brooklyn Bridge and Bill was going to get us back to our hotel. Instead, we said our goodbyes there and continued our day with a walk across the Brooklyn Bridge and had drinks in DUMBO.

This was a fabulous service. I told someone it was like meeting your best friends Uncle who was willing to share his time with you. Bill made us feel welcomed and you could tell he really enjoyed sharing the history and sites of his city (born and raised in NY).

Although the tour is free it is recommended that a donation be made; we glady did that as soon as we got home. My husband and I loved NY and will return one day. We will utilize this program again to see different parts of the city.

Thank you, Thank you, Thank you!
Written January 25, 2020
This review is the subjective opinion of a Tripadvisor member and not of TripAdvisor LLC.
---
Showing results 1-10 of 637
Hi We are so looking forward to our tour but are not clear how to pay/tip for the service? What did others do please? Thanks!
Big Apple Greeters has a policy of not accepting tips or payment of any kind. We made a donation to the organization because we were so appreciative of this wonderful organization!
---
Do you have any greeters that sign me and my daughter are coming over in May for her 18th she is profoundly deaf who wears cochlear implants having someone who signed would really make her stay in New York even more special
You would really have to contact BAG directly for answer
---
Yo envié la solicitud con tres meses de anticipación y estuve 10 días en New York. Recibí el mail en el que me avisaban que no tenían guía disponible cuando estaba en el aeropuerto a punto de salir.
---
שלום ארצה לדעת איפה מתחיל הסיור
---
Bonjour Je prévois un séjour libre à News York logement en appart hôtel du 3 au 7 avril 2019. Comment prévoir des visites accompagnées ? Merci
---
How long in advance can I book a Greeter? I will be in New York for the first time in mid October this year. Jenny
We booked our Greeter two months in advance. I think it is worth giving it a try now though you may not get a confirmation until much closer to the date. It puts you at the head of the line.
---
I noticed that Big Apple Greeter is funded by donations. Did you make a donation? What would be an appropriate amount?
You are given a sheet at the end to complete a review, and in this sheet is the opportunity to donate an amount of your choice, or denominations of $50, $75 or $100. Given it cost the four of us around $40 for lunch in NY every day, it seems very fair to offer a donation, given we had 3.5 hours of brilliant advice and chaperoning.
---
I wish to be picked up by London Greeter in late september till 1 december and joi in their walks. How do I proceed/tqvm
---
How do I get in touch with London Greeters ? tqvm
---
How far in advance did you book the greeter both times? I don't want to do anything too soon or too late.
sorry delay forgot my log in info i think a day or so before 15th march as thats when i got email thanking me for submitting my request for a big apple greater. we were worried left bit late to request one as missed out last time but was so glad we got one,would def recommend them. when do you go?
View all