Caverns & Caves • Waterfalls
About
ADVENTURE AWAITS! Ruby Falls is the tallest and deepest underground waterfall open to the public in the United States. Take a guided Classic Waterfall Tour, Lantern Tour or Extended Cavern Experience Tour along the scenic cavern trail to the breathtaking waterfall. See ancient geological formations, millions of years in the making, and learn about the cave's storied history. Enjoy extensive views of the Tennessee Valley, Cumberland Plateau and the Tennessee River from scenic overlooks and Lookout Mountain Tower. There is always something new to discover at this national treasure! Tours fill quickly, purchase tickets in advance online for best availability.
Tours & experiences
Explore different ways to experience this place.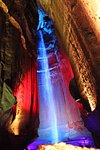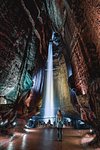 What is Travelers' Choice?
Tripadvisor gives a Travelers' Choice award to accommodations, attractions and restaurants that consistently earn great reviews from travelers and are ranked within the top 10% of properties on Tripadvisor.
See what travelers are saying
Visit Ruby Falls!

Ruby Falls is the nation's tallest and deepest underground waterfall. To get to Ruby Falls, you first must traverse through a cave founded by Leo Lambert in 1928. Marvel at the tunnel in which Leo first crawled to the falls. Witness cave formations which have been growing for millions of years to include stalactites and stalagmites. The tour is led by a guide who will point out formations as well as regale you with the history of the cave and falls. The cave tour lasts about 90 minutes. The Falls are lit with a fantastic light show. In addition to a cave tour, you may also experience a lantern tour or zipline adventure of Lookout Mountain. Ticket prices are approximately $22 per person for the cave tour, however a combo ticket can be purchased for Ruby Falls, Rock City, and the Incline Railway for a reduced cost.

Hi TouristWithTots, Thank you for your wonderful review of Ruby Falls. We are so pleased to know that you and your family enjoyed exploring the cavern and witnessing the falls in person. We appreciate your recommendation and hope to see you again soon! Never stop exploring, The Ruby Falls team

Written January 26, 2020

This response is the subjective opinion of the management representative and not of Tripadvisor LLC.

Written January 26, 2020

Won't be back during covid.

I went with my brother and sisterinlaw Aug 7,2020. We bought tickets ahead of time and reserved a time for 9:30am. Let's start with checking in, we arrived and told the lady our last name and she said they're about to leave us and we needed to hurry and go. We just drove a 2+ hour drip obviously we went to the restroom as my brother parked the car and waited. We get by the elevators and go down where we ended up waiting for more people. I'm not sure why the lady at the front desk was rushing us like we were about to miss the entire thing, completely unnecessary. The caves itself was really cold and really beautiful to look at. We were at he end of the line which was fine we could take our time and really appreciate the rocks. what i could not stand about the entire thing was how RUSHED the entire thing was. If you're purchasing all three tickets (railroad, ruby falls and rock city) you'll know this was the most expensive one. &For them to RUSH the heck out of everyone was unacceptable. We stay at the waterfall itself like 15 to 20 mins before heading back. There was another tour coming and sometimes because we wanted to take photos with the rocks we were left behind which was fine, but some of the guides were extremely rude for no reason. I understand the precautions for covid and having time slots, but you're not going to charge people $30 and rush them in and out of an experience just because you want to make some money. The falls and cave itself was beautiful just wish i got to enjoy it more.

Written August 28, 2020

Great Wet Weather Activity

One would not normally think that visiting a waterfall when it's pouring with rain would be the perfect day out. Well it is if the waterfall is underground! What a hidden gem. From the beautiful turret outside, built from rocks excavated from the site, to the beautiful rock formations and at the center of it all the amazing waterfall, illuminated by stunning lights. This easy mile long guided tour is informative, humorous, beautiful and it has a really cool story behind it. It makes you grateful fro those intrepid adventurers that have just the right amount of crazy and fearlessness in their genes to find such beauty in the world. Perfect for people of all ages, the path is flat and well lit, although I did wonder if some of the 'very' large tourists I have seen might fit through the narrow pathways! Our guide was fantastic and all in all it was a wonderful way to spend 2 hours on a wet day in Chattanooga.

Hi Karen B, Ruby Falls truly is a hidden gem and the perfect adventure, rain or shine! With the cavern a consistent 60 degrees year roud, its the perfect escape for a rainy day for explorers to take in a natural wonder full of breathtaking ancient formations. We appreciate your wonderful review of your Ruby Falls experience and hope to have you explore with us again soon for there is always something new to discover at Ruby Falls. Never stop exploring, The Ruby Falls Team

Written February 27, 2020

This response is the subjective opinion of the management representative and not of Tripadvisor LLC.

Written February 26, 2020

Disappointed with Experience.

I'm not necessarily upset that we spent 40+ minutes walking to see the waterfall for exactly 10 minutes before walking back. Which means we spent 1.5 hours of our time to get 10 minutes of the falls. However, I'm very frustrated by the lack of social distancing efforts and/or crowd reduction of the groups. When we booked the reservation on the website, it said they were limiting group sizes due to covid. Our group had 28 people in it and had to be split up several times because other groups couldn't get around us. We spent a lot of the 40 min walk just waiting for other groups to pass. Also, groups walked passed us on the same trail, which I understand was normal pre-covid, but now seems risky to have that much foot traffic. Had we known there were times/areas of the trip where social distancing was impossible due to the space, we wouldn't have gone. If you're not worried about any of this, just try to be at the head of the group because otherwise you can't hear the tour guide at all. The tour guide really tried to keep spirits up, but I think even she sensed the group was frustrated. The 10 minutes of visiting the falls was really nice, but honestly the rest of the hassle wasn't worth the $50 we paid.

We're so sorry to hear that you didn't enjoy your trip through Ruby Falls. We do the best we can to enforce the wearing of masks, provide hand sanitizer, regular cleaning throughout the building, and identify the best places to pass in the cave, given the space restrictions. However, when it comes to the social distancing, we still have to rely on the goodness of our guests to make sure they are keeping a considerate distance from their neighbors. We believe most people WANT to, but get caught up in the excitement of being in the cave and seeing all the beautiful formations. Regarding the 10 min at the falls, the new format of our tours actually allows for more time (normally 7min) at the falls. We've found that most guests that come through are actually ready to leave even after 5-6 minutes, but we also have to keep a certain schedule to prevent the flow of groups in the cave from backing up. We do hope you'll give us another try once local restrictions allow us to safely return to our regular formatted tours. Maybe try us during an off-season or on a weekday before 10am or after 4pm. Those times tend to be less crowded. Never Stop Exploring! The Ruby Falls Team

Written October 26, 2020

This response is the subjective opinion of the management representative and not of Tripadvisor LLC.

Written October 21, 2020

Worth the visit if you're in Chattanooga

Ruby Falls is a great family activity and suitable for children, teens and adults. The activity is led by a knowledgeable tour guide. You see lots of cool cave formations and end at the waterfall which is a beautiful site to see. The location as well as the restrooms are super clean and well maintained. Everyone is required to wear a mask at all times while in the cave, gift store or anywhere inside the premises. Plenty of parking. I recommend purchasing your tickets online as reservations are required because of limited spots due to COVID.

Hi silviara31 Thanks for your review! We're so glad you enjoyed your visit to Ruby Falls and are grateful for your letting others know about your experience and what to expect when they arrive. Come see us again soon! Never Stop Exploring - The Ruby Falls Team

Written October 9, 2020

This response is the subjective opinion of the management representative and not of Tripadvisor LLC.

Written October 8, 2020

Forced March tour no stops at any exhibits

Dec 26th, We purchased our tickets for the first tour of the day. We traveled over 500 miles, paid for a hotel and planned a 3-day weekend to have an exciting time in Chattanooga Tn! By far, the worst experience was the Ruby falls tour. It was a forced march from the elevator, to the falls with no time to take in any of the other exhibits along the walk. We thought, O.K. we will return a bit slower and be allowed to stop and enjoy some of the exhibits (Tobacco leaves, Steak and Potatoes, etc.) for at least a minute or two. We were let down. It was another forced march back to the elevators with the tour guide getting a bit snippy with anyone in the group that did not keep up with his pace. The tour guide did not tell us anything about the exhibits or any of the normal stories you would get on other cavern tours (Like Carlsbad Caverns, Inner space Caverns, etc.), except a short video at the beginning and a short story at the falls. On the way back we were herded in like cattle into 2 places (dark with nothing to view) while other groups passed by. During these times the Tour guide would sit on the exhibits…. We were told NOT to Touch anything, but he could lounge on the exhibits??? I do NOT recommend this tour.

Written December 30, 2020

DO NOT COME HERE IF YOU VALUE YOUR SANITY

This is one of the biggest tourist traps I have ever visited. I don't know why I didn't listen to all of the poor reviews, but do not make my mistake. While there are many interesting rock formations, that does not make up for the VAST number of issues we experienced. First of all, as stated on the website, the time printed on your ticket is the time you enter the queue for the elevator. However, this entire process demonstrates poor planning on the part of the company because it causes you to wait in multiple lines just to enter the cave. For us, this process lasted for about an hour. From there, you wait in a line to have your picture taken (which can be purchased for $30 in the gift shop) before waiting yet again for group after group of "survivors" which are the people returning from the waterfall. It was so annoying and exhausting to be constantly moving aside that by the time you finally reach the waterfall, you expect something brilliant. Instead, you see a silly light show and a stream of water. Then, you walk back through the same way you came, once again having to constantly step aside for other groups passing through. The primary issue with this attraction, as I'm sure you can tell, is greed and poor planning. There are far too many people in each group and too many groups in a VERY tight space. If it weren't for the marketing ploys and reviews from people stating that this is a "must-see" experience, I am certain that they would have no visitors at all. Please, do NOT waste your time here. Explore either Raccoon Mountain or Cumberland Caverns, both of which are organized, close to this area, and will offer you shorter lines and a more enjoyable experience.

Written January 1, 2020

Poorly organized

This is unfortunately very poorly organized. They run too many tours at a time. They call those who have seen the falls "survivors" and as a counselor that word is triggering and wrongly chosen. It is three hours of standing and waiting in cramped dark spaces with lines moving in and out so you have to squeeze to one side when the others walk through. This was not worth the money spent at all. My children are 9 and 11, I couldn't imagine small children there, waiting in the lines. Overall- horrible.

Hi gameghan, Thank you for taking the time to provide feedback of your Ruby Falls experience. We appreciate your notes and will pass them along to our team. Based upon the date of your review, you visited over the holiday weekend which is a peak visiting time for many guests from all over the world to come and experience the underground natural wonder. For future guests looking to explore with a limited size and laid back pace, we recommend our specialty tours; Lantern Tours and Extended Cavern Experience. These specialty tours are after-hours and provide guests the opportunity to have more time in the cavern and at the falls. Never stop exploring, The Ruby Falls Team

Written January 7, 2020

This response is the subjective opinion of the management representative and not of Tripadvisor LLC.

Written January 2, 2020

Too rushed and crowded in cave

Five stars for the beauty of the cave but only 3 stars for the company. Previous reviews were correct when they said you are rushed like cattle. Couldn't stop to actually look or take pictures. Someone took the time to paint yellow stripes on the ground throughout the cave for social distancing but you have to press against the walls to let another group pass and everyone is touching. It doesn't make sense? Definately go before 9am and stay at the end of the line if you want to snap a few pictures. You guys need to consider making the groups smaller and spacing them out more. One day there will be an emergency and it will be super hard to get people out and that will be the end of Ruby Falls. I would hate to see that happen.

Written August 8, 2021

Not for those concerned about COVID

As others have described, this enterprise is trying to pack them in. To my group of 20 mostly masked and completely vaccinated seniors, they added 10-15 nonmasked others. We were told to gather closely in a small space to watch a fatuous video. What might have been a 30 minute experience to see the cave stretched out to well over an hour as we had to stop repeatedly for other groups of mostly unmasked people to squeeze by slowly, as well as for those at the end of our large group to catch up. The falls were mildly interesting, but would probably be special mostly to people who had not visited other caves, and certainly not worth the risk and aggravation of the experience.

Written September 28, 2021
These reviews are the subjective opinion of Tripadvisor members and not of TripAdvisor LLC. Tripadvisor performs checks on reviews.
Detailed Reviews: Reviews order informed by descriptiveness of user-identified themes such as cleanliness, atmosphere, general tips and location information.
---
---
Is this your Tripadvisor listing?
Own or manage this property? Claim your listing for free to respond to reviews, update your profile and much more.
Claim your listing
Ruby Falls - All You Need to Know BEFORE You Go (with Photos)
Frequently Asked Questions about Ruby Falls
---
Ruby Falls Information
| | |
| --- | --- |
| Excellent Reviews | 3,527 |
| Very Good Reviews | 2,144 |
| Ruby Falls Photos | 4,744 |