About
Rich in grasslands, desert plains and volcanic hills, the Savuti (Savute) area covers nearly two thousand square miles of Chobe National Park.
Tours & experiences
Explore different ways to experience this place.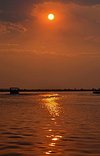 See what travelers are saying
Beautiful landscape, rich wildlife and lions paradise

Savuti was one of the highlights of my trip to Botswana. Not easy to get to the reserve, as the drive can be challenging, but I am so happy I spent 2 full days and 2 nights exploring this amazing area. I saw many animals, including a lion eating his kill first thing in the morning and 2 lionesses with 9 cubs - just amazing views, photography and experience.

Written January 20, 2020

GREAT GAME VIEWING

Spent two nights here at a campsite within the park. The area has many features: the Mababe Depression, the Savuti Channel, the Linyati Channel [both channels dry at the moment], various vleis or pans [bore holes for the wildlife to drink], the Savuti Marsh and several rocky hills or kopjes. The game is good but you still have to work at it. Saw lions twice [a lazy male on the first day plus two of the three in Scotty's pride walking around the outskirts of camp at morning java] but no leopards [just recent tracks]. A long slog through heavy sandy was well rewarded with a group of somewhat skittish wild dogs in the mid-morning sun.

Written July 9, 2023

4x4 trip in Savuti

Fantastic trip to Savuti Game Reserve wildlife reserve located in Botswana. It is known for its large elephant population, as well as other species such as lions, leopards, and hippos. The reserve is also home to a variety of bird species. The landscape of the reserve is diverse, including savannah grasslands, wetlands, and rocky outcroppings. Visitors can go on safari drives and walks to see the wildlife, and there are also luxury camps and lodges available for accommodation. Overall, Savuti Game Reserve offers visitors the opportunity to experience the beauty of the African wilderness and see a wide variety of wildlife in their natural habitat.

Written January 18, 2023

Boring & being riped off

If you have been to Kenya or other national parks, you will find this boring in terms of the minimal types & numbers of animal to be seen here. And the drivers of the park's game drive use dirty trick to ripe off tourists. The drivers said, "we are not supposed to drive off the track but we know that the lions are sleeping under the bushes. If each party pays USD10 and we will keep this secret and drive you off track to see the lions". We said NO but the driver still drove us off track to see the lion. And then force us to pay afterwards.

Written January 1, 2020

A tree climbing Impala?

One of the first things we saw here was an Impala up a tree. Of course it didn't climb the tree but was left there by a leopard. So we were checked in, relaxed and had our first game drive back to the same tree. Sure enough we saw our first ever leopard here. Then the second. Then the third. It was a mother and two sub adults. What could be better? So imagine our astonishment when an adult male came out of the bushes and joined them! A complete family group of four. We spoke to Matto Barfuss who was also there. He spends six months of every year in the bush and hasn't seen that for ten years. What a privilege. Of course we saw much more in our three days. Wild dogs were an obvious highlight. And three young male lions relaxing together, one of which walked past the jeep so close I could have touched him. Food and service here was first class, as were the guides. Ask the guide about the Savute Channel, its an interesting fact.

Written July 30, 2022

The Jinx of Savuti

A recent visit to Savuti Camp has left my family and I most distressed. On nearing the end of a wonderful holiday in Botswana we had the misfortune to cross paths with the power crazed manager of this idyllic spot. This fellow is the epitomy of rudeness & arrogance. His name- Jinx(Jinxy) is rather appropriate because that's what he did to the rest of our holiday. A problem arose when my son whilst innocently exploring some (unbeknownst to him) apparently hallowed ground reserved for the US 580 PPPN brigade was highly embarrassed, when reprimanded by this fellow in an unnecessarily brutal, high handed and provocative manner in front of his French wife and some US tourists. Apparently part of the camp is now off limits to us mere mortals(campers) although there is no demarcation or signs to that effect worth speaking of. Later on I accompanied him on the same holy ground to look for some people whom we had rescued from the sand about 15mins away from the camp the previous day (The Camp Manager having unfortunately not been in a position to help them in spite of their calls on a satellite phone more then an hour before!) and who had invited us for a drink. There being no visible signage and nobody around to check with, we went ahead. After we had gone about 30 metres we heard a bellowing noise behind us. On turning around we saw an SKL (the people now running the camp) staff member jumping up and down on the spot whilst berating us and screaming at us to come back. Never having been spoken to like this before by someone in the so called Hospitality industry and whom we didn't know from a bar of soap we ignored his rudeness and carried on to see our friends. In this time, he went over to where our car was parked, where our two wives were sitting in the back, and proceeded to help himself (through the open window) to the car keys which were still in the ignition, and shouting at them "your husbands are on MY property, I will take them to the officials!" On our way back we were accosted by this same staff member who proceeded to shout and scream like a banshee and tell us in no uncertain terms that "he would throw us out of the camp because he was empowered to do so"! As he continued in his rant we lost the moral high ground somewhat when my normally placid and easy going son finally lost it and called him a pyg. A term which whilst not improving the human relations situation was nevertheless not inappropriate. To which the worthy Jinxy retorted "Well you're a pyg, you're a pyg!" It became even more heated. Jinxy became increasingly belligerent. At this stage I had to separate them as I thought this fellow may assault my son. I tried to smooth things over but the Camp Manager (who was empowered remember!) continued to act in an unreasonable and aggressive manner, mentioning the word racis! to which I highly object. Nothing like that had ever been inferred or alluded to by me and when I had threatened to sue him if he used the word again and lodge a complaint he said "Well it will be your word against a million others!" Did he mean my word as a white person against a million Botswanans? (Read- "africans" - maybe?) Was this the inference? Racis!? Who?? Later in the day whilst still somewhat in shock we were out game viewing when the aforementioned .....came roaring up to us in a game viewing vehicle and ordered us back to the camp immediately. After a heated discussion in the Gate Office in which he uttered several untruths for the benefit of an ineffectual Wildlife official who seemed to be sitting in on the proceedings as some sort of adjudicator, he told us he was throwing us out of the camp. We wanted to phone his superiors (Not that I think that HE thinks he has any) but he would not let us use the phone and there is no cell phone reception at Savuti. We were shocked. We were stranded miles from anywhere with no means of communication. We had paid in advance and my son and his wife had paid thousands to come from Paris on this holiday where they had been promised that Savuti would be the highlight of their trip. When we asked about refunding our accommodation money he was unforthcoming. I can't remember the time of day but I had a feeling that we would have been driving after dark on the terrible road that leads to the gate and the even worse one outside the gate which joins up with the Kasane road. So what could we do? Eventually we had to grovel and crawl to this obnoxious fellow and apologise. We felt humiliated and demeaned. He had been aggressive, rude, loud and overbearing from the beginning. We did not deserve this. It was patently obvious that he wanted us to crawl to enhance his inflated ego and satisfy his delusions of grandeur. This unfortunately we had to do, we had no choice. So now the Camp Manager continues to rule over his personal fiefdom. He told us he wanted his career to "skyrocket". Well if he and his career were to "skyrocket" to Jupiter it couldn't be soon enough or far enough. And if this skyrocketing Camp Manager were to pay some attention to getting some hot water in the showers, getting rid of the stink of sewage which emanates from near the ablution block and fixing the doors he would be better employed. But I suppose harassing the guests is much more gratifying! He brings SKL camps into disrepute and should be removed forthwith.

Written September 8, 2012

Chobe and Savuti with our family of 6: AMAZING!

We have just returned from an amazing safari on Chobe national park and Savuti area. We are a family of 6 with kids aged from 9 to 15. We booked our trip from Kasane (Not in Maun even though a lot of guide books say you have to; but there is really no need!). Just have a look around Kasane and talk to different people, the tourist information centre was helpful. The range in prices is staggering; so don't get sucked into doing a very expensive safari. You can do self-catering trips which are also much more flexible and fun I think. We booked a 4 day trip into Chobe and to Savuti with Umpengu safaris. We have our own rented 2wd vehicle and tents and cooking gear etc. but needed a 4wd and guide to get the best experience. We found that with Umpengu. We organised a self-catering trip with Walter (they also do full catering; so they just take yoou out, cook and supply and set-up camp). We took all our gear and food and they supplied the vehicle, organised the camp, gate entry etc. and even brought a toilet and shower! We did a 4 day trip sleeping in the park for 3 days. Venda and Walter were our guides and made sure we were safe and comfortable. They really know their stuff! Both guides know the park really well and they took us to beautiful places and we got to see soooo many animals. In the first day we saw 92 giraffes! We saw elephants, wildebeest, mongoose, baboons, vervet monkeys, hippo's, countless birds, a hyena, impala, kudu, crocodiles and many more. On the game drives Venda and Walter managed to find a leopard, a cheetah and we saw 10 Lions! Before we left Kasane Walter said; Savuti never disappoints; he was right! The people from Umpengu are fluent in English and genuine! The campsite was not one of those expensive ones that you have to stay at when you do self –drive (it would have cost us $300 for one night!) But staying in one of the 'exclusive' campsites that we had completely to ourselves on a remote and beautiful spot costs $25 for all of us. You can hear the wild animals around the camp (at a distance), but we felt very safe. We can highly recommend these guys, Chobe and Savuti. Even if you have your own 4 WD vehicle I would take a guide; they get you to places you won't be able to find yourself. They also know all the other safari drivers in the park; they talk to each other and help each other to see the 'elusive' animals like the cats.

Written May 25, 2014

Highlight of our trip!!

We drove through part of Chobe Park and then stayed on a riverboat on the Chobe River. There were so many elephants that at one point, there were elephants in 180 degrees of our view. We were absolutely fascinated by the herds and how they interacted with each other. One of the highlights was seeing elephants swimming across the river. The babies were helped along-- it was mesmerizing. At one point, we saw a baby elephant on the shore, with its mother, drinking water. The mother was using her trunk to drink water, but the baby just hadn't quite gotten the hang of that, so it dunked its face into the water up to its eyes. Very cute and made us laugh. Along with the elephants were thousands of buffalo they just seemed to keep coming and coming and coming... On a sundowner boat cruise, we saw 6 lionesses on the shore, just walking along. There were lots of hippos and many crocs as well. We enjoyed seeing the hippos out of the water. That gave us perspective as to how big those guys really are. Chobe was wonderful and I'm sorry that we only had 2 days here. I think we'd need at least a week if we were to get a good perspective of this wonderful place. We'd love to come back and spend more time and highly recommend visiting this magnificent, beautifully wild park.

Written December 17, 2016

Great sightings in Savute

We spent two nights in savute. We saw lions, elephants, honey badger and lots of antelopes. Had a peaceful stay with good cooperation from DWNP and SKL

Written July 13, 2019

BUCKET LOADS OF ANIMALS XX

Great!! Not one negative comment - suprises my partner lol. Savute Safari Lodge best place ever. xx Excellent guides Omed is amazing

Written May 24, 2017
These reviews are the subjective opinion of Tripadvisor members and not of TripAdvisor LLC. Tripadvisor performs checks on reviews.
Detailed Reviews: Reviews order informed by descriptiveness of user-identified themes such as cleanliness, atmosphere, general tips and location information.
---
---
Is this your Tripadvisor listing?
Own or manage this property? Claim your listing for free to respond to reviews, update your profile and much more.
Claim your listing
Savute Reserve - All You Need to Know BEFORE You Go (with Photos)
Frequently Asked Questions about Savute Reserve
---
Savute Reserve Information
| | |
| --- | --- |
| Excellent Reviews | 243 |
| Very Good Reviews | 49 |
| Savute Reserve Photos | 347 |