Morey's Piers and Beachfront Water Parks
Morey's Piers and Beachfront Water Parks
Amusement & Theme Parks • Water Parks
About
Morey's Piers, located on the boardwalk in the Wildwoods, New Jersey is a classic seaside amusement park, family owned and operated since 1969. Voted the second best seaside amusement park in the world by Amusement Today, Morey's Piers has over 100 rides and attractions spanning over eighteen acres along six beach blocks and includes three amusement piers and two beachfront waterparks. Convenient to the major population centers of the Northeast, yet a world apart, Morey's Piers along with Morey Resorts combines the pure joy of an amusement park, the sights and sounds of a classic boardwalk, outstanding accommodations, together with the rhythm of beach life. Visit them at Surfside Pier, featuring the Ocean Oasis Waterpark and Beach Club at 25th Avenue, Mariner's Landing Pier, featuring Raging Waters Waterpark at Schellenger Avenue, and Adventure Pier at Spencer Avenue.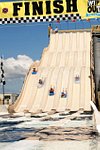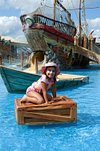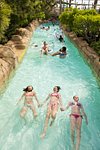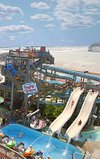 See what travelers are saying
Fun visits in the midst of crazy times.

When we were heading down to Wildwood this year, we didn't know what to expect due to the pandemic. Well, we visited Morey's Piers on three separate occasions and were not disappointed. Our first visit was to Raging Waters. We had already purchased tickets last winter, so we made a reservation (reservations are free for pre-purchased water park tickets), and headed to the water park not knowing what to expect. What we found was the best visit to Raging Waters we've ever had. The crowd was very light and most people were very respectful of social distancing. We enjoyed our time there so much that we went back three days later, and had the exact same experience. Overall I'd give them an A+ for their water park operation. Our last visit to Morey's was for the rides. We went to make a reservation for the rides and found that it would be about $8 per person to make a reservation, not including ride tickets. So we opted to just walk up to the pier and take a chance. Our gamble paid off and we got right in. Once on the pier, I found the cleanliness to be adequate. I watched them wipe down touch points of most rides between each cycle. What was slightly alarming was the number of people who remove their masks despite Morey's policy. I will say that I did watch pier employees do their best to enforce the mask policy. Overall they seem to be doing a great job despite the many challenges they face.

Written August 9, 2020

Super unique attractions and friendly employees!

I had been wanting to come to Morey's for years and so glad I finally did! I love the atmosphere of beach front amusement parks and this one definitely is my new favorite one! It is very expensive for anything you do here, but is worth it. Raging Waters water park was my favorite experience. This water park has some extremely unique features and attractions. I love how close together everything is, which creates some really cool interactive experiences. The best attraction at Raging Waters is the Sky Pond adventure, which is a multiple slide attraction connected by a series of elevated pools. When you reach a pool, a lifeguard greets you and sends you to the next slide, in which sometimes there are multiple choices to choose from! The lifeguards here are super friendly and are constantly smiling too, which really makes a welcoming atmosphere. I didn't catch all their names but the ones I did who were beyond awesome were Madison, Mikayla, and especially Isatella! I loved the drop chute slides, rope swing, the multiple pools, and body slides as well. As for the dry parks on the other piers, they were all fantastic as well. I would recommend doing the coasters and rides during the day as at night the lines do get very long. The Flying Galleons ride was very unique too as it takes you around the back of the pier on an inverted track. Down on the other pier is home of the unique Zoom Phloom log ride! This log ride consists of two drops, separated by a section that goes underneath the boardwalk! It is super cool! I definitely want to come back out to Morey's and spend more time out here.

Written September 13, 2020

EXPENSIVE!!!! But fun

Prepare your wallet. 75 tickets was $99 and it was 5 to 9 tickets for most rides. There were some additional levels, but the savings per ticket is like 30 cents to buy more. Most games were $10 and you were guaranteed a small stuffed animal. There are 3 piers - when we were there many of the big rides were not open, but most small ones were. The pier was clean and they were doing well with mask wearing - social distancing not really possible, but they were trying - cleaning rides after each run was happening.

Written September 1, 2020

Total Disappointment

Buyers Beware: Don't waste your money on the reservation tickets. My family and I purchased reservation tickets to guarantee access for the pier at 7pm on Tuesday 7/7 and Thursday 7/9. 4 adults and a 4 year old child totaled about $100 $55 for Tuesday and $44 for Thursday. We arrived a little early on Tuesday about 6 pm and there was no line for anyone to get in. After being funneled to the line for reservations we were met with a " your reservation time is 7" , meanwhile people were just walking on. After extreme rudeness we were let on to the pier. I have to say once through the front gates masks were not enforced and social distancing wasnt either. After a long wait to purchase $70 worth of tickets ( your reservation ticket gets you nothing other than access ) we determined due to the lack of visible sanitation ( Pirates cove in OCNJ which is where we opted to go Thursday instead were consistently enforcing and cleaning and we all had a better time ) people not adhering to social distancing and the lax attitude towards masks that we wanted to cancel our reservation for Thursday. Now they did refund our money for that. When asked if we could be reimbursed for Tuesday since again it was not needed we were met with a no , we used the reservation we credited your one cancellation back to you and sorry you had a bad time we will pass your message along, oh and they through the" no refunds" being listed. While I understand that businesses have been impacted severely through the pandemic I don't think it's a time to financially scam families either that have also been financially impacted. This is a well established name that people associate with making family memories. So maybe they got our $ 55 bucks and the $ 65 for tickets but what they lost was someone who for the past 25 years has supported their pier and business . My recommendation the shore towns are empty if you want to go take a walk by you can purchase the reservations on your phone. Don't waste your money if you don't have to.

Written July 11, 2020

Beware! Not safe!

Have been going to Moreys pier for 50 years, and always thought of them as top quality. Was so disappointed at their handling of safety for COVID19. They advertise that they will be making masks mandatory and limiting number of people and enforcing social distancing. Once you get in with your mask everyone seems to be not wearing masks at all. There is no distancing in lines for rides. What's safe about that?? We spoke to management about it and they said they were doing the best they could with limited staff. I pointed out many people without masks and they did nothing. They really should close if they are unable to keep people safe.

Written July 10, 2020

Beach Rollercoaster Oasis

If you love the beach and Rollercoasters then this is the place for you. Morey's Piers has a coaster for every taste from the wild Great White to the more tamer Rollies coaster. The Sea Serpent boomerang coaster and The Great NorEaster are crazy looping coasters sure to thrill the more zany looping coaster fans out there. I usually get the all day ride pass to allow me to ride as many rides and do rerides as I can on all three piers. Keep in mind that if you just want to ride one coaster or other ride single ride tickets can be purchased as well. Tickets required for each ride and all day ride wristband prices are listed on the ticket booth monitors at the ticket counters on all thee piers. Be sure to visit the Morey's Piers website for days and hours and current events such as ride closures before you head out for your day of fun. Morey's Piers Curly fries are worth a trip all by themselves and the pizza parlors are fantastic as well. One thing to be aware of is the weather conditions before you go. Be sure to look up the weather channel online for Wildwoods before you go. I have seen the weather go from sunny to storms over the course of a few hours. Storms seem to hit the area mostly at night. The piers and rides usually reopen once the storms have passed but this can vary depending on what time the storms hit the area and for how long they are in the area. I always visit Morey's Piers while I am visiting Atlantic City New Jersey. It's easy to get to using the Garden State Parkway and usually takes me about an hour to get to from Atlantic City. It makes for a great day trip for the whole family. Have fun.

Written July 15, 2021

Less Value for Much More Money Than It Used To Be

It pains me to rate Morey's Piers as average, because my family has really always enjoyed a day on the rides during our Wildwood vacations, but after taking a break for a few years, we came back to find that prices had increased to exorbitant levels while hours and availability were decreased. We always used to buy ticket cards during the holiday or spring sale and then plan to use them on Thursday of our vacation, which was traditionally the day they used to offer a weekday special of half price rides until 5pm. Unfortunately, when I checked the sales this year, the price of the ticket cards blew me away and I ended up being glad I didn't purchase anyway, because the half price ticket day is no longer a thing. They now offer some specials available any weekday and we purchased the ride until 7pm wristbands. Unfortunately, two of the three piers used to open in early afternoon while only Adventure Pier was much later. This year, only one pier opened at 1pm, another at 4pm and Adventure Pier not until 5pm. And if you are familiar with the location of the piers, it was the one in the center that opened at 1pm, then the one in the direction of North Wildwood that opened at 4pm and finally Adventure Pier heading towards the Crest at 5pm. This meant that to attempt to visit all three piers and get in as many rides as possible, you would start in the middle, then head north to try to cram in as many rides as possible as quickly as possible to then travel past the middle pier we started on to head south to Adventure Pier. Unfortunately we ran out of time and didn't make it to Adventure Pier to ride the Great White. And to buy tickets for four people to ride just the Great White would've cost between $40-50 or more (for one ride!!!). I know that prices change and things change, but these prices are just over the top and for us the hours made it impossible to do everything we wanted to in the time allotted. We were a family of four adults and really tried to hustle and were lucky to find no lines or waiting but I can't imagine a family with younger children trying to navigate the piers and accomodate all ages and get their money's worth in the short time. It's disappointing that Morey's Piers no longer seems to be affordable for families to spend a day on the piers.

Written July 28, 2023

Excellent

Excellent time had by all. I was particularly impressed with the staff. All were professional. One case In particular I was traveling with my special needs son. The young lady watching the line recognized my son seemed a little agitated by some of the surrounding noice. She approached me and very politely and respectfully offered another option to enter the park. I declined as it was not necessary, however I truly appreciated not only that she recognized the possible problem but was pitch perfect in handling it. I failed to get her name but she was working the entry line for water park entry on the morning of 8/27/2020

Written September 7, 2020

Lousy

I've been coming to these piers for for over 30 years; I came when it was also Hunts pier and the Manor Bar across the street on 25th served $1 pitchers. Last night was my last time they'll see any of my cash again. 1st of all, last year with the RIDICULOUS face tampon OUTDOORS rule. I swore I'd never go back but gave them one more chance this year. All I got for it was jacked up prices ( $5 to throw 3 darts at a balloon? $10 for 7? !!!) and p is s poor service. The frigging ferris wheel has 40 cars that fit 4-6 people; guess how many they chose to fill for each 3 times around. 10. TEN!! They can have a nice glass of "go **** yourself". I'm done with this place forever.

Written July 13, 2021

Endless Fun!!

Been two these fun piers and waterparks many times over and every time I find something new to enjoy. You can spend hours at the water parks and never get bored. Most of the rides I've been on many times over so I know what to expect with them. I mean is on the pricey side. Water park is somewhere in the $40's and the rides if you want the unlimited ride band you are going to pay for it. Don't remember the exact price, but for three or four people you are pushing $200. This isn't the little local carnival on the lot next to the Fire station.

Written June 26, 2021
These reviews are the subjective opinion of Tripadvisor members and not of TripAdvisor LLC. Tripadvisor performs checks on reviews.
Detailed Reviews: Reviews order informed by descriptiveness of user-identified themes such as cleanliness, atmosphere, general tips and location information.
---
---
Is this your Tripadvisor listing?
Own or manage this property? Claim your listing for free to respond to reviews, update your profile and much more.
Claim your listing
Morey's Piers and Beachfront Water Parks - All You Need to Know BEFORE You Go (with Photos)
Frequently Asked Questions about Morey's Piers and Beachfront Water Parks
---
Morey's Piers and Beachfront Water Parks Information
| | |
| --- | --- |
| Excellent Reviews | 1,045 |
| Very Good Reviews | 477 |
| Morey's Piers and Beachfront Water Parks Photos | 553 |