Jiminy Peak Mountain Resort
Ski & Snowboard Areas • Beach & Pool Clubs
About
Jiminy Peak Mountain Resort is the premier four season resort in Berkshire County, MA. A resort where ease of the guest experience is paramount, Jiminy Peak has a thoughtfully designed village center with all of its amenities conveniently located on the way to the lifts and a trail system where all trails funnel back to the base area. In addition, three lodges, two restaurants on property, and separate facilities for both its children's and first-timer programs (each complete with their own rental shops) help guests make the most of their experience. In the winter, Jiminy Peak offers skiing and snowboarding on 45 trails accessed by 9 lifts, with 96% snowmaking coverage. With 21 lit trails, Jiminy Peak offers night skiing and snowboarding until 10pm. Jiminy Peak offers 4 and 8 hour passes that begin at the time of purchase in order to accommodate skiers arriving throughout the day.Summertime means Mountain Adventure at Jiminy Peak. Climb through the levels of Jiminy's Aerial Adventure Park, a harnessed, self-guided experience that brings participants up into the canopy for an exhilarating physical and mental challenge as they navigate elements such as ziplines, tight ropes, suspended bridges and many others. Or for a completely different set of thrills, head to Mountain Adventure Park to weave through trees on the Alpine Slide, traverse the mountainside on the Mountain Coaster, reach for the sky on the Giant Swing or experience one of the many other attractions featured in the park. Also offered in the summer are hiking, lift-access downhill mountain biking, great dining options and retail locations.During the spring summer and fall months Jiminy Peak becomes a full conference resort using its multitude of spaces to host weddings, business conferences and corporate outings of all sizes, and has an on-site staff of experienced conference sales managers to help plan your perfect event.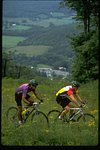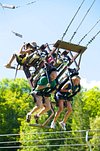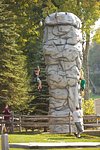 See what travelers are saying
Great 3 days

This was my third time skiing at Jiminy Peak and my second time staying overnight at the country inn. I use their online service to order tickets in advance. It's a great deal because you can get two full days of skiing in and with night skiing it makes it really worth it. We went the last three days of Presidents week. It wasn't too crowded, because I don't think everyone still does that vacation week. Friday was the most crowded day. The country inn is great because it is very conveniently located. The rooms, one bedroom with a pull out couch, are a little bit tight. But it gets the job done. What I like about it is they have coffee and hot chocolate in the morning and in the late afternoon. My boys love swimming in the pool and hot tub outside. And it is located right next to the mountain coaster. The country inn also has ski lockers which is very helpful. There is a restaurant on the third floor of the end called John Harvard's. I wouldn't order from the kid meals. Just fork over the extra five bucks and get the kids a real hamburger! The mountain is a very family friendly with a variety of blue and green trails. They even have trails that are marked blue/green if you're looking for a little bit more of a challenge. With skiing you always have to deal with mother nature, but I think they do a good job of getting out there and grooming so it's a nice run for everybody. All of the lift operators are very friendly. The food at the mountain lodges is really good. They make the soup fresh every day. We eat lunch and dinner there. I definitely recommend it for family friendly mountain

Written February 22, 2020

Great family weekend in the Berkshires

We are from the Boston area and decided to head to the Berkshires instead of our usual trips to Maine. The resort is nice. The adventure park was a big hit (FYI, if you are not going on rides, you do not need to purchase a ticket, the whole area is open). We bought/reserved our tickets in advance. The park/resort was busy, but definitely not crowded. Everyone was wearing mask and socially distancing responsibly. The pool has a sign/out to keep track of guest. I do have to agree with other reviews that the hotel hotels did have a funky smell and overall the resort needed a little more cleaning. Finding crumbs on carpets and hairs on sheets and in the bath, just doesn't make you feel comfortable. I think a good pep talk with cleaning staff is needed. Overall staff was very friendly and helpful, especially the front desk staff. The gentleman who checked me in was smiling with his eyes when he greeted me. We didn't eat at the onsite restaurant, the country store has basic stuff but you would not want to get more than a snack there. Powder Hounds is right at the entrance of the resort and the food us Awesome! In Lanesboro there is mini golf and Krispy Cone ice cream (really cute play area too). Bob's country kitchen was a very yummy breakfast. We drove through other Berkshires town on the way home, cute but not too mucj to see or do. Thank you covid for a nice weekend exploring a new part of MA.

Written August 18, 2020

Christmas Vacation

This is the second year visiting the mountain and we are very satisfied with Jiminy. The cost of lifts,rentals and lessons are all affordable. So far, the service has been good. With an exception with Kristina Ferracane. She was awesome! I didn't have any issues with the GET ski program but I had to ask a question. It was a good experience and everyone was as helpful as they can be. Some more than others but I gave it a shot. The trainers were on a mission to get everyone on two skies. I needed more time and didn't want to push myself and get injured. I had the rest of our vacation to enjoy. Anyway, Kristina was so friendly and her customer service was exceptional. She took the time to listen and really hear what I had to say. Among her multitasking of training other employees, answering calls and assisting guest coming and going, she took the time to walk me to the other building and explained the program and how things work. She had me reiterate to other employees what was going on as I was a learning experience for them and I was happy to help. The service with Kristina was what you would want from everyone in the Industry but don't always get. She was pleasant, understanding and she really took care of me. In my eyes she went above and beyond my expectations. Kurt, the manager of the GET program was helpful. He listened to what I had to say and he did what he needed to do. Thank for your time and your follow up Kurt. You run a smooth operation, like a fined oiled machine. Kristina is a gem, the true star on this mountain. She deserves all the recognition with my experience and I look forward in seeing her again. We will be coming back and I will stop in to say hello. Thank you very much Kristina, a job well done.

Written January 5, 2020

Not a safe place to be

I wanted to comment on my experience at the Mountain Park today. We came wearing masks and having read the "rules and guidelines" on safety at the park. We were distressed and had to leave the park after a short time because guests were not wearing masks and staff were not asking them to wear them. This was mostly at the Mountain base but also as guests stood in line to ride the chairlift and the coaster and alpine slide rides. Although some staff clearly were trying to intervene and ask guests to socially distance and wear masks, other staff was not wearing masks or were wearing bandanas or gaters which have been shown to actually be worse than not wearing a mask. We tried to social distance but this wasn't possible the way they had it set up and enforced. They didn't clean our chairlift chair or our slide cars after we used them either. We left and were kindly refunded our entry fee but not until we already experienced and were around this unhealthy and dangerous environment, as well as having drove for hours to experience the park only to have our family feel stressed, anxious and sad about the experience. As a health professional, I think they should seriously reconsider whether they are capable of operating safely in the current environment.

Written August 26, 2020

Good rides hampered by ridiculous lines

We visited the Mountain Adventure park on an August afternoon, with a 4-hour timed ticket starting at 1 PM. What a mistake... there was a large group there that made the lines ridiculous. Don't get me wrong - the rides themselves CAN be fun. The Alpine Slide is fun, and the mountain coaster is exceptional if you go full throttle. The problem is when you get stuck behind a timid rider. It is no fun to wait for an hour and then crawl down the track behind a grandma or a dad with a child that clearly shouldn't be on the ride. This particular group had several line jumpers, and there was simply insufficient staff to enforce the rules. Fortunately, on our last rides, we got full-blast runs on the mountain coaster and the alpine slide. We only managed five total rides in 4 hours, not enough to make a $44 ticket feel worthwhile. But at least we ended the day on a positive note. There are not enough other things to do to disperse a large crowd. The "Soaring Eagle" ride is, frankly, dumb. All it does is winch you up a cable and then lower you back down to the loading platform. The swing is nothing special either, and both are very slow to load, so they can't handle many people. If you are lucky enough to go on a day with no crowd, the slide and mountain coaster would be great fun. But when lines are an hour for each, that's not so good.

Written August 25, 2022

Had a great mini-break here

We have gone to Jiminy Peak for over 25 years, usually staying at the Country Village or Wyndam Bentley Brook with RCI timeshares. This summer my spouse and I decided we needed some time in the Berkshires / Taconic range to hike in a cool green place. We stayed for three nights, attracted by the stay two nights, get one Thursday or Sunday night free, at the Country Inn. While the hallways were a little battered we really liked our room and it seemed as if they had a recent renovation. The staff was friendly and welcoming. The bed was enormous and comfortable, with a Tempurpedic mattress. There was a kitchenette with burners, a coffee maker, a fridge, and a new dishwasher. Phillips flat screen TVs. While staying here we liked hitting some trails, playing at the tennis courts on the property, going to Tanglewood, and hitting golf balls at the driving range in Stephentown, NY a few miles down the road. There is a Country Store that has coffee and other amenities like the Sunday newspaper. We look forward to our next visit!

Written August 3, 2021

Great Experience

We didn't stay at the resort, but skied here for two days. We are green/blue skiers and there were quite a few trails to keep us busy. The conditions were great and they were making snow throughout the days as well. The trails were very wide which we liked and although it seemed like a a lot of people in the lift lines, there was space on the mountain and we never felt uncomfortable or crowded. There were a few different options to eat and there were ample tables, benches and chairs set up outside as well as an outside "bag check". The indoor lodge was open as well, but even though the tables were spaced appropriately, it seemed like a Covid super spreader event. That being said, everyone outside had their masks on and there were workers reminding people to put their masks on. We will totally be going back here despite the 2 hour 45 minute drive from NYC.

Written December 31, 2020

Horrible customer service

Terrible customer service, extremely frustrating experience! Drove 2.5 hours to get here to ski. Had reserved rentals in advance due to the holiday weekend. We waited in line an extremely long time only to be told there were no rentals left in our sizes. We told them we had prepaid and reserved our sizes. The employees gave us a dirty look and said "well we don't have any" and waves us away. That was that. No one apologized, no one offered any alternatives. We were left to fend for ourselves. I trekked back to guest services to ask for a refund for the rental we had paid for and was told "I can't do that, the accounting dept does that." I still don't know if we will get our money back. No one could answer our questions and everyone who we talked to about it acted like we were bothering them. I had to lose precious time on the slopes with my family driving to another town to try to get rentals for those in my party that Jiminy couldn't accommodate. The worst part about it all was how little remorse any of the employees showed. Extremely disappointed.

Written February 16, 2020

Avoid this place at all posible

Do not pre purchase tickets. It is a scam. I bought the three Lyft pack in October last year, I was only able to use one ticket for a couple of hours. Then my child got sick while attending the kids rule school in early morning. I asked for partial credit on the three pack and the ticket manager was extremely mean and was not accommodating at all. She instead called her subordinates and reminded them to not do refunds at any time. Management is really rude.PLEASE, Go to another resort instead! There are nicer people somewhere else. Trust me. This is very y unfortunate that I am having to write this.

Written February 13, 2020

Great atmosphere/location - disappointing accommodations

I would love to give this hotel a higher rating because of the great location and atmosphere however the fact remains that the rooms are dated and not everything is in working order. The room was very clean upon arrival and we were greeted warmly by the staff (except one younger woman who had an attitude each time I spoke with her). The pull out couch wasn't made - and we arrived pretty late. This was a little annoying but what can you do. The bed wasn't the most comfortable and the sheets had a blood stain on them that I didn't notice till we left. The bathroom tub shower dial was broken and hung off the wall. Some of the lamps didn't work and the heating system wasn't the best. The first night we froze and the second night was better. You could hear people in the hallways but it wasn't terrible. The pool and indoor hot tub were just ok. We were given lockers for use for our skis, which was great. Although I was disappointed that one front desk member told us we could use the locker till 2 when I called in the morning but the not so pleasant lady told us no when we checked out. The kitchen was great but our dishwasher was broken - thankfully my husband was able to repair it. All in all, we had a great weekend. For the price we paid. I did expect a little bit better quality. I don't think we will return to the Country Inn but will return to the mountain again.

Written February 4, 2020
These reviews are the subjective opinion of Tripadvisor members and not of TripAdvisor LLC. Tripadvisor performs checks on reviews.
Detailed Reviews: Reviews order informed by descriptiveness of user-identified themes such as cleanliness, atmosphere, general tips and location information.
---
---
Is this your Tripadvisor listing?
Own or manage this property? Claim your listing for free to respond to reviews, update your profile and much more.
Claim your listing
Jiminy Peak Mountain Resort - All You Need to Know BEFORE You Go (with Photos)
Frequently Asked Questions about Jiminy Peak Mountain Resort
---
---

---

---
Jiminy Peak Mountain Resort Information
| | |
| --- | --- |
| Excellent Reviews | 299 |
| Very Good Reviews | 171 |
| Jiminy Peak Mountain Resort Photos | 180 |