Holiday World & Splashin' Safari
Amusement & Theme Parks • Water Parks
About
Holiday World & Splashin' Safari are a family-owned theme park and water park combo located in Santa Claus, Indiana. Home of Thunderbird - America's only launched wing roller coaster, Holiday World celebrates Christmas, Halloween, Thanksgiving and the 4th of July with roller coasters, family rides, a huge water park, live entertainment, games, attractions - and Santa Claus, himself! Splashin' Safari, ranked one of the nation's Top Water Parks by TripAdvisor and USA Today, includes the two longest water coasters in the world, family water slides, two wave pools, plus water activities for children. Both parks have been voted the World's Cleanest for more than a dozen years. In 2016, Guinness World Records certified Mammoth as the World's Longest Water Coaster and in 2013, TIME magazine named The Voyage the nation's #1 wooden coaster. Live entertainment includes musical shows, a high dive show, and Santa's Storytime. Both parks offer free soft drinks, free parking, and free sunscreen.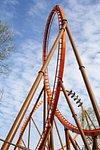 See what travelers are saying
Great park

Been going to Holiday World bi/tri annually since 2004. Its really a nice family owned park. Other parks within relatively close distance, Six Flags STL/Kentucky Kingdom, pale in comparison. Especially when it comes to Splashin' Safari, a top notch waterpark. The water coasters are a blast, but you'll have to probably wait a while in line. The free drinks are welcomed, the food is usually above average quality for an amusement park, and the park is usually clean. The wood coasters are generally good rides, if not occasionally temperamental on comfort factor depending where you sit or time of year, but that's also wood coasters in general. Thunderbird is over quick but a smooth and fun coaster. The admission pricing, as with most things in life, has increased steadily over the years. They have tickets that vary by price depending on the day you go. So avoid weekends, both for this reason and because the crowds, which have ticked upward also in the 15 years I've been going. They have offered pepsi can discounts for a while, not sure if they still do. It's been about 15 years since they have added the Thanksgiving section. A new holiday area or a couple new coasters, particularly steel coasters, would really help round out the dry park's ride selection if that was added the next few years. But definitely a good place to spend a full day.

Thank you for the review. We hope you come see us again!

Written May 20, 2020

This response is the subjective opinion of the management representative and not of Tripadvisor LLC.

Written May 18, 2020

Always a great time

What is there not to like about holiday world? You get free drinks and sunscreen. There are ample bathrooms everywhere as well as seating and shade. The lines are long but still shorter than most other theme parks we've been to. The food can be hit or miss sometimes but you kind of expect that for the value you are getting. The price of one ticket gets you into the theme park and waterpark. Not much else we can ask for we go every year even though its a 3 hour drive there. This year they had a special light show using drones and music that was out of this world and very innovative. I can see so many uses for it in the future and I hope they continue with it going forward. When in the waterpark I recommend getting a locker as you get 3 wristbands with it for other members of your party. This park has the best lazy river I've been to. Overall I highly recommend it if you ever get the chance.

We're so glad to hear that you enjoyed your time with us and hope to see you again!

Written August 1, 2022

This response is the subjective opinion of the management representative and not of Tripadvisor LLC.

Written July 27, 2022

An excellent value and a whole lot of fun!

This park is really nice and a whole lot of fun. It's not huge and only has 4 roller coasters, but the water park is incredible and there is plenty to do in the amusement park. It's really well maintained and kept very clean. The name Holiday World makes you think it's going to be a rundown, low-rent joint, but definitely not the case. All rides were up and running the entire two days we were there. We went on a Thursday and Friday and the lines were minimal at Holiday World. Splashin' Safari had times where the lines were huge, but if you timed things right you didn't have to wait too long for some of the best slides/rides. The free drinks and sunscreen is nice and we had nothing but good experiences with the employees. It's impressive to me that they offer free beverages (and you see people taking advantage of it) but not once did I go to a Pepsi station where the drinks had run out or even the ice and cups. They definitely stay on top of things. Also, the Thunderbird coaster is one of the best coasters I've ever been on. It's pretty incredible. Voyage was one wild ride as well. My ten-year-old son and I had a great time and I would definitely recommend this park. With free parking and beverages and a reasonable gate fee (especially if you buy online), it's the best value for an amusement park I have ever seen.

Thank you so much for all the kind words and for coming to see us. We hope you all visit again!

Written July 13, 2021

This response is the subjective opinion of the management representative and not of Tripadvisor LLC.

Written July 9, 2021

False Advertising and they don't care about their staff or customers

This is hands down the worst place in the state maybe even the Midwest. Not only were we lied to multiple times but so far we've paid $700 dollars for this trip and $800 the year before when it stormed we had to sit outside for 60-90 minutes in the middle of a thunderstorm before we were able to get rain delay passes that only lasted until the end of the season. This year we came on Friday and were told after entering the park that the water park was only open to season pass holders but we were welcome to spend another $1000 and we could enter or we could be refunded on a gift card to use another time. We choose to try Saturday the fourth and paid another $300 at the door and were told only one ride was closed. We stood in line for an hour and a half to even get to the gates, got into the water park to find that only the A handful of slides, the big wave pool, and the Timba falls we're open. Then the wave pool was closed for 20-30 minutes every hour for the two hours we were inside. But more importantly it was so unsafe having so many people crammed into these small areas not just for Covid but also for the safety of Adults and children trying to use what little facilities were available. I know I'm not the only person who was upset Multiple people were complaining to staff who had no ability to explain or fix anything those poor kids were being brow beat all day and it's not their fault. It's 94 degrees outside the ice cream stands, and half of the restaurants were closed and social distancing was a damn joke. This company should be ashamed of themselves for subjecting their staff and customers to such an awful experience for money. I understand these are strange times you, like me, are probably having trouble getting staff. If that is the case you should make it clear and upfront to everyone that you are not open to everyone and your attractions are not all open. And that you do not refund or discount for your shortcomings.

I'm so sorry that you didn't enjoy your time with us and encourage you to email comments@holidayworld.com

Written July 9, 2020

This response is the subjective opinion of the management representative and not of Tripadvisor LLC.

Written July 8, 2020

Great rides, poorly under control

First, let me say the good things about Holiday World.. the free sunscreen and soft drinks. You had to buy bottled Water if you wanted water instead of soda. I can't say much about the rides since I only got to ride on a very select few that were actually open. The food alone was good, but very pricey like any other waterpark I've been to. To start off, I paid $100 just for myself & a child that's less than 2 years of age. They had us use our phones to reserve rides & gave us a waiting time for each ride. Half of them were closed. Waiting times were between 45 minutes- 2 hours before you could ride them. Some employees had no clue how to help us with the online reservations or instructions on how to get to some places around the park. You had to reserve a time for the theme park rides, but could stand in line for a water ride at any time. What's the difference of being crowded together in line at water rides & reserving a time for a ride & still being crowded in a line to actually get on the ride. If your reserved time to ride a certain ride was at 1:30pm you get scanned to get in line to stand for about 30-45 more minutes to even be able to get on the ride. People who reserved the ride at 1 are still in line to get on so we are all crowded together once again. It wasn't anywhere on the website about what to expect when we arrived. Technically we could've rode all of the open rides in a 6 hour day span. But it would've taken up our whole day because of the waiting times for each ride. It was a very nice waterpark, but 6 of us came & we won't be back until the regulations are under control & better regulated.

I'm sorry that you weren't able to enjoy your visit as much as you'd hoped and will pass your feedback along to our Management Team.

Written September 8, 2020

This response is the subjective opinion of the management representative and not of Tripadvisor LLC.

Written September 6, 2020

DO NOT GO UNTIL ALL RESTRICTIONS LIFTED

They have employees screaming at you about social distancing when they aren't even following their own policies. They have an in line reservation system that you either have to do on your phone or go to guest services every time you want to ride something that can take more than an hour before you can even enter a line for a ride for "social distancing" and then still walk into a 20-30 minute line waiting to get on. What's the point? They have half of the splashin safari closed due to not being able to social distance especially for younger kids but the two kids slide areas are packed with people toe to toe because no one can spread out. In one ride they only let 5-6 people ride at a time to let families social distance but in another told my dad he had to ride with a complete stranger if he wanted on with us. It is not worth the money they are charging when all of the park is shut down.

I'm sorry that you didn't enjoy your time with us and have passed this review along to our Management Team. If you have more information about your father's ride where he was combined with another group, please send an email to comments@holidayworld.com

Written July 14, 2020

This response is the subjective opinion of the management representative and not of Tripadvisor LLC.

Written July 13, 2020

Not so great this time :(

Unfortunately we had a poor experience today :( I stopped by guest services before we left to inform them about our experience. We were asked to wait to speak to a ride manager about the issues we encountered but after several minutes of waiting in the heat we decided to leave. Our main complaint is that we didn't know about the minimum weight requirement to ride the mammoth. We found out after waiting in line and right before it was time to board that because of Covid, riders from different groups can't be combined. This is of course completely understandable however it would have been nice to know before attempting to ride. I feel like this should also be posted on your website so people know way in advance. If we had known we would have dragged a few more people with us to the park. It was just so disappointing as it is the best ride at Splashin Safari (in our opinion). Also the Cheetah Chase ride had mechanical issues both times we attempted to ride it. The first time there was an issue with the cameras so we waited almost 30 minutes before giving up and the second time the ride broke down right when we boarded the boat. We sat in the raft for at least 20 minutes before we were told we had to exit and come back later as it was going to be a while before it was up and running again. We decided to just call it a day after that. We love Holiday World and usually we have a pretty good time but today was not so great.

I'm sorry about your experience and see that our Director of Admissions has replied to the email that you also sent about your experience.

Written July 15, 2020

This response is the subjective opinion of the management representative and not of Tripadvisor LLC.

Written July 14, 2020

Rude, crowded, disappointed

Made reservations for both Holiday World and a local campground for the weekend, and we were super excited. Someone then asked if masks were required. When I did a search online, it said that as of July 27, masks were required. Sorry, I can't do masks all day in the heat, so I contacted Holiday World about a refund on tickets. I also canceled our camping reservations to make reservations somewhere else for the weekend instead which resulted in a $15 cancellation fee. The answer from Holiday World was very short, rude, and firm no refunds would be issued. I said I understood it was the policy, but I was hoping in these days of COVID that they would make exceptions. Again, I got a no. Someone else then responded saying that masks were not required. The article I saw was from 2020. No year was listed in the article. Still no refunds would be issued. We decided to cancel the other plans we made (Silver Dollar City was more than cooperative about working with us) and rereserve our campground reservations for Holiday World. We arrived at Holiday World at park opening. It took more than 45 minutes to get from the truck into the park. Standing in the hot sun to be filtered through a tunnel and then a metal detector and then a ticket booth. My kids rode 4 rides in Holiday World and a few of the water coasters in Splashin Safari (we stayed until they announced the park was closing at 6). They never stopped to eat or take a break except for a few drinks as they were walking. The lines were horribly long. For the amount of rides that they got to ride, it was not worth the money we paid to get in. They enjoyed what they rode, but were overall disappointed. We didn't even see half of the Holiday World side of the park. Why would the park not be open later on a Saturday? I never thought that they would close that early if they were that busy. I was disappointed that the lazy river ride was not open. I don't do slides and that was my plan for the day. One of the wave pools was closed, so the one that was open was super crowded. It was not a very enjoyable day. Would I try Holiday World again? Maybe. Never again on a Saturday. The park was clean. The staff inside the park were extremely friendly. The free soda and sunscreen were appreciated. The free parking - expect to walk a mile.

We're so sorry that you weren't able to enjoy your time in the park as much as you were hoping and have passed your feedback along to our Management Team for review. If you have flexibility when planning a next visit, we tend to have smaller crowds and shorter waiting times – plus lower online ticket prices – on operating days in May, most of June, September, and October.

Written September 2, 2021

This response is the subjective opinion of the management representative and not of Tripadvisor LLC.

Written August 30, 2021

Could be better

For the most part, we loved the park but they do need to make some improvements. Long lines could be shortened by staff requiring riders (esp. in the water park) to allow people with 1 or 2 riders on to fill the rafts and keep wait times shorter. Instead they would ask if someone else could ride with them. You don't ask. You demand it. Keep all rafts filled at all times. We waited over an hour to ride Wilderbeest just to find out they had a singles line. We would have done that and split our party up if we had known it was only a 20 minute wait time. We paid $50 yet several of the rides were down both days we attended so we didn't feel we got our money's worth. Several rides broke down while we waited. Sounds like more maintainence people need to be hired and get better engineers who won't cause these issues in the first place. Why hasn't the park removed the area where the Pilgrim's Plunge was and put in another tidal wave area? The only one they have was super crowded both days. My husband and I couldn't even enjoy it for all the people and kids pushing at us due to overcrowdedness. We noticed the same music being played both days over the intercom. They couldn't come up with more summertime/beach type music? I could make them a week long list that could be played everyday of a week and not have any repeats. The entertainment was sorely lacking. There was no dive show as advertised. We did discover some young people singing, dancing and doing acrobats AFTER the show had already started. At no point did the park advertise this show. Nothing on the website about it, nor in the park map or anywhere up front when you enter. What a slap to these young people and all their skill! Because this show wasn't advertised, the outdoor theater was only 1/4 full. Sad!! If we had not been walking by it we wouldn't haven't even known about it. Why are they closing restaurants in the back of the park at 6:00? Do they not know people need to eat after the water park closes? I don't get that. Because George's Gluten Free is located clear back in the 4th of July section, I wasn't able to enjoy any gluten free treats either day because of them closing early. Why not move this restaurant to the water park area so it can be enjoyed by more people with special needs? In my opinion the water park either needs to open by 9:00 on hot days or stay open at least until 7:00. There is just not enough time with long lines to get to ride everything.

Thanks for coming to see us. We'll be sure to pass your feedback along to our Management Team.

Written July 24, 2021

This response is the subjective opinion of the management representative and not of Tripadvisor LLC.

Written July 23, 2021

Fun in the sun!

Overall value and fun to be had. Been coming to visit for many many years and a must when visiting family in the area! Holiday themed rides, and SANTA!! Lots of rides and the water park is great. One wave pool was closed for life guard training so the other wave pool was extremely crowded. Gift shops are not evenly matched with inventory so go to the shop in the beginning of the park for most souvenir type items. Items vary in each of the gift shops so grab something if you want it when you see it. I made that mistake. The water park gift shop is good for "pool' essentials though. Would like to see more merchandise online so you don't have to carry it around. We miss the glass blower stand. Fudge and other sweets delicious. Food prices a little inflated but offset with free drinks available throughout the park. The new cafe and other concession stands offers a lot of new food choices but lines were very long especially being a Tuesday visit. Free sunscreen in the water park. Water park rides are awesome but lines can be long. Not a lot of seats in the shade. Cabanas are available but too expensive . No Santa this year because of pandemic but that's understandable this year. The park is huge! No trams in park so be prepared to walk ALOT! The park is an uphill trek on the way out ! Park needs more benches along the walkways. Disappointed that the parking lot trams were not running either. Park tickets have risen over the years ( with discount was $50 a ticket) but if you can take advantage of next day tickets - they are reduced ( about half) of the weekday admission price. It was easy to buy tickets online through the site.

Thanks so much for coming to see us. I'll be sure to get your comments passed along to our Management Team.

Written August 4, 2021

This response is the subjective opinion of the management representative and not of Tripadvisor LLC.

Written August 1, 2021
These reviews are the subjective opinion of Tripadvisor members and not of TripAdvisor LLC. Tripadvisor performs checks on reviews.
Detailed Reviews: Reviews order informed by descriptiveness of user-identified themes such as cleanliness, atmosphere, general tips and location information.
---
---
Is this your Tripadvisor listing?
Own or manage this property? Claim your listing for free to respond to reviews, update your profile and much more.
Claim your listing
Holiday World & Splashin' Safari - All You Need to Know BEFORE You Go (with Photos)
Frequently Asked Questions about Holiday World & Splashin' Safari
---
Holiday World & Splashin' Safari Information
| | |
| --- | --- |
| Excellent Reviews | 2,064 |
| Very Good Reviews | 430 |
| Holiday World & Splashin' Safari Photos | 704 |