About
Tucked into the hills of Sonoma County's Alexander Valley, Jordan Vineyard & Winery welcomes guests by appointment for four unique tours and tastings. From perennial gourmet wine tastings with food pairing in our cellar room and walking tours through our iconic chateau, to epicurean excursions across our scenic property and festive holiday celebrations offered seasonally, there is something for everyone to enjoy. All tours include both walking and seated tastings, each featuring seasonal tastes from the Jordan chef paired with vintages of Jordan Chardonnay and Cabernet Sauvignon. Jordan's Estate Tour & Tasting also includes driving. Advance reservations are required due to the intimacy of tastings. Inspired by the timeless elegance of French wine and food, Tom and Sally Jordan founded Jordan Vineyard & Winery in 1972. Their vision was to create a wine estate that produced food-friendly Cabernet Sauvignon and Chardonnay to rival the finest in France--and to capture the essence of gracious hospitality. Today their son, John, builds upon their legacy. Library Tasting Mon-Sun: 10 a.m. & 2 p.m. (closed Sundays, December-March) Winery Tour & Library Tasting Mon-Sun: 11 a.m. (closed Sundays, December-March) Estate Tour & Tasting Thurs-Mon: 9:45 a.m. (May-October only) Holiday Tour & Tasting Mon-Fri: 2 p.m. (select dates in December)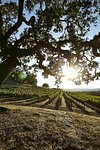 See what travelers are saying
A memorable experience!

Best part of our trip to Sonoma!! Informative small group tour of the farm (roses, fresh fruits and vegetables, feeding the goats fresh carrots). You are even encouraged to pick what is ripe and enjoy delicious fresh produce. If harvest had not just occurred, we would also have seen grapes on the vines. We toured the wine tanks and barrel rooms. We stopped at different points and had a food and wine pairing. Michael was very informative and knowledgeable. The van we rode in was clean and appropriate COVID protocols were used whenever we were indoors and not eating or drinking. The grounds are gorgeous. Everything is well-designed for a lovely visit and the wines and food are very good. The experience takes 3 1/2 hours total and culminates in a lunchtime food and wine pairing in a room with 360 degree views. Well worth the price, especially when you compare the cost of other tastings lasting half the time! or less in a tasting room.

Thank you so much for visiting us, Midge! We are so happy that you enjoyed your Estate Tour and Tasting with us, and we appreciate your kind review. Looking forward to hosting you again soon.

Written October 30, 2021

This response is the subjective opinion of the management representative and not of Tripadvisor LLC.

Written October 29, 2021

Favorite winery in Napa, by far

My girlfriend and I live in SF and visit wine country on a regular basis. We've been to 10+ wineries in the past year or so, but this one is our favorite winery by far. It can often be difficult planning visits to wine country, since with all the hundreds of amazing wineries here, decision paralysis is very real. If you're thinking through different wineries and are considering Jordan, stop thinking about it—you absolutely must visit Jordan. I first discovered this winery since it was on Sonoma Mag's list of the top 5 most romantic wineries in Napa & Sonoma, and it 100% fits the bill. The winery is inspired by France, and it definitely feels like you've teleported to France once you set foot on the estate. When we arrived, our host explained that Jordan specializes in 3 things—chardonnay, cabernet, and hospitality. I thought it was a bit corny, but it's actually quite spot on. Most of the wineries I've visited had great hospitality, but Jordan is definitely on another tier in this department. They make you feel so welcome, and all the staff are very warm and knowledgeable. We did the Paris on the Terrace lunch, which I cannot recommend enough. The food is delicious and you can taste the freshness of the farm-to-table food. Everything is delicious and pairs beautifully with the wines they serve. The setting is gorgeous—French music plays around the grounds, and the tables have excellent views of the estate and the hills around. Our sommelier, Aristotle, was the best sommelier we've ever had, hands down, at any restaurant or winery. He explained things in full detail, answered all of our questions and more, has a wide breadth of knowledge, and was very friendly and welcoming. I tried to remember as many names as I could before leaving this review; unfortunately I forgot most, but the young, blonde woman who walked us from the entrance to our table and checked in on us throughout our experience was incredibly friendly and welcoming; the tall male server with Nike glasses explained every dish in beautiful detail and answered our many, many questions. And everyone else as well did a great job making our experience memorable. My parents are visiting in September for their anniversary, and I'm looking forward to taking them to Jordan for the annual harvest lunch, which I'm sure will be as great of an experience as the Paris on the Terrace lunch (if not better!). My girlfriend's moving out of the Bay Area shortly, but if she were staying, we'd probably come here every month, at least! But we'll definitely be coming back every time she's in town.

Written June 25, 2021

Pricey but worth it

I gave this experience to my husband for his birthday. The hike was 4 miles through absolutely beautiful country, vineyard, olive grove, winery garden and even small farm. There are serious hills on this walk, but entirely doable and totally worth it for the views and the great information shared by our guide, Chris. Hike took us to the top of a hill from which we had a 350 degree view for miles. Ended on the terrace of the Chateau where we were met with champagne. Practiced social distancing through out and there is a very nice portable restroom (seems like an oxymoron, but trust me) available in front of the building. We were sent home with 2 bottles of Jordan wine and an amazing picnic in a bag prepared by winery's chef. Picnic was enough food for lunch and then dinner also. Although it initially seemed pricey, after having done it, the value is definitely there. Highly recommended. We hope they continue to offer this experience so we can do it again in the fall.

Written June 13, 2020

Wonderful charity, beautiful winery, enjoyable wines but extremely disappointing cuisine.

We attended the John Jordan Foundation Social Impact reserved seating dinner, a beautiful winery with impressive wines. The service was transient and irregular, the molecular gastronomy dinner was most disappointing. The executive chef (shamelessly pandering to the tables for compliments) admitted to cuisine and preparation challenges given the guest count. Most notable the courses suffered from poor ingredient quality (frozen scallops, plastic truffles etc.), amateur plating and temperature management issues (the dessert was beyond frozen, inedible). The winery should seriously consider a different executive chef for future events. We were pleased to donate to the charity.

Thank you for your taking the time to leave your impression of your experience, Glenn. Because the culinary experience is a large part of who we are, we always include the highest quality ingredients possible in all our menus. We never utilize frozen ingredients in our dishes (the diver scallops were delivered the morning of the dinner). Our culinary team enjoys blending modernist cooking techniques with French traditions to create memorable food and wine experiences, but we did not utilize any molecular gastronomy at our summer dinner. At Jordan, we work very hard to maintain our level of warm hospitality, and we are sorry that you had a disappointing experience. We hope to host you again someday.

Written July 29, 2022

This response is the subjective opinion of the management representative and not of Tripadvisor LLC.

Written July 25, 2022

Jumping For Jordan (Winery)

We recently went to Jordan Winery in Sonoma Valley. Jordan is our favorite Cabernet so it was our #1 winery that we wanted to visit for my wife's birthday. And the winery experience did not disappoint! We paid for the hilltop tasting. When we arrived, we were met by HANNAH, who needless to say quickly set the stage with her upbeat demeanor, excellent knowledge, quick wit and a smile as wide as the valley. She started us off on our walk by explaining about the different grapes, the land their grapes are cultivated on, the processes they use, the history of the winery, so that by the time we arrived at a hilltop picnic spot, we felt really immersed in the winery. The venue for the tasting was wonderful: a hilltop with expansive views of the valley below. What surprised us was the charcuterie that awaited us as well! We thoroughly enjoyed having HANNAH walk us through the wine/olive/meat/cheese pairings. An absolutely wonderful experience that we most certainly will repeat when we visit next time! Oh and the wines? Did I not say they are our favorite Cabernets? Each we had was wonderful. And my wife loves their Chardonnay too so we ended up buying several bottles of each. We highly recommend Jordan Winery if you're looking for a great way to spend the afternoon!

Written September 14, 2021

France in the Healdsburg Hills

This was our first visit to Jordan Winery and we couldn't have been more impressed. They started the tasting tour off with a glass of champagne while we walked the grounds. Then we went into the barrel areas and hear more about the wine making process. The barrel room is beautiful. We ended in a gorgeous painted wall paper room where we sat at tables for the remaining wine and cheese tasting. The wines are chardonnay and cabernet sauvignon in the French style. They were all lovely as was the cheese, bread and olive oil, which is made from olives on the grounds. Highly recommended tour.

Thank you for your kind review, Natalie! We're happy you enjoyed your experience and hope to see you again soon. Cheers!

Written February 19, 2023

This response is the subjective opinion of the management representative and not of Tripadvisor LLC.

Written February 19, 2023

Estate Tour & Tasting a very memorable experience and so glad we did it!

While I may be a few months behind in reviews, this is one which still leaves a fantastic memory on our minds and palate! Every time we open a bottle, we reminisce about our half day spent at this gorgeous winery! If you are anywhere in Wine Country, this is definitely one tour not to be missed, the Estate Tour and Tasting. Reservations are a must and for good reason. This 3 hour tour is carefully curated, designed and crafted with an intimate and amazing experience showcasing the grounds, food and of course wine in this beautiful estate. What would a tour be without a fantastic guide? Christopher, truly made each guest feel like a close friend or family member, taking the time to answer questions and go above and beyond in sharing his knowledge and love of wine. Couldn't have asked for a better guide! As for the tour...each stop gets better and better! Guests are driven around in a very roomy, comfy, air-conditioned passenger van to various locations on the premise. (Gardens, lake and summit (?) area with breathtaking views of the valley. The weather was gorgeous on our tour day (early Aug) but I'd suggest comfortable shoes, sunglasses and definitely an appetite and thirst! The tour is mostly standing, except of course, when being driven around or during the final course, lunch. At the end of the tour we were given a nice chunk of dry sausage to enjoy later with our wine we purchased!

Written January 7, 2020

Tranquil Escape With Lovely Wines

I was here for a trade tasting this past year and I have to say it was absolutely incredible. The tour was so informative, the guide was very knowledgable and the food was exquisite. The wines all spoke for themselves - Jordan has something to offer for every palette, and a few extra gems as well. This winery is great for new-wine connoisseurs and seasoned veterans alike.

Written December 1, 2020

Superb wine and views

This place is stunning! We did the vineyard tasting experience and we were not disappointed. The gentlemen who did the tour/tasting was superb (I can't recall his name but he used to sing on Princess cruise lines). The story behind the vineyard/winery is really cool and the building is beautiful as well as the grounds. The walk up to the tasting area, in the vineyards under some great trees was a treat as well. We enjoyed the wine and the food and had great conversations with the other guest. I would not miss this if you are in Sonoma County

Thank you for taking the time to review your experience on our Vineyard Tasting experience with Jason. We hope to see you again on your next trip to the area!

Written October 6, 2022

This response is the subjective opinion of the management representative and not of Tripadvisor LLC.

Written October 5, 2022

Just ok

We did the winery hike. It was very fair. We just walked through dusty trails at the vineyard. Heather was nice but did not talk about things as we walked such as the oak trees, the wildlife on the property, the history of the property, etc. She just talked about the vineyards when we stopped. We probably had too many people on the tour to make it intimate. They should limit the number of guests. Maybe masks and Covid made it not worth it. The lunch on the patio was nice but not enough for the money. I enjoyed the tastings in town for half the price much more. I can't recommend it to first time guests in Healdsburg unfortunately.

Written November 1, 2020
These reviews are the subjective opinion of Tripadvisor members and not of TripAdvisor LLC. Tripadvisor performs checks on reviews.
Detailed Reviews: Reviews order informed by descriptiveness of user-identified themes such as cleanliness, atmosphere, general tips and location information.
---
---
Can the $120 fee be applied to wine purchases?
What they said. No discounts. Still a good experience.
---
Can you still walk around the Estate without a reservation?
Correct. Tours & tastings require advance reservations, but the lobby is open during regular business hours, and guests are welcome to walk around the grounds and over by the rock wall vista.
---
Has anyone done the dinner at the winery?
Hi there, I've worked at Jordan for five years and am also a Jordan Estate Rewards member. I've attended the Valentine's Dinner with my husband ($295 per person) and also bought tickets for friends to attend the Sunset Supper at Vista Point ($200 per person). Private dinners are only available to members for points, but are really intimate and the food is delicious. I took a group of six friends there for the Lavish Luncheon redemption yesterday (15,000 points for four people), and they all loved it.
View all
Is this your Tripadvisor listing?
Own or manage this property? Claim your listing for free to respond to reviews, update your profile and much more.
Claim your listing
Jordan Vineyard & Winery - All You Need to Know BEFORE You Go (with Photos)
Frequently Asked Questions about Jordan Vineyard & Winery
---
Jordan Vineyard & Winery is open:

Mon - Fri 8:00 AM - 4:30 PM
Sat - Sun 9:00 AM - 3:30 PM

---

---

---
Jordan Vineyard & Winery Information
| | |
| --- | --- |
| Excellent Reviews | 244 |
| Very Good Reviews | 24 |
| Jordan Vineyard & Winery Photos | 264 |