About
An amusement park and penguin pool make this zoo a popular spot for children.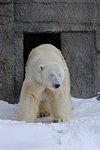 See what travelers are saying
Don't stay in the zoo until it closes. Leave 30-60mins early.

It was a great visit to the zoo, especially when you have a kid they really enjoyed meeting them. One very important note to remind everyone is if you are planning to stay until the zoo closes, make sure you leave a bit early. When the zoo closes at 4pm, the last public bus leaves at 4:36pm. the bus gets very full and if you cant get on it, you will have no way to leave but to take a 20minutes walk to the nearest JR station. there's a taxi stand next to the bus station but it is rarely a vacant taxi comes. The zoo staff does not call the taxi for you, they only give you the taxi companies number and if you have an international number, the taxi company doesn't take your order. We visited in December and we were left stranded in the dark, cold, snow, no bus no taxi, no one to help and it is kind-of an isolated location.

Written December 29, 2022

Small but well maintained city zoo

Took us 10 minutes on foot from the subway station. The zoo was small but well maintained. We enjoyed walking around and seeing the animals encountering their living environments. The red panda, polar bear, giraffe were among our most favourable ones. Staff could speak the basic English.

Written April 18, 2023

Very enjoyable place

The zoo is very spacious and well maintained. It was very pleasant to stroll around here. You will need 2 hours to go around and see everything. You will see some rare winter animals like the amur tiger, red panda, snow leopard, polar bear and wolf. We enjoyed our visit here very much and highly recommend this place.

Written August 9, 2023

Animal abuse

This is the most depressing place ive been too and i would like to credit the animals, especially the birdlife, for not committing suicide. Built by people who dont value animals as having intrinsic rights. I shudder at the thought of there being tinier zoos in Japan.

Written January 1, 2020

Deplorable treatment of animals

Deplorable conditions for some of the animals make this one of the most depressing places I've ever seen. How it isn't illegal to treat animals this way is unbelievable. The hippos are jammed into an indoor pen and separated from one another. One stood with his head in the corner, his mate lay on the other side of the barrier, completely despondent. If there was something I could do, I certainly would…

Written May 4, 2023

Horrible conditions - please do not support

Depressing. Absolutely depressing. The tropical monkey exhibits looked like prison cells with cockroaches crawling throughout. Two of the three polar bears exhibited zoochosis, pacing back and forth nonstop (the third was asleep). The pool water was dirty with small plastic debris floating everywhere. The elephants looked sad, occupying a small indoor enclosure with no stimuli. Only a few of the animal enclosures simulated their natural environment.

Written March 19, 2023

Disappointed with the animal living conditions

Hi , I recently visited this zoo with my family and 3 year old niece. There was lot of hype all over the news in Sapporo and ads regarding the baby polar bear at the zoo, so wanted to check it out. I will say that everyone in my family was disappointed with the zoo visit , including my 3 yr old niece. Japan - Sapporo is very clean and green city and zoo is also located right next to the mountain , so I assumed it will be great experience. The animals are living in poor conditions, the cages stink badly. There was section in zoo which had monkey's and hyena's, next to the giraffe. All monkeys and hyena's were suffering from some skin issues, you can see from the skin conditions and hair falling apart, they were looking bald. Any animal owners can easily know that this is not normal and they need to checked up immediately. Most attention is given to the polar bear and his mother as they are the center of attraction, while rest of animals seemed ignored. The wolves also seemed unhappy and had their hair falling off and grown uneven...even my 3 year niece was asking us why the animals are bald ? If you visit Japan then you will see that the people there have lot of fascination with animal cartoon characters, 8 out of 10 people you will see carrying some sort of teddy bear of cats , dogs , bear etc with them, no matter what age they are...but alas they seemed to love only cartoons and not carrying the real animals. Hope the zoo authorities can read my review and do something for the animals.

Written June 8, 2015

HEART BREAKING!

They have the tiniest cages, and the worst conditions. Especially coming from Australia and knowing how our native animals are supposed to live, seeing Kangaroos in cages was truly upsetting. We also saw big animals such as lions, gorillas, bears, and hippos pacing their cage - as if they were extremely agitated. The ONLY good thing was that we saw different animals that wed'd never seen before (bears and wolves) BUT would still not recommend this zoo to anyone.

Written April 8, 2014

Do not visit

The zoo is a pretty sad place for the animals. All the enclosures are much too small and cramp, and the animals dont appear to be too healthy. For instance, the lions and leopards are kept in tiny cages and animals like the raccoons had bald patches on their fur. Maintenance is very poor and the enclosures dont look clean at all. I went into some area by the side of the zoo and realised to my horror that it is probably where they keep some of the animals indoors at night. It is just terrible because it is even smaller than their already tiny outdoor enclosures. I will recommend not visiting this zoo as it really is rather heartbreaking to see the state these animals are kept in.

Written August 4, 2015

A place to avoid.

Being an animal lover myself, please give the zoo a miss. Coming from Australia as a contrast point, the animals are not treated well with their habitats consisting more of concrete than a natural habitat. Treatment of animals seems poor and none of them look happy, contented or even healthy. Please do not encourage the zoo and give it a miss.

Written December 18, 2015
These reviews are the subjective opinion of Tripadvisor members and not of TripAdvisor LLC. Tripadvisor performs checks on reviews.
Detailed Reviews: Reviews order informed by descriptiveness of user-identified themes such as cleanliness, atmosphere, general tips and location information.
---
---
Is this your Tripadvisor listing?
Own or manage this property? Claim your listing for free to respond to reviews, update your profile and much more.
Claim your listing
Maruyama Zoo - All You Need to Know BEFORE You Go (with Photos)
Frequently Asked Questions about Maruyama Zoo
---
Maruyama Zoo Information
| | |
| --- | --- |
| Excellent Reviews | 249 |
| Very Good Reviews | 377 |
| Maruyama Zoo Photos | 810 |