Mountains • Points of Interest & Landmarks • Volcanos
About
Four routes, each divided into ten sections by stopping and refueling stations, lead up to Mt. Fuji's snow-covered tip. You don't have to be a die-hard mountaineer to climb Mt. Fuji; the slopes are full of children and adults of all ages, shapes, and sizes. The official climbing season only runs from the beginning of July to the end of August, but you can take the train from Toyko to the fifth station any season.
Tours & experiences
Explore different ways to experience this place.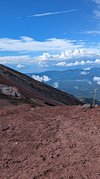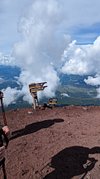 What is Travelers' Choice?
Tripadvisor gives a Travelers' Choice award to accommodations, attractions and restaurants that consistently earn great reviews from travelers and are ranked within the top 10% of properties on Tripadvisor.
See what travelers are saying
Iconic landmark

Since travelling to Japan in my teenage years and seeing Mt Fuji from our bullet train I have had a fascination with it. On my next trip it was in the clouds! On my third trip I did a day tour to 5th station and several other spots which were meant to offer you extensive views but it was again in the clouds. This time I was determined to spend a few days in the area so that I gave myself every opportunity to see it in its full glory. As it was March the snow was too far down the mountain so fifth station was closed. Our Airbnb in Lake Kawaguchi had magnificent views. We sighted the mountain from the train and then travelled by bus to our destination. Clear skies and the most incredible views. It was quite chilly at Lake Kawaguchi but well worth the effort. We hopped on a bus that took us to several spots where you could pay for a day pass and jump on and off as often as you like. Got so many amazing photos, my friends who were with us were blessed as they didn't realise how elusive it can be. Mt Fuji is very dear to me due to my heritage (my grandma is Japanese and my grandpa met her after the war) and I see it as the symbol of Japan and one to be treasured. I have not finished yet I aim to get back and do the climb! Also when travelling on the train ask for the side with views, I didn't have to ask when booking all my train travel they just automatically put us on the best side every time to experience the best views.

Written February 24, 2020

Winter Hike Fuji from 3rd to 5th station

Dear Hikers, I just want to give you a nice hike recommendation in case you visit mount Fuji in times, where the 5th station is closed. We went in February and were quite disappointed that we were not allowed to go to the 5th station by car. Security persons were even blocking us to hike the road further up (for safety reasons of course, as always in japan). We then drove down to the third station and from there took a hiking trail all the way up to 5th station. That was an awesome experience, since we've had an amazing viewpoint only for us. The trail is well marked in the app maps.me and start a few meters up the road from the third station . It took us (usual fitness, but young) 2 hours each way. There was some snow, some ice, and one or two trees on the way, but in total it was defenitely doable =) I would have safed us some time when starting from 4th station, but it was not possible to escape the useless workers there. I can highly recommend you taking this trail when you want to do a hike on fuji where nobody else is in winter =) Cheers

Written March 7, 2020

Amazing

My first hike above 3000m. Decided to do a night hike to witness the sunrise on the peak. Weather wasn't great at first and it rained quite heavily for the first half of the trek. This made us quite cold and uncomfortable so we payed quite a lot to sleep in a mountain hut for a few hours. As a person who relies heavily on glasses, the rain, wind and darkness made the route slightly risky, however there was a rope to hold onto most of the way on the Yoshida trail. We woke up at around 4am to finish the hike to the top. Spectacular views of the sunrise, lots of people were there to witness this.

Written September 1, 2021

Mount Fuji at last!

Bought a to and fro ticket for a bus ride from Tokyo central to Mount Fuji. Used the local bus pass at Fuji to move around the area. The ride from Tokyo to Fuji gives a good glimpse of Tokyo city as well as the country side. Mt. Fuji is visible from most of the places in the town unless your view is obstructed by buildings or trees. I felt that the best view was from the Kawaguchiko Natural Living Center and I spent most of my time here (decided after having visited other places to catch a glimpse of the mountain top which was covered by clouds for a long time). The garden, flowers, and the lake add to the beauty. Of course, you may not be able to catch a glimpse of the entire mountain immediately; but the place provides a nice ambiance to spend time, with the mountain always in your sight.

Written July 11, 2020

Short but tough hike to the summit

In September, I joined about 20 other folks and hiked to the summit with Fuji Mountain Guides. This company does it right. Their guides are very knowledgeable and keep a a careful eye on everyone to be sure you are safe. The hike turned out to be much tougher than I had imagined. It is less than 5 miles from the 5th station to the summit but you gain more that 5000 feet in elevation over that short distance. So the trail is very steep and unrelenting. We stopped for the night at a small hut at about 10000 feet and then went to the summit the next morning. One of the disappointments was finding that there are actually roads that heavy equipment use to drive all the way to the summit. The top of the mountain is an unattractive volcanic crater. The day we got to the summit, we were above a cloud layer so the views were very limited. I am glad I did this hike, and I did feel a big sense of accomplishment, but it was not the great emotional experience I was hoping for. In Japan there is a saying that "a person who has not climbed Mt. Fuji once is a fool, but one who has climbed it more than once is even more of a fool". I can now fully appreciate this statement.

Written February 17, 2020

Mt Fuji

I did an epic 1 day trip by bus independently from Shinjuku bus station.I followed the itinerary from a website called trulytokyo.com.From buying bus tickets to how to navigate your way through Shinjuku train station that has 200 exits to the bus station were very accurate.Arriving at Mt Fuji i continued to follow the itinerary but found the landmarks and the bus stops did not correspond. I had a fabulous day but just had to cross reference all the bus stops to get off at the right landmarks.It was a beautiful clear sunny day and the gorgeous mountain was in view for the 7hrs that i was there for.What a memorable day

Written February 29, 2020

snowed out

The original plan was to see mount fuji. The day started with promise it was sunny/overcast when starting. Ultimately, We did not see much. As we ascended, snow started falling. By the time we reached 5th station, we found out that they were no longer allowing vehicles to enter for safety reasons. We couldn't see the peak due to the snow. There is a shrine on the grounds, so I went there for a little bit before heading back to the bus. Travelled with my parents as part of a tour.

Written August 20, 2020

A must visit place for first time trip to Tokyo.

You will be amazed to see the actual spectacular view of Mt. Fuji, the one we saw in the postcard are totally different when you are there, it is an experience of a lifetime, they suggest not to visit during winter time because the Mt. Fuji are covered with winter clouds, spring months are the best time to visit from mid February to end of April.

Written February 15, 2020

Mt. Fuji Climbing from Yoshida Route (Yamanashi Pref.)

I booked a bus tour out of JR Shinjuku leaving at 7:40am. Arrived at 5th Station (2305m) on YOSHIDA route entrance. I left extra clothes for next day at the locker, keeping my back as light as possible. Yes, you can buy many stuffs on the mountain (even beer and sake). You must to have 100 yen coins handy to use bathroom (200yen) each time. We start going up around 12pm, arrived Lodge HAKU UN SOU (3200m) around 5:30pm. I was guided to a bunk bed which was well structured to keep my personal belongings. The dinner was served immediately. Since this was not my first rodeo, I was curious with their service. Oh well.. I dose off less than 30 minutes and start getting ready to go up at 1am. We all left the lodge at 2am heading to the top. We arrived top around 4:30am, just in time to see the perfect sunrise. It is definitely worth the trip but this is not an easy hike. I saw a guy sleeping under stones but I am sure that he has to change his plan as it gets really freezing in the night. There were many trashes left behind the trail. Also, the last part of the climbing is very steep and narrow. There were many people folding the line behind. Hmmm…

Written July 7, 2023

Bullet Train Bonus

I was originally travelling at night from Kyoto to Tokyo but changed to a daytime train in the hope that I might catch a glimpse of the fabled Mt Fuji. I have stayed in Yokohama and not been lucky enough to get a clear view due to cloud. When I booked my train seat the counter has a seat plan to show Mt Fuji view seats. I asked for a window seat and crossed my fingers. From Kyoto to Tokyo the seats are on the left and you are travelling on the left side track. As we left Kyoto it was an overcast day and it had been trying to snow. I thought I might be unlucky again. As we left Kyoto there was a complete white out. So I got my book out. Not long after the snow cleared and so did the sky to a beautiful blue. If its a clear day you see the Mountain for quite some time even travelling at speed. It just gets better and better. It was the glorious end to an amazing few days. Even my rubbish old phone got stunning photos.

Written February 9, 2020
These reviews are the subjective opinion of Tripadvisor members and not of TripAdvisor LLC. Tripadvisor performs checks on reviews.
Detailed Reviews: Reviews order informed by descriptiveness of user-identified themes such as cleanliness, atmosphere, general tips and location information.
---
---
Is this your Tripadvisor listing?
Own or manage this property? Claim your listing for free to respond to reviews, update your profile and much more.
Claim your listing
Mount Fuji - All You Need to Know BEFORE You Go (with Photos)
Frequently Asked Questions about Mount Fuji
---
Mount Fuji Information
| | |
| --- | --- |
| Excellent Reviews | 1,155 |
| Very Good Reviews | 405 |
| Mount Fuji Photos | 3,533 |