Egypt Travel Link Day Tours
Egypt Travel Link Day Tours, Cairo: Hours, Address, Egypt Travel Link Day Tours Reviews: 5/5
Egypt Travel Link Day Tours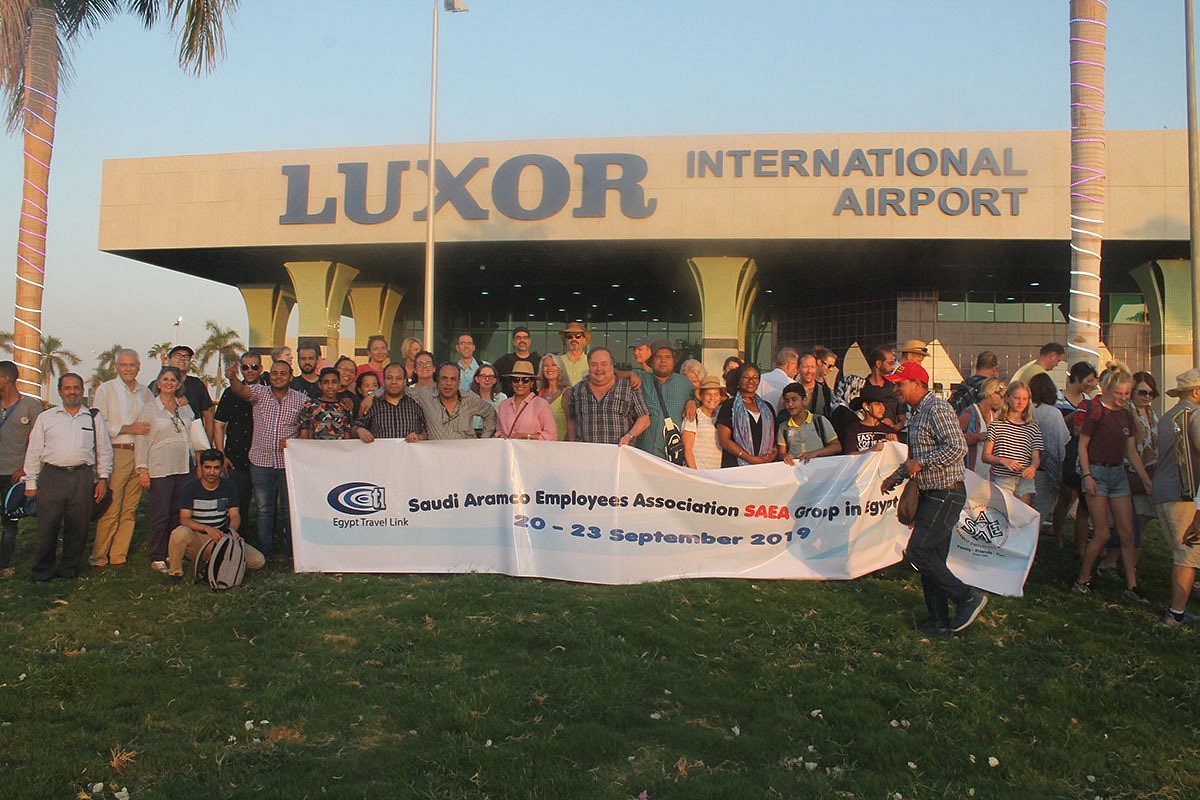 About
ETL Egypt Travel Link is an Inbound tour operator from worldwide to Egypt, located in Cairo, offering private daily day tours, handling classical, Nile cruise, diving, golf, honeymoon, Islamic, Christian and MICE
Detailed Reviews: Reviews order informed by descriptiveness of user-identified themes such as cleanliness, atmosphere, general tips and location information.
---
---
Mar 2020
From the moment we stepped off the plane in Cairo from the States, ETL and Atef Ramses delivered perfection day after day. This 12 day trip was in the planning for almost one year, often with daily question-filled emails. Each was responded to by ETL within hours. And with perfect explanation. Atef Ramses attention to the smallest details including multi-day pickups, advance tickets to the most important sites, and extremely well educated licensed guides (Mohammed and Taha and their drivers) displayed ETL's years of professional travel guidance. His four day/ three night Nile cruise ship recommendation was an excellent one and we were, in fact, upgraded to a suite. Coincidentally, our Egypt visit was scheduled just as the Corona virus was making world-wide impact but Atef Ramses and his ETL did their best to keep us safe until we arrived back home. ETL offers great value and extraordinary personal care for an all-encompassing experience of a lifetime !

Larry at luxetravellerNY
Written March 29, 2020
This review is the subjective opinion of a Tripadvisor member and not of TripAdvisor LLC.
---
Mar 2020 • Couples
My husband and I are just returning from one of the most beautiful journeys of our lives! We contacted Egypt Travel Link via e-mail asking if they could help us with organizing both a cultural and relaxing holiday. Mr Atef, the director and Mr Hatem, his colleague sent us a tailor-made tour we would recommend to anyone looking for a very direct approach with the Egyptian culture and its people, but also extremely relaxing and romantic. We flew directly from Munich to Hurghada, saving on the flight costs. From Hurghada we drew with our private driver Hassan to Luxor (about 3 hours on a brand-new highway through the desert). Atef has booked the Hilton for us, a room with Nile view. In Luxor we could visit the most important sight-seeing places with Wael, a German-speaking guide. He is an Egyptologue who participated in various excavations and a very experienced guide. After two days we got on a Dahabeya, a traditional sailing boat. There are enormous quality differences among Dahabeyas we were told. Our boat was called Nebyt and we strongly recommend it. It has been completely renewed, the bathroom is comparable to a hotel, the cabin charming, not to mention the excellent food. The crew was very professional, cheerful and always helpful. The great surprise was that we were alone on the boat. Rather than changing the dates, Mr Atef preferred to maintain all the agreements despite the higher costs for his agency. During the four-day trip we visited selected sites along the river with our personal guide Koresh, who introduced us to Egyptian and Nubian culture. We have been invited twice to spontaneously visit private houses by a taxi driver or a man in a village who introduced us to their families. We will never forget the kindness of these people. The trip on the silent sailing boat was extremely relaxing: after sun-set we would stop for dinner and it was an amazing experience seeing the Nile from deck. After disembarking the Dahabiya early in the morning we visited Abu Simbel temple by car with our favorite driver Hassan and returned to Aswan on time for the check-in at Old Cataract hotel. It was our dream to spend two nights in this legendary hotel. Our room was in the modern building but it had a breath-taking view. An advice for Agatha Christie's fans: the hotel organizes every afternoon a visit of her room and it is then possible to have a tea on the terrace. After visiting Aswan we drew back by car to Luxor and Hurghada. The price for this tour was comparable to an European agency, but the hotel categories, the personal service and the staff were just outstanding. I would personally book any future trip to Egypt directly with a certified agency based in the country and am looking forward to visit this magic country again.
Written March 10, 2020
This review is the subjective opinion of a Tripadvisor member and not of TripAdvisor LLC.
---
Jan 2020
Everything we asked for from beginning to end of trip was perfectly arranged, we didn't have to worry about a thing! At airports someone was always meeting us, cars were comfortable and guides were knowledgeable & pleasant.
Even when we wanted a mere change, the communication was excellent &our requests became fulfilled as demands.
Special mention to our Egyptologist Mr. Ahmad el Qorashi, knowledgeable & considerate, he was extremely reliable & efficient & made our time from Luxor to Aswan totally stress free. Ahmad made our site excursions exciting & interesting that we felt abandoned when he left us "abruptly" the last day on our way to Abu Simbel. We made priceless memories on this journey through Pharaonic civilizations from Luxor to Aswan. All was flawless & perfect…
Also want to mention our driver in Luxor, Ahmed, kind & patient, & our driver & co-driver from Aswan to Abu Simbel , Hassan & Ahmed. "Excellent" driver, also kind & attentive, it was great fun as we learned few Egyptian recipes from him.
Our guide in Abu Simbel, Mr. Sayyed extremely knowledgeable, he tried to rush us in the temple before the other groups get in, but it was fast.
We found the tour agency Egypt Travel Link to be really efficient & responsive right from our initial inquiry through Mr. Atef specially. We believe we got good value for money & we'd definitely use them again & gladly recommend to our family & friends. Thanks Mr. Atef & team, you worked in sync to make sure our trip was smooth!
Written January 30, 2020
This review is the subjective opinion of a Tripadvisor member and not of TripAdvisor LLC.
---
---
Jan 2020 • Friends
Super trip on le fayan Nile cruise. Atef was great. Met up with us at luxor airport and from then on the while trip was stress free. The boat is lovely and the food and staff were amazing. Our local guide Khalil was also great. Fun guy with great knowledge of the historical sites we visited. If anybody is interested in doing a Nile cruise i would highly recommend contacting Atef.
Written January 7, 2020
This review is the subjective opinion of a Tripadvisor member and not of TripAdvisor LLC.
---
Oct 2019 • Friends
Recently myself and two friends had the joy of visiting Egypt for a long awaited trip. This trip was a year in the planning and I decided to engage the services of Atef and Egypt Travel Link.

Choosing Atef and Egypt Travel Link was the best decision made. From day one Atef was extremely professional and attentive. He helped me to build the full itinerary and knows what you need to see so you don't miss a thing. He has full knowledge of all of the wonderful sites to see and the best and logical order to see them.

Everything we asked for was provided. And even when we changed a few items during the planning stage, Atef was up to date and sorted things for us. He is a great communicator.

The way that Atef put in place all of our tours was fantastic. At no point did we have to line up for tickets or even join the end of queues to enter sites.

As we were three women travelling alone, our personal safety was important to us. Atef understood this and at every single step of our trip we were escorted by a qualified guide and our own transport with driver. Even to the extent of being fully escorted thru all the airports with bags carried and boarding passes issued. We enjoyed being in our own tour group much better than being in a large group with 20 or more.

We had the pleasure of being guided around Cairo by Ms Shaymaa and driven by Ahmed. These two staff are an absolute credit to the company. In fact, they greatly enhanced our first visit to the pyramids and have added to our happy memories.

I will be telling all my friends not only how fabulously amazing Egypt was to visit but also that they should go and when they do they must hire Atef to sort their whole trip. It worked seamlessly and worry free.

Extremely highly recommended.

Thank you Atef!

Written October 21, 2019
This review is the subjective opinion of a Tripadvisor member and not of TripAdvisor LLC.
---
Sep 2019
Please use this company. We gave the agent a list of everything that we wanted to do and see and they tailored an itinerary just for us. They organised all our flight,hotels a Nile cruise and all the attractions while in Egypt. Their staff and ground teams cannot do enough for you. They took all the hard work out of our holiday and did it all for us. Due to their efforts we felt safe and secure at all times. Highly recommended.
Written October 20, 2019
This review is the subjective opinion of a Tripadvisor member and not of TripAdvisor LLC.
---
Jun 2019 • Family
I am an spanish travel agency and i organised a family trip for 30 people with Egypt Travel Link. All was perfectly organised since the beginning with Mr. Atef, the owner, who got involved in all needs we had. He proposed a very beautiful and high quality cruise, Le Fayan, which clients enjoyed very much. The day tours, private bus and activities were also well organised. I will always reccommend this company as a very good and trustful partner in Egypt.
Written June 18, 2019
This review is the subjective opinion of a Tripadvisor member and not of TripAdvisor LLC.
---
Mar 2019 • Couples
Since the first contact they were concerned and kind, specially taking care of some last minutes requests.
They offered a great service all the way, very professional and respectful, and everything was as good as advertised.
All guides with great knowledge of Egyptian language and the sites we've visited.
Surely I would recommend and use it again!
Written April 24, 2019
This review is the subjective opinion of a Tripadvisor member and not of TripAdvisor LLC.
---
Apr 2019 • Couples
We booked from Australia and paid in advance in November 18 for tour in April 19. It is important to choose a reliable and trustworthy agent when booking directly in a distant and unfamiliar country like Egypt.
We used Atef and his company for travel arrangements between Luxor from Cairo and a 7 night premium 5 star Nile cruise with private guided tours to all major sites.
Atef proved reliable and attentive to our travel arrangements with good prompt communications, with all tours proceeding smoothly. I should add that the licenced guide assigned to us, Alaa Hemdan, was reliable ,punctual, helpful, friendly and importantly provided us with a very good commentary at each of sites visited.
From our experience Atef would be an excellent choice for others to make private tour arrangements in Egypt. We saw enough of the bus groups to appreciate the benefit of being privately driven and escorted to these often very busy attractions along the Nile.
Written April 23, 2019
This review is the subjective opinion of a Tripadvisor member and not of TripAdvisor LLC.
Hi there, Looking at the 3 night/4 day Aswan / Luxor cruise on the MS Al Hambra.... Just looking to book but don't see anything about a tour guide except in the review. I'm just checking the guide is included as part of the tours and all entry fees are included too? Thanks for your time Derek
Dear Derek Yes the guide, entrance fees are included in the tour
View all