About
A hill in the eastern part of Old Jerusalem is of special significance to the world's three major religions. It was reputedly the site of the first and second Jewish Temple, and since the 7th century has contained two Muslim shrines.
Tours & experiences
Explore different ways to experience this place.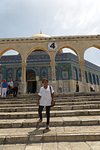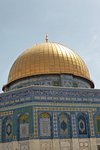 What is Travelers' Choice?
Tripadvisor gives a Travelers' Choice award to accommodations, attractions and restaurants that consistently earn great reviews from travelers and are ranked within the top 10% of properties on Tripadvisor.
See what travelers are saying
Venerated Grounds Are Spiritually Thrilling!

Such a spiritually thrilling experience to step upon the venerated grounds of Temple Mount where our Lord Jesus once walked. Sacred to Christians, Jews and Muslims alike, no other location in the World can compare to its Holy significance. The hours of visitation for non-Muslims though are somewhat restricted. Unable to access Temple Mount on my first visit to Jerusalem due to a riot, I was exceptionally excited when I finally walked the grounds upon my return pilgrimage. While Jerusalem boasts numerous historically religious and architectural sites, Temple Mount for me remains the pinnacle. My adult son and I were eagerly awaiting the early morning opening to Temple Mount, which provided us with a more profound experience, without all of the tour groups congesting this highly revered area. The Dome of the Rock, with its lovely, colorful, exterior mosaics and gleaming, golden dome is unfortunately now accessible only to Muslims. We had a wonderful opportunity to walk its perimeter and absorb the beauty of the surrounding structures, archways, expansive plaza and views across the Kidron Valley to the Mount of Olives and Jewish Cemetery. Areas of Temple Mount are also restricted to non-Muslims, where on several occasions we were instructed to proceed no further. View the "Golden Gate" ("Beautiful Gate" in the Bible), which was sealed by the Muslims in ancient times, and is located within the Eastern Wall. It is now open from the Temple Mount side for Muslim worship. Walk the olive grove between the Dome of the Rock and the Eastern Wall for a deeply moving, spiritual experience. Be quiet and respectful and dress appropriately.

Written November 19, 2020

Holy Ground

Located in the Old City's Muslim Quarter, the ground here is holy and has special significance to three of the world's major religions. The Temple Mount is the holiest site in Judaism, where the Holy of Holies stood, and which is believed to still manifest the divine presence of God. According to Jewish tradition, it was the site of the destroyed First and Second Jewish Temples, and where the Third and final Temple will be built. Muslims view the Temple Mount as the third holiest site in Islam, after Mecca and Medina. They call it Al Harim Al Sharif, the Noble Sanctuary. It was from here, now protected by the Dome of the Rock, that Islamic tradition says Prophet Muhammad ascended to Heaven during his Night Journey. For Christians, the New Testament describes the significant role of the Temple in Jesus' life. Due to time constraints, our group didn't visit. I wish we had! Make sure you allot plenty of time on your itinerary and be prepared for queues and security checks.

Written March 8, 2020

Must see, but check opening times

Home to the Dome of the Rock and the al-Aqsa mosque, which makes it a must-see! The mount is controlled by Muslims and hours of visit can vary, especially on Fridays. Definitely check with your hotel or other sources before you go. It is best to come 30 mins before it opens as there's usually a line to enter the mount. The line starts near the Western Wall. Some women are given shawls to cover up, but enforcement seems spotty. As the crowd is controlled via entry, the mount is generally not too overcrowded and it is quite peaceful up there.

Written December 1, 2020

Spectacular

We arrived at Temple Mount when it first opened at 7am. We were one of the only visitors there at that time (granted, it was January so not exactly peak season) and it was worth the early rise. The architecture is truly breathtaking and definitely a 'must see' for any visit to Israel.

Written April 13, 2020

Opens at 7am, well worth a visit.

Yes, you can visit the temple mount. Like other reviewers have mentioned, it is currently open to non-Muslim visitors beginning at 7am. Check with the guards the day before you plan to visit to confirm. The entrance is up a ramp and you will go through security first. They may ask your nationality. (I did not need to show a passport but it might not be bad idea to bring it). Once you go up the ramp, you may be asked to put on a scarf if you are not dressed modestly. You do not need to cover your hair, but as at other religious sites, women should cover their knees and elbows. Yes, you can walk around. I went just after 7am and it was very quiet and peaceful. Take a look, take some pictures. Admire the history and be respectful that it is a religious site. When leaving, the exit is different from the entrance. You cannot return to the Temple Mount through the exit which is another spot in the old city. There will be security there and the street will be blocked off so anyone who you want to meet after your visit would have to wait outside of the barriers.

Written July 17, 2022

Don't be phased by entry times ... visit!

The sight of the golden dome had been tempting us for days. The thought of an early start did not appeal, and the small window of opportunity to visit at lunchtime seemed a bit hit and miss. However, we arrived just before the stated opening time late morning and joined the long security queue. The security is tight - the ladies in front of me had to stow their bags in lockers as they had previously bought a small wooden nativity and it was not allowed to be taken in to Temple Mount. However, everything moved quite quickly and smoothly and we were up and over the wooden bridge swiftly. Entering the main area there was further 'decency security'. Those in short trousers (male and female) were given a long elasticated skirt to wear. Those whose upper clothing did not suit, were given a heavy polyester type hoodie. Having lived in countries with strict Islamic dress codes, I had carefully selected a black top that conformed to all restrictions, with 3/4 sleeves, high neck and 2 totally opaque layers . However this was deemed 'see through'. The man must have had x ray vision! I started to show my indignation, but quickly realised that being able to enter was more important than keeping quiet and wearing the hoodie. Interestingly, head covering for women was not enforced (I had come prepared for that too). We were amazed at the sheer size of the Temple Mount complex and blown away by its history. It was beautiful and one of our favourite sites in Jerusalem. A definite must see. After about 50 min the tourists were herded up and told to leave. So glad we were able to experience this.

Written November 23, 2022

Must see !

One of the most historic and religious places for Christians, Muslims and Jewish people! This amazing and atmospheric place situated in heart of the old Jerusalem city. You need to cross check post to enter place. All people was polite and helpful so you can't wait some problems at this stage. When you come up direct you can see stunning design of Dome of the Rock, one of the most beautiful mosques I ever see !!! You can find fantastic view of Mountain of Olives! Highly recommended to all !

Written October 1, 2020

So Much History

Absolutely spectacular. We spent a lot of time here going over the history and viewing the way things were and the way things are. Note that this is a modesty site – cover arms, legs, etc. Men – if your shorts are too short you get to wear a wrap-around dress-like thing. There were guards chasing people (women) away from the Dome of the Rock. It was not easily discernible what their transgression was. They were fully covered and taking pictures. The muslim architecture is beautiful and the tiles are intricate. It will be interesting to compare what is there now with the new Jewish Temple when it is rebuilt.

Written January 3, 2020

Important

An important site for three major religions (Christianity, Judaism and Islam) this spot should be included on any itinerary for a Jerusalem visit. Make sure to obey instructions from security officials and observe scheduled visit times. The area is a source of contention between local Jewish and muslim residents, occasionally leading to small, mostly peaceful protests.

Written November 12, 2020

A Contentious Small Land

We watch Temple Mount from a hilltop in Jerusalem. It is a piece of 37 acres land. Jews, Muslims and Christians fought over this revered site for centuries. Beneath it are soils that Adam was created from the dust. A rock slab where Abraham nearly sacrificed his son, Issac to God. Solomon built the First Temple here. Inside was the altar with the Ark of the Covenant. The Babylonians destroyed it. A second temple was rebuilt by Zerubbabel in 516 BCE. The Romans destroyed it in 70 CE. Muslims captured Jerusalem during the Byzantine era. They built mosques on the Temple Mount where Mohamad was said to ascend to heaven. Conflicts and restrictions to Christian pilgrims instigated Pope Urban ll. The Crusaders captured Jerusalem and massacred the Muslims and Jews in 1099 CE. Israelites recaptured it during the Six-Day War in 1967. Temple Mount is administered under the Waqf today. Non-Muslims are prohibited inside. Jews pray outside at the remnants of the Second Temple. They are contemplating to build a Third Temple on the sacred site. It remains contentious with conflicts and skirmishes between the Jews and Muslims. Christians foresee the second arrival of Jesus Christ here. We descended the hill top with bewilderment of humans fighting over a small piece of land for God. In contrast, God created a Universe and gave it to human.

Written April 14, 2023
These reviews are the subjective opinion of Tripadvisor members and not of TripAdvisor LLC. Tripadvisor performs checks on reviews.
Detailed Reviews: Reviews order informed by descriptiveness of user-identified themes such as cleanliness, atmosphere, general tips and location information.
---
---
Is this your Tripadvisor listing?
Own or manage this property? Claim your listing for free to respond to reviews, update your profile and much more.
Claim your listing
Temple Mount, Jerusalem
Frequently Asked Questions about Temple Mount
---
We recommend booking Temple Mount tours ahead of time to secure your spot. If you book with Tripadvisor, you can cancel up to 24 hours before your tour starts for a full refund.

See all 53 Temple Mount tours on Tripadvisor

---

---

---
Temple Mount Information
| | |
| --- | --- |
| Excellent Reviews | 1,000 |
| Very Good Reviews | 346 |
| Temple Mount Photos | 1,930 |