Historic Sites • Architectural Buildings • Religious Sites
About
This architectural marvel displays 30 million gold tiles throughout its interior, and a wide, flat dome which was a bold engineering feat at the time it was constructed in the 6th century.
Suggested duration
1-2 hours
Tours & experiences
Explore different ways to experience this place.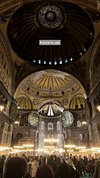 What is Travelers' Choice Best of the Best?
This award is our highest recognition and is presented annually to those businesses that are the Best of the Best on Tripadvisor, those that earn excellent reviews from travelers and are ranked in the top 1% of properties worldwide.
The area
Neighborhood: Sultanahmet
With so many unmissable attractions within a mere stroll of each other – and all set around the site of an ancient Byzantine hippodrome – Sultanahmet is an overwhelmingly popular tourist destination, and a prime location for visitors to be wowed on a truly epic scale. Beyond the wonders of the Blue Mosque, the Hagia Sophia, Topkapi Palace, and more, this relatively small area of Istanbul somehow manages to retain an air of peace and calm. It offers visitors a significantly less celebrated but nonetheless pleasant network of quaint lanes and side streets, majestic panoramas of the Bosphorus, and an impressive assortment of accommodation options for all budgets and tastes.
See what other travelers are saying
Go at sunrise; you won't regret it

This was the first mosque I've ever been in. I had the added benefit of getting to go in just after sunrise, before the crowds showed up. I was inside with roughly a dozen other people or less. I highly recommend trying for that experience—I was up anyway because I could not sleep due to the time change I guess, as it was my first morning in Turkey. But that morning was one of my favorite memories of the whole trip; getting to explore the area at sunrise when it's so calm and quiet. This included going into the Hagia Sofia. It was very quiet and peaceful, and with fewer people it seems so much grander. You don't feel compelled to move along or get out of anyones way, either. Compare that to when I went later with other people who weren't with me the first time: hundreds of people, shoulder to shoulder, a bit of a madhouse. Sure the structure looked the same but the experience was completely different. I don't know what the true hours of operation are. I didn't think it opened so early, so I was surprised to see someone exiting as I wandered around that morning just minutes after sunrise. If it's a regular thing, definitely go then. No lines, no crowds, and that includes the outside, too, so great for taking photos without masses of people who come later in the way. As for the building itself, I enjoyed the inside but was more impressed with the exterior. Either way, why go all the way to Istanbul and NOT go inside the Hagia Sofia? It won't disappoint but don't expect anything amazing. It's cool and grand but the experience is what you'll remember so that's why I say go as early as possible. I've heard that there is an upstairs portion but I didn't go up there or even see a way to do that. I stayed in the main level, wandered about, and was satisfied with 15 minutes. It was then that the few of us there were ushered out, presumably for prayer time prep. When I went again with the crowds, it was during another prayer time I think around 7pm. Tourists were let inside, but you could only go about 1/3rd of the way inside. There were gates up and only men could go beyond that. Not just Muslim men, but any men were allowed through. At the very front then were a small group of Muslim men praying. Photos are allowed here, though obviously you shouldn't photograph people praying. You need to remove shoes, and women need head coverings. My wife just used the hoodie on her jacket and security seemed fine with it, though maybe she got away with something.

Traveled as a couple

Written October 14, 2022

M & A

Osnabrück, Germany

9 contributions

Mesmerizing experience, queue up at 8:30am

Its recommended to visit Hagia Sophia mid week and start queuing up at around 8:30 am. Then you will be one of the first ones to enter the Hagia Sophia at 10 am. If you come later, the queue will be already very long and unfortunately many tour guides or random people try to cut the line. There is no entrance fee when entering Hagia Sophia and you can leave your shoes in one of the boxes before entering the main hall, but make sure to remember your number, otherwise it might be difficult to find your shoes again. Overall, a must see attraction in Istanbul and unforgettable experience. Some of the picture mural on the ceiling have not been totally covered yet, since it was converted from a museum/church to a mosquee again. I loved seeing the two religions merged into the ceilings and walls.

Written December 29, 2022

Winsome66

Ulaanbaatar, Mongolia

288 contributions

The Church of Divine Wisdom

The Hagia Sophia was no doubt a Byzantine architectural masterpiece of its time. It represented the splendor and grandeur of the Byzantium Empire. For every visitor to Istanbul, this should be top priority in terms of tourist sites to experience. It was originally referred to as a place of 'Holy Wisdom' or 'Divine Wisdom'. If you are visiting during the tourist peak season, there will be long lines of people waiting to enter the building. I suggest visiting as early as possible. And if its during a time of prayer for Muslims, you will be required to wait until the prayer has ended. Entrance to the Hagia Sophia is free. Please take note of the fact that the Hagia Sophia is now a mosque, a holy place for Muslims and where they observe prayer times throughout the day. It is very important to remember that all females/women/young girls etc must cover their heads with a scarf. Please do not forget to carry one with you. Men are expected to wear long pants instead of shorts. When you enter the building, you are required to take off your shoes. You may carry them with you or store them in the shoe shelves provided. I recommend that women dress with modesty and respectfully when visiting the Hagia Sophia as it is a holy place of worship for Muslims, Also, there are separate places for men and women inside, so be aware of this as well. For me, it was a beautiful experience, one of those WOW moments in my life! It is amazing to see this structure, or what has survived many centuries later. This was the pride and glory of the Byzantine Empire and it was such a privilege to visit this world heritage site and I imagined that the original interior to be nothing but magnificent, grand and glorious which encouraged many Christian pilgrims to visit centuries ago, reverenced by Orthodox Christian prayer and worship.

Written June 14, 2022
These reviews are the subjective opinion of a Tripadvisor member and not of Tripadvisor LLC. Tripadvisor checks reviews for fraud.
Detailed Reviews: Reviews order informed by descriptiveness of user-identified themes such as cleanliness, atmosphere, general tips and location information.
---
---
Hagia Sophia Mosque, Istanbul
Frequently Asked Questions about Hagia Sophia Mosque
---