Amusement & Theme Parks • Spas
About
Welcome to the largest, most fantastic Tourist Attraction in Nha Trang. Brace yourselves for a totally unique experience! Indulge in numerous areas, shows, activities, and services not found elsewhere in Vietnam, all the while taking you right back to nature. It's all about having a good time here at the 100 Egg Mud Bath.
Suggested duration
2-3 hours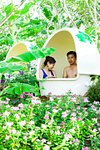 See what other travelers are saying
100 яиц Грязи

В Нячанге оно из красивейших мест! Поехали туда в четверг. Такси брали через Толик тур. 80 донгов с человека в оба конца. от отеля Мичелия ехать довольно далеко. минут 20. Посетителей было совсем мало - большой плюс! Билет взяли за 300 донгов с человека. Персонал рекомендует еще докупить минеральные ванны за 250 донгов, но смысла нет так как в пакет за 300 входит целый бассейн. Минеральные ванны очень похожи на грязевые. Такие ж ванны в форме яиц. Нам хватило и грязевых ванн)) За 300 включено: однократно грязевая ванна минут на 20. но особо никто не следил. Можно и больше посидеть. Если ехать толпой то весело)) Ванны в виде яйца. Грязь теплая. Можно взять на прокат полотенце за 10 донгов. Потом есть души разные. Прикольно душ в виде горизонтальных струй) Потом посетили бассейн джакузи. Водя горячая. Долго не выдержали. Территория очень ухоженная. Красиво. Кругом фигурки яиц) есть водопад. лежаки и разные бассейны. все чисто и красиво. После ванн можно погулять по территории. Но если вышли из водо и грязевой зоны то уже обратно не войдешь. Прогулка впечатляет. Красиво, Парк не большой но сделано все со вкусом. Нам предлагали старое спа на севере Нячанга, но мы почитали отзывы что оно находится рядом с кладбищем и не поехали туда, тем более что по утрам в сторону старого грязе спа направлялись похоронные процессии(( И не пожалели что посетили 100 яиц. Пока ждали такси посидели в кафе на входе. там мороженное, фреши и напитки. все сьедобное! Мороженное с дурианом так себе))) на любителя)) В целом круто! рекомендую!

Traveled with friends

Written May 13, 2014

olessia80

Novosibirsk, Russia

178 contributions

Однозначно, самое красивое место Нячанга!

Только что вернулась из 100 Яиц и спешу поделиться впечатлениями: полностью не согласна с описанием выше про минусы: - "Расположение. Ехать придется намного дальше, нежели до "старых" грязевых ванн". - если живёшь в отеле "Парагон Вилла" или в южной части Нячанга, то всё совсем наоборот. "И нет такого шикарного вида на город" - зато просто шикарный райский уголок природы, окружёный горами, банановыми деревьями, который даёт ощущение балийского спа. "Находясь здесь, не ощущаешь неторопливости и настоящего отдыха. Ведь нахождение во всех оплаченных зонах четко лимитировано." - Смешно, но "100 Яиц" - это единственное место во всём Нячанге, где забываешь про городскую суету и ощущаешь настоящую негу. За временем никто не следит, и если в парке немного народа (а даже в воскресенье там было вместе с нами не более 8-10 человек), то никто никого не подгоняет. А бы вообще посоветовала ехать на целый день: есть шезлонги у бассейна с миинеральнной водой, ресторан и кафе (недорогие!!!), огроменный парк с деревьями, цветами, "яичными" композициями - хочется фотографироваться на каждом шагу! Стандартный пакет по 300,000 донгов/450 рублей включает в себя: -горячие минерально-грязевые ванны в прикольных ваннах в виде "яиц" (20-30 минут - большее время для грязи не рекомендуется) - душ с минеральной водой - бассейн с минеральной водой - джакузи с минеральной водой - "постоять под водопадом" - ну и пользование всей территорией Есть комплексы для групп и комплексы без грязи (травяные ванны). Русско-говорящего персонала не обнаружено, поэтому процедура такая: по выданной карте на русском языке идёте к Ресепшену Грязевых Ванн, где вам выдают ключик от кабинки и карточку-пропуск для ванн. Если с собой очень ценные вещи, то на ресепшене их можно сдать (запечатывают и выдают потом под подпись). Остальное можно положить в кабинку (Locker). Если вы без своих полотенец, то можно взять в аренду за 10 000 донгов (15руб). Приезжайте сразу в купальниках. В этом же помещении принимайте душ, берите с собой ТОЛЬКО ключ, карточку-пропуск (они все на браслетике) и фотоаппарат (лучше в пакетике). Парео не надевайте - вешать дальше его будет негде. Тапочки тоже можно не надевать - после грязи они скользят на ноге, а идти не долго. После раздевалки и душа вас сопровождают до "ваших яиц" - парням нужно будет отдать карточку-пропуск. Яйцо наполняют грязью, и там вы находитесь 20-30 минут (а над вами в прямом смысле этого слова висят бананы!)- нас что-то вообще никто не подгонял и спустя минут 40 мы уже сами решили выйти. Спускаетесь обратно и принимаете минеральный душ, а потом идёте в расположенный рядом минеральый бассейн и минеральное джакузи, рядом с которыми лежаки и где можно хорошо провести время за книгой или напитком. Если у вас потом не оплачена сауна, то возвращаетесь в душевую/раздевалку. Новое, чистое, прекрасное место - самое лучшее впечатление от поездки в Нячанг! Самые лучшие фото из поездки получились именно тут! Поеду на днях повторно!!! Всем советую побывать!

Traveled solo

Written October 6, 2013

полезные процедуры и отличный ресторан

Лечебные Грязи находятся сразу за Башнями Понагар (если ехать из центра, необходимо повернуть налево в первый маленький, неприметный поворот и ехать прямо по петляющей дороге, никуда не сворачивать). Мы ездили самостоятельно на мотобайке, но можно и на такси, мы впринципе по всему Нячангу передвигались самостоятельно на мотобайках. На грязях много различных программ (от самых дешевых с купанием в огбщих ваннах с большим количеством людей до индивидуальных ванн и СПА процедур). Мы брали ванну на двоих + массаж, отдали за все около 40$. Грязи действительно лечебные, очень много вьетнамцев туда едут - а это показатель того, что место не рассчитанго только на туристов + действительно приносит пользу людям. Н атерритории есть несколько больших бассейнов, душ Шарко, просто души с массажом и везде используется только термальная вода. Отдельно стоит сказать про ресторан на территории, еда в стоимость не входит, но есть ресторан - очень вкусно там готовят и стоит еда относительно недорого.

Traveled as a couple

Written October 23, 2013
These reviews are the subjective opinion of a Tripadvisor member and not of Tripadvisor LLC. Tripadvisor checks reviews for fraud.
Reviews may contain information about traveler safety at this business.
Detailed Reviews: Reviews order informed by descriptiveness of user-identified themes such as cleanliness, atmosphere, general tips and location information.
---
---
100 Egg Theme Park (Nha Trang) - All You Need to Know BEFORE You Go
Frequently Asked Questions about 100 Egg Theme Park
---
100 Egg Theme Park is open:

Sun - Sat 8:00 AM - 7:00 PM

---

---

---