Lukacs Thermal Bath and Swimming Pool
About
Popular thermal baths existed in the same location during Turkish times, although the current building dates from the late 1800s.
Admission tickets
from $24.55
All you need to step foot in the door.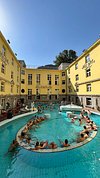 See what travelers are saying
Well worth a visit.

The courtyard pool is warm and inviting. In a figure of eight shape, there are two parts; one has an outer circle which flows quickly and enables swimmers to float around unaided, the inner circle has a seat around the outside with Jacuzzi type blasters that switch on automatically and give an amazing massage. The other half of the pool has beds that have the same effect as well as bubble jets in the middle of the pool. The thermal pools were absolutely fabulous. We used them all! Started off with the hot one, 40 degrees, then progressed to the 36 degree one, 32 degrees, back to the very hot one and a quick dip in the 24 degree pool, which was extremely cold in comparison. We spent about three hours here and totally enjoyed the experience. As we had bought the Budapest Card we had free entry, just had to buy some sandals to wear about the place. Further visits had to be paid for, but with a discount. There are changing rooms with lockers and small changing rooms that can be used, but you can also book a cabin, where presumably, you can leave all belongings. There is a small cafe serving hot and cold drinks, including local beers, and snacks. Highly recommended.

Written August 27, 2020

Great afternoon

Great way to spend an afternoon, the Spa is a hidden gem the the locals use and the tourists have still to discover. It is most cost effective if you bring your own towel, flip flops, you also need bathing cap if you want a real warm outdoors swim, but that's the save with the other more popular Spa's. Some of the staff don't speak the greatest of English and the place could do with better signage. The Spa was recommended by the people in the local wine bar and they were spot on. No overcrowding, friendly and half the price of the 3 more widely advertised options and with fewer hidden extras.

Written February 19, 2020

Local hungarian baths

During the day we visited the city and around 6 pm we went to relax. Compared to the others, it is a small structure of Hungarian baths, frequented mainly by locals and few tourists. Good organization and great price.

Written December 31, 2020

Nice bath, but everything is confusing

As a non-hungarian speaker, the bath was hard to find and navigate. The entrance is hidden behind gates with little to no signage, and the signs inside are also sparse. We got the experience for free thorough the "Budapest plus card", which is the only reason we went here instead of the Szechenyi Baths. However, we had a nice experience. The Lukacs Bath is on the smaller side, with 4 pools inside varying in temperature from 24-40C. There are also two swimming pools outside (24-26C), but you have to wear a swimming cap to use those. At last, there is a heated pool outside (36C), but it is quite difficult to find, so you probably have to ask someone (If you find the outdoor swimming pools, keep going right). The lockers are free to use, and the locker rooms are mixed gender with small changing cabins inside. The showers were gender seperated and also had small shower cabins, so no public shower. All in all, we had a great time, and would recommend going here, if you have the patience to figure out the floor plan.

Written December 8, 2022

Lukacs A Fun Place

What a fun place! To all those who have complained about location, slippers/flip flops/towels, etc, do the research! You will need a bathing cap for the pools as well....they're 2 for $6 on Amazon and we saw a few folks with hotel shower caps as well. For a very few dollars more, we took a cabin, but it was a bit confusing to get into. The desk clerk walked up a flight of stairs to assist us. You need to swipe your wristband on a screen as you enter the cabin area, at which point you are assigned a cabin number. We didn't find it difficult to go into any of the pools or various warm water spots scattered about the facility. Just wander about, you'll find them. Isn't that what travel is about anyways? My favorite spot was the steam room at 50C. Adjacent to it is a pool at 20C. Trust me, that'll wake you up and cleanse those pores. I've been to the Gellert Baths and they're beautiful, but at 1/4 the cost, you get a much more local experience at Lukacs. Easily accessible from the #6 tram....just use your phone and don't complain that it's hard to find since there was a parade of folks with gym bags walking from the tram stop to the facility.

Written August 21, 2023

Local

This is a good place to feel the intimate atmosphere of thermal bathing in Budapest. While Gellért and Széchenyi are more well-known and much larger, this bath offers a quieter historic setting in a more off-the-beaten path part of the City. There are multiple pools in the dimly lit interior and a great outdoor leisure pool in a sunny enclosed yellow courtyard. The interior is a typical maze of corridors and rooms but it's not too difficult to understand. There is another lap pool outside that requires bathing caps that we did not use. Our family really enjoyed this bathing experience and look forward to returning sometime.

Written January 10, 2020

Lukacs Baths would not recommend

These baths felt more like a retirement home than public baths. I was the only person under the age of 50 in the entire complex. There was a pretty foul smell in one of the indoor pool rooms and the cabins were quite difficult to figure out. To add to all of this, I was mistakenly charged $240 for a pair of slippers. I left after 20 minutes and decided to spend my morning elsewhere. I recommend tourists stick to the bigger more famous baths.

Written April 10, 2023

Great experience a must do in Budapest.

We visited today as a family 3 adults and a 14 year old. It was easy to find the building as there was steam coming out the top, however there was no signage on the door but we managed it. It cost 16200 HUF which is about £37.50 for us all including 1 changing room to share. We all got a wrist band and 1 was yellow for opening the changing cubicle. Don't forget flip flops and a swimming cap / shower cap if using the swimming pools. ( there are 2 which need a cap) We found the lockers by going up to the 2nd floor we all got changed and left the clothes in the 1 changing room. This was lockable with the wristband. We visited the outdoor thermal pool which was 36 degrees. Just next to this was a sauna and plunge pool with an ice box. Inside and upstairs 2 flights was the thermal indoor pools. 1 was 32 degrees, another 36 and another 40 with a hot spring to drink from. There was also a steam room and a sauna. There was also another plunge pool at 20 degrees. We went on a Thursday at 11am and it was busy but plenty off room. There were showers and hairdryers for once you had had enough. We got soft drinks, coffee and beer in the cafe. We stayed about 3 hours in total. It was smelly but to be expected with the water being thermal from a spring, but the place was clean it was an old building with character.

Written February 16, 2023

A wasted hour

Yes, the outward appearance is impressive. But grandiose Hapsburg wedding-cake architecture belies an interior that has seen far better days, probably around the time of Franz-Joseph! Broken-down is the most generous overview term. Poor internal directions found me spending most of my hour looking for a seemingly mythical sauna. All I came on was a feeble steam room and a dreadful old harridan checking vaccination status. A far pleasanter experience is to be had at the Rudas baths.

Written February 2, 2022

Small spa, very Hungarian.

This small spa is often the spa of choice for Hungarians rather than foreign visitors. I came with friends who wanted wellness treatments, I am not interested in spas myself, and they were impressed with the pools and the quality of the massages they received. I had a day pass so that I could wait for them in the cafe but I was not impressed that I needed to pay for a day pass when all I wanted was to sit and read in the downstairs cafe. But this is fairly normal here. Only the Rudas baths have a cafe at the entrance. Food was basically sandwiches but they were fresh and fairly appetising. Very helpful at the information desk, less so at the ticketing booths as not many staff speak any language other than Hungarian. This can be a problem when trying to negotiate different wellness treatments. It is a very nice spa, though, and a visit can easily be combined with a walk up the Rozsadomb to the Gul Baba tomb, then on to Obuda (a few stops on the tram) to the Sushi Sei restaurant. Or to explore Obuda itself .

Written May 7, 2022
These reviews are the subjective opinion of Tripadvisor members and not of TripAdvisor LLC. Tripadvisor performs checks on reviews.
Detailed Reviews: Reviews order informed by descriptiveness of user-identified themes such as cleanliness, atmosphere, general tips and location information.
---
---
Is this your Tripadvisor listing?
Own or manage this property? Claim your listing for free to respond to reviews, update your profile and much more.
Claim your listing
Lukacs Thermal Bath and Swimming Pool - All You Need to Know BEFORE You Go (with Photos)
Frequently Asked Questions about Lukacs Thermal Bath and Swimming Pool
---
Lukacs Thermal Bath and Swimming Pool Information
| | |
| --- | --- |
| Excellent Reviews | 375 |
| Very Good Reviews | 464 |
| Lukacs Thermal Bath and Swimming Pool Photos | 346 |