Historic Sites • Ancient Ruins • Points of Interest & Landmarks
About
These ruins, located in the heart of modern Athens, were once the site of the marketplace in ancient times, a political, cultural and economic center of the ancient world.
Admission tickets
from $8.37
All you need to step foot in the door.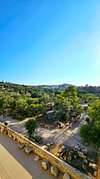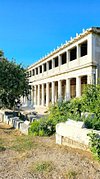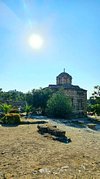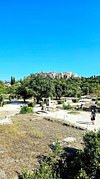 What is Travelers' Choice?
Tripadvisor gives a Travelers' Choice award to accommodations, attractions and restaurants that consistently earn great reviews from travelers and are ranked within the top 10% of properties on Tripadvisor.
The area
Neighborhood: Monastiraki
Monastiraki is a souvenir-hunting enclave with a difference. Apart from the dramatic backdrop of the Acropolis, its network of alleys and pedestrianized streets surround the remains of both the Greek and Roman agoras, adding the quaint concept that this is where the ancients also came to shop. Named after the tiny monastery church at its center, Monastiraki Square is a lively spot by day or night, with street peddlers vying for your attention to sell you nuts and sweets. Down beside the metro station, the official Flea Market is an unbroken row of souvenir shops until you come to antique-oriented Platia Avissinias, while Pandrossou Street on the other side of the square offers more tourist shopping. The pedestrianized street beside the Greek Agora is lined with cafés offering fine views.
Thissio • 4 min walk

Monastiraki • 4 min walk
See what travelers are saying
Well worth a visit

This is a large planted area through which you can wander just a step away from the busy market square. We purchased 30 euro combined ticket which works out cheaper in summer but probably not so for winter as prices are reduced, also we found there is no need to actually go into two of the sites. Another thing to watch is that seniors have a cheaper entry fee as well. Steps up to the largest intact temple in Greece, which you cannot enter. Many statues and exhibits scattered around the garden with ancient pathways. Super view of the Pantheon on high. The small museum at one side is interesting, being filled with pottery and other finds. We would have paid to see this site.Take water if hot. Many restaurants run along the metro line so busy area with buskers etc.

Written February 17, 2020

Easy Self-Guided Tour

After dealing with the massive crowds at the Acropolis, our visit to the Ancient Agora was surprisingly pleasant. We arrived first thing in the morning, proceeded to skip the small line (we had combo tickets from the Acropolis), & found the grounds nearly empty. (There had been light rain on & off throughout the morning, so that might've contributed to the lack of tourists.) With the help of our Rick Steves guide book, we did a self-guided tour, which was the perfect amount of history/information for us. It was fairly quiet everywhere we explored & with the surrounding greenery, we almost forgot we were in the middle of a busy city. Overall, we had an educational but laidback experience, which was a welcoming change from the other attractions we had visited.

Written January 2, 2020

A Field of Rubble Rich in History, with a Museum

The area is breathtaking to imagine the history but is mostly a field of rubble, though there are many informative signs. The museum has many important and interesting artifacts, like the baby toilet from the 2nd century BC! The most intact structure is the Temple of Hephaistos, but entrance was blocked. The visit was made much more meaningful due to a free audio tour I downloaded from online, by tour guide Rick Steves, so I highly recommend it.

Written September 11, 2020

A must-see sight in Athens

As impressive as the Acropolis as is, I found exploring the huge site of the Ancient Agora equally as impressive. This contains the remains of the ancient Greek / Roman city centre, and even though most of the buildings are in ruins, you still get a good idea of the scale of the place. I spent more than 2 hours walking around, and could easily have spent more. The highlight is the Temple of Hephaestus, an amazingly well-preserved temple, and the well-curated museum exhibiting artefacts related to the life in the ancient city. You need a mask for the museum (Covid) and the place is included in the €30 combo ticket, which is think it a no-brainer if you're visiting Athens!

Written August 10, 2020

Natural follow-on to any Acropolis visit!

My wife and myself are currently holidaying in Athens staying at the Grand Hyatt (Review to follow) and this morning we visited the Acropolis (see separate Review) and during this couldn't fail to notice the Ancient Agora of Athens below. Fortunately, we had opted for the 30 Euros Combined entrance ticket which covered several other attractions including the Ancient Agora of Athens. As such, we went there from the Acropolis and - with an extremely well preserved temple of Hephaestus, impressive Stoa of Attalos Building and so much more to see - this proved an excellent move, one I would strongly recommend others to replicate.

Written October 1, 2020

Great place. Must see.

As with all attractions in Athens between 1st November and end of March is half price. It's €10 normally so our entrance fee was only €5. Athens' ancient marketplace, founded in the 6th century BC and was the heart of the city for 1,200 years. A large site containing amongst others : Stoa of Attalos which today houses a museum displaying finds from the Agora. Temple of Hephaestus which is the best-preserved Classical temple in Greece. Odeon of Agrippa Two Tritons and a Giant still remain. Great Drain still in use Today. Byzantine Church. and much else. Definitely a must-see when you're visiting Athens!

Written February 28, 2020

One of the most interesting parts of ancient Athens

The temple of Apollo Patroos (325 BC) is a beautiful little temple set on a hill - Apollo is the father of Ion, ancester of the Athenians, who was the special protector of groups of related families. Below are the ruins of varioud civic and administrative buildings including the Old Bouleutarian (early 5th c BC), a kind of Senate consisting of 500 members, that prepared the legislative bills for the Assembly of the People to vote on. Also the Metroon (150 BC) where decrees, law codes, financial regulations, legal documents etc. were stored.

Written February 4, 2020

Too Much to See

This attraction is central to Athens attractions and is a must see item. It is over a large expanse and requires a lot of walking - take suitable shoes, clothing and water. A well preserved temple that is reasonably unique, a lot of well marked areas and a museum all worth your attention but beware - it will take time and effort. Purchase a ticket for a number of archaeological sites for EUR30 and this will be included in that price. Helps get past the lines at the very least.

Written September 6, 2022

Superb reflection of its centrality in civic life of the city during ancient times

We thoroughly enjoyed over two hours strolling throughout this superb area admiring the evocative remains of what was the centre of daily civic life in antiquity. It was fascinating to learn that it was in use for millennia before becoming the Civic Centre of the City, including as a cemetery during the latter Bronze Age. But undoubtedly it's as the former that is best reflected in the great remnants and restorations. A gorgeous intricate Corinthian Capital is to be seen, as is a fine statue of Emperor Hadrian, who foremost of the Romans contributed most to Athens. Only the torso survives but it exquisitely shows a wolf suckling the twins Romulus and Remus of Roman legend and the Goddess Athena standing atop the wolf. A number of Stoa are displayed - South Stoa I, possibly used by metronomoi who were officials in charge of weights and measures; Middle Stoa that dates from around 180 BCE; and the undoubted jewel that is the Stoa of Attalos. Wonderfully restored in the 1950s it hosts the interesting Agora Museum with artefacts including fascinating Ostraca that were used to vote to banish or ostracise citizens. A lovely Byzantine Church of Agios Apostoloi with grand stone craft is well worth perusing. It is one of only two original edifices in the complex. The second is the gorgeous stunning Temple of Hephaestus, completed in 415 BCE and one of the highlights. A vista of Pentelic marble columns against the saturated early morning blue was delightful. Regarded as one of the best preserved Greek temples from antiquity it is a marvellous treasure. A Dais that bore ten bronze sculptures representing the Tribes of Athens is still evocative after more than two millennia. It is known as the Monument of the Eponymous Heroes Vestiges of Altars and Temples to numerous Deities are extant, including to Ares the Olympian Deity who was God of the Spirit of Battle. Further Altars are to Zeus and Zeus Agoraios, a most powerful God. Impressive and ornate with arrays of Corinthian columns, the grand Odeon of Agrippa was a gift to the Athenians from Emperor Augustus's Son-in-Law. Impressive sculptures line the outlines and the fine performance space could accommodate an audience of around 1000. A water mill residue comprising two large circular mill stones is a further fascinating picture of ancient life, as is the Great Drain that provided essential drainage preventing flooding in the Agora.

Written February 18, 2021

Packed with sights

From all the things on the Combo ticket I think this one is the most worth seeing, apart from the Acropolis. The site itself is huge and offers a lot to see, it's pretty close to the Acropolis so chances are. you will already be in the area. If you want to properly experience it without rushing I recommend going after lunch, bringing plenty of water and allocating a few hours to this place. There's a museum in the main Stoa building which displays a lot of artifacts found in the area and explains some of the customs. There's plenty of statues, ruins, nature, etc to admire. There's a temple there which is very well preserved despite suffering from a fire. In general, I think you will find this one of the more interesting in visually stimulating sites to visit in Athens. If you've taken the metro you might have seen this site from underneath as the metro line runs directly through it. We truly enjoyed our time there, just wish we went there after lunch so we wouldn't be rushing so much.

Written September 15, 2022
These reviews are the subjective opinion of Tripadvisor members and not of TripAdvisor LLC. Tripadvisor performs checks on reviews.
Detailed Reviews: Reviews order informed by descriptiveness of user-identified themes such as cleanliness, atmosphere, general tips and location information.
---
---
Is this your Tripadvisor listing?
Own or manage this property? Claim your listing for free to respond to reviews, update your profile and much more.
Claim your listing
Ancient Agora of Athens
Frequently Asked Questions about Ancient Agora of Athens
---
Ancient Agora of Athens Information
| | |
| --- | --- |
| Excellent Reviews | 2,556 |
| Very Good Reviews | 1,425 |
| Ancient Agora of Athens Photos | 4,604 |