Tours and Tickets by
City Wheels
Tours from City Wheels tend to sell out

- travelers recommend booking in advance!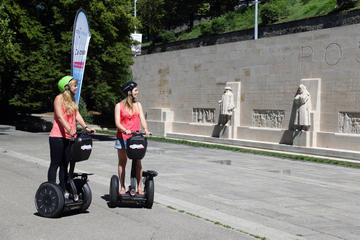 Geneva Old Town Segway Tour
Geneva Parks and UN Segway Tour
Small-Group Geneva Segway Tour
Filter reviews
109 results
Show reviews that mention
All reviews
segway tour
old town
awesome guide
a lot of fun
international area
great tour
great company
highlight of our trip
united nations
rj
sights
safety
highlights
1 - 10 of 109 reviews
Reviewed December 15, 2018
via mobile
Historical and cultural visit. The best time to visit is in summer. The park full with beautiful peacock.
Date of experience:
October 2018
Thank patie433
Reviewed October 21, 2018
via mobile
Came to stay in Geneva for my husband's birthday for a few nights and booked this tour extremely last minute (the midnight before the morning tour!) Thoroughly enjoyed the Segway experience, RJ taught us very well how to use them until we were comfortable before...More
Thank Zahir_and_Margaret
Reviewed September 15, 2018
via mobile
Awesome couple of hours with RJ. My husband and I got an informative tour of the international area, with plenty of laughs along the way. Great value. Highly recommend
Date of experience:
September 2018
1
Thank Sherpa619634
Reviewed September 13, 2018
My wife and I had a great time. We went the night before our tour ( around 8 p.m.) to just make sure we knew were we were going. We found RJ still there working on the Segways. He was very personable and took time...More
Date of experience:
September 2018
1
Thank peter s
Reviewed August 6, 2018
We came to Geneva for an Iron Maiden concert and had very little else planned. I lived in the city 6 years ago for 6 months and thought I knew it pretty well. We started searching for the things to do quite late (meaning 1-2...More
Date of experience:
June 2018
3
Thank bubo2000
Reviewed August 5, 2018
This is a must, I can't recommend them highly enough. I was provided with an excellent tutorial, so much so that I felt entirely safe and comfortable before we went out, this was my fist time using a Segway. It's great fun, RJ and Charles...More
Date of experience:
August 2018
Thank Michael A
Reviewed July 5, 2018
If you are up for an edutainment program in Geneva, this is the right activity for you! Its a mix of education and entertainment, because besides having a very informative guide who knows the details and facts about the city and brings you around the...More
Date of experience:
July 2018
1
Thank Tavaku
Reviewed June 22, 2018
I took the "All-in-One" tour that incorporates all of the individual tours. It was entertaining, informative and fun, everything you might want in a tour especially as a first time visitor (my case). You get to see practically all of the places you might like...More
Date of experience:
June 2018
1
Thank Jeffrey H
Reviewed December 22, 2017
via mobile
Had a fab time on this tour. Honestly, signed up with more interest in learning to segway than the history, but RJ took us to some fantastic sights in Old Town that really captured the essence of Geneva. He was also a great teacher, making...More
3
Thank Emma B
Reviewed December 6, 2017
via mobile
Our tour guide RJ was an excellent coach - it was our first Segway tour. We had a blast. RJ is also quite informed about his city and the interesting cooperative efforts and history of the UN, Red Cross, World Trade organization, museums, etc. The...More
2
Thank drjillclark
View more reviews