Tours & experiences
Explore different ways to experience this place.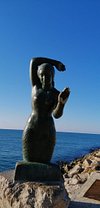 See what travelers are saying
Beautiful town and beach

Wonderful day spent walking around town and then spending the day on the beach. Chairs and umbrellas (parasols) reasonably priced to rent. Drink service on the beach as well. Clean, nice sand, great water! Many restaurants along the beach-lovely town!

Written September 4, 2022

Beautiful Place ❤️

When you're in Barcelona you need to go to Sitges - even the trip with the train is great because of the beautiful view. Sitges is such a cozy place with great restaurants and a a beautiful beach. If you're interested in surfing or SUP... you can even try it there. Trust me - the trip is worth it an only takes about 30 minutes by train. Enjoy 😉

Written November 10, 2018

This lively, picturesque stretch of beach on the Mediterranean is Catalonia's Saint-Tropez

My husband and I, after exploring the beautiful city of Barcelona, wanted to get away from its modern "almost like NY" feel before returning to our hectic NY city life. It is why we will always remain extremely grateful that the concierge at our hotel, on Barcelona's Avenida Diagonal (a very modern area of Barcelona), recommended we visit Sitges and its lovely beaches, which was only a convenient 30 minute train ride from there. As soon as we arrived in Sitges, we fell so in love with this picturesque Mediterranean town, we returned 3 more times during our stay in Barcelona and that is what made the remainder of our trip unforgettable. Sitges' coastline is dotted with historical monuments and cafes along the stretch of beach. The sight of the blue and white striped awnings on the beach, with the Spanish Colonial architecture of the hotels and restaurants' in the background, will remind you of Cannes or Nice. There is a lovely, wide promenade (or walkway) lined with palm trees and pedestrian benches, which runs along the entire stretch of beach. You can find a spot to eat, both going up any one of the side streets, or right on the beach. As you would expect, there are many cafes for dining al fresco, with views of the beautiful waters and picturesque coastline. Most of them have menus posted near the promenade, so people can preview what each is offering and their prices. Although it seems like one long stretch of beach, there are actually many different beaches as you walk up the coastline. Some are family themed; some have topless sunbathers (as is the case at most European beaches), and there also are nude beaches (these are mainly in secluded coves, which we only heard about, but did not see from the promenade). - San Sebastian was the first beach we visited as we arrived and it is for families. From it, you can enjoy picturesque views of the old town, plus it is conveniently close to many restaurants and bars. It also has a children's playground nearby. - Fragata beach ('Playa' Fragata) was right across, as we started up the promenade. It is at the foot of the old church and it was populated with young adults. It is mostly for sports activities, as there were no lifeguards here, nor beach beds. -Playa de la Ribera is said to be one of the popular beaches and I think it is great for both families and couples. My husband and I easily secured lounge chairs here and settled in our own quiet space, but we were told it can get very crowded during the peak summer months. Playa de l'Estanyol is more exclusive and a great place to go to, if you want a massage right on the beach. You can do this by going to one of the shaded huts located at the back of the beach area. -Playa Terramar, right across from the Hotel Terramar, is a recommended quiet little beach, but I feel it is mostly for the Hotel Terramar's guests. In summary, we wish we would have known about Sitges before we visited Barcelona, because we definitely would have wanted to stay overnight in this very enjoyable region of Catalonia. Especially because as the sun is setting, you sense a beautiful peace while at the same time a pick-up of tempo in the area's atmosphere and that is when we had to leave to catch our train back to Barcelona. The relaxing, picturesque stretch of beach and the setting sun's rays glowing on the old world monuments dotting this beautiful Mediterranean coastline is truly a sight to see.

Written April 13, 2015

Warning about the beaches 2022

Warning. The town council has massively increased the price for sun loungers and parasols, from €24 to €34 (based on two beds and on parasol). They have also reduced the number of beds by about half. Unless you get out of bed at 8am and deposit your towel, you won't get one and you will have toilet on the sand. This is not reflected in the quality of the beach which is more heavily littered than it used to be. This now makes Sitges a seriously expensive beach resort. There are other gay friendly resorts offering 90% of what Sitges offers but at 50% of the price. For example, Torremolinos.

Written August 13, 2022

Somewhat Filthy

The beaches in Sitges With excreta abound From near every type of hound Salt sea breezes hint at sun-baked urine The trottoirs, pissoirs So bring a trowel with your towel And watch where you sit Because you just might find yourself nestling in... First the good. The water is refreshing, the beaches are groomed and the stone jetties help with erosion control. The tireless efforts of the Serveis de Platges de Sitges in maintaining the beaches and waterfront is worth a shout out. They are out in force early and late, picking up the refuse and debris of the previous night's revelry, sweeping, cleaning, maintaining the greenways, and trimming the flora. The bad. Sitges is understandably a very popular destination for tourists and locals alike. At peak times, the beaches can be packed, parking can be difficult, and the rubbish bins overflowing--with some visitors simply leaving their rubbish on the beach. And the ugly. There are a lot of dogs. Even though they are not permitted on the beaches during the peak swimming season, this is often blatantly ignored. Many people pick up after their dogs; many do not. A fecal veneer covers much of the waterfront and the stench of urine in the heat and humidity is unbearably disgusting. The swimming is great, but I never leave a towel or anything on the sand; preferring to tuck these items into crevices in the seawall. YMMV depending on your level of tolerance... Bottom line: I would not bother coming back for the beaches. The town—absolutely!

Written August 13, 2022

Avoid the ridiculous new sun bed prices.

€50 for 2 beds and a canopy. €40 for 2 beds and a parasol. So we went to the Chinese hardware store at the back of town and bought our own sub loungers for €50 each. Borrowed parasols from our hotel (Platjador) who also kindly agreed to dispose of the sunloungers. Total estimated saving €300!! Sorry sitges but you seem to be on a mission to alienate anyone not on a massive budget, as shown by the absence of anyone under 50.

Written September 19, 2023

Sitges beaches

When we arrived to Sitges, we had a bit of mixed feeling about the city. It wasn't very charming, at least for us. Nevertheless, once we got down to the beach, things mostly changed. The beach and the promenade are very nice. Its quite silent only with few cars passing - as there are very limited parking spots and its a blind street. On the other hand, the beaches are packed and even if you rent sunbeds and umbrellas, you literally touch your neighbor's head with your toes. There are lots of gay couples around and also plenty of women topless, which makes it not the greatest place for kids. On the other side the sea is shallow and warm, which is perfect for kids. The restaurants around the beach all sell the usual scary fried stuff - if you have lunch, you may not need a dinner.... Overall, I give it four stars. If it wasn't so crowded and food was better, it would receive a +1.

Written August 22, 2012

Beautiful beach spoiled by too many dog owners ignoring the 'no dogs allowed' signs

This is a beautiful, long beach, with plenty of amenities for everyone and the water if very safe for bathers of all ages. My big problem is with the fact that so many dog owners were completely ignoring the signs saying dogs are not allowed on the beach. While most of them will be responsible dog owners, I noted many who were not, and plenty of instances of dog mess left on the beach. On a number of occasions I saw one lady, with three dogs, not bothering to clear up. On that basis I have to mark down the rating. It is great for dogs to play on beaches, but the prospect of some small child playing in dog mess is not nice, particularly given the type of diseases they could pick up. I would suggest the local council dedicate a section of the beach for dog owners, and enforce the no dogs allowed rule more rigidly elsewhere.

Written May 24, 2019

Not the best beach in Spain

Sitges is a beautiful town in Spain, however, don't expect the best beaches, they are usually very narrow compared to others in neighboring towns, and on top of it very crowded.

Written April 22, 2014

Sunshine in February

Spend the last day in Sitges before the flight took us home to Sweden. The sun was happy this day and show her best side. 19 degrees in February is really good.

Written February 19, 2020
These reviews are the subjective opinion of Tripadvisor members and not of TripAdvisor LLC. Tripadvisor performs checks on reviews.
Detailed Reviews: Reviews order informed by descriptiveness of user-identified themes such as cleanliness, atmosphere, general tips and location information.
---
---
Is this your Tripadvisor listing?
Own or manage this property? Claim your listing for free to respond to reviews, update your profile and much more.
Claim your listing
La Playa de Sitges - All You Need to Know BEFORE You Go (with Photos)
Frequently Asked Questions about La Playa de Sitges
---
La Playa de Sitges Information
| | |
| --- | --- |
| Excellent Reviews | 912 |
| Very Good Reviews | 613 |
| La Playa de Sitges Photos | 927 |