Ebanks Watersports, George Town: Address, Phone Number, Ebanks Watersports Reviews: 5/5
Scuba & Snorkelling • Boat Tours • Waterskiing & Jetskiing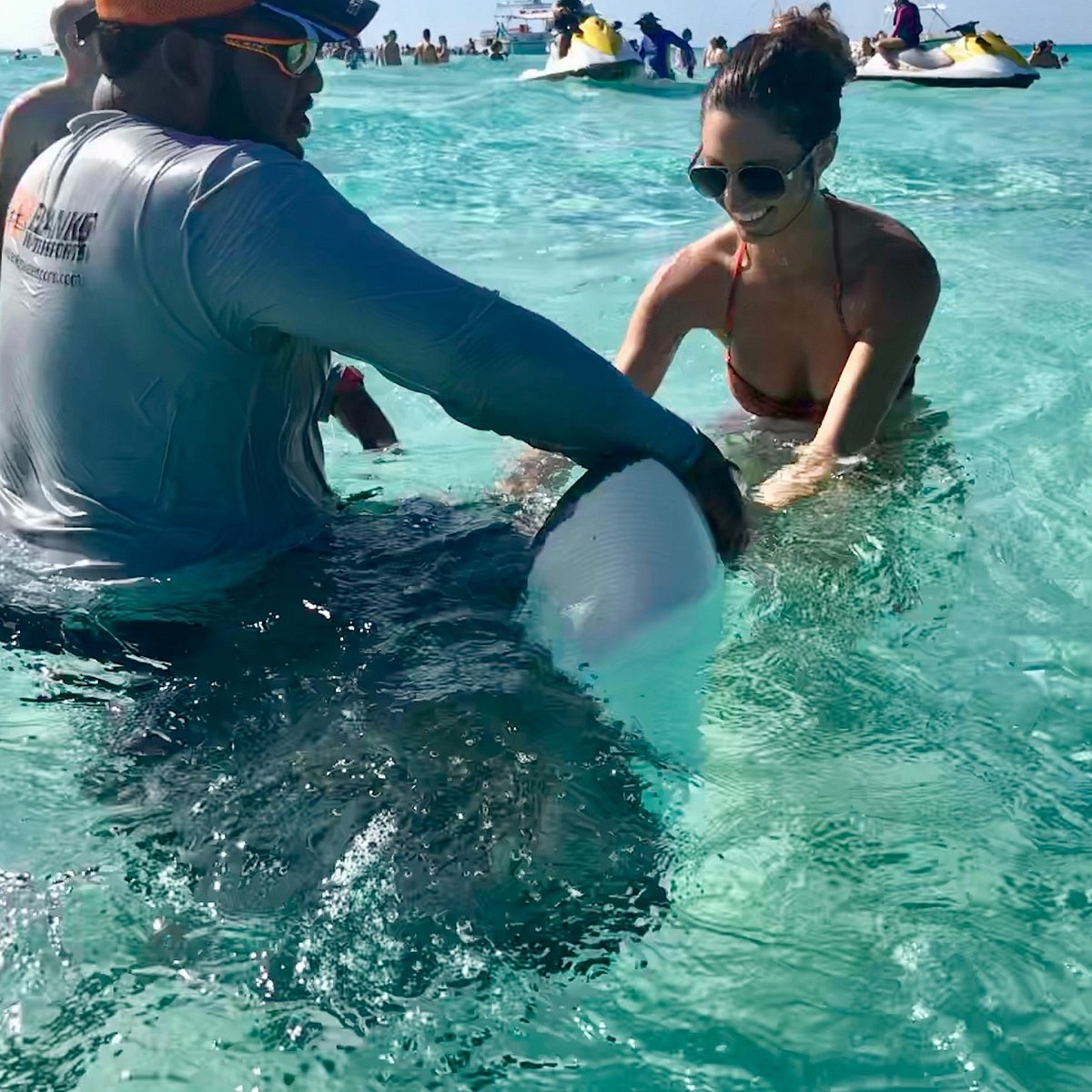 About
EBanks Watersports specializes in small-group, personalized jet ski tours and luxury private boat charters in Grand Cayman. We pride ourselves in safety and offering the best experience possible. Visit Stingray City, Starfish Beach, Rum Point, and snorkel! Are you ready to adventure Grand Cayman!?
George Town, Cayman Islands
Travelers talk about

""
(60 reviews)
Detailed Reviews: Reviews order informed by descriptiveness of user-identified themes such as cleanliness, atmosphere, general tips and location information.
---
---
Apr 2022
Some clients of mine (I run a hospitality business) tried to book with this company and they took their credit card information and never confirmed the booking. Ebanks never answered the phone. They are no longer in business in Cayman and should not be taking sensitive credit card information from customers knowing they have no intention of ever providing tours. They should be removed from this site to prevent any further heartache to customers.
Written May 5, 2022
This review is the subjective opinion of a Tripadvisor member and not of TripAdvisor LLC.
---
Apr 2021 • Friends
Our trip was booked a month prior and the first date was requested to be changed so we changed our plans for a new date. 24 hours before we were told that the bait was unavailable. I would never recommend such an unreliable service
Written April 24, 2021
This review is the subjective opinion of a Tripadvisor member and not of TripAdvisor LLC.
---
Mar 2020
My boyfriend and I traveled to the Cayman Islands this past March with a cruise, and this was by far our favorite part of our entire trip! We were picked up on time at designated location, and we enjoyed every minute of jet skiing. Andre was a good guide and he let us roam and do our own thing while staying nearby. Overall, a great experience!
Written May 21, 2020
This review is the subjective opinion of a Tripadvisor member and not of TripAdvisor LLC.
---
Had an amazing time seeing the stingrays and starfish beach! The tour felt very safe and I would definitely recommend it! Andre was the best tour guide I've ever had, bar none! Ya man!!!
Written March 14, 2020
This review is the subjective opinion of a Tripadvisor member and not of TripAdvisor LLC.
---
Mar 2020 • Couples
My guy and I took the late afternoon trip to Stingray City and Starfish Beach. Riding the jet skis in the ocean was an exhilarating experience. Taking the currents head on made me feel like a glamazonian princess. Looking at our small group of jet skiers I felt like I was in the coolest jet ski gang on the ocean. Then we got to Stingray City.
O.M.G. The stingrays just swim right up to you like they've been awaiting your arrival all day. You feel like the guest of honor as you enter their lovely city. Then our tour guide took out some food for them and we were surrounded by these graceful bat signal looking floaties underwater all around us. My guy was like a kid in a candy store, he was having the best time just checking these things out so up close.
Our guide held one and I thought that was pretty cool but then he helped US each hold a stingray. Who knew you could hold a stingray????? That was pretty sweet.

Next our gang hopped back on our jets and rode our way over to Starfish beach. This was cool but starfish don't flock to you the same way those stingray did and we kept seeing tiny jellyfish which freaked my guy out and sent him straight out of the water so, definitely a less welcoming experience.

After hearing some fun facts from our guide we got back on the jets and headed back to the dock. This was a nice long ride and you get to go as fast as you want. AWESOME.

One lesson learned - bring sunscreen. I put some on before we left but it clearly wore off through all the water time and hard riding so I came home with a wicked burn. Don't do that. Also, maybe stretch a little beforehand. That hard riding was hard on my body. Day two post ride and I am hurtin' for certain. But it was totally worth it and if you asked me, I'd go again tomorrow. Please check out Ebanks Watersports - they provide an excellent adventure.
Written March 5, 2020
This review is the subjective opinion of a Tripadvisor member and not of TripAdvisor LLC.
---
Feb 2020
Dean, patiently waited for our late cruise ship arrival and whisked us off to a fantastic adventure for the day. Despite being behind schedule, Dean still managed to customize our outing and we got to see everything we had planned on - swimming with the rays, snorkeling, and starfish point. Dean made sure our day was perfect and even made the day of some stranded tourists by giving them a lift back to the cruise terminal with us. FANTASTIC Day!
Written March 5, 2020
This review is the subjective opinion of a Tripadvisor member and not of TripAdvisor LLC.
---
Feb 2020
One of the best boat excursions we have done. From pick-up to drop-off, Dean did a great job making us feel comfortable and tailoring the tour however we wanted it. I highly recommend going to Stingray City with Ebanks, they are very knowledgeable and it makes a big difference going in a small group then one of the larger tours.
Written March 4, 2020
This review is the subjective opinion of a Tripadvisor member and not of TripAdvisor LLC.
---
Feb 2020
We chose this tour based on the numerous of outstanding reviews posted by former patrons, and can honestly say the guys that run this company went above and beyond to provide the best experience we could possible have. Ashley was our tour guide and was incredibly intentional to make sure we enjoyed every minute of our tour. The ride to Stingray City on the jet ski's was great! It was a bit choppy but Ashley frequently made sure we were comfortable with the ride. He took us to an area away from the crowds where we had access to many stingrays. Ashley was incredibly knowledgeable about the stingrays and he knew them by name! He spent so much time luring them to us and carefully showed us how to handle them. We fed them squid, cradled them in our arms, swam with them and learned a lot about their characteristics. Our cruise ship offered a similar excursion to Stingray City but because of the large group, they only had a short time trying to hold a ray. However, Ashley gave us a lot of time and personalized attention with the stingrays and we were able to ride over to Starfish Island and spend time holding beautiful big starfish that were plentiful in shallow water. This is truly a personalized experience and these guys will go above and beyond to make sure you have a wonderful time. On our way back from the marina, Ashley was even kind enough to let us stop by a dive shop and buy some tshirts. I do suggest purchasing a plastic waterproof phone case to protect your phone for taking pictures. We purchased ours for $15 at Turtle Bay gift shop near the Ebanks storefront. This is an exceptional value for an exceptional experience! Thanks guys!
Written March 3, 2020
This review is the subjective opinion of a Tripadvisor member and not of TripAdvisor LLC.
---
Feb 2020
Our tour had to be altered a bit due to the weather, the seas were too rough for the jet skis, the company offered to take us out in their boat to the two locations, so glad we went (another couple opted out, so we had a private tour!). We went out to the stingrays where we got to hand feed them. There were so many stingrays it was amazing, we stayed out there as long as we wanted - it was perfect. Then we boated over to Starfish Beach. On this day there weren't too many starfish (about a dozen) a little disappointing, but at least we saw some. The two guys that were our guides (sorry, I forgot their names ...maybe Dean? both from England) went above and beyond to make sure we had a great time and we did!!!! I would certainly recommend this tour to everyone :)
Written March 1, 2020
This review is the subjective opinion of a Tripadvisor member and not of TripAdvisor LLC.
---
Feb 2020 • Couples
All the staff are extremely friendly and helpful. Can not say enough about this company. Have a blast with Ebanks.
Written February 26, 2020
This review is the subjective opinion of a Tripadvisor member and not of TripAdvisor LLC.
---
Showing results 1-10 of 926
I have 2 girls (age 23 & 19). How easy is it to maneuver the jet skis? What about if the wind is up and the water is choppy? We have no experience with this.
We had 16, 18, 20, 22, 26 who manned the wave runners. They were fine. We let them do it as we felt they would find it more exciting. Your kids will love it. You pick up the wave runners in a sheltered marina so you get to practice for about 5 mins before going into open waters. It is definitely exhilarating at the beginning but honestly, the kids loved it and still talk about it.
---
Hello - We are two adults and two children ages 10 and 13 - I know the kids need to ride with us, but I wanted to make sure the pricing is correct as it is MORE for two jetskis on this site vs 4 single jet skis? Trip is March 11. Thank you.
Hello, I am not sure what is going on with the Trip Advisor site, as we have tried to get this issue corrected. Our price from our site is $150/single rider ski and $200/double rider ski. Please reach out to us if you have any questions. Thanks, Josh
---
We are interested in your booking private jet ski three stop tour on TripAdvisor. We want to book two jets skis for 4 people, two per ski. We think the total cost would be $550. The website will only let us book four people at $1000. Please advise us on how to book this correctly.
I'm sorry, I missed this question earlier. Did you end up getting booked? Thanks, Josh
---
I would like to book a Stingray City and Starfish Beach Tour for 1 jet ski for 2 people on February 7, 2018. But I have some problem with your website. We ask to choose between the tour in winter or in summer. For the 7th of February do I have to choose winter? Also it is said that you pick us up at our boat (because I will be cruising) do you ask for the boat information on your website and what information I would have to give (the name of the boat or the name of the port ? ) Thank you in advance for your answer.
Hello, Please choose the winter tours, and during checkout there is a box where you should give us information about the cruise ship name. Thx
---
If you have any reservations open for March 2nd. Coming in on princess cruise line and would love to take the jet skiis to stingray city and starfish beach?
We worth the time and expense! We really enjoyed both. Starfish beach was really nice as there weren't many people there. The jet ski ride was fabulous too!
---
HOw long is the stingray city and snorkel tour? Just trying to pick the best departure time and make it back to our ship!
Our tours are approximately 2 1/2 hours long, including pick up and drop off. You spend approximately 2 hours on the water. Depending on your ship and the date, it will depend on what tour we would recommend. Your last tender will usually be 1 hour prior to ship departure. If you would like to provide us with your specific ship name and date (via email), we will be happy to look up the schedule and advise you of our availability. Thanks!
---
Bonjour,nous voudrions réservé 4 jets ski pour 8 personnes le 25 décembre.Nous arrivons à georges town avec le MSC armonia .Est ce possible et si oui ,quel est le prix ?Cordialement
Hello/Bonjour! I'm sorry to say we are closed on Christmas Day, December 25th, so will not be able to take you out that day. We would be happy to get you booked the day before or after, however since you are arriving on a cruise ship, it unfortunately appears that is the only day that you are in Cayman. Sorry for the inconvenience.
---
Did Ebanks Watersports operate with or as Captain Larryibee and Sons several years ago to Stingray City?
I do not honestly know. This was our first visit there.
---
Do you pickup from the cruise ship ports also?
They picked us up at our condo before, I'm sure this would be no issue if you let them know
---
Bonjour, nous serons une journée George Town vers le 26 juillet avec MSC Croisières. Nous sommes 4 personnes, 2 adultes et 2 enfants de 12 et 16 ans. Nous serions intéresse par le Jet ski et la plongée. Pouvez vous me donner un tarif pour nous 4.
Hello, the price will depend on if you want to do the Stingray City and Snorkel tour or Stingray City and Starfish Beach tour. Feel free to look at our website, there is a "Rates" tab. We do currently have space still available on that date, so if you are interested in booking, you can click on the "Book Now!" tab and submit your request. We hope to see you in July!
View all