About
A scenic valley filled with remnants of the old American pioneers.
Tours & experiences
Explore different ways to experience this place.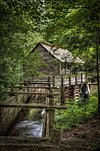 The area
Best nearby
We rank these restaurants and attractions by balancing reviews from our members with how close they are to this location.
See what travelers are saying
Bicyclists - Things have changed from what is on the website!

My family biked the loop on a Wednesday in July 2021 when the road was closed to traffic. It was a beautiful ride, though those of who had done it 15 years ago had forgotten how hilly it was! We enjoyed the ride greatly, HOWEVER we found that the info on the website is not up to date. We showed up early because the website said the road was only closed to cars from 7am-10am. When we arrived we found it is now closed the entire day. We had also been led to believe that the rental bikes tend to sell out by 8:30am. When we arrived at 7:45am, they were already gone and we had to wait for others to return before we could begin the ride. We were finally able to start at 10:15. We learned that just last week they began a new procedure where you can reserve bikes online a week in advance. This was not readily obvious on the website. We would have reserved if we had known. Then again, it seemed some people in line had reserved online yet still showed up to find out their bikes weren't there. The worker admitted that the system is new and they were still working out the kinks. Moral of the story - if you are renting bikes on a Wednesday, be there by 7am. I would not recommend biking the loop on other days because it is very narrow and would be difficult to share the space with cars. On the plus side, you pay for the rental bikes for 2 hours, and if you finish early they either refund some of your money or give you free ice cream. We found the ice cream to be a very happy surprise after a hilly 90 minute ride!

Written July 24, 2021

Got to take the loop

Have been here too many times to count. Suggest early morning or late after. One loop is not enough. 11 mile one way road. There are paid horseback rides on trail, carriage rides and hayride. Picnic grounds very nice but usually crowded. Camp store and camp ground Watch for lots of wild life such as deer, turkey , coyotes, wild hogs, and bears. There are several nice trails off the cove. Suggests Abrams falls. This is 2.5 miles and is pretty hard walk if you are not fit. But slow and steady wins the race. It is beautiful. There are glorified porta potty's at the Abrams Falls trailhead. There are also nice bathrooms at the backend of the loop and a souvenir store. They were limiting entrance and masks are required due to Covid. The grounds are nice to walk Several barns, a working grist mill and the Becky Cable house. There are at times ranger led events throughout the park. Just the most peaceful beautiful serene place. Suggest for adventure taking Rich Mountain Road out of the cove. Very quite and peaceful drive up a gravel mountain road. Don't need a 4 wheel drive. Comes out close to Townsend. One you come out of the park the road is paved but narrow with bling curves for a few miles. Just take is slow and easy and you will be fine. 2 lanes cross the cove and are 2 way. First Sparks lane and second Hyatt lane. We usually circle all the way around to the second entrance to Sparks lane and cut back across and make more loops. Be aware that if a bear is spotted you can be in a traffic jam for sometime. Please do not get out of car to approach the wildlife. They are not tame, but wild animals. Pull to side to let others pass if you start to get car jam behind you.

Written September 23, 2020

Don't take the 2 way road back to the beginning, no way out

Beautiful drive in the Great Smokey Mountains! We were told to come early so that we had the best chance to see bears. Ok no problem. But the park web site says that they open at dawn and the park doesn't actually open until 8am. Grrrr. So we had to wait over an hour to get in. But once we were driving it was magical. We saw 3 bears, deer, wild turkeys and people watching was almost just as fun. The visitors center was great BUT... Why not have signs explaining all of the different buildings that were around? It seems like a missed opportunity. I would have loved to know what I was looking at besides, "old log building." The shop at the visitors center was also great. Lots of cool mementos. better than average for sure. One caution! We took one of the off shoot 2 way paths towards the end. Didn't realize that it took us back to the very beginning of the loop. OMG, we were stuck back in the loop, this time in prime time traffic for an hour because there is no other option. Could have been a sign saying "hey buddy, you are about to get back in the loop..." But it was all great and the kids loved it as much as the adults.

Written July 12, 2020

If you go, don't go by car! All the beauty - ruined by cars.

First, I need to point out that I LOVE Cades Cove, and have always said that, to me, it is the most beautiful place on Earth. I have visited many, many times throughout my fifty years. I love the scenery, the cabins, the animals, and the solitude of this precious place. I am an extremely patient person (I am a photographer and teacher), and am a deep lover of nature and of the natural world. I have photographs in my home of Cades Cove. We expected to have to take our time going around the loop, and we usually enjoy that experience despite slow traffic. However, our experience there last Thursday morning was absolutely terrible. Since they are not opening the gates at this time until 8:00 a.m., we got there about 8:30 thinking it wouldn't be too congested. We could not have been more wrong. It took us at least 3 hours to get through the loop. Although there were certainly bears, we didn't see any because there were so many cars blocking the road and not pulled off. By the time we would get up to where the bears might have been, they were gone and people were heading back to their cars which they had left idling in the middle of the road. We did see one animal, a lone deer, which traffic had stopped for. There were people with long camera lenses casually leaving their cars in the middle of the road and taking pictures for what seemed an eternity. It was impossible to enjoy the scenery with so many inconsiderate people honking, tailgating, and clogging up the road. And, there was nowhere to pull off because there were so many cars in the pull offs as well. Even if we had wanted to get out to look at anything, it would have been difficult. And then, to make matters worse for everyone, there was a huge delay upon exiting the Cove because there were bears along Little River Rd leading into the Cove (I spotted the one in the tree people were taking pictures of). There is nowhere to pull off that road, so people just stopped their cars and got out. Traffic was severely backed up both ways, and I felt sorry for all the people who encountered this huge traffic jam before even entering the Cove area. Suffice it to say, I will never again visit Cades Cove via car unless it is during the off season. Biking it would be better on the days they close it to cars. And perhaps soon they will begin opening the gates at dawn again so people can still enjoy that magical time of day from their cars. I wish we had arrived at dawn and just walked into the Cove, and that is what I recommend at this time for anyone wanting to truly experience the beauty of this place. I am glad our family has such beautiful memories of Cades Cove. If this had been our first time to be here, my children would never have known what a special place it really is.

Written June 24, 2020

If you love grid-lock traffic for 2-4 hours, this place is for you!

We really should have read the reviews before going. This is a one-way, one lane path that is nothing but stop and go traffic for 2-4 hours. Everyone is looking for the bears and once they are seen, people go crazy and park wherever they can to see them, causing more and more back up. Definitely fill up on gas and pray that your car does not overheat ( we saw some poor souls with a ranger trying to help them) and good luck keeping the kids occupied, there is no cell service and you are mostly looking at grass (at least the mountains are pretty, but there are better views outside this 11 miles of torture). I'm sure the couple of historical cabins are neat, but after 2 hours of stop and go traffic, we took the 2nd of the only 2 short cut routes to leave. Wednesday is a car free day and I can really understand why they do that. So if you love sucking up fumes and playing car grid lock as you look at mountains, grass, log huts and the occasional bear, this place is for you. Insider Park Ranger Tip: At Sugarland Visitor Center, the Ranger said the best time to go is right before it closes in the evening. He says the traffic starts at 0730 in the morning and will be this way until September! So go in the evenings or Wednesday when the cars can't go! Good Luck!

Written June 4, 2021

Not informative

Perplexed by the popularity of this. History is interesting... but none provided. Not so much as an informational signboard. The structures are labeled, as "Tipton place" etc but zero information on the structure or the Tiptons. Forget Wikipedia as there is no cell service. Do NOT go here without printing or downloading some type of guide or resource in advance. Scenery is pleasant but doesn't hold a candle to the other views in the park. For wildlife, we saw one turkey. Also a lot of people with their small children hanging out of windows, popping up through sunroofs, and horsing around in backs of pickup trucks. 20 mph and heavy traffic is probably not the best time for this.

Written April 10, 2021

Beautiful and peaceful

Cades cove is a beautiful spot nestled in the smokey mountain national park. It is free to drive thru and there are trails to walk to old houses or to falls and river off shoots. It is a VERY windy road to arrive there, not for the easily motion sick, however the river running along side the road is so beautiful it is easily distracting! There are plenty of little pull offs that can be used to park and go down to the river. We saw people picnic in and fishing, even swimming. Though I don't know the rules surrounding those things in the park. Arriving at Cades Cove there is a camp ground and picnic area, no bathrooms for another 6 miles of driving 10 o 20 miles an hour. It is a meandering drive thru hills and rolling fields of grass, surrounded by towering smokey mountains. Plenty of places to pull off, walk, hike, picnic etc surrounded by gorgeous scenery. The drive is SLOW, bad when you need a bathroom...but worth it for the wildlife. We saw strutting turkeys, geese, deer or female elk, and black bears. Definitely a place to visit, would have liked to be more prepared with a picnic, a bathroom break before heading in, and knowledge that some trails were closed due to corona virus. That was a bit frustrating, but understandable. Would highly recommend if you want an out door activity when staying in or near Gatlinburg!

Written May 15, 2020

Simply Wonderful

These wonderful homesteads, churches and outbuildings will mean so much more if you BRING $1.00 TO PURCHASE GUIDEBOOK at the start of the drive. Cades Cove is different every visit and worth visiting any time of the year and repeating. It is true that when tourism is heavy, the drive is annoyingly slow, and I prefer to visit in the off-season for this reason. During the busy season this might be the only thing you have time for in one day, and you will find yourself in a happier situation if you pack a cooler full of drinks and snacks. I seem to spend more time here each visit, even when I am not stuck behind a row of cars.

Written January 7, 2020

Great time and nice drive.

Getting out and enjoying nature was of main importance. Slow down and enjoy the drive and the time spent together while going with the flow. Life today is not the same as it was 20 or 40 years ago. Today, its all RUSH, RUSH, RUSH. The adventure is what you make of it. The drive to and from Cade's Cove is very pretty offering so much to see. countless spots to stop and get a close up look-see of history and nature. As you get close to Cade's Cove entrance there is a pull over self service information stand. Take an extra buck ($1) with you to buy the booklet that explains more about Cade's Cove and the buildings and highlights in detail, which really adds value to the experience. Reading other reviewers scratching and crowing about people not pulling over, that's today society who doesn't believe that the signs asking folks to pull over and not block traffic on the one way drive through the cove applies to them. We experienced that ourselves. It's sad that people do not think about anyone besides themselves. Don't be one of them! :) That said, don't let it bother you and others rudeness doesn't need to detract from your experience! When I go to sleep at night, I know I tried to be kind and considerate of others, that's what really counts.

Written February 11, 2021

No bears this trip

I arrived about 2:30 PM. Traffic was light on 4/25/21. We did not see any wildlife except for turkeys. Just read that during the Wednesday vehicle closing days (5/5-9/1) they are going to keep people from parking along Laurel Creek Road. Go to the travel forum page for Great Smoky Mountains and read the post from Reid. They urge people not to all come in the early morning. They are also trying to set up a shuttle service from Townsend that they hope to have in place sometime during the summer months. I certainly hope the shuttles have massive bike racks.

Written April 30, 2021
These reviews are the subjective opinion of Tripadvisor members and not of TripAdvisor LLC. Tripadvisor performs checks on reviews.
Detailed Reviews: Reviews order informed by descriptiveness of user-identified themes such as cleanliness, atmosphere, general tips and location information.
---
---
Is this your Tripadvisor listing?
Own or manage this property? Claim your listing for free to respond to reviews, update your profile and much more.
Claim your listing
Cades Cove - All You Need to Know BEFORE You Go (with Photos)
Frequently Asked Questions about Cades Cove
---
Cades Cove Information
| | |
| --- | --- |
| Excellent Reviews | 3,920 |
| Very Good Reviews | 936 |
| Cades Cove Photos | 6,409 |