About
The most developed area of Grand Canyon National Park, the South Rim offers amenities such as bus service, hotels and water stations, but is also more crowded than the North Rim. Scenic highlights include Pipe Creek Vista and Yavapai Point.
Tours & experiences
Explore different ways to experience this place.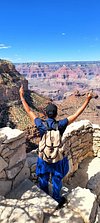 What is Travelers' Choice Best of the Best?
This award is our highest recognition and is presented annually to those businesses that are the Best of the Best on Tripadvisor, those that earn excellent reviews from travelers and are ranked in the top 1% of properties worldwide.
See what travelers are saying
Magnificent Sweeping Views

Our family spent two nights at the Holiday Inn Express in Tusayan. Traveling from Page, Arizona after our morning 10:30 am Antelope Canyon tour, we took our time along Desert View Drive stopping at the scenic views at Watchtower, Navajo, Lipan, Moran, and Grandview to enter the park from the east entrance arriving just in time for dinner reservations at El Tovar. The drive with stops from Page took us about 4 1/2 hours. Dinner service at El Tovar was extremely slow and we thought the food was average. Of course, you need to remember that you are in a national park. The next day, we were parked in a lot next to the Visitor's Center before 8:30 am-no issues with crowds this early during the holiday week. We took a shuttle to South Kaibab Trailhead and hiked 3 mile RT (2 hours) down to Cedar Ridge for beautiful views. This trail was well worth the hike and not too difficult after the recent snowfall. Back to the Visitor's Center by 11 am (parking lots completely full and long lines to the bathrooms) to hike the 2.5 mile Rim Trail to the Village. We wore our Ice Trackers the entire day for safety and witnessed numerous people go down on the ice laden pathways. Back at the Village, bathrooms at El Tovar much less crowded but shuttle buses were packed to go back to the Visitor's Center. Multiple buses were unable to load passengers and we had to wait a few extra minutes to catch one. Parking lot in the afternoon and road near the Visitor Center was a zoo! Park Ranger stated that the holiday week was one of the busiest she had ever seen. We spent the rest of the day driving along the Hermit's Rest Scenic Drive with more magnificent viewpoints of the canyon before heading back to Tusayan for the evening. I recommend getting to the park early to park your car, bring water and snacks, wear multiple layers for flexibility, use shuttle system to get around park due to lack of parking, check the website for road closures if inclement weather is a factor (Desert View Drive was closed prior to our arrival and fortunately opened early afternoon.) This was a great experience-we loved our short visit to the GC!

Written January 5, 2020

Not Just a Big Hole in the Ground

I've lived in the park and have also visited it numerous times. This trip was during May 2020 (Covid related closures/limitations including no shuttles). The park was only open from 6 AM to sunset, we arrived around 6 AM and waited in a brief line of cars and showed our National Park Pass. We planned ahead for our hike and brought bikes to "shuttle" us back to the car after our hike. We locked our bikes near Bright Angel Lodge then drove to the highway near the South Kaibab trailhead. You cannot park at the SK trailhead, there is only employee parking We hit the South Kaibab Trail which wasn't very busy at that hour especially with no shuttles (the typical way for hikers to get there). Ooh Ahh Point is one of my absolute favorite spots to stop for pictures and I highly recommend it for visitors looking for a shorter but worthy hike. Further down there are two other main stops which both have drop toilets (I always pack my own hand sanitizer, pre-COVID, and TP just in case). We are all very conditioned hikers and trained to complete the hike we did, at the time we were all hiking 75-100 or so miles a week. We hiked down to the Colorado River, ate lunch, played in the cold Colorado to cool down then headed up Bright Angel Trail. We checked all water sources on the NPS website so we were prepared for some water shutoffs due to repairs. The amount of information available on their website made our last minute visit streamlined and informed. We hit the rim and rode our bikes along the main roads to get back to our vehicle. The restrooms were clean, both at the start, on the trail and at the finish. The views are amazing, the facilities are upkept and even a new gazebo installed at one of the stopping points along SK.

Written September 26, 2020

A 'must-see'

Such a great experience! We drove from Las Vegas to the Grand Canyon with a rental car and stopped off at a small town called Williams on the way where we spent the night. In the morning we drove up to the South Rim, as the North Rim is not accessible in the winter, where there was a $35 vehicle fee to enter the park (paid by debit card) and then we parked up right outside the visitor center. The center is very informative albeit small, but what most people go for is the views and these were absolutely amazing, literally you have to 'see it to believe it'. We walked from the viewing point by the visitor center to Mather Point. And later on caught the free buses that run to the Bright Angel Trail and also the Yavapai Geology Museum which is also small but has great views. We spent 3 hours there however we wish we could've spent more but we had to get back to Las Vegas. There are plenty of amenities around and the park is exceptionally well maintained. Please do not miss this experience if you're visiting the area!!

Written April 1, 2020

The views do not disappoint!

We were staying with family in Sun City (near the Phoenix airport) and drove in our rental vehicle the approximate 3.5 hour drive to the south entrance of the Grand Canyon. The park entrance was easy to find. Parking this year was $35/vehicle. I was skeptical going in, as several friends had this excursion on their "bucket list" while others simply raved. I worried I would be disappointed. However, the views absolutely spectacular! We self-guided/toured. We both experienced some vertigo and were careful to hang on to the railings provided, or sit on available benches as needed. Also bring water. With the high elevation, it is easier to get winded, and water helps. We did have a hiker in front of us fall a few times from experiencing vertigo,and with assistance from others were able to help him get off the stairs and onto level ground to sit down. He was embarrassed but grateful. It could (and does) happen to anyone. There were some areas that were roped off due to ice and snow and I was amazed how many people stupidly ignored the warnings and bypassed the barriers to get closer to the edge of the Canyon for selfies! Check the weather in advance and dress appropriately. The temperature was 30 degrees cooler in the Canyon than in the Phoenix area. There were many families present and some pushing young ones in strollers. On Feb 10, it was a chilly, windy, 40 degrees F. There are lots of signs at various points educating you on the history of rocks, the Colorado river running through the Canyon, etc., and a small museum you can enter about 1.5 hours into the walk. After our hike, we were exhausted and wind blown, and caught a shuttle back to the parking lot. Kudos to those who can manage to walk the entire thing. We didn't see everything the south side had to offer. In our vehicle, we exited the park from the east side and for some 50+ miles, still saw the Grand Canyon from out the driver's side window. There were several spots along the way to stop and take more photos. All in all, it was a physically and mentally stimulating journey that I highly recommend.

Written March 4, 2020

You can't imagine it until you see it in person!

I took off my bandana and suddenly my eyes adjusted and I was in awe! I took an 8 day escorted tour of the Southwest in September. I have never seen the Grand Canyon but that day, I really saw it! Our tour guide gave everyone a bandana and we were told to wear it as we formed a conga-line through the gift shop out and to the edge of canyon. I was speechless and I couldn't move, I just stared. You can't describe it, it's like nothing that I could ever imagine! Totally breathtaking! And it was the best travel experience of my year!!

Written January 2, 2020

Crazy Beautiful

Our second day in Sedona, we headed the 95 miles to the south rim of the Grand Canyon to check one more thing off our bucket list. The drive was about two hours as the first part had road construction and a section of 15 mph turns, but once you got thru that the roads were straight. My National Park Pass that I paid $10 for paid for itself as the car cost was $35. $20 if you had a 62 year old that has an American ID. Pictures do not do this place justice. We were told to visit Bryce Canyon and when I asked at the Visitor's Center, the man told me it was a 6 hour drive. The canyon is beyond believe. Made me nervous as you can actually stand on the edge to take pictures and selfies. We stayed with the railing areas. A family asked us to take their picture on the ledge and we did but there are too many crazy people that could push you off the ledge and kids have been known to break away from a parents hold and run. There are three stops by car. Grand Canyon Village, The Desert section and the main one. We went to all three. A train comes into Grand Canyon Village and you can get a shuttle to the other places. We drove our Jeep that we rented. Great day in a great place. We may plan a trip to the North Ridge in the future that includes Bryce. You can hike the ridge if you would like.

Written February 24, 2020

Pictures will never capture this experience

Unbelievable! EVERYONE MUST GO! As i approached my first cliff edge just before sunset, all i can say was this is un freakin believable! i was in aww. The sunset brought such a beautiful array of colors out of the canyon! I applaud the accessibility for my mom in a wheelchair, so she can experience this land wonder too! I highly recommend the Orange Route on the bus. It kept us busy for the day, getting off and on, with plenty of different viewpoints of the canyon. Views that never get old or tiring, never losing its aww, never disappoints. Every stop, i would look, take 3 steps and look again and every 3 steps the view changes, and seems better than 3 steps ago. Dont deprive yourself of this great experience in the Great USA!

Written March 8, 2020

Grand Canyon Desert View Drive

I would first like to thank the National Park Service. Our car entered the Grand Canyon free. My husband only had to show his drivers license which indicated he is a veteran. We were issued an America The Beautiful Pass which gives us free admission to The National Parks . (We then used it again in Page to access Lake Powell) We rented our car at PHX airport and drove to the South Rim entrance. I can't comment on the drive really , it was pouring rain so I didn't see much of anything and I'm sure it slowed us down . However upon our arrival the sky at the Grand Canyon was clearing and the sun was starting to peek out. We arrived at 4pm and started our drive along Desert View Drive . First stop Mather Point…there is a walkway there and you could spent a bit of time there. We made several more stops along Desert View Drive … Duck on a Rock , Grandview Point, Moran Point to name a few before arriving at Lipan Point for sunset ….it was perfect weather and perfect timing for sunset. The drive along Desert View took us 2 hours with several stops/path walking before reaching Lipan Point. There is so much to do and see if you want to hike, raft, mule ride etc but our drive along Desert View left me with drop dead gorgeous pictures, a feeling of awe and peacefulness and an experience that I recommend everyone have. There were no crowds and the weather was perfect which aided my experience . My experience was exactly what I wanted however I realize some desire more. Exiting Lipan Point we headed to Page AZ to continue our adventuring! Page was another 2 -2.5 hours from Lipan Point in total darkness. If you make the trip onward to Page know that there is only one place to stop for gas / food along the way and that is about an hour down the road.

Written October 2, 2021

It's A Grand Canyon

My family took our first trip together to the Grand Canyon. We really enjoyed it. We stayed just outside the park so we got in early. We tried to beat the heat with an early morning hike and an evening hike. Both down into the canyon. We went 1.5 miles on each hike. Down and back was pretty easy for my two teens and I. To go 3 miles down you should be in pretty good shape because even 1.5 miles down was 1100 feet of elevation change. The views on the canyon trails are amazing. Take camel packs full of water and the further you go the better your footwear needs to be. We also took the shuttles and they were very clean and convenient. To miss the lines you have to arrive before 9:30 am which means you pay more to stay close by. If you can, it's worth it.

Written July 11, 2021

A Foggy Wet Day

Although I could recognize the majesty and beauty of the Grand Canyon, we ended up there on a wet, cold, foggy, rainy afternoon. (It wasn't supposed to rain until much later in the day, but that's Mother Nature) This certainly detracted from our views. However, as we were there we were determined to see something, although we couldn't see very deep into the canyon. First stop was the visitor center for some ranger suggestions and orientation maps to the Grand Canyon, which was celebrating it 100th anniversary year. Then a wet walk to Mather's Point for viewing whatever we could. We road the free shuttle bus over to Yavapai Geology Museum, which was interesting and informative about geological history of the area. And could have given us some great view points if it weren't for the rain. Will have to plan to try again on a better weather day.

Written February 18, 2020
These reviews are the subjective opinion of Tripadvisor members and not of TripAdvisor LLC. Tripadvisor performs checks on reviews.
Detailed Reviews: Reviews order informed by descriptiveness of user-identified themes such as cleanliness, atmosphere, general tips and location information.
---
---
Is this your Tripadvisor listing?
Own or manage this property? Claim your listing for free to respond to reviews, update your profile and much more.
Claim your listing
Grand Canyon South Rim - All You Need to Know BEFORE You Go (with Photos)
Frequently Asked Questions about Grand Canyon South Rim
---
Grand Canyon South Rim Information
| | |
| --- | --- |
| Excellent Reviews | 20,765 |
| Very Good Reviews | 2,012 |
| Grand Canyon South Rim Photos | 25,362 |