About
Welcome to Enjoy the row boat ride leading up to the three caves in the area—where stalactites and stalagmites shimmer like gemstones just inches from the water. Alternatively, you can ride a bike along the peaceful rice paddies. Don't miss the centuries-old Bich Dong Pagoda here as well. Located about 65 miles from Hanoi, the Tam Coc area makes a wonderful day trip from Vietnam's capital—you can hop on a tourist bus, local bus, or train to get here.
Tours & experiences
Explore different ways to experience this place.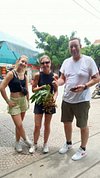 See what travelers are saying
It is a 5 star only if you are sitting in the first boat before 8 am

We went there before 8 am (open from 7 am) and the experience was amazing: no other boots on the way there and the nature was waking up in front of our eyes (many birds were hunting for breakfast). When we entered a cave we did not see anything and did not hear anything. Purely amazing. HOWEVER: on the way back roaring people were loudly chatting, many boats came close to each other. Boats with the purpose of selling some snacks and drinks also arrived (they are colleagues so your roaring person will stop for a couple of minutes letting them pushing their products to you). Therefore tourists starting after us lacked the true nature experience. Believe me: it is not the same. TAM COC VS TRANG AN We did both, both were beautiful and exciting. Of course there are some slight differences between the routes, you can find great blog posts around the topic of which to choose based on your preferences. Trang An: They focus on a definitely better service compared to Tam Coc, they try to avoid the annoying factors of Tam Coc: more transparent pricing, no selling people on the way and there is even a paper based feedback form at the end of the route with the question of whether the roaring person asked for a tip. So they control them not to ask for a tip. As a result, it is a more relaxing place, I think popularity is high similarly to Tam Coc. Especially if you cannot make it before 8 am in Tam coc, I would definitely recommend Trang An. We did that starting at 10 am and due to the fact that they have 3 routes the crowd split in 3 ways.

Written January 15, 2020

A must do in Ninh Binh

I have done this tour before in another year in January and it was cold and the rice just planted, thus brown but it was still a must do. Now I have come back in late February and the rice is growing and showing a bit green. I'd say March would be perfect. You can pay for a boat as a solo and pay the extra or this time 2 persons and boat. Cost 350,000d. I usually do not tip as it is not a Vietnamese custom (or my country)but I thought I would tip our boat girl because of the physical effort they need. I gave her 50,000d before reaching the end of the trip so that other women would not see. Then as we returned and were getting out of the boat, the woman who met the boat on the steps (not knowing I spoke Vietnamese) asked her 'did you get a tip?' And the young boat girl said 'yes, 50,000d'. So I'm guessing that the young girl didn't get to keep the tip and rather they must collect all the tips and I'm not sure how they distribute it but I now know the money doesn't go to the rower. Hence I'm back to my "no tip' rule. Anyways definitely a must do and totally different from Trang An.

Written March 1, 2020

Fantastic ride, incredible views & horrible guide

We arrived here around 2pm. It was starting to get a little grey out but was the perfect temperature for going down the river. We were told to grab lifejackets and get in line to get on a boat. It was just the 2 of us plus the rower. Which was nice now they are small. Some boats had 3-4 people in them. There was a lot of people here but the line up moved very quickly. The ride is about 2 hours and the rower rows most of the time with their feet. Pretty incredible to see. You will pass threw 3 water caves complexes Sang Cave, Toi Cave & Ba Goit Cave. The river runs along side other limestone mountains and rice fields. The tour is not a loop but has a turn around point. So you pretty much see everything twice. The way back can be a little boring and very uncomfortable. There is people along the way taking pictures if you want to purchase them later as well as boats selling food & beverages. Our boat guide didn't say 2 words to us. After trying many time we actually assumed she couldn't speak English. Then in last 5mins she just repeated tip for me? Then when we tried to give her a $5usd tip she got mad (in English) that it wasn't more and demanded $10usd. On the bus before we arrival we asked our Tour guide what a good tip would be he said to tip $2usd per boat. He also told us that they would give us information along the way and point things out. Our boat guide talked on her phone quite a bit and if she was not on the phone she would talk to other paddlers passing by. Other guides would allow the people on the boat to attempt paddling with either their arms or feet. So we really $5usd was generous. back on the bus others on our tour said their guide talked to them the whole time. Others on our tour were threatened at the halfway/ turn around mark that she wanted $5usd a person and she wanted it now or she was going to leave them there (they had 3 people onboard). Even with it being a little boring and uncomfortable it is worth doing. So much stunning beauty. It was such a highlight of Ninh Binh.

Written June 2, 2020

Stunning Natural Beauty

We've done the caves at Trang An several times now but this was our first visit to Tam Coc. It was truly a spectacular experience. Due to COVID, they will charge a "surcharge" if you want more than two adults and two small children in a boat. (They seem to charge both Vietnamese and foreigners an extra fee. No, it makes no sense...but what can you do?) The two hour trip was lots of fun. The really sweet and kind woman paddled with her feet which I'd heard of but never seen. (This was featured on one of the seasons of the US version of The Amazing Race.) I would highly recommend this tour. But, in high season, Trang An might "feel" less crowded as it's more spread out.

Written September 22, 2020

Friendly little town sitting in mountains on a lake

Perched between mountains and a lake. Healthy happy ambiance. Locals do laps around the lake at sunrise, everyone greets you good morning. Nice slow pace, clean air (except for little pockets of burnings which sadly seem everywhere in Asia. I wish there comes water refill stations and bamboo straws soon. 🙏 You can take a tranquil boat tour on river. We enjoyed heaps of local foods, walking around town and getting massages. Great way to break up the trip from Phong Nha to Halong Bay We stay at Tam Coc Mountain Lake Bungalow and loved it. Very hospitable and cheerful family run business. Some of the best pillow top mattresses in Vietnam Love the warm hospitality, eye contact and greetings everywhere. Such a warm friendly little town.

Written February 18, 2020

Glad we chose Tam Coc over Ninh Binh

Ninh Binh is an unattractive city sprawled over quite a large area, so Tam Coc is definitely the better place to base a stay in this area. It has a main town centre full of bars, shops and restaurants and maintains a villagey feel to it. It's no longer a hidden gem or secret tip as it's full of tourists of all ages and nationalities but it never felt crowded nor overwhelming.

Written February 17, 2020

Boat tour not worth it, pressured to buy things and add tip

The boat tour was ok, you get to go through 4 caves and enjoy the views. However, I would not recommend it as you get forced to buy things and are asked to provide a tip. The Trang An boat tour is much better, with more to see and no annoying staff to deal with. When we went through the last of 4 caves, there are half a dozen boats waiting there and will grab onto your boat to sell you refreshments. They don't take no for an answer and will overcharge you for junk. They ask you to buy it for the rower, but why don't I just give money to the rower instead? I would advise you to ask the boat operator to turn around after the 3rd cave as there isn't really anything else worth seeing to avoid these people. Also, at the end of our trip, we were asked to provide a tip and after giving them a good tip they didnt even say anything. The government should really step in to enforce better customer service at these places. Otherwise they will lose customers. Avoid this place. Trang An boat tours were much better.

Written February 20, 2020

Nice but not as stunning as Trang An

We were a family of 4 doing the tam coc boat trip, and as westerners we had two boats of two, unlike Trang An which allow 4 per boat. It was easy enough to buy our tickets and there was no waiting round for the boat, we opted to set off at 10am to avoid the hot port of the day. Our boat driver was certainly a chatty one! The tour is about 1.30hr which I think is about right seeing as there are no stops. The boat was marginally more comfortable than the trang an boats but both would not go amiss cushions! You go up and down the same stretch and through some small caves. The turning point has boat sellers, watch out here, we said we didn't want to buy anything having just had breakfast and she said what about a drink for your driver, then proceeded to pack up a bundle of drinks and snacks for him and tried to charge us a 100k, even with a mark up those items in a shop would cost about 20k, plus we suspected that the driver probably wouldn't even consume them and they would get handed back to the seller later on. Therefore we declined and told the driver he could have the 100k as a tip instead which he clearly preferred.

Written April 4, 2023

Nice boat trip

We enjoyed this boat trip of about an hour and a half. The scenaries are pleasant as it is such a nice area. It is fun to go through caves. We did not experience any scam. Only one boat tried to sell us things and we said to our rower we were not interested and he kept rowing straight away. He did not ask for tips ever. We paid 150k vnd for the boat, plus a ticket of 120k vnd per person. A bit expensive but still a nice experience.

Written January 25, 2020

Nice Views

I did this on a self made day trip from Hanoi, with Mua Caves as well, I rented a motorbike. I went on a rainy day and there were no other boats in the water, it was so nice and beautiful. Paid 400k for 2 people, 1 boat and a parking fee for the bike. (1.5 hours) Like others, they do try to sell you stuff but just say no if you want or bargain like crazy and you can get things for super cheap. They also demand a tip at the end (they reminded me at the beginning and end), but only give if you want.

Written January 27, 2020
These reviews are the subjective opinion of Tripadvisor members and not of TripAdvisor LLC. Tripadvisor performs checks on reviews.
Detailed Reviews: Reviews order informed by descriptiveness of user-identified themes such as cleanliness, atmosphere, general tips and location information.
---
---
Is this your Tripadvisor listing?
Own or manage this property? Claim your listing for free to respond to reviews, update your profile and much more.
Claim your listing
Tam Coc - All You Need to Know BEFORE You Go (with Photos)
Frequently Asked Questions about Tam Coc
---
Tam Coc Information
| | |
| --- | --- |
| Excellent Reviews | 1,363 |
| Very Good Reviews | 992 |
| Tam Coc Photos | 3,710 |