We're So Ready for Fall in NYC...
Our favorite spots to stay, eat, and play, plus what to wear while you're there. Just don't forget your vax card.

By Clara Sedlak

Aug 31, 2021
NYC is back in action. Neighborhoods from Bushwick to Broadway are alive with renewed energy. Packed restaurant tables spill out onto the sidewalk and music echoes from open-air bars. Art galleries are showcasing cool new exhibits and shops have flung open their doors. New Yorkers have left their homes and are out of their sweats and ready to up their fall style game. Because as you know, in New York it's important to look the part.
With this in mind, Tripadvisor Plus has teamed up with Rent the Runway on a new membership perk to deliver designer rentals directly to your hotel. To celebrate, we whipped up a quick guide on where to wear your fancy new outfit. Or casual new outfit. It's really up to you.
So go on a museum crawl, eat dim sum in Chinatown, play tourist and visit the big landmarks, grab a cocktail on a killer rooftop, explore the parks, see a live outdoor concert... the list goes on and on.
(If you're making the trip to NYC, stay safe and check the current COVID-19 protocols.)
So you're looking for a place to stay...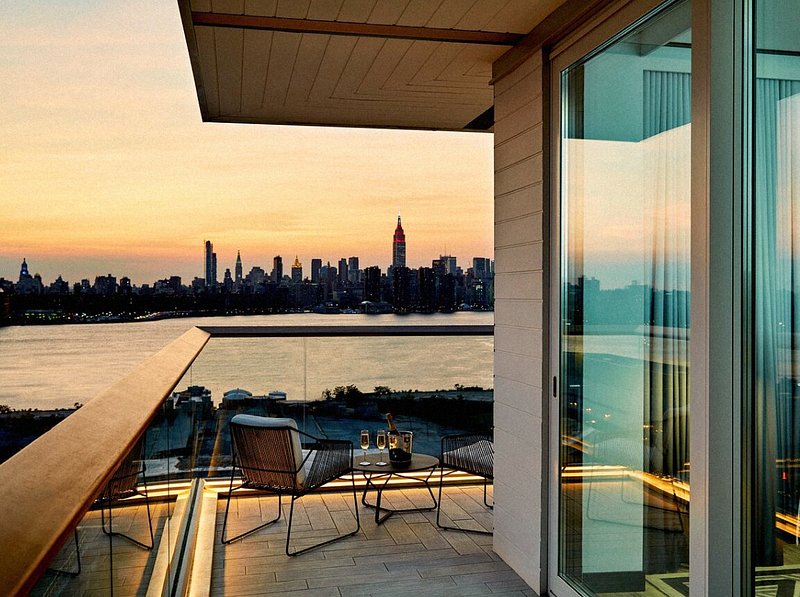 Trendy Williamsburg has dominated the Brooklyn hotel scene—so we weren't too surprised when the William Vale opened its doors on North 12th. The look is all clean lines and flash, with floor-to-ceiling windows that put the glistening city skyline in full view. If you dig a lively hotel vibe, the Vale has it in spades: it's home to BK's largest pool and Vale Park—a 15,000-foot elevated promenade with plenty of green space and Mister Dips—a 1947 Airstream that serves up burgers and fries. At night, get dudded up and head to the 22nd-floor bar/lounge Westlight: the views are jaw-dropping, the people-watching is stellar, and the cocktails can't be beat.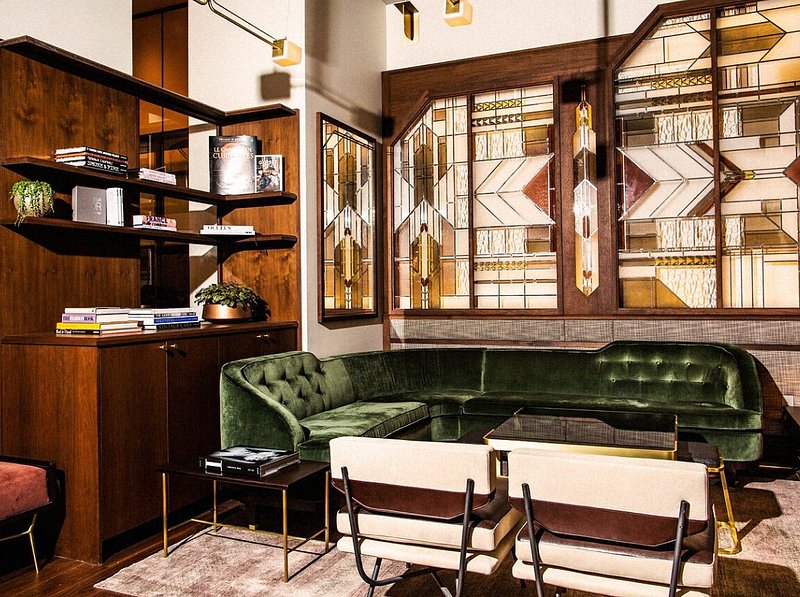 For years, the neighborhood now called NOMAD remained relatively off-the-map but that changed with the arrival of several hipster hotels including the Evelyn. Artsy budget-conscious travelers will love this sleep. The first thing that strikes you is the Beaux Arts facade: fire engine red and covered with suspended art installations, including giant, silver tear drop-like sculptures that seriously add to the wow factor. Inside, the lobby is pure Art Deco—teal leather couches, Torchiere-lighting, a glossy white marble bar where stylish guests mingle. The Evelyn may not have a restaurant, but who needs one when the city's best restaurants are just a short walk away?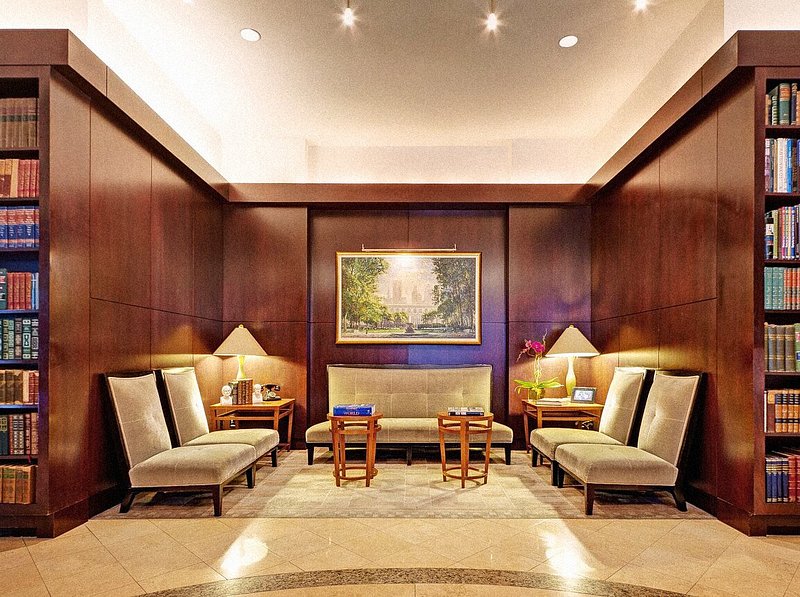 Literary types with a keen fashion eye can't go wrong at the Library Hotel. Just next door to the New York Public Library (no surprise, there), the hotel lives up to its name with each floor dedicated to a subject (philosophy, art, history, technology) and a comprehensive book-lending program. The rooms are simple yet stylish, done up in earthy tones with black-and-white photographs and whimsical touches like a throw pillow embroidered with the hotel's mantra: "Book lovers never go to bed alone."
Dig in...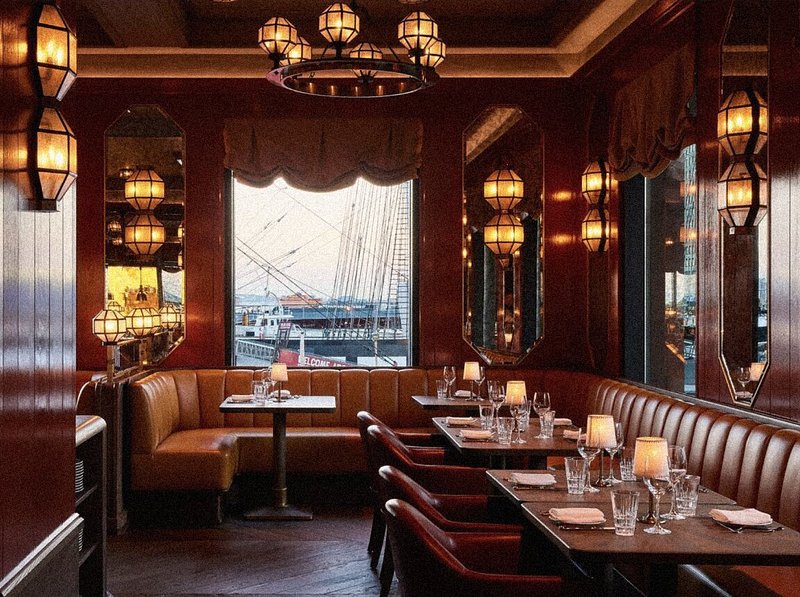 South Street Seaport was never a go-to eating destination, but that's changed with the arrival of the just-opened Carne Mare. The two-story Italian steakhouse is the latest from chef Andrew Carmellini (Locanda Verde, The Dutch) with decadent dishes like Gorgonzola-cured wagyu strip loin. When you want to go all out, this is the place. Round up your crew and saddle up to the horseshoe bar for martinis or head up the spiral staircase and sink into an Art Deco-inspired banquette overlooking the East River.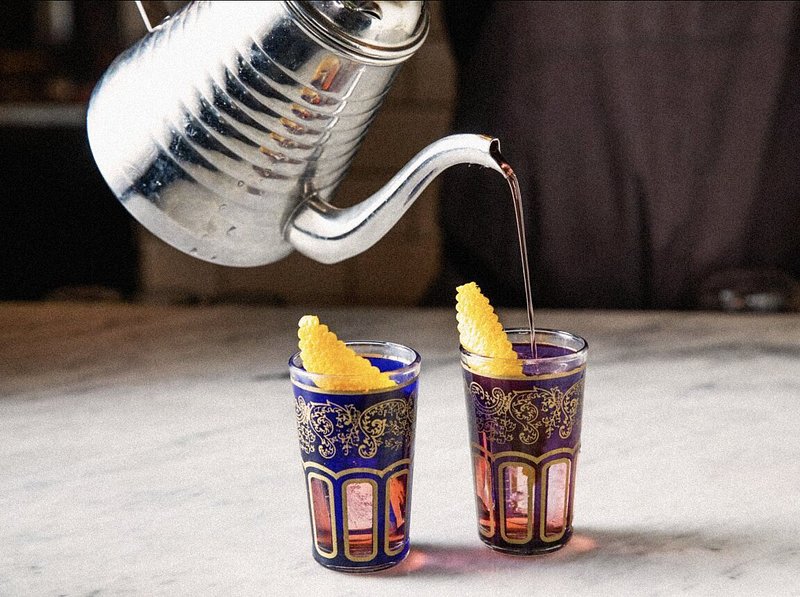 Don't expect to just walk into Shukette—you'll need a reservation at least three weeks ahead of time. But the advance planning is worth it. The Mediterranean and Middle Eastern menu is top notch, and the scene is just as good, with a bar that stretches across the entire restaurant and looks out over an open kitchen. Order as many small plates as you can possibly ingest: the zucchini ganoush, labneh with crispy squash blossoms, and frena, a Moroccan-style crispy bread, are major crowd pleasers.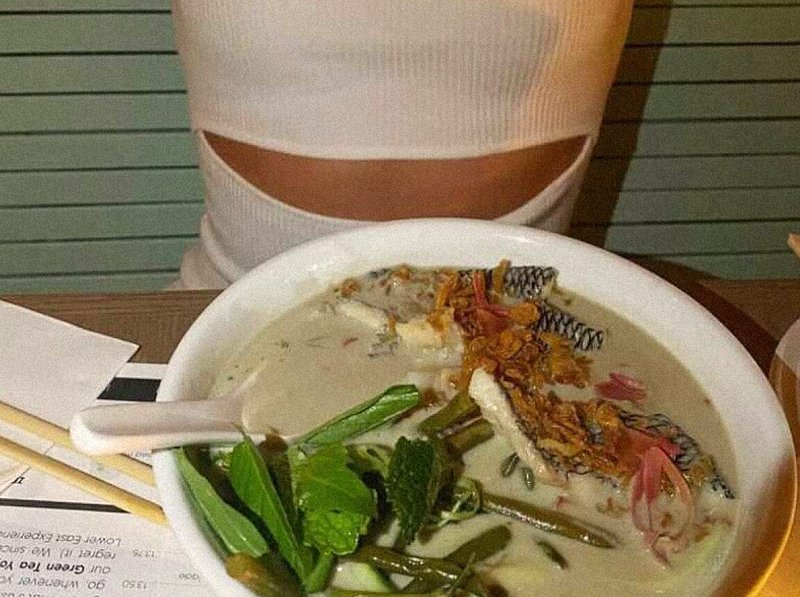 Looking for something more affordable and low-key? The new Mother Duck has a standout Asian-inspired menu of noodles, bao, rice bowls, and starters like cauliflower tempura that are seriously well priced. This spot is perennially packed despite its few tables, and the cozy blue banquettes make you want to linger for hours over bottles of sake.
It's hard not to love Chick Chick, with its adorable name and menu dedicated to all that is fried chicken. The kitchen turns out Korean-inspired wings, chicken ramen, chicken sandwiches (the Nashville hot is a favorite) and sides like homemade biscuits, truffle fries, and kimchi fried rice. As of now, booze isn't served here so you may be better off grabbing lunch instead of dinner before an afternoon of museum hopping.
Go play...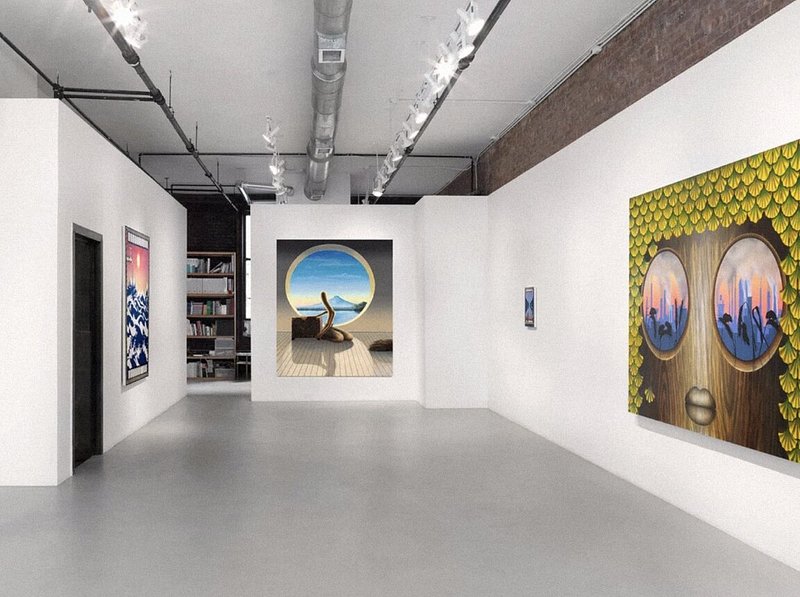 You've done the big show-stoppers—the Whitney, the Met, Guggenheim, MOMA and checked out Chelsea's galleries. Your next stop? The Lower East Side. Walk the blocks and take in the art: there's Simone Subal Gallery, specializing in emerging European artists; Andrew Edlin Gallery for Outsider and Visionary art; The Hole, a no-frills space showcasing off-beat work by rising international talent; and the edgy contemporary art-focused New Museum.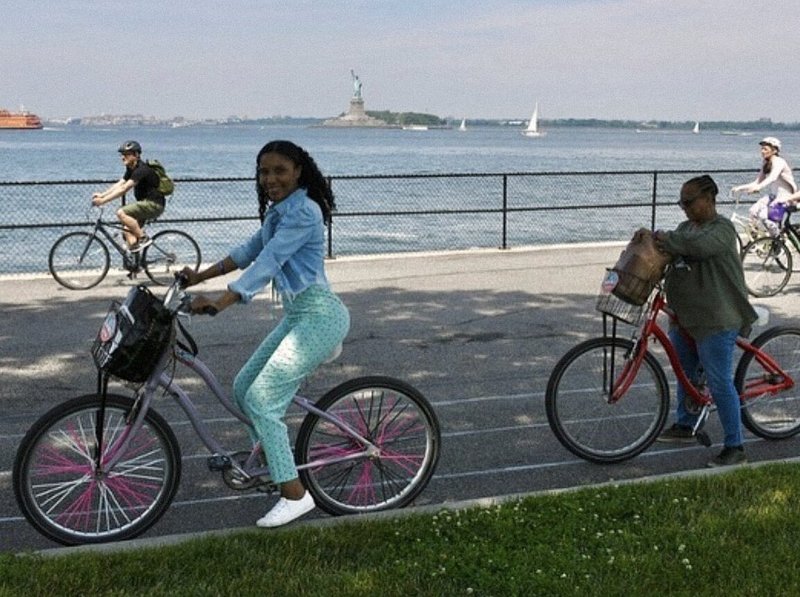 If you've eaten your way through the city and looking to get your heart-pumping, hop the ferry from DUMBO to bike Governors Island. The green space is completely car-free with a 19th-century castle, an English Gothic chapel and abandoned barracks that house art shows and events throughout the year. Once you've done enough cycling and want to get back to eating, indulge in the island's various food trucks or check out the oyster bar overlooking the water.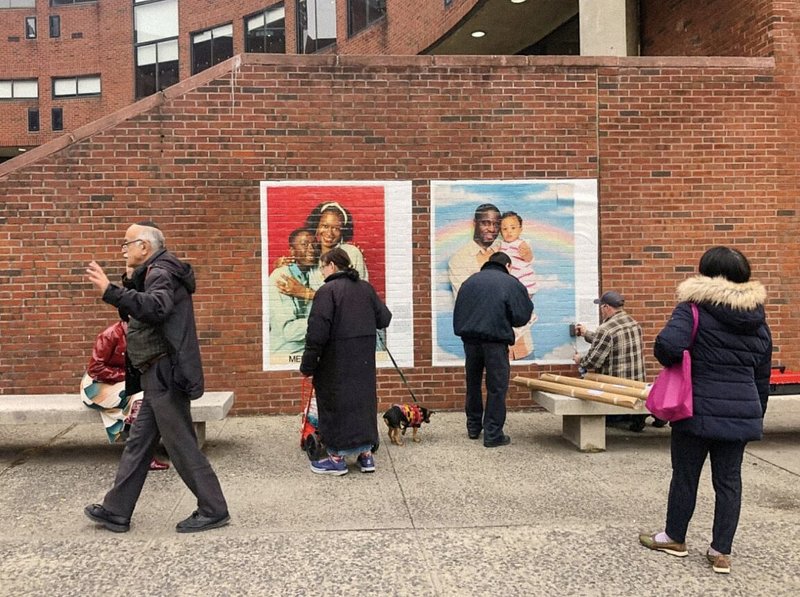 Attention photography lovers: every fall, NYC hosts one of the biggest open-air public art festivals dedicated to the camera lens. This year will be no different. Brooklyn, Staten Island, Manhattan, and the Bronx will be home to incredible exhibitions in parks, squares, and other places through the end of 2021, with virtual storytelling events, artist talks, and workshops. Bonus: it's all free.
We all need a laugh these days—and NYC delivers the humor this fall. After a crazy year, comedy clubs are ready for their post-covid act. EastVille Comedy Club, Comedy Cellar, Black Cat LES, and the Bell House are a few spots on our must-see list. Check out their lineups, pick a show, grab a drink, and enjoy.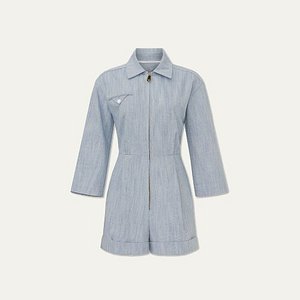 What to wear...
As a general rule, pretty much anything goes in New York City. But no matter what your style is, you'll want to stand out without trying too hard. Whether you're at the newest rooftop bar or strolling through Central Park, go for simple, low key silhouettes with a touch of edge, like a light blue utility romper for day, which also works well for fall, thanks to the longer sleeves. Go edgier still with a pair of cool black leather shorts that are just as comfortable as they are stylish and can easily take you from day to night. For sunset cocktails, a color-block halter dress with a keyhole neckline is a head turner. FYI: Accessories on their own are a simple way to update your look. A cool pair of cat eye shades, a delicate gold chain necklace, and sac tote go a long way.
From now through December, Tripadvisor Plus members get 30% off one-time rentals from Rent the Runway. Not a Tripadvisor Plus member yet? New members get $20 off their first year. Learn more here