Why food trucks are the secret to eating well on O'ahu

By Christine Sarkis

Apr 6, 2021 • 5 minutes read
You know you're living your best life when you pull into an O'ahu parking lot not looking for a parking spot, but scouting for a food truck. Windows down, sunshine on your arm, you slow to a crawl, scanning the horizon. The aromas—of local garlic shrimp, or hot malasadas, or plate lunch—beckon you in the right direction.
In O'ahu, food trucks aren't a recent phenomenon or a trendy transplant. They've long had a special place in Hawaii; they're part of the islands' own story of food. Kathy YL Chan, who writes about Hawaiian and local food on her blog Onolicious Hawai'i, sees food trucks not as a fleeting trend, but as an evolution of a longer tradition: "During the plantation era, we had manapua men. Then later on we had lunch wagons. So food trucks are just the modern version of the lunch wagons."
A Silver Lining on Wheels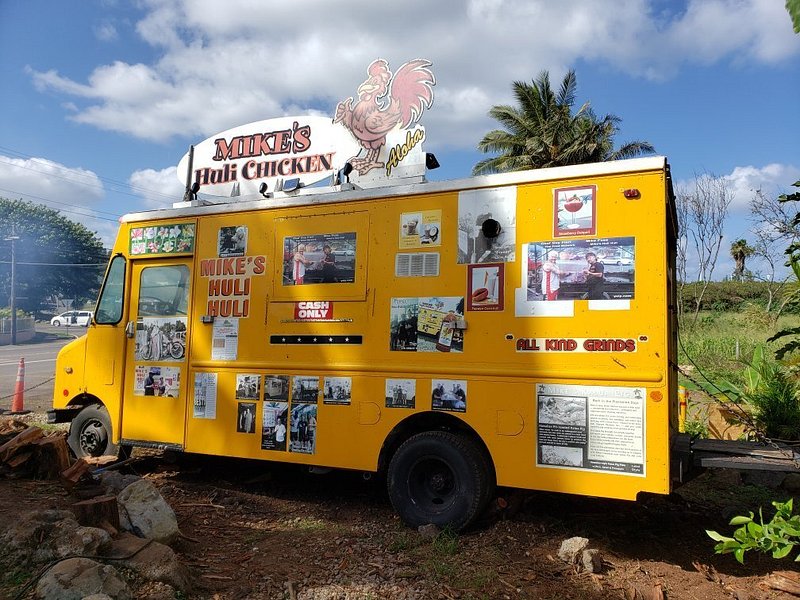 This reboot of food on wheels shifted into high gear around 2008. Thomas Obungen, contributing food editor at Honolulu Magazine, says that, following the Great Recession, "Hawai'i saw a boom in food truck businesses." David Hanley of Hawaii Food Carts, a design/build company in Hawaii, says the pandemic has prompted a new wave: "With the brick and mortar food and beverage industry being rocked by the coronavirus ... there is another food truck/trailer boom happening." According to Obungen, it's a chance to get creative in trying times.
It's O'ahu's own silver lining on wheels, these new chefs and creators joining O'ahu's mix of mobile food purveyors. Driven by a love of food and a creative spirit, today's food trucks serve up both hyper-local specialties and favorites from around the world. "I love the diversity of our food truck culture," says Obungen, "options run the whole gamut from plates piled with pancit noodles and lechon kawali fried pork to trendy birria tacos and the best Texas-style smoked brisket."
How to Feast at O'ahu's Food Trucks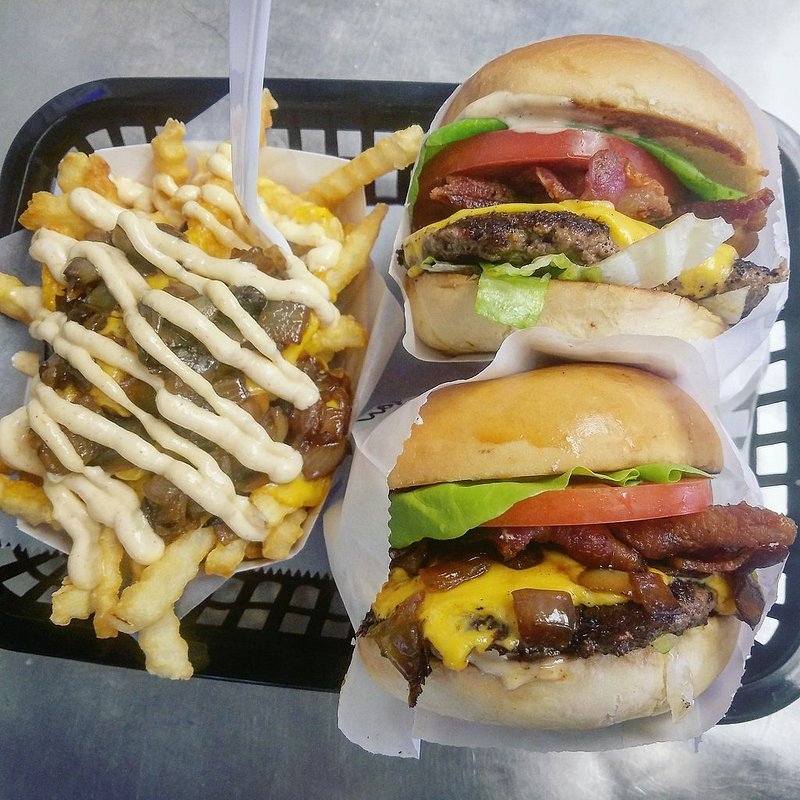 Though it helps to know where to go to find food trucks, you won't have to look far. They're all over: at the beaches, parked at the corners of popular intersections, clustered in pods, and drawing food lovers to parking lots around the islands. Chan notes that "some of the food trucks park in different places, some are permanently set up in a specific location, and some are at the farmer's market." She also points out the welcoming vibe at most food trucks. "In many big cities, food trucks feel trendy and cool, but in Hawaii they feel more family friendly," says Chan. "I love that I can bring my grandma to a food truck for lunch and we'll have a good time."
Eating at food trucks, carts, and stands is a way to turn lunch into an adventure, and the perfect way to eat well while keeping a safe distance from others. To do it right, follow the advice of locals. "Be patient, wear sunscreen, and bring a hat because it can get hot and sunny," says Chan. Obungen suggests using social media to plan ahead: "Definitely check them out on Instagram before you go, most trucks keep them updated regularly of food specials, closures, etc." If you're planning on becoming a food truck regular, you might also consider picking up some reusable utensils. Obungen notes that Hawaii is in the middle of passing a ban on single-use utensils, and that while "most food trucks will provide them if you ask, it doesn't hurt to bring your own if you can."
Interested in doing a food truck crawl? Obungen says "food truck rallies and farmers markets are the best places if you want to grab food from multiple trucks in one stop. The same goes for places like Kaka'ako, Haleiwa and along the North Shore." Chan says that, although some food trucks offer small seating areas, "We usually eat in the car or drive to a nearby park. A nice park or beach is never far away.."
If you go, remember, you're joining a local tradition, one started by the manapua man decades ago. It's easy to embrace the spirit, says Chan. "General politeness, cleaning up after yourself, throwing away the trash … all of those seemingly small actions go a long way."
Foodie Faves Local Experts Love
With so many stellar food trucks, it can be hard to narrow down the choices. Really hard. Here are some favorites to start you off.
Hawaiian and Local Hawaii Foods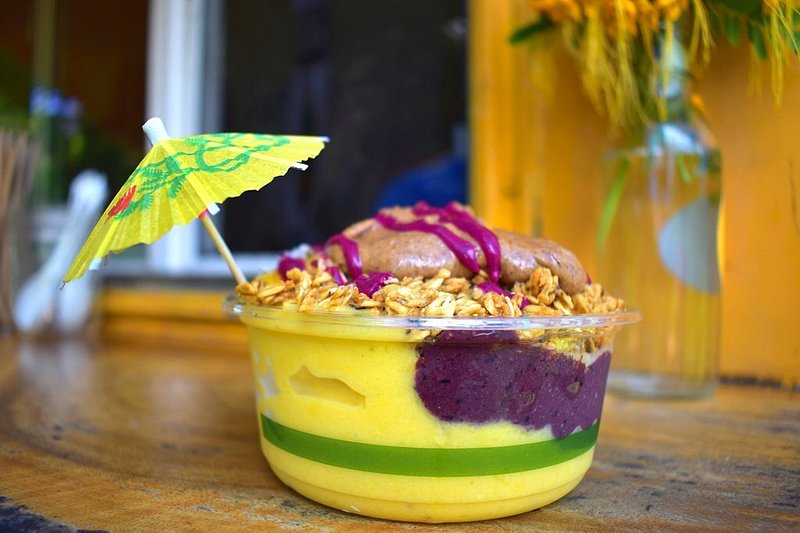 First, a little lesson on eating regionally in Hawaii: It's important to be aware that there's a difference between Hawaiian food and Hawaii's local foods. Chan sums it up this way: "Local food is tied to a place (Hawaii). Local food is not Hawaiian food. Hawaiian food is not local food." Hawaiian foods are traditional food like luau stew and poi, while popular items like loco moco, saimin, and shave ice are local food. (Check out this article by Chan for a deeper dive into the difference.)
On the food truck scene, Chan recommends Poke Bowl Patrol from Ono Seafood for poke, and Dem Mata's "local dishes with smoke meat." Hanley suggests Mike's Huli Chicken, which gets its signature flavor from being cooked over Kiawe wood and flavored with traditional Hawaiian sea salt. Local fish is the star at Nico's Food Truck, a mobile outpost of the popular Nico's Pier 38. And North Shore food truck Pupukea Grill is a surfer favorite selling everything from plate lunches to bowls, plus a variety of vegan options.
If you're on O'ahu, you're perfectly placed to sample your way through the island's best garlic shrimp. This local favorite is wildly popular with both locals and tourists, and there's nearly always a wait. There are three main North Shore trucks and stands serving this garlicky shell-on shrimp. Giovanni's (with three locations in Kahuku, Honolulu, and Haleiwa), Romy's, and Fumi's.
Foods From Beyond the Islands
Foods from all around the world have come to call O'ahu's food trucks home. Shay's Smash Burgers or Chubbie's Burgers consistently please the burgers-and-fries crowd. No7 Japanese Food Truck earns its fan base with sushi, poke bowls, and udon. Generous portions and favorites like pork adobo fried rice omelettes keep people coming back to Elena's Filipino Lunchwagon, a mobile outpost of the brick-and-mortar Elena's in Waipahu. Obungen calls Sunset Smokehouse "the best Texas-style bbq outside of Texas." Surf N Salsa serves up Mexican favorites and handmade tortillas, and La Birria offers its signature hell fire tacos and birria saimin. Katsu Sando sells classic katsu sandos (with curry dip) plus specials that riff on the original. With its acai bowls, smoothies, and bulletproof coffee, Sunrise Shack features organic superfoods with a focus on fresh local produce.
Leave Room for Dessert
Dessert is always worth the drive. On O'ahu, Leonard's Bakery is the original place to get malasadas, a type of Portuguese donut that has been popular here since the 1950s. Leonard's Malasadamobiles are stationed around the island, making it easy to stop in for a hot malasada. Holey Grail serves taro donuts in seasonal and locally inspired flavors like single-origin Hawaiian chocolate, calamansi, and honey. And Obungen recommends Kula Shave Ice on the North Shore, raving about the "wonderful hand-crafted and natural shave ice desserts using local fruit when possible."
So slap on your sunscreen, gas up the car, and come hungry—these food trucks offer the good life on a plate.