6 European city-and-country pairings to try this fall
Blend urban and rural charms for an unforgettable trip.

By Ashlea Halpern

Oct 26, 2022 • 7 minutes read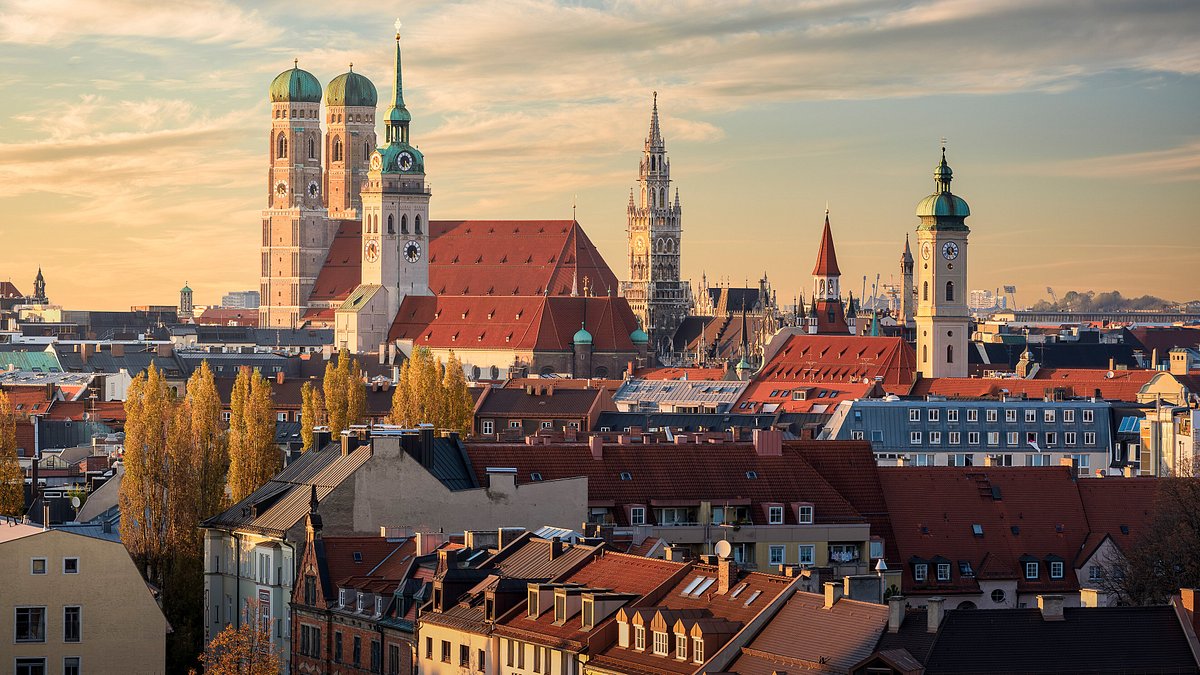 Seasoned travelers know that the best trip is a balanced trip—equal parts fine dining and street food, high-end hotels and intimate B&Bs, vibrant metropolis and vast wilderness. If you're headed to Europe this fall, consider punctuating a jam-packed week in a buzzy city with a few days immersed in nature. Ahead, discover six European getaways that combine the best of both worlds.
Portugal
Lisbon and Setúbal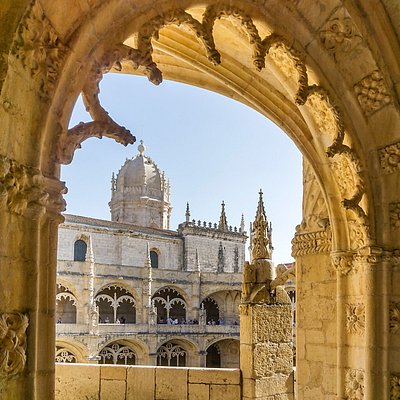 Colorful architecture, delectable food, and mild weather make the Portuguese capital of Lisbon a year-round destination for vacationers. The city is blessed with numerous UNESCO World Heritage Sites, including Mosteiro dos Jerónimos, a Manueline- and Gothic-style hermitage inspired by explorer Vasco da Gama, and the imposing Torre de Belém, a former military fort and prison. Ground yourself at the five-star boutique hotel Santiago de Alfama in Alfama, a neighborhood known for its connection to Fado music. From this central spot, it's easy to explore the vast squares and stately palaces of Baixa; peruse the selection of books at Bertrand, the oldest bookstore in the world (it was founded in 1732); take a tile-making workshop at the Museu Nacional do Azulejo; or ogle a permanent display of Portugal's crown jewels at the newly opened Royal Treasury Museum in the Palácio Nacional da Ajuda.
When you're ready to escape: Soak up a little sunshine on the golden sands of Praia de Galapinhos and Ribeira do Cavalo, two stunning beaches about an hour south of Lisbon in the Setúbal district. The peninsula is known for its spectacular cliffs, which are best experienced by kayak or trekking along the Cabo Espichel in Parque Natural de Arrábida. Buy fresh produce for your hike at Mercado do Livramento, a first-class farmer's market, and reward yourself when it's done with a glass of Moscatel de Setúbal from José Maria de Fonseca in Vila Nogueira de Azeitão, the oldest table wine company in Portugal. Come check-in time, Casa Bagatelle in Palmela beckons with its warm hospitality and alfresco dining near a picturesque garden pool.
Germany
Munich and Bavarian Alps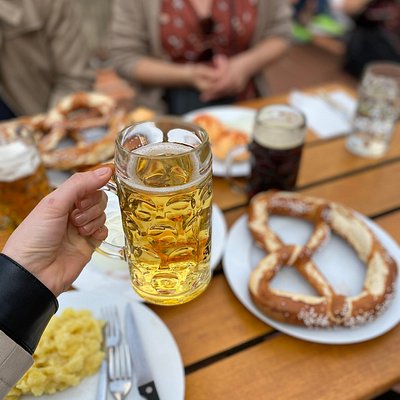 Everyone knows fall is for Oktoberfest—and no one does Oktoberfest quite like its originators, the Germans. Munich is the birthplace of all that sudsy fun, so it's no surprise that its biergartens serve steins not just during the fall fête, but 365 days a year. Start at the storied Hofbrähaus, founded in 1589, or Schneider Brauhaus, where the mouth-watering smorgasbord all but guarantees a case of the meat sweats. After recovering from the festivities, you can go for a refreshing jog at Olympiapark, built for the 1972 Olympics, or pull on a wetsuit and join the surfers riding the swells at Eisbach, a man-made wave feature in Munich's bucolic English Garden. Other draws include Residenz (the former royal palace of the Wittelsbach monarchy) and Asamkirche (a late-Baroque church with extraordinary ceiling frescos). Rest up in style in a chic, contemporary suite at the 19-room boutique inn BEYOND by Geisel.
When you're ready to escape: Make your way south toward Zugspitze, the highest mountain in Germany. Roughly 80 minutes from Munich, it's one of several sky-scraping peaks in the Bavarian Alps, which hug the border of Austria. At nearly 10,000 feet, it's a hit with winter skiers but offers tempting hiking trails and breathtaking vistas all year long. Book a relaxing weekend at Das Graseck, a world-renowned spa and mountain chalet in the shadow of the Zugspitze, or head east to Lake Tegernsee, where the serene waterfront is lined with a clutch of charming cafés and restaurants.
France
Toulouse and French Pyrénées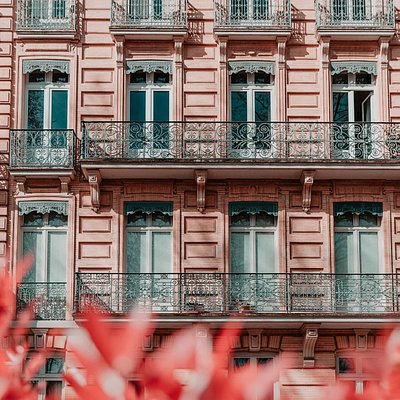 The capital of France's southern Occitanie region boasts the world's first photography museum (Galerie Le Château d'Eau), one of the most renowned astronomy and space science centers in the world (Cite de l'espace), and the only place on earth where you can ride on the back of a five-story mechanical minotaur (Halle de la Machine, the headquarters of Francois Delarozière's street theater group La Compagnie La Machine). Split by the Garonne River and nicknamed La Ville Rose thanks to the terracotta bricks that give it its signature pink hue, Toulouse is a lovely place to soak up autumnal vibes—meandering along the tree-lined banks of Le Canal de Brienne; crossing the photogenic Pont Neuf, the oldest bridge in the city; and getting deliberately lost in Jardin Japonais, a Japanese-style garden. Sample what's in season on a small group food tour of Marché Victor Hugo with Taste of Toulouse—or have a high-end feast at the Michelin-starred Le Cénacle, housed within the 16th-century mansion house La Cour des Consuls Hotel & Spa. Situated in the Carmes district in old Toulouse, it's a luxurious spot to rest your head—but not before taking in the Garonne at night, when the city lights glitter on the water like a million falling stars.
When you're ready to escape: Travel two and a half hours southwest toward the Spanish border. With 230 high-altitude lakes and snow-capped peaks rising over 9,800 feet, the Parc National des Pyrénées is one of the best mountaineering spots in France. It also attracts its share of hikers, cyclists, skiers, paragliders, wildlife enthusiasts, and waterfall hunters. The 124,000-acre park covers 62 miles from Aure Valley to Aspe Valley and is easily accessed from the spa town of Cauterets. Worthwhile sites include the Cirque de Gavarnie, a natural amphitheater with a verdant valley and a towering waterfall, and Pont d'Espagne, a stone bridge straddling a waterfall. To stay: Day trippers can do no better than Hotel du Lion d'Or, a family-run hostelry that has been taking care of travelers for four generations.
Lithuania
Vilnius and Dzūkija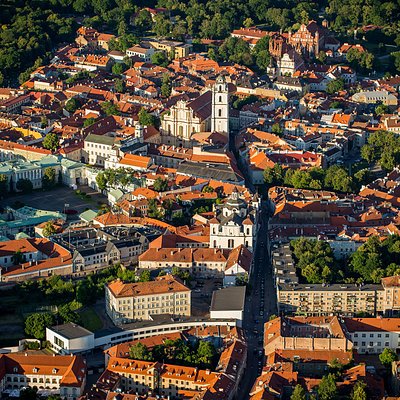 With nearly half of its real estate dedicated to squares, parks, and forest, the Lithuanian capital of Vilnius was already considered one of the greenest cities in Europe when it announced an ambitious plan last year to plant more than 100,000 trees, 10 million bushes, and 300,000 climbing vines by 2023. Lucky for travelers, there are numerous vantage points to take in this glorious greenery—or crimson and gold come autumn. The Hill of Three Crosses and Gediminas hill, on which the 15th-century Gediminas Castle Tower perches, offer panoramic views of the city and its riot of fall colors. After getting a bird's eye view, dive into the history that makes Vilnius so rich. Stroll the cobblestoned streets of Old Town, a UNESCO World Heritage Site and one of the largest surviving medieval historic centers in Northern Europe. Get your contemporary art fix at the newly opened Lukiškės Prison 2.0, a prison turned entertainment complex housing workshops and studios for 250 artists. (Check the calendar for the full lineup of festivals, concerts, exhibitions, and guided tours.) Don't miss St. Anne's, a late-Gothic triumph dating to 1495, and the Church of St. Peter and St. Paul, a Baroque masterpiece adorned with thousands of white stucco figurines.
When you're ready to escape: Head toward Dzūkija National Park, about an hour and a half southwest of Vilnius. Every fall, mushroom hunters flock to the pine-scented emerald woods in the fungi-rich region of Dzūkija, wicker baskets hung in the crooks of their elbows. Piedmont might have its truffles, but here the bounty comprises more than 400 types of edible mushrooms, including chanterelle, champignon, milkcap, birch boletes, and russulas. Foraging here dates to the 14th century and locals joke that mushroom hunting is Lithuania's national sport. The 'shrooms turn up in soups, stews, dumplings, and even pastries around these parts and are frequently butter-fried and served as a side accompaniment to meat. Savor the bounty at Dzūkijos Dvaras in Alytus, which offers a full menu of mushroom dishes, or Etno Dvaras in Druskininkai, known for its wild mushroom soup served in a bread bowl, before settling in for a pampering stay at Spa Vilnius. The four-star wellness resort offers an array of soaking options, from therapeutic black peat mud baths to mineral water baths with goat's milk and forest berries.
Georgia
Tbilisi and Kakheti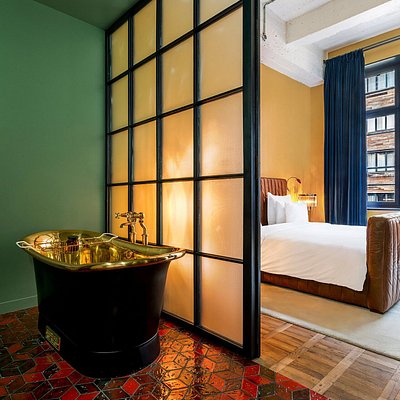 The hip Georgian capital of Tbilisi has been called "the new Berlin'' by fans of electronica and fashion, but it's a must for food lovers too. Drop your bags at Stamba Hotel, a Brutalist boutique property in a 1930s publishing house, before hitting the streets of this walkable city. You can browse the contemporary works at the Georgian Museum of Fine Arts and knock out some souvenir shopping at 8000 Vintages, a high-end wine bar specializing in traditional Georgian varieties and qvevri-style bottles. Set aside a full day for a Silk Road-themed tour with Maka Shengelia of Culinary Backstreets, one of the world's leading food tour operators. She takes guests to subterranean khinkali restaurants, nostalgic cafes serving fresh vegetarian fare, and mom-and-pop shops specializing in Adjaruli and Imeruli khachapuri (delicious dough boats filled with melty cheese and gobs of butter), while also weaving in cultural stops such as Freedom Square, Parliament, and Rezo Gabriadze's endearing Marionette Theater.
The Netherlands
Amsterdam and Ede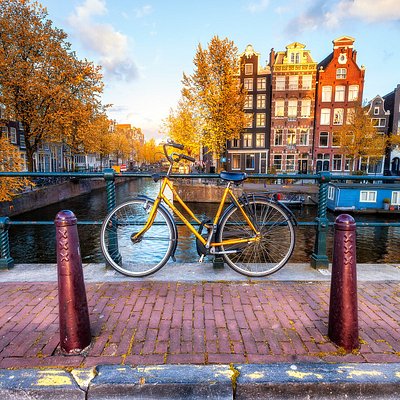 Amsterdam is home to some of the world's finest museums: Rijksmuseum, Van Gogh Museum, Hermitage, Rembrandt House Museum, and the sobering Anne Frank House among them. Visit in fall, however, and you can experience them on Museumnacht, a.k.a. Museum Night, an annual event where dozens of museums stay open till 2 a.m. and host special exhibitions, workshops, and live music. In daylight hours, bike through sprawling Vondelpark or revel in the fall colors from one of Flagship Amsterdam's popular open-boat canal cruises. To spend even more time near tree-lined waterways, book a room at the Pulitzer Amsterdam, a hotel set within 25 elegantly restored canal houses dating from the 17th and 18th centuries.
When you're ready to escape: Go hiking, mountain biking, or horseback riding at Ginkelse Heide, a beautiful nature reserve in Ede, about an hour southeast of Amsterdam. The heathland and woods take on Crayola-bright colors in fall; keep your eyes peeled for red deer, wild boar, mouflon, and a herd of domesticated sheep. Hotel de Sterrenberg in the village of Otterlo makes a great home base (it has an indoor swimming pool) and is just a four-minute drive to the Kröller-Müller Museum, nestled within the largest national park in the Netherlands, De Hoge Veluwe. The museum houses the world's second largest Van Gogh collection (nearly 90 paintings and more than 180 drawings) plus impressive works by Monet, Seurat, Picasso, Mondrian, and Rodin.