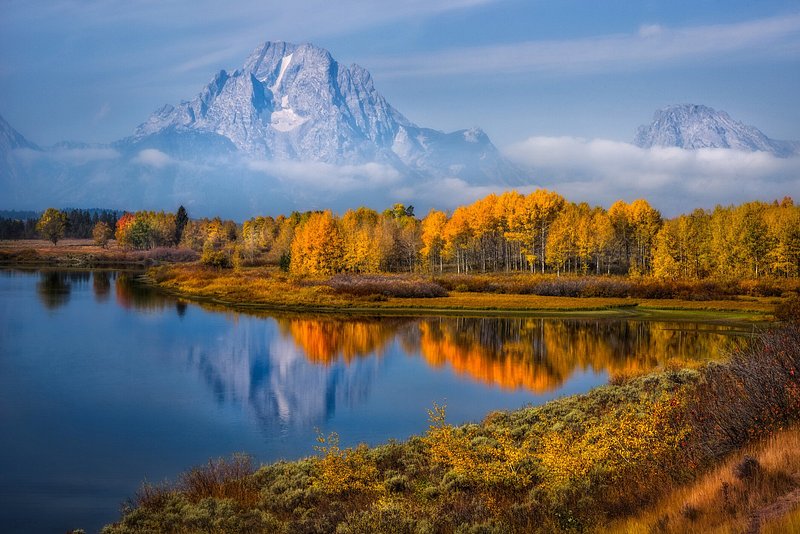 11 National Parks With Show-Stopping Fall Foliage

By Colleen Stinchcombe

Aug 26, 2021
Listening to the sound of leaves crunching under your boots, sipping on a warm spiced beverage, and breaking out the cozy sweaters and flannel can only mean one thing: Fall is here. National parks are great places to celebrate the changing of seasons—and it's not just the northeast that knows how to put on a good rainbow show. Got your beanie in hand? These are the best national parks for leaf-peeping across the U.S.
Fall is the busiest time of year for Shenandoah National Park, and for good reason. The amber, crimson, and tangerine leaves are absolutely spectacular here. Visitors have two options to see fall colors in Shenandoah: Up close by hiking the 516 miles of trails or overlooking the foliage at rest areas along Skyline Drive. It's not possible to totally predict peak autumn leaf colors, though the change usually begins in early October and is over by late October. For more precise suggestions, keep an eye on the park's social media channels for leaf-color updates or check their Mountain Cam for a real-time view from one of the park's overlooks.
Great Smoky Mountains National Park is the most popular national park in the country, and October is one of its busiest months. In the early part of the month, leaves start to change above 4,000 feet, and by the end of the month, lower elevations are draped in colorful foliage. A drive up Clingmans Dome Road, Blue Ridge Parkway, or Foothills Parkway gets you quick access to eye-popping colors. To stretch your legs, consider hiking a section of the Appalachian Trail, along the 1.5-mile Oconaluftee River Trail, or climb to the top of the observation tower at Look Rock Tower, which has sweeping vistas over the park.
The peaks get all the attention at Grand Teton National Park, but the plants put on a show too. Quaking aspen trees, often found on mountain slopes or near water, and narrowleaf cottonwoods, which stick to rivers and streambanks, both turn a vibrant shade of yellow. Black hawthorns, meanwhile, provide red and orange leaves at their lower elevations along streams and in open, sunny spots. Plus, you may spot some yellow and orange willows, which sit in low, marshy areas. On average, fall colors start emerging in early September and are gone by early October.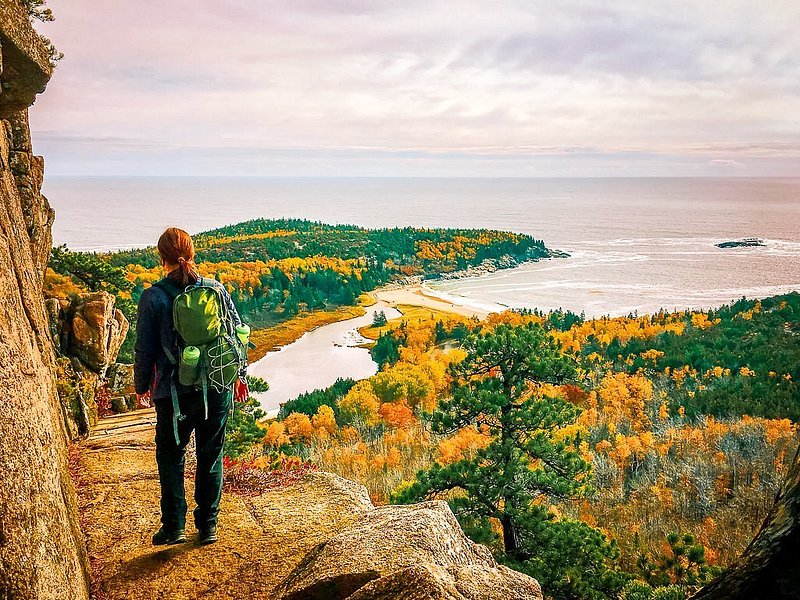 If you're looking for sheer vibrancy, Ohio's Cuyahoga Valley National Park is a top-notch pick. Black gum, dogwood, northern red oak, and maple trees yield a range of leaf hues from deep scarlet to bright candy-apple red to bubblegum pink. Add in the amber glow from tulip poplar and bigtooth aspen trees, and the treeline turns into a sherbet splendor. Wander through the park's 125 miles of hiking trails—standouts include Brandywine Gorge Trail or early morning at Oak Hill Trail—in mid to late October for the colors at their finest.
Acadia's crowds tend to thin from their summer highs after mid-September, making autumn an enticing time to visit. Plus, in October, the leaves of ash, maple, oak, sumac, witch hazel, and at least a dozen other species are at their peak foliage. Start the day in the pre-dawn hours at Cadillac Mountain. Not only will you get a birds-eye view of all the colors, you'll also be one of the first people to watch the sunrise in the U.S. Get more specific leaf reports from Maine Foliage to time your trip just right.
You'll need to plan carefully for Denali's fall colors. Foliage starts to turn around late August this far north, and the shoulder season can turn to winter in as little as two to three weeks. It's not the trees you'll be peeping so much as scrub vegetation along the tundra, which turns red among yellowing grasses, although aspen and birch tree leaves also flicker a lemony shade in the waning sunlight. Beyond the flora, it's a prime time to see wildlife—particularly rutting moose and bears foraging before hibernation.
Aspens, cottonwoods, and maple trees in Glacier National Park mean fall visitors see a beautiful painter's palette of yellows, oranges, and reds. But one of the most interesting trees in the park doesn't have leaves—it has needles. The western larch is a deciduous coniferous tree—meaning it loses its leaves (deciduous) but produces pine cones (coniferous). Typically, coniferous trees are evergreen, like pine or spruce trees; however, in late October, the larch needles begin to yellow, producing spectacular marigold-colored blazes that you'll only find in parts of the Pacific Northwest and the Canadian provinces of British Columbia and Alberta.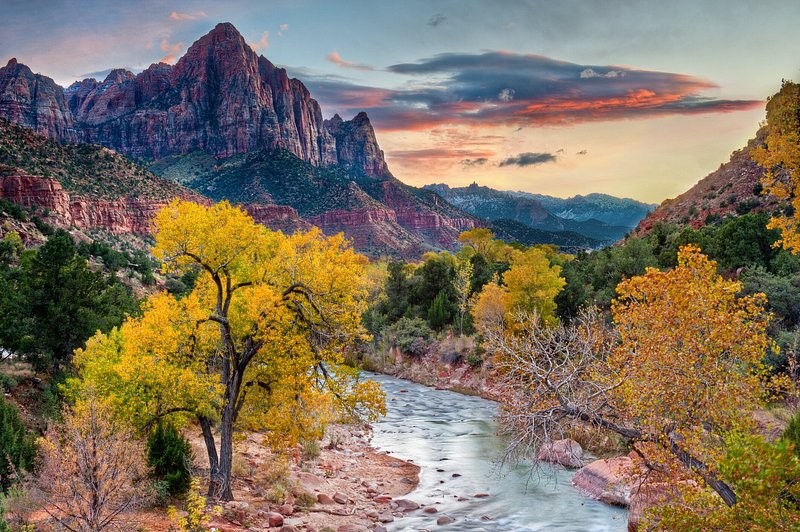 Cottonwoods, willows, elderberry, aspen, high-elevation huckleberry bushes, and western larches begin to blaze in mid-October at Mount Rainier National Park. For gorgeous vistas, hike to spots like Reflection Lakes and Skyline Trail, or take a long, scenic drive on Chinook Scenic Byway and White Pass Scenic Byway. Even the park's visitor center areas, like Paradise, require little to no walking and will offer you vivid views of Rainier's alpine meadows blushing toward hibernation. Pro tip: Look out for still-ripe berries to snack on along trails above 3,000 feet.
Unlike the east coast, where fall foliage regularly spans the red-yellow spectrum, Rocky Mountain National Park primarily delivers a lemon-to-goldenrod yellow landscape. Aspens do most of the color work here, and if you could watch a timelapse of their change, you'd see blonde stripes appearing at the park's higher elevations and slowly moving down-mountain as the season progresses. By mid-September, much of the park has yellowed. Hidden Valley is a favorite for photographers trying to capture elk among the honey hues, while hikers head to Twin Sisters Peaks or Glacier Gorge Trail.
The north—especially the northeast—tends to dominate the kaleidoscopic fall category. But it's not all scrub brush and cacti in the southwest. Guadalupe Mountains National Park puts on an autumn display thanks to several color-changing trees, including maple, walnut, ash, and oak. The result is a burst of pumpkin-spice colors next to ancient reefs and limestone canyons. You'll find this color show in McKittrick Canyon from late October to early November, particularly 2.5 miles down the canyon's trail and into the Grotto picnic area.
Another desert park with a lesser-known autumn side is Zion, whose iconic Virgin River cuts through the heart of the park and hydrates golden aspens, crimson maples, copper oaks, and yellow cottonwood trees along the way. These deciduous trees typically hit their prismatic peak in early November, when there are significantly fewer visitors than summer months. Classic fall colors are only heightened by the park's rust-colored cliffs. Some of the best areas for leaf-peeping include popular hikes like the one-mile Canyon Overlook Trail and 2.2-mile Riverside Walk (tack on the Emerald Pools Trail for even more trees), or the more adventurous, strenuous hikes like Observation Point and Angels Landing.