9 Latinx Travel Influencers We Love

By Lindsey Olander

Sep 15, 2020 • 4 minutes read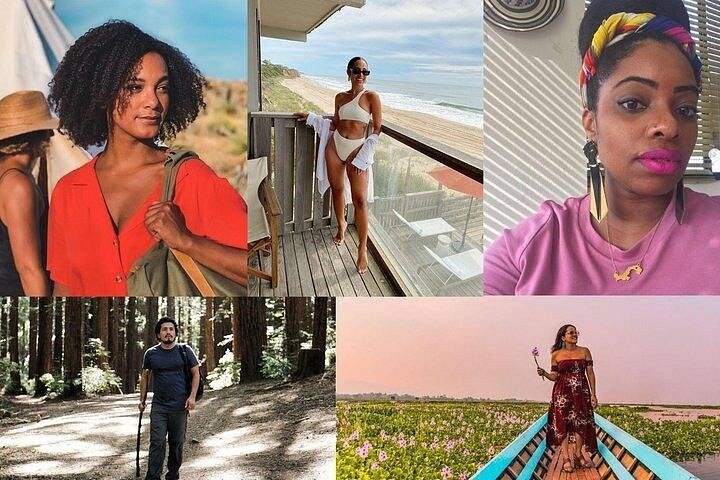 In honor of Hispanic Heritage Month, we're celebrating Latinx leaders across the U.S. who are changing the travel landscape for the better. From beauty gurus to business entrepreneurs to full-time travelers, these influencers have made it their personal mission to raise awareness, inspire, and open up travel for—and within—the Latinx community.
Dash Harris Machado and Javier Wallace
@diasporadash Co-Founders AfroLatinx Travel
When Havana-based journalist and documentarian Dash Harris Machado traveled to the U.S. after filming her docuseries Negro, she was shocked by the questions she received about the fact that Blackness even exists within Latin America. Together with Black Austin Tours founder Javier Wallace, they drew upon years of cultivated connections within the travel industry to start AfroLatino Travel—a tour company dedicated to crafting meaningful, ethical, curated experiences across Latin America and the Caribbean that educate travelers about Latinx Black culture. During their Peru itinerary, for example, attendees dine at Afro-Peruvian-owned restaurants and visit the birthplace of San Martin de Porres (Latin America's first Catholic saint of Afro descent), while in Panama, guests tour historically Black neighborhoods and visit the ateliers of Black Panamanian artists.
Farah Vargas
@farahpink Wellness/Beauty Founder Pinkness.co
For Dominican-American fashion blogger and avid traveler Farah Vargas, Pinkness Co. is her passion come to life. The organic skin-care line sells just four products—a facial oil, a hydrating face mist, and two tote bag designs—but what the brand does, it does extremely well. Its perpetually-sold-out beauty oil has become a cult product for skin-care enthusiasts including singer and TV personality Adrienne Bailon, while the mist was this summer's must-have according to Real Simple and Refinery29. Farah's own Instagram is a swoon-worthy mood board of outfit inspiration, home styling, and travel, and we can't wait to see what she's cooking up next for 2021.
Olga Maria Czarkowski
@dreamsinheels Founder Latinas Who Travel
Olga Maria Czarkowski was no stranger to bullying growing up (she was born with a leg condition that forces her to walk on tippy toes) but she refuses to let it define her life. Instead, the avid Puerto Rican-American traveler started a lifestyle blog titled "Dreams in Heels" as a means of channeling her passion as well as documenting her human experience—that walking in heels, be it on the streets of New York or the beaches in Thailand, is far more comfortable for her than flat-footed shoes. Soon, Czarkowski realized the narrative surrounding solo Latina travel was distinctly lacking within the wider travel community, which is why she founded Latinas Who Travel—a bilingual online community that connects and inspires fellow Latinas and other women of color to travel, solo or otherwise. The community has grown to over 3,000 members and regularly hosts meet-ups in cities like New York, Los Angeles, Paris, and London.
José González
@josebilingue Educator and Founder Latino Outdoors
José González is a nature junkie. In 2013, the California-based K-12 teacher and nature advocate launched Latino Outdoors—one of the fastest-growing Latino-led organizations dedicated to outdoor education and conservation that aims to connect Latino communities on a wider and deeper level. Since its founding, the company has transformed into a volunteer movement with events held throughout the country, from indoor rock climbing in New York City to wellness walks at California's Point Reyes National Seashore. González has also partnered with organizations like Outdoor Afro to help launch the Summit Seekers initiative, an outdoor leadership training program for the National Parks Foundation that targets communities of color. For his tireless work in promoting environmental awareness among the Latino community, González was given the National Wildlife Federation's National Conservation Education Award in 2016.
Nydia Simone
@blactina Filmmaker Blactina Media
Brooklyn-based filmmaker and content creator Nydia Simone is the founder of Blactina Media, an Instagram community that boosts Afrolatinx and Caribbean voices through film and digital media. An experienced director and producer, Simone also starred in her short film "The Lost Book of Rap," which was accepted into the 2015 Cannes Film Festival, and is currently working on hosting an educational healing retreat in the Dominican Republic. Next on her agenda: crowd-funding a feature-length film titled "Sisterhood of the Traveling Latinas," a comedy about four women who travel to a Caribbean island.
Stephanie Flor
@stephanieflor Founder Around the World Beauty From ayurveda in India to "pura vida" in Costa Rica, there is far more to the concept of beauty than just lipstick and foundation. New York City–based Latinx makeup artist and beauty guru Stephanie Flor became obsessed with the nuances of these culture-driven self-care rituals, which inspired her to found her travel agency Around the World Beauty. The brand acts as a one-stop beauty shop, offering virtual travel series led by fellow beauty experts, buyable beauty boxes stocked with hard-to-find ingredients, and Beauty Tours, whose itineraries are built around "unlocking" beauty secrets in key wellness destinations like India, Costa Rica, and Morocco.
Olivia Christine
@ochristine Travel Blogger O. Christine
Whether it's on Instagram or her blog, Afro-Latinx travel influencer Olivia Christine is an open book. Sure, the places she visits and pictures she posts—Chile's Atacama Desert; teahouses in Fez, Morocco—are as inspirational as they are beautiful, but there's also a heavy dose of reality behind her seemingly carefree snapshots. Christine has battled lupus nephritis, a chronic autoimmune disease, her entire adult life, and started her travel and wellness blog not only to bring awareness to the hidden illness but to give both practical and actionable advice for travelers coping with similar conditions. The takeaway: You can achieve so much when you take care of yourself.
Daniela V. Fernandez
@dvfernandez Social Entrepreneur Sustainable Ocean Alliance
Fernandez was just 19 and still in college when she founded the Sustainable Ocean Alliance (SOA), a nonprofit network of young activists working on solutions to protect our planet's oceans. In the years following, the organization has raised more than $3 million in funding, is active in more than 80 countries worldwide, and has backed multiple ocean-tech startups—landing Fernandez on the Forbes 30 Under 30 list in 2019. We have a feeling she's just getting started.
Nikki Vargas
@niknakvargas Co-Founder and Editor-in-Chief Unearth Women
Colombian-born, New York-based journalist Nikki Vargas, a former travel editor at Culture Trip and Atlas Obscura, became so sick of seeing sexism and 20-something models on Instagram define the travel space that she launched Unearth Women in 2018—a quarterly magazine aimed at showcasing real women travelers, their stories, and the issues they face around the globe, all with an emphasis on diversity. In her "spare" time, Vargas is also a freelance writer for outlets like Vice and Zagat, a speaker at travel conferences including the Women in Travel Summit and the New York Times Travel Show, and is hard at work on her first book, which is scheduled published by Clarkson Potter in 2022.