The BEST travel neck pillows of 2020

By Jay Blades, Smarter Travel

Mar 5, 2020 • 4 minutes read

All of the products featured in this article were independently selected by our editors. If you buy an item through a link on our site, we may earn a commission.
Traveling often thwarts the one thing you need for a great trip: sleep. Even if you do manage an hour or two of shut-eye, it's hardly quality sleep when your head is bobbing down every twenty minutes, or worse—landing on your neighbor's shoulder. That's when a truly great travel neck pillow can make all the difference.
But not all travel pillows are created equal, and much of what you see in airport gift shops is subpar. Not to worry. We've rounded up the very best traveler-tested neck pillows for every single situation, whether you're shopping for your own long-haul journey or gifting one to the frequent flyer in your life.
The Best Overall Travel Pillow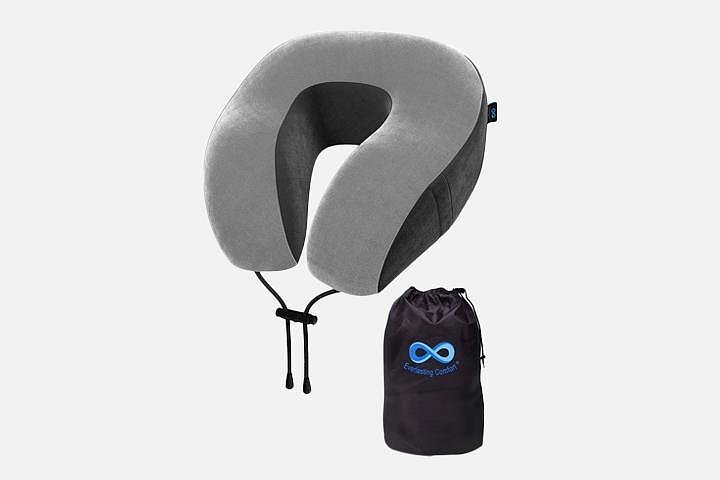 The people have spoken: More than 2,800 Amazon shoppers have given this seemingly basic but obviously awesome pillow a five-star review. What sets it apart is the ergonomic design that keeps your head from bobbing back and forth; the adjustable strap, which draws everything in; and the soft yet supportive memory foam. One reviewer said they slept on an international flight for the first time ever, while another said it helps her sleep on the plane so easily she has to set an alarm so she doesn't roll past her stop on her long commute. The one downside is that it's pretty bulky, but that doesn't seem to bother most reviewers.
The gist: Orthopedic design with excellent neck support, adjustable drawstring keeps it in place (and can attach to your luggage), machine-washable cover.
Best Inflatable Neck Pillow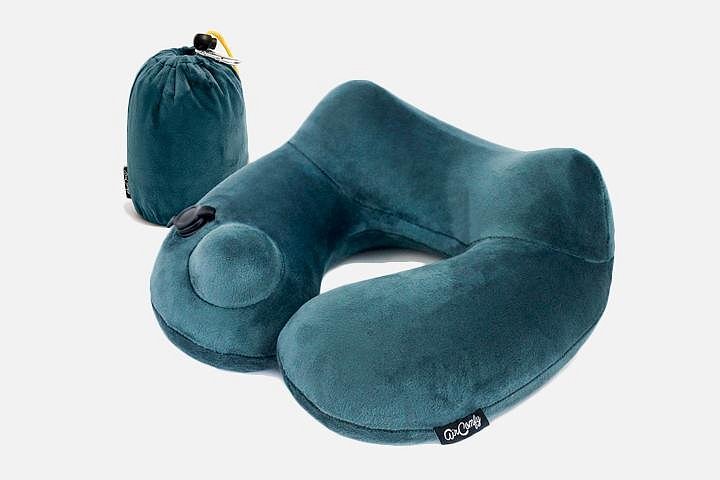 Inflatable travel pillows can be prone to leaks, but tons of travelers swear by them, since they're light, deflate to nearly nothing, and can be adjusted to whatever firmness you desire. AirComfy's self-inflating Daydreamer style is the best of the bunch. One reviewer who can never sleep on a plane said he got "seven hours of (nearly) uninterrupted sleep" on a 12-hour flight. Another, who ordered and returned 15 pillows before this one, said it "has the best value-comfort-portability ratio. Great price, very comfortable and easy to adjust, and easy to squeeze into its small bag."
The gist: Deflates to a compact size, adjusts to desired firmness, self-inflating.
Best Microbead Neck Pillow
If you prefer something with a bit more give than memory foam, a microbead travel pillow may be more your speed. Cloudz is the best when it comes to this category—it provides more support than similar styles and has a snap in front to keep your head from shifting around. One traveler said, "I've had numerous memory foam pillows that gave me a neck ache after five minutes because they were way too hard and bulky. This pillow is perfectly supportive yet still soft and pliable." Another traveler raved, "It is so lightweight that you don't feel [a] heavy weight on your shoulders. It adjusts really easily to your neck and chin [so] you feel comfortable wearing it. JUST BUY IT!"
The gist: Good option for the soft-pillow crowd, snap closure keeps heads upright, lightweight.
Runner Up: Best Memory Foam Travel Pillow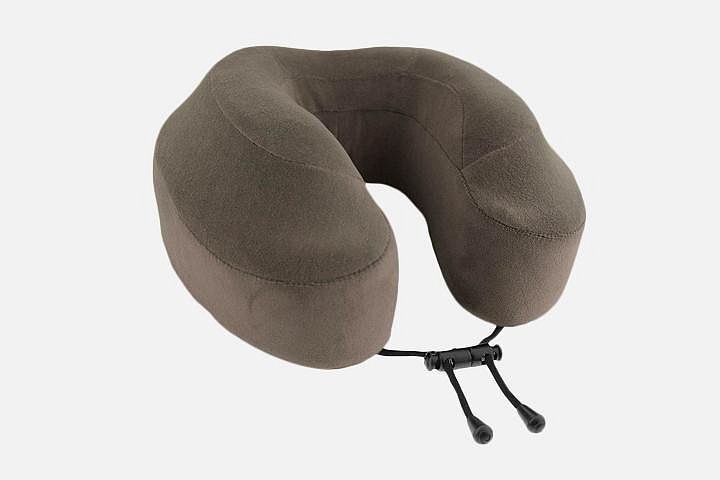 U-shaped pillows have always dominated the market, but they're not always the best option. The croissant-shaped Cabeau Evolution provides way more support and adjusts to any neck size. One TripAdvisor traveler said he usually needs pills to sleep but used the Cabeau on a five-hour flight and fell asleep immediately, plus felt rested when he landed. Another, who "swears by the Evolution pillow," said they've never been able to sleep during a flight but got a couple hours of sleep the first time they tried it on a 13-hour flight. Unlike other unwieldy memory-foam pillows, the Cabeau shrinks down into a small travel pouch.
The gist: Works for a variety of sleepers, strap keeps pillow secure, compresses to half its size.
Best Travel Pillow for Kids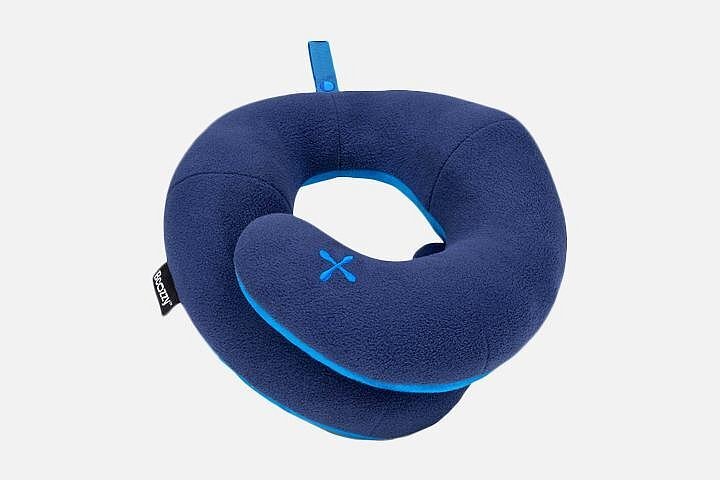 The best travel pillow for kids is one that's soft yet supportive (memory foam can be too tough on tiny necks), easy to clean, and hard to lose. BCOZZY's child-size version ticks all the boxes and then some. This plush pillow wraps under the chin, keeping their head straight as they nod off, and clips on easily to a backpack or carry-on—not to mention the entire thing can be thrown in the wash between trips. "We bought the BCOZZY for all of our kids, and they will never travel without them now!" one parent reviewer wrote. "They conveniently clip on to their backpacks and are ready for any journey, the taxi, waiting around in airports as well as flying. They even use them for car journeys at home now."
The gist: Supports the neck and chin, machine washable, snaps onto your luggage.
Best Travel Pillow for Toddlers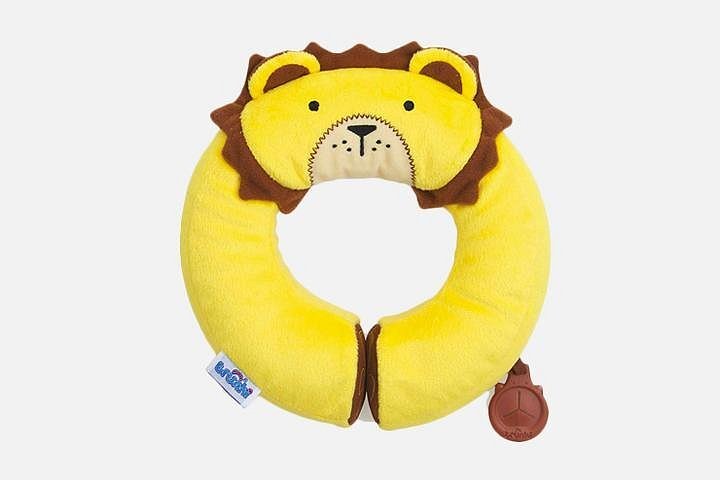 Parents say this fleecy animal pillow helps little bobbleheads stay asleep on long treks. The key is the magnetic closure, which supports the chin and keeps it from falling off mid-snooze, but is also easy enough for tiny hands to use. One reviewer, who's tested it on both car rides and plane trips, said, "This is the only neck pillow my kids tolerate because they are not overly bulky." Its adorable design doesn't hurt either—many reviewers say their kids love to play with it when they're awake.
The gist: Soft-yet-supportive, hidden magnets hold up the chin, fun design means kids will actually use it.
The Best Travel Pillow For Babies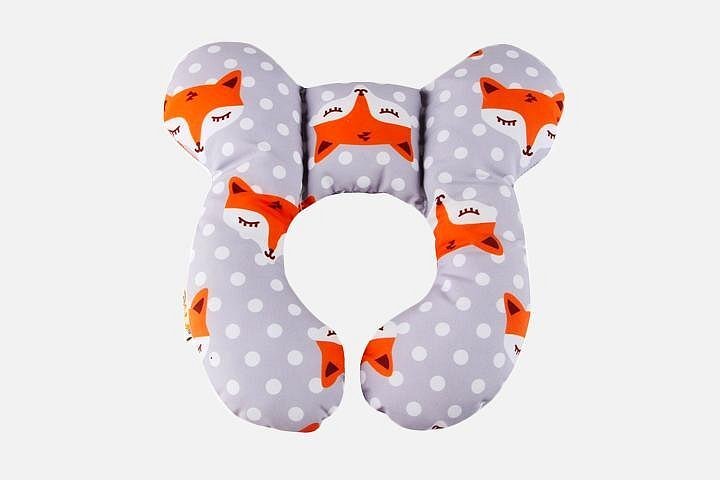 Specially designed to prevent a baby's head from slumping down or sideways in a car seat, this uniquely shaped baby pillow gets rave reviews on Amazon, with one reviewer saying, "It's easy to slide in behind their head and I noticed that when [my nine-month-old twins] fell asleep it kept their heads upright and not to the side." Said another reviewer, "It was useful on the plane to put under my elbow while holding the baby in a cradle position or to support her head while nursing." The pillow is fully machine-washable, an absolute must when babies are involved!
The gist: Designed with the needs of infants in mind, provides protection for head and neck, fully machine washable.
More From Tripadvisor
*All prices at the time of publishing